Balkan expects +30°C on 5. October, all-time records have values around +32/+33°C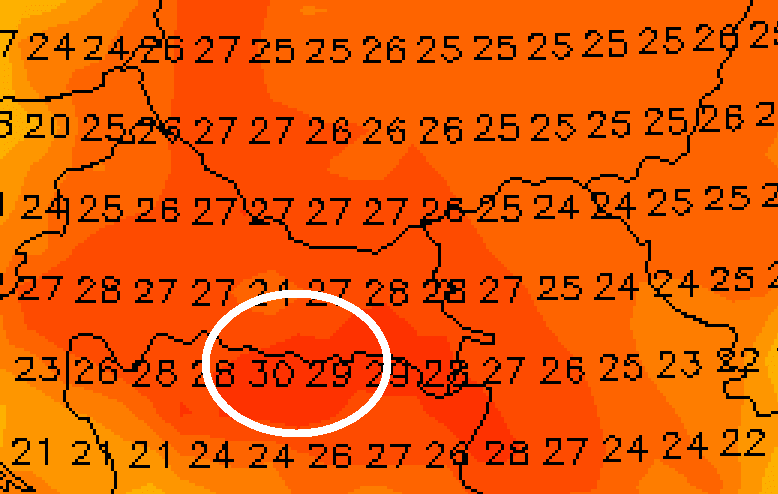 Hot October weather hit/hits not only Central Europe /https://mkweather.com/rohrspitzm-austria-with-a-minimum-temperature-above-200c-the-first-october-tropical-night-in-the-austrian-alps-in-history/; https://mkweather.com/25c-for-germany-poland-switzerland-austria-czechia-and-slovakia-and-28c-for-hungary-on-3-5-october-2021/#/, but too Balkan.
Heatwave will be peaking in the region of Croatia, Bosnia, and Herzegovina, and Serbia around Tuesday, 5. October, with possible temperatures regionally near all-time temperature daily records.
GFS forecasts for the region in northern Bosnia and Herzegovina maximum temperatures up to tropical +30°C on Tuesday, 5. October 2021, which is only 2-3°C below all-time temperature records for the hottest region around Mostar (October record for the city is +32,5°C: https://en.wikipedia.org/wiki/Mostar).
Summer days above +25,0°C in air masses up to +15°C near foehn northward from the Carpathians and Czechian Massif however should surprise a cold Poland, too, Slovakia and Czechia should see the last summer day of the year, similarly.
Hungary, Serbia, and Croatia expect up to +28/+29°C and Italy regionally tropical days above +30°C, however with a powerful Genoa cyclone, with severe storms, gradually /https://mkweather.com/a-severe-cold-front-from-portugal-to-norway-already-at-the-weekend-the-previous-storm-system-brought-floods-and-hail-in-slovenia-italy-and-spain//.
Eastern and southern Balkan will be colder, but summer days, regionally +25/+27°C are possible.
From Turkey, still very hot weather is reported – in the last 24 hours, +35,0°C was measured in Adana on the southern coast.
Summer days very probably won´t return in October 2021 not only in European mid-latitudes but in Balkan and parts of Mediterranean, too, because already the following week (after 10. October 2021), severe coldwave, in lowlands up to -5°C and in valleys up to -10°C is for now forecasted, with only little warmer conditions in Balkan such as continental Europe /https://mkweather.com/severe-frosts-up-to-5c-in-lowlands-and-10c-in-valleys-are-projected-for-continental-europe-soon//.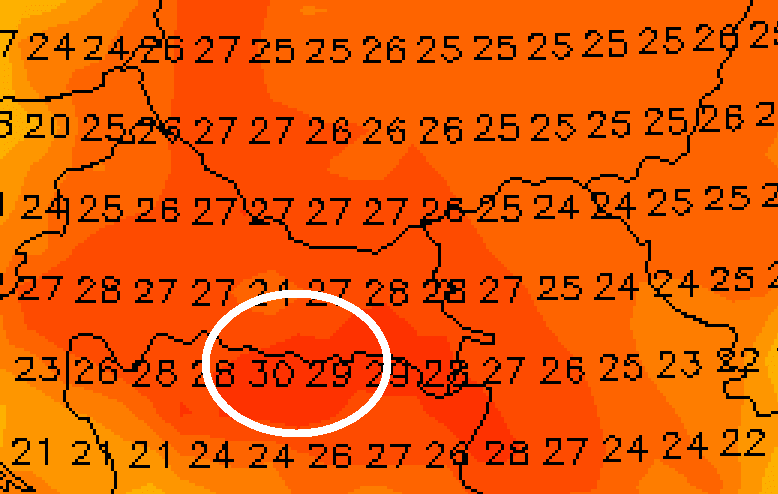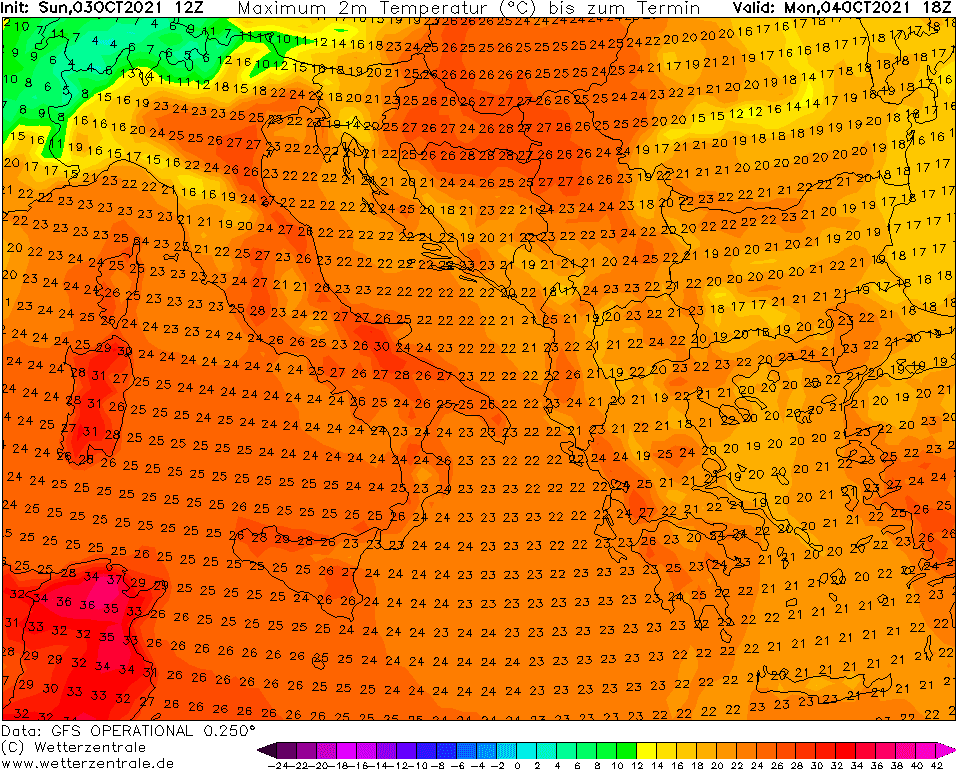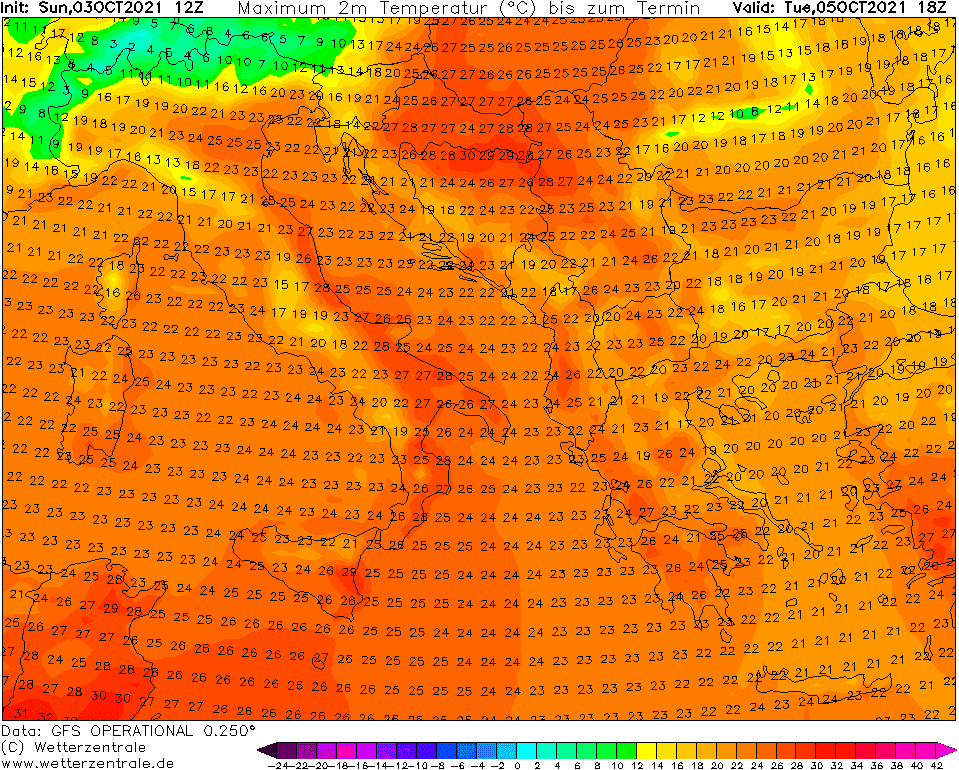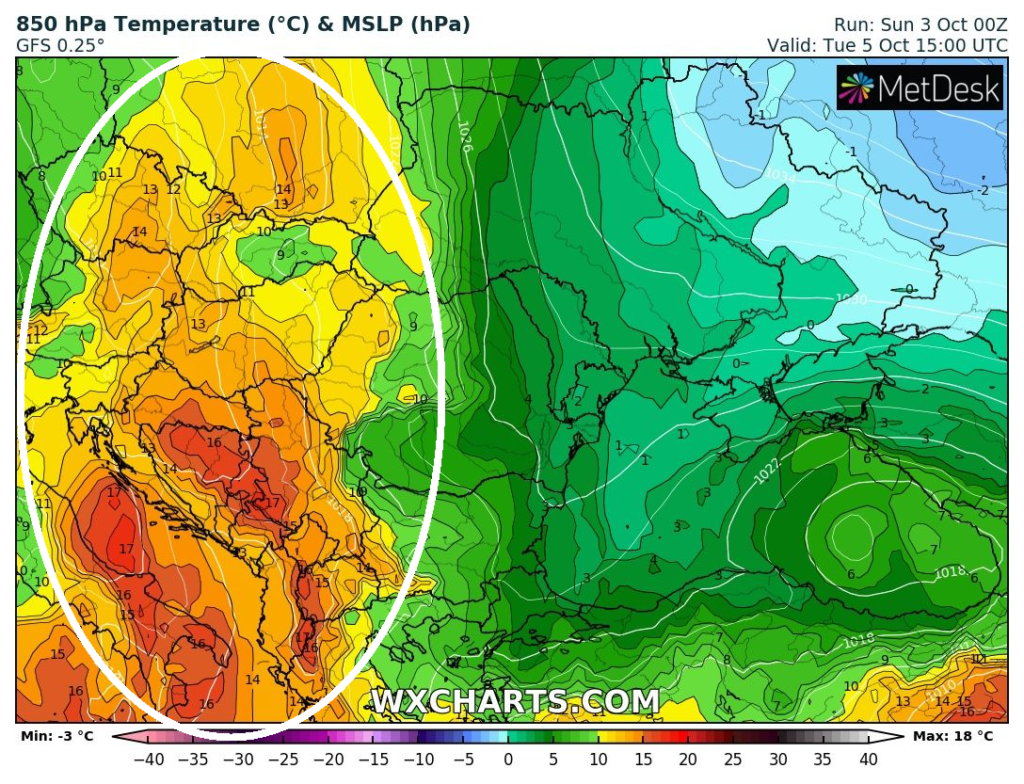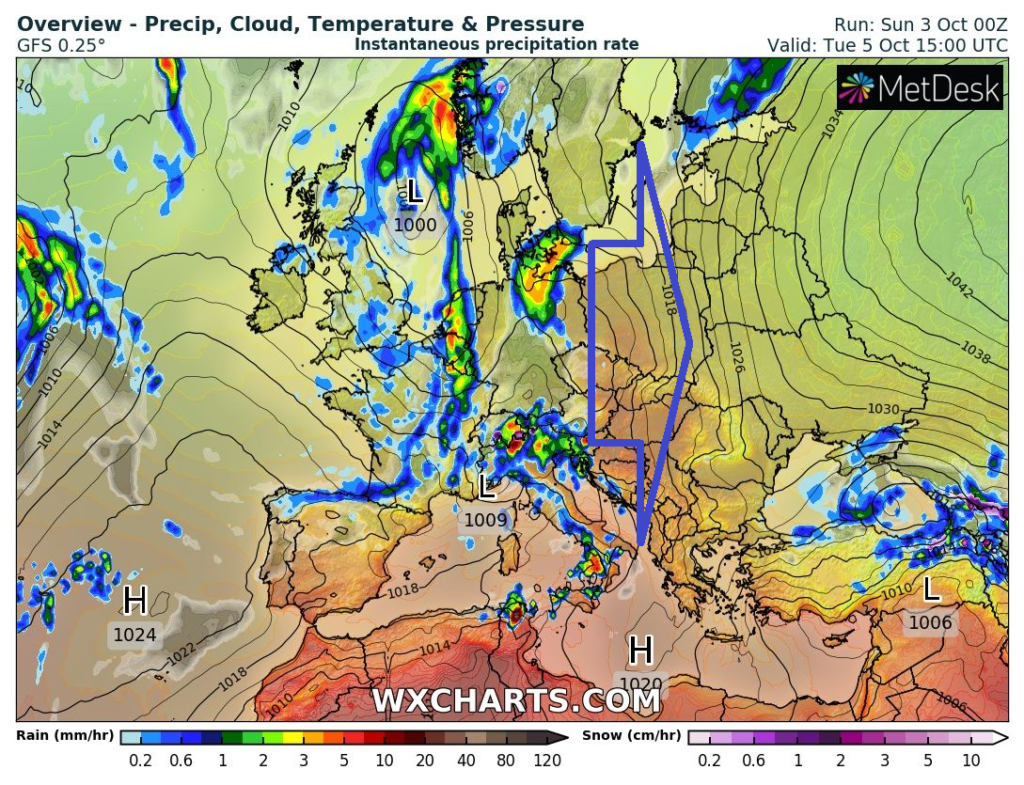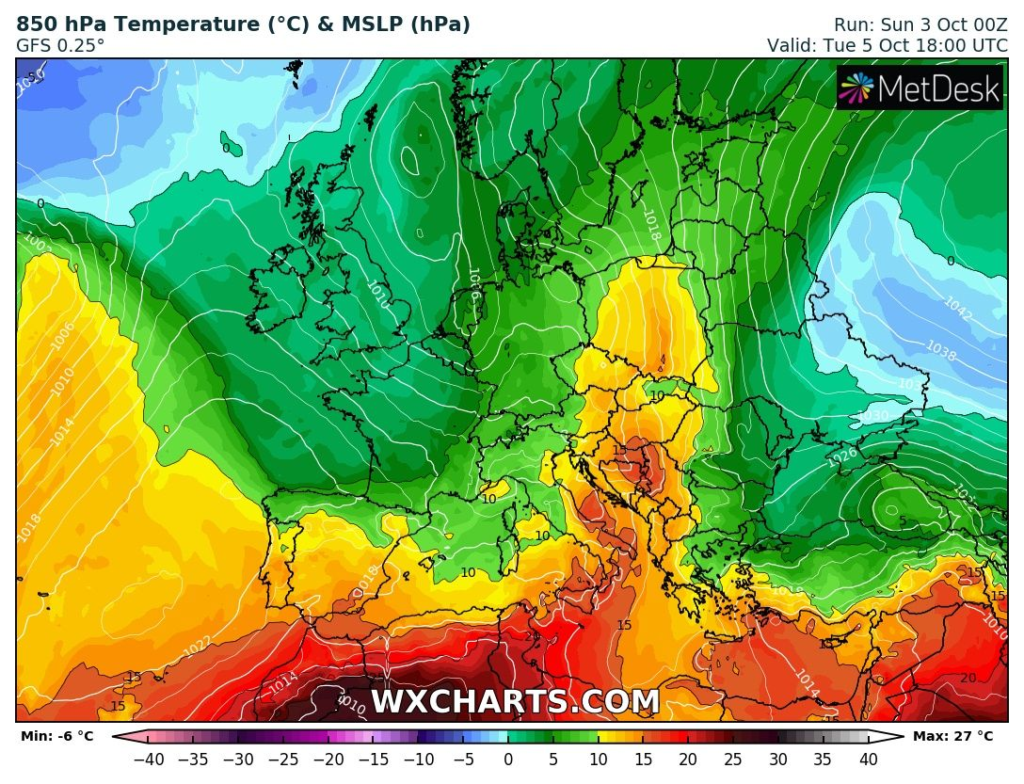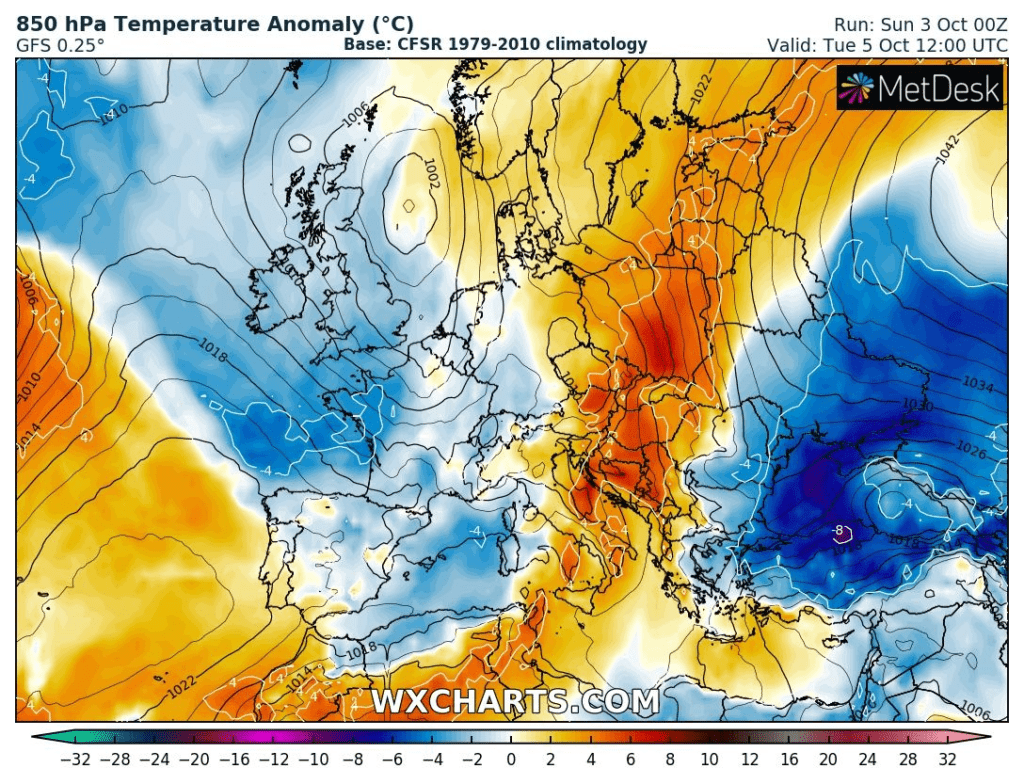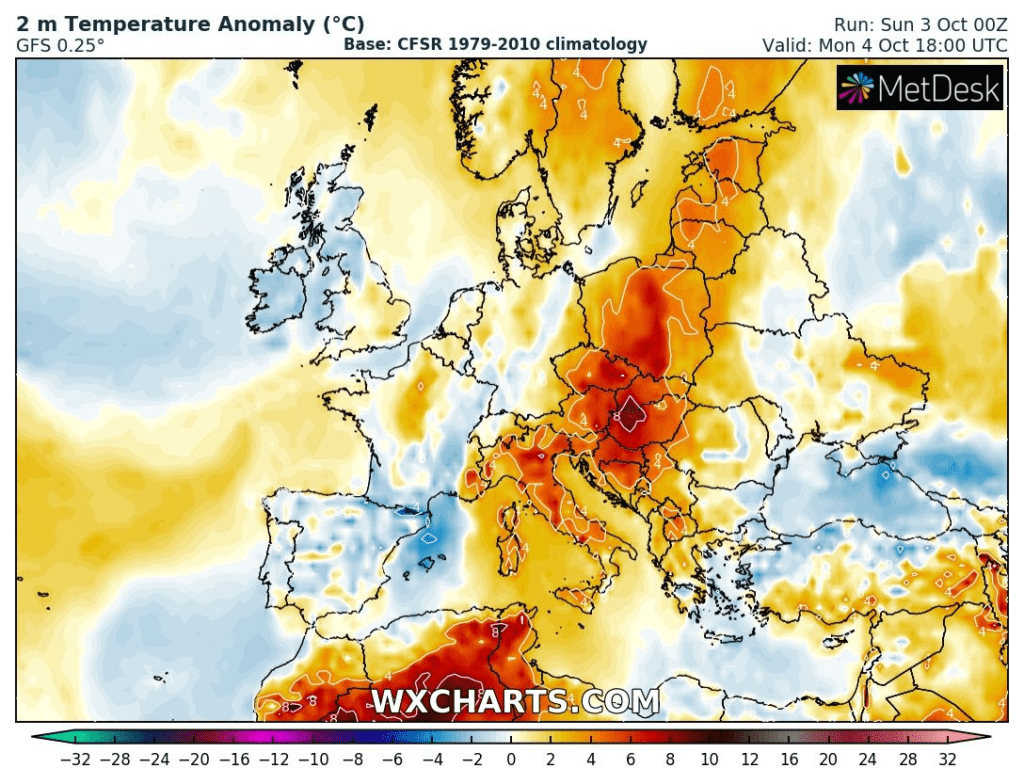 Source: wxcharts.com