Delta is recorded 10th storm and 5th hurricane bringing landfall in US, it became lastly in 1916 and 2005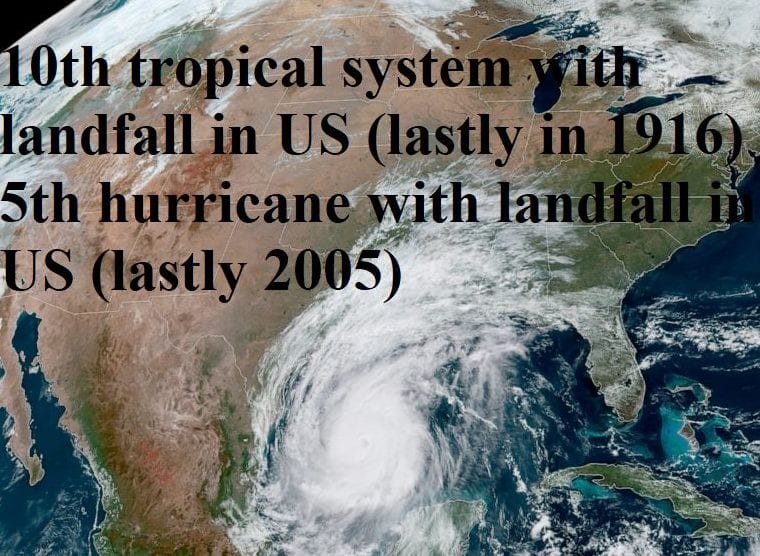 Hurricane Delta after Mkweather predictions and forecasts since Sunday, 4. October 2020 /SUNDAY; WEDNESDAY; THURSDAY/ hit Louisiana as a hurricane of Category 2, with sustained winds 165 km/h south of Cameron. 200 km from the coast however, the storm reached a level of major, Category 3 hurricane (sustained winds 193 km/h), therefore isn´t good its impact during the weekend underrate.
After hurricane Laura, Delta is the second strongest hurricane, which hit US territory in 2020 during recorded Atlantic hurricane season. By entry over the territory of USA, 2 historic records were broken: Delta is 10th tropical storm and 5th hurricane makes landfall in US in one season, what became lastly in 1916 or 2005 respectively.
Delta hits similar counties such as Laura during next hours, e.g. Lake Charles. Expected rainfall up to 15 inches (380 mm) and severe winds cause during the second strongest hurricane lot of damages in Louisiana, Texas, Mississippi and Alabama and remnants of the system hits Arkansas, Tennessee, Kentucky, southern Missouri and Illinois and then Northeast, mainly New York area, with next possible floods.
Although, MJO will be in a wet phase during next decade (the 2nd October 2020 decade), any hurricanes aren´t expected over the US territory until 25. October. However, it should quickly change, because situation over Caribbean and Gulf Coast is very dynamical.
In 2005, 7 tropical storms and hurricanes has occured after 10. October (from Alpha to Zeta). After hurricane Wilma in the mid-October 2005 arrived hurricane Beta (Category 3), Epsilon (Category 1) and 4 tropical storms/depressions yet. It appears, that Atlantic in 2020 hasn´t said last word and a few tropical threats are before us during the rest of October and November 2020. Some surprise should arrive in December or January, too, but waters of Gulf Coast will be already cooler, without bigger potential to hurricanes. The second peak of Atlantic hurricane season is here and is needed to have open eyes during next weeks.
Infographics: NOAA, tropicaltidbits.com, wxcharts.com: