Denmark hit 120 km/h winds with heavy snowfall, a blizzard hit Germany too, 130km/h winds in Istanbul killed 4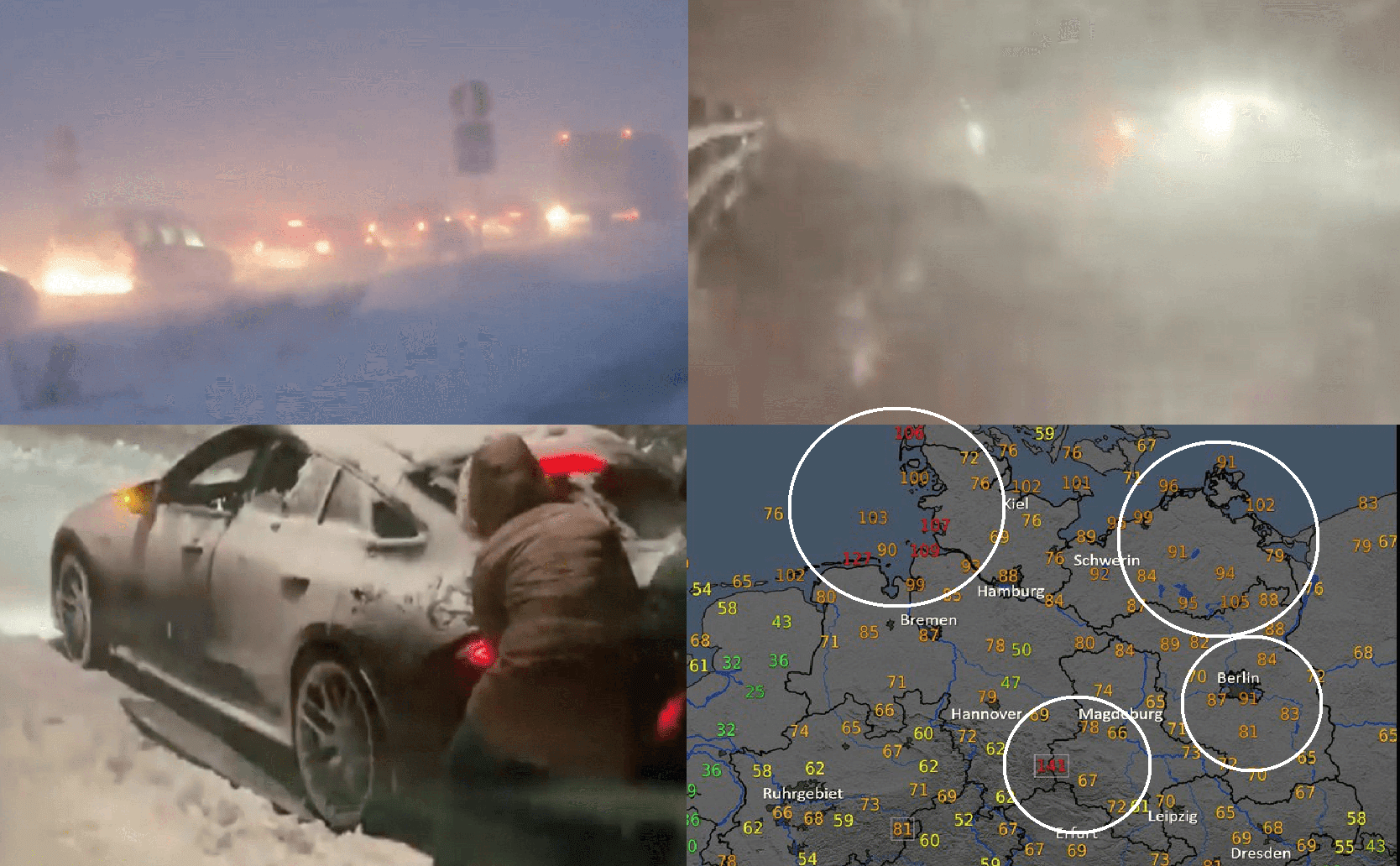 In the last days, we were informed about legendary frosts in Sweden, where only -37,5°C was measured /https://mkweather.com/brutally-cold-weather-in-scandinavia-legendary-frosts-in-sweden-375c-norway-369c-and-finland-340c-and-below-40c-is-forecasted-the-coldest-seasonal-temperatures-in-50/; https://mkweather.com/nikkaluokta-sweden-with-legendary-373c-the-coldest-temperatures-in-november-in-the-last-50-years//. Norway reported -36,9°C and Finland -34,0°C.
Extremely cold air has gradually shifted above Denmark, northern Germany, northern Poland, and the Baltic region, with a really disturbing situation in Denmark and northern Germany, where was a severe blizzard with 120 km/h wind gusts reported.
Aalborg, Denmark, only in the last days received wind gusts up to 120 km/h near heavy snowfall.
This weather caused big problems on roads and highways and practically all outdoor activities in Denmark are significantly limited.
Similar, 120 km/h wind gusts, in Brocken almost 150 km/h gusts, with snowing were reported from Germany, too.
In some parts of Germany, blizzards have brought up to 30 cm of snow, according to meteorologists and windstorm should cause widespread damages to property and threat lives.
The arrival of winter has been already felt in Istanbul, Turkey, where on 29. November 2021 130 km/h windstorm killed 4 people and made extensive damages.
In Greece and Turkey, before a cold front, temperatures up to +32°C were in the last days measured /the next Mkweather article/, while after a transition of a cold front, Florina, northern Greece reported on 1. December 2021 only -8,0°C.
After the windstorm, a strengthening of frosts is forecasted in Central Europe, minimally until 10. December 2021, but only below -20°C, maybe very rarely -25°C should appear in frost valleys and basins (current forecasts are a little warmer than previous).