Australia recorded the wettest spring since 2010, but December started with a +45,6°C heatwave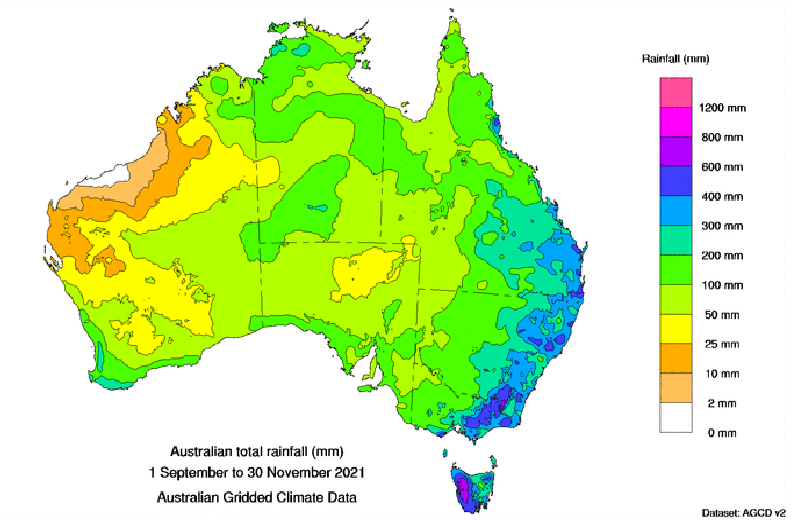 Only in the last article from Australia, we were informed about extremely stormy November 2021 across the continent /https://mkweather.com/australia-experiences-with-extremely-stormy-november-2021-from-some-regions-500-of-average-rainfall-is-reported//.
November 2021 ended in Australia wettest since records began, but interesting are statistics for all Spring 2021, too.
Thanks to the ongoing La Nina event, the negative phase of IOD, and favorable wet MJO above the eastern Indian Ocean, Australia recorded the wettest spring since the anomalous year 2010 /more here: https://watchers.news/2021/12/01/wettest-spring-since-2010-and-the-wettest-november-since-records-began-in-1900-australia//.
In November 2021 even, rare snow appeared in 3 Australian provinces /https://mkweather.com/in-australia-more-snow-than-in-canada// and southeastern Australia had for a short time more snow such as metropolitan regions in Canada.
After cold and stormy spring 2021, the first day of Summer 2021/2022 surprised in Marble Bar with an extreme heatwave.
Anomalous +45,6°C was in the town measured, which is the highest temperature in Southern Hemisphere in the current summer season, so far.
According to Summer 2021/2022 forecasts for Australia and Oceania /https://mkweather.com/summer-2021-2022-forecast-for-australia-and-oceania-stormy-colder-la-nina-pattern-above-the-continent//, however, the first half of summer should be in Australia colder and stormier, while a shift to drier MJO and positive IOD is expected in the second half of the season, with gradual heatwaves, drought, and possible wildfires.
Summer in New Zealand and the neighboring parts of Oceania with Australia and New Zealand (Fiji, New Caledonia, Vanuatu, southern Papua-New Guinea, Tonga, Niue, Cook Islands…) is forecasted to be wet, but very hot.