Brutally cold weather in Scandinavia: Legendary frosts in Sweden -37,5°C, Norway -36,9°C, and Finland -34,0°C and below -40°C is forecasted! The coldest seasonal temperatures in 50 years!
MK
November 29, 2021
3 min read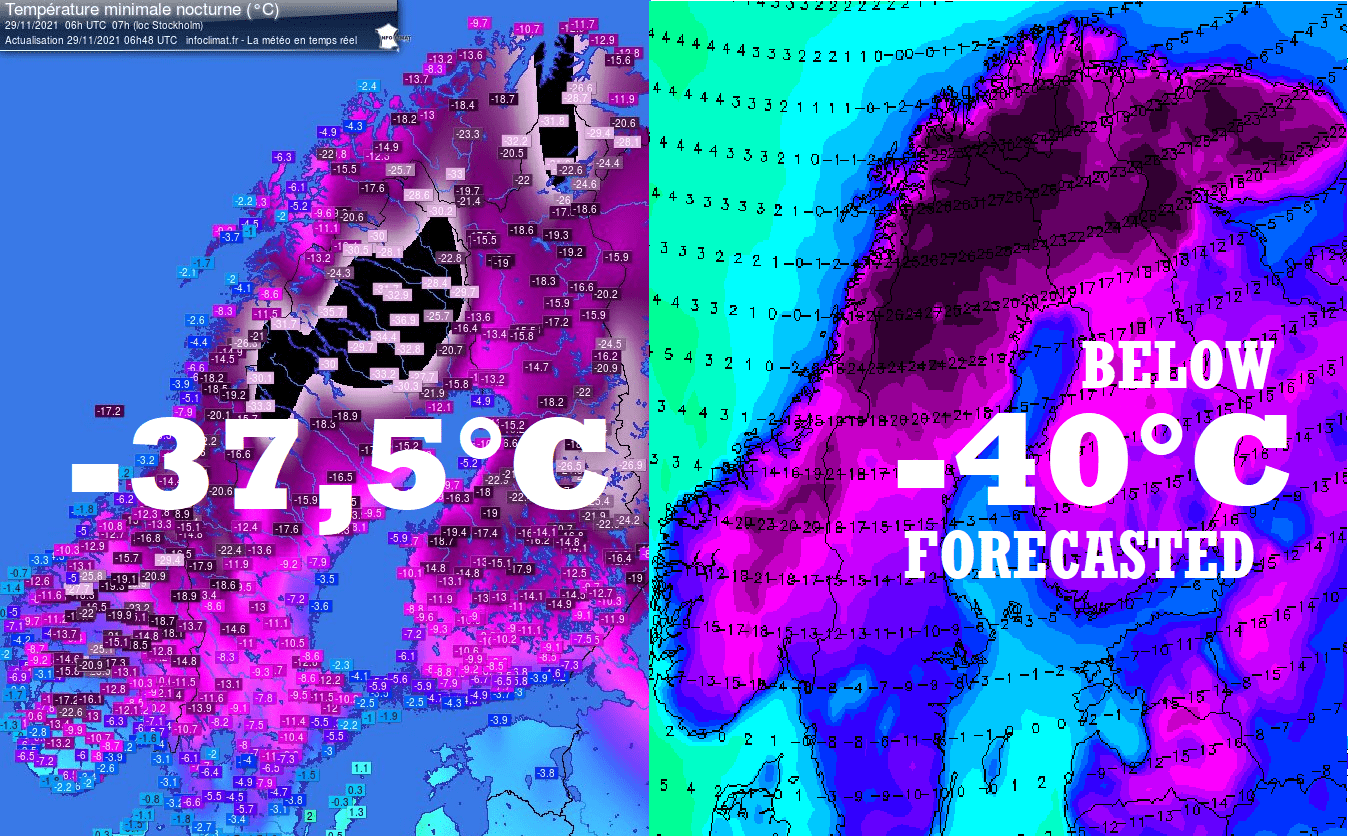 Already in the last article, we were informed about extreme frosts in Nikkaluokta, Sweden on 28. November 2021, when -37,3°C – the coldest temperature at the station in the last 40-50 years, was measured.
Until Monday, 29. November 2021, Sweden, Norway and Finland, reported even lower temperatures and the outlook is brutally cold.
On 29. November, -37,5°C was in Nikkaluokta measured, while Kaukoteino, Norway reported -36,9°C.
Kevo in Finland reported -34,0°C a day earlier, on 28. November, yet.
These temperatures are in a wider Scandinavian region the lowest in November minimally since the legendary year 2010 (the year with anomalous NAO-), but regionally it´s the coldest temperatures in the last 40 – 50 years!
Extremely cold nights are forecasted furthermore in minimally 2-week outlook, with warming only around 13.-15. December 2021.
The coldest morning is expected around 6. December 2021, when abnormal -40°C and lower temperatures in Scandinavia, mainly Lapland, should appear, what should be one of the earliest -40°C and lower temperatures in all-time history!
Meanwhile, severe snowstorms hit parts of the British Islands and Iberia, too /https://mkweather.com/a-snowstorm-trapped-60-people-in-uk-pub-they-had-fun-and-sang-for-three-days/; https://mkweather.com/winter-hit-the-warmest-region-in-europe-cordoba-andalusia-12c-sierra-nevada-122c-and-heavy-snowfall//, while in Greece, maximum temperatures reached up to +31,1°C (update; https://mkweather.com/greece-on-28-november-tropical-304c-turkey-296c-cyprus-280c-uae-373c-and-oman-370c-israel-is-waiting-35c/).
All period minimally until 13. December 2021, in longer outlook possibly until the New Year 2022 /https://mkweather.com/long-term-forecast-until-2-january-2022-extreme-arctic-winter-in-europe-until-new-year// will be in the region extremely, or even legendary cold and our long term forecasts, therefore, were not mistaken /materials you will find here: https://mkweather.com/winter-2021-2022-forecast-for-northern-hemisphere//.
All should be linked with an extremely low NAO index /https://mkweather.com/nao-index-falls-to-2-0-the-lowest-value-since-legendary-35c-frosts-in-europe-in-january-february-2021-or-206c-in-april-2021// and anomalously cold Arctic /https://mkweather.com/arctic-sea-ice-extent-is-the-2nd-highest-in-15-years//
Cold weather has a bad impact on the virological situation, heart attack rates, many kinds of cancer, or should cause hypothermia.
Blizzards should cause widespread problems on roads, highways, or railways and power outages, including metropolitan areas.
If you live in /not only northern/ Europe, we highly recommend you to watch current weather news, forecasts, warnings, and advisories.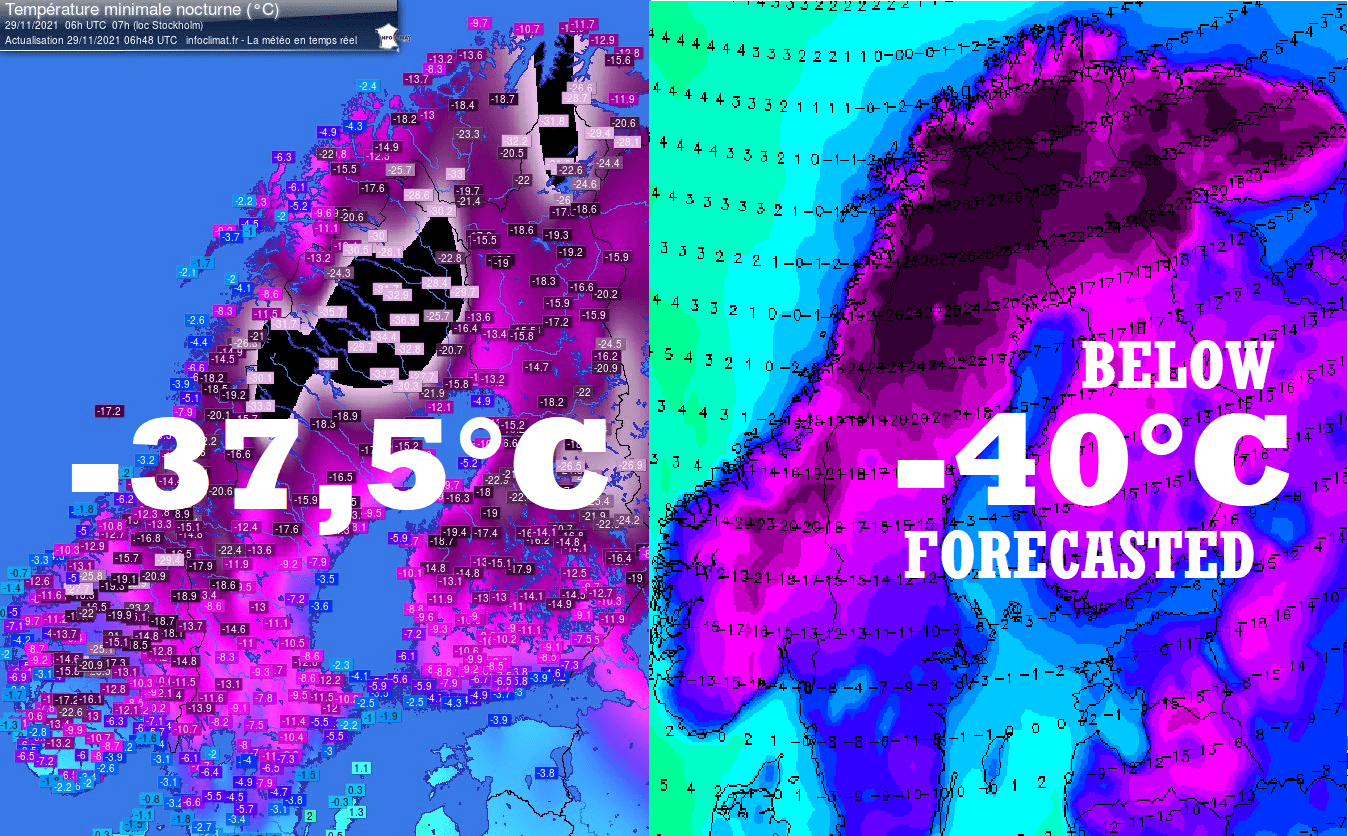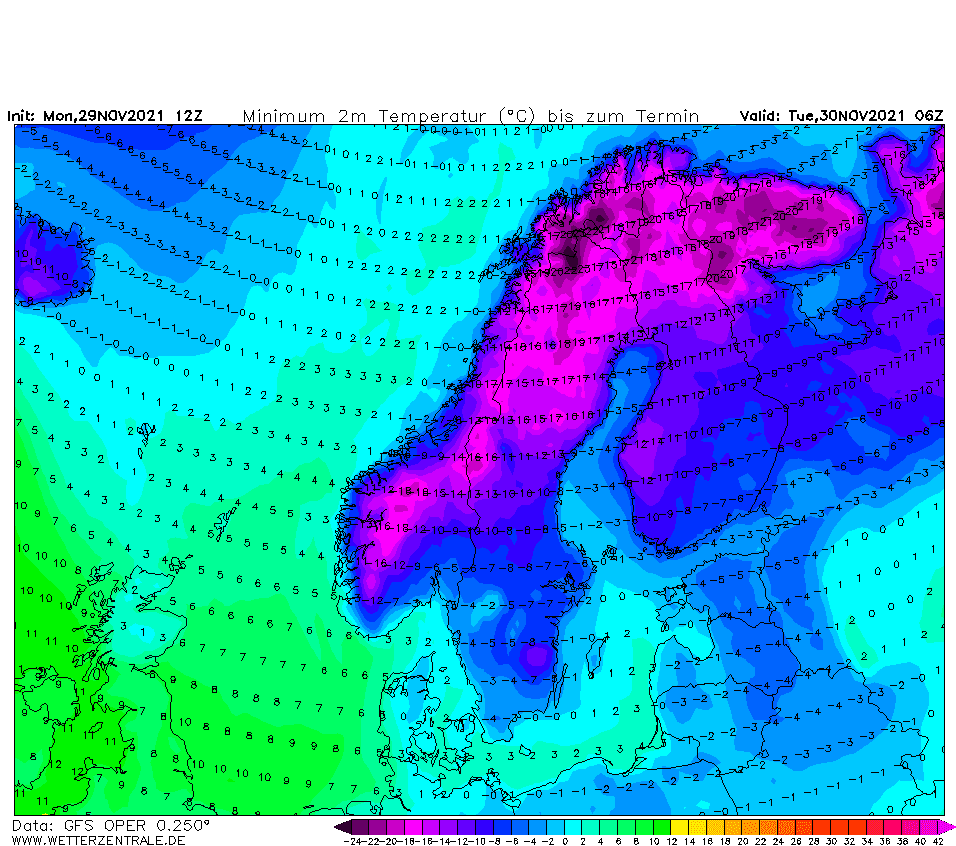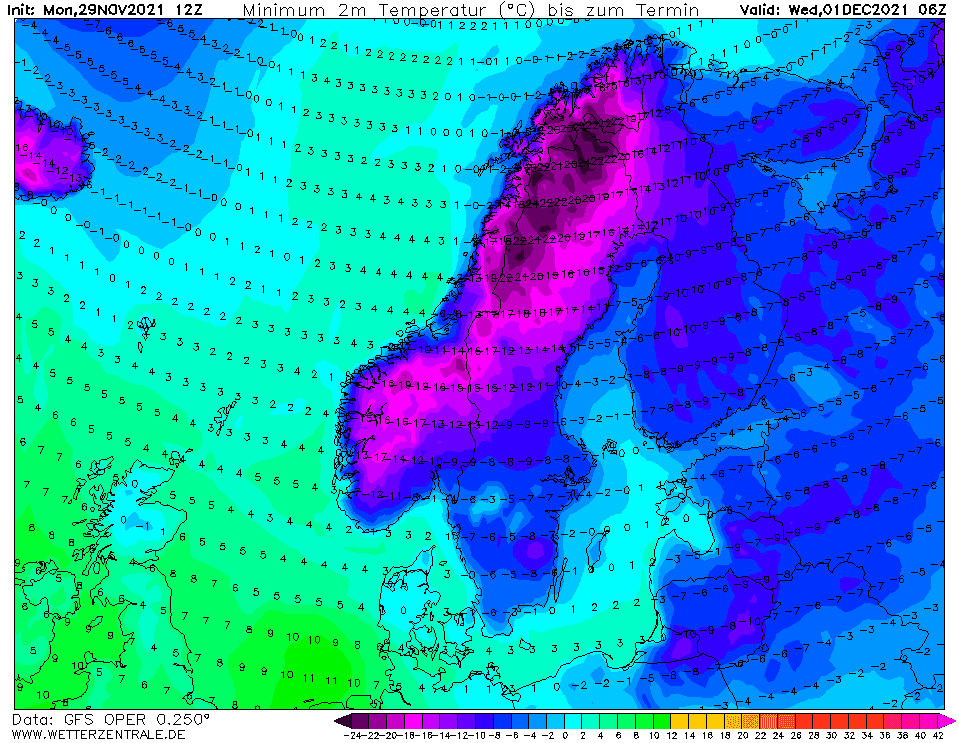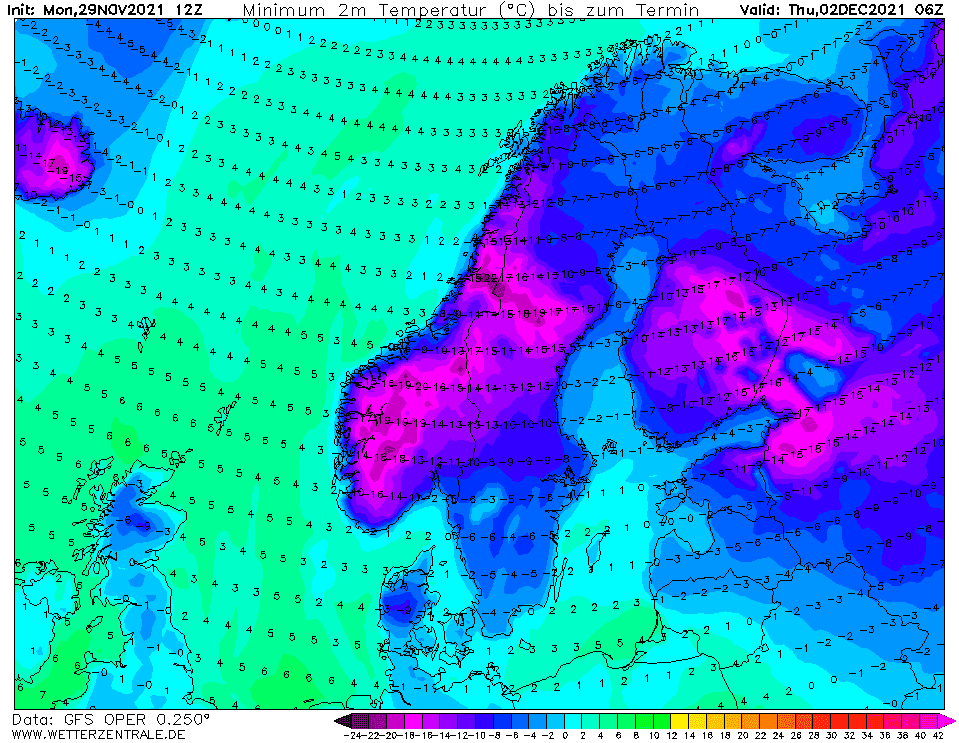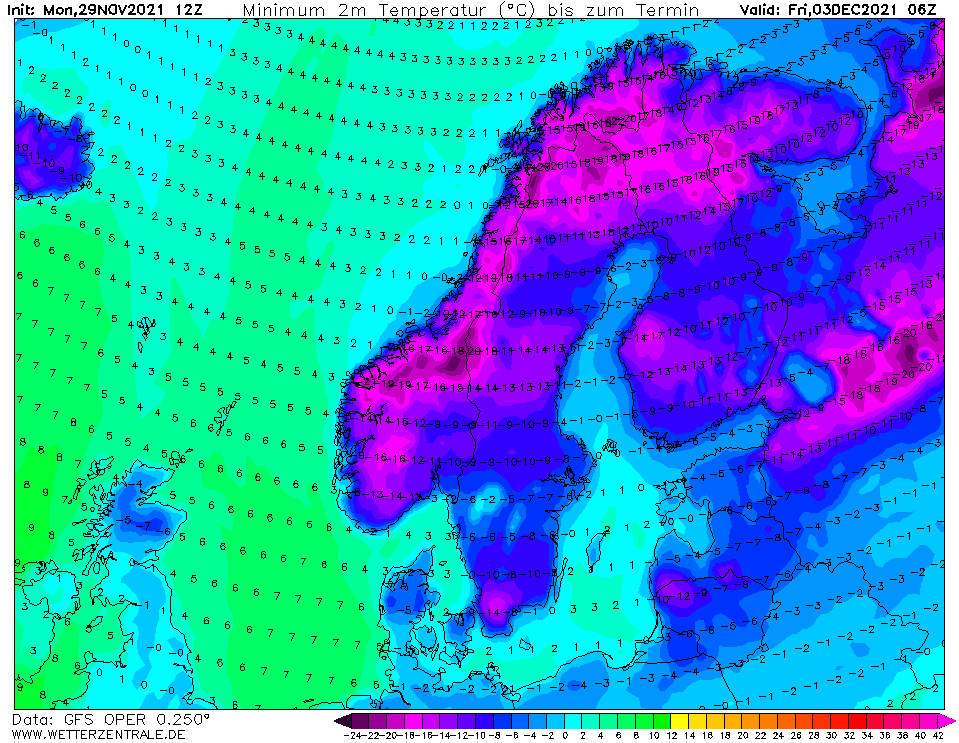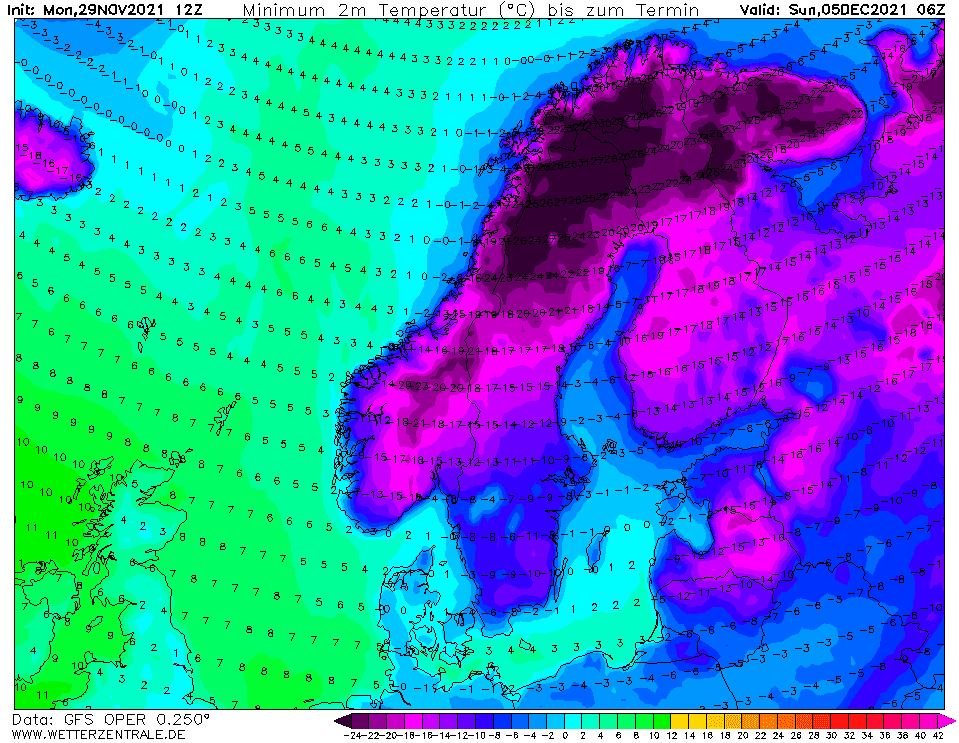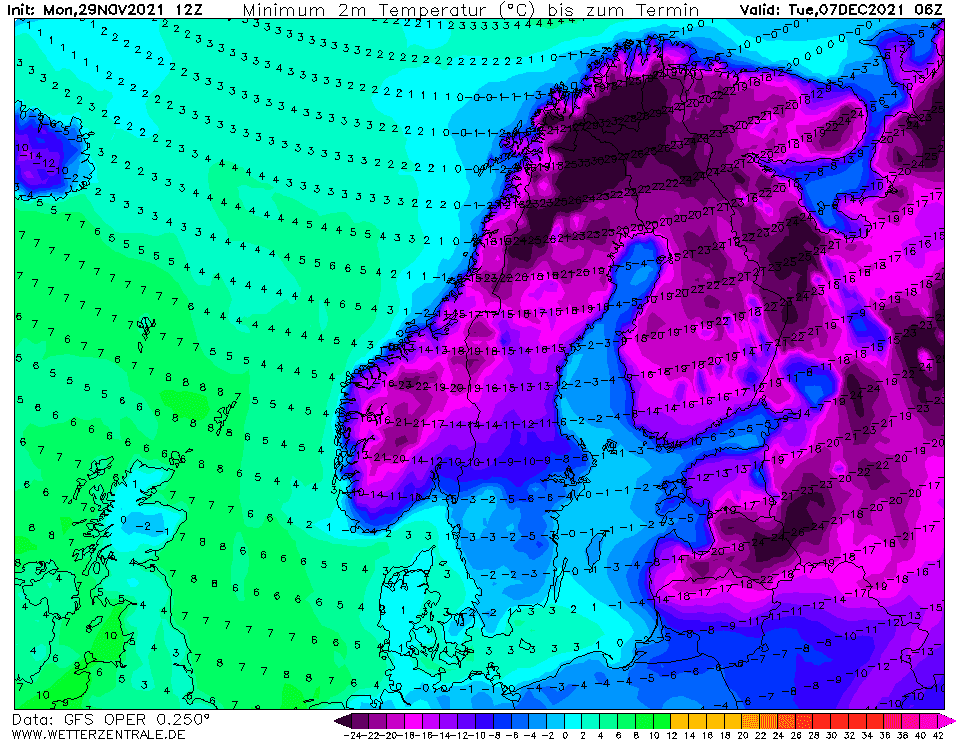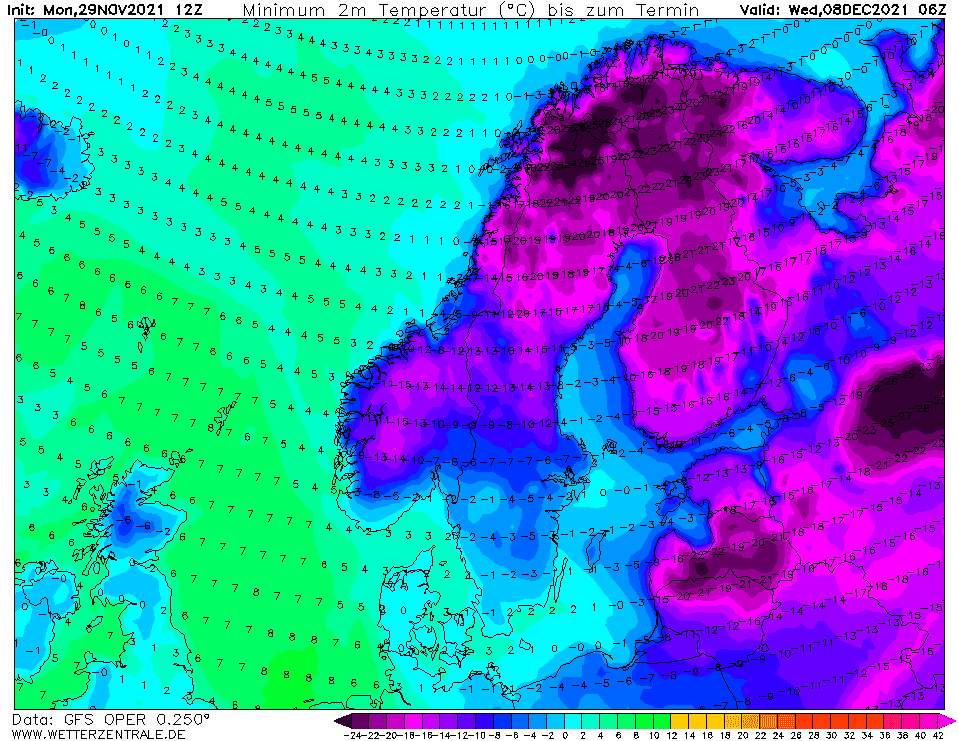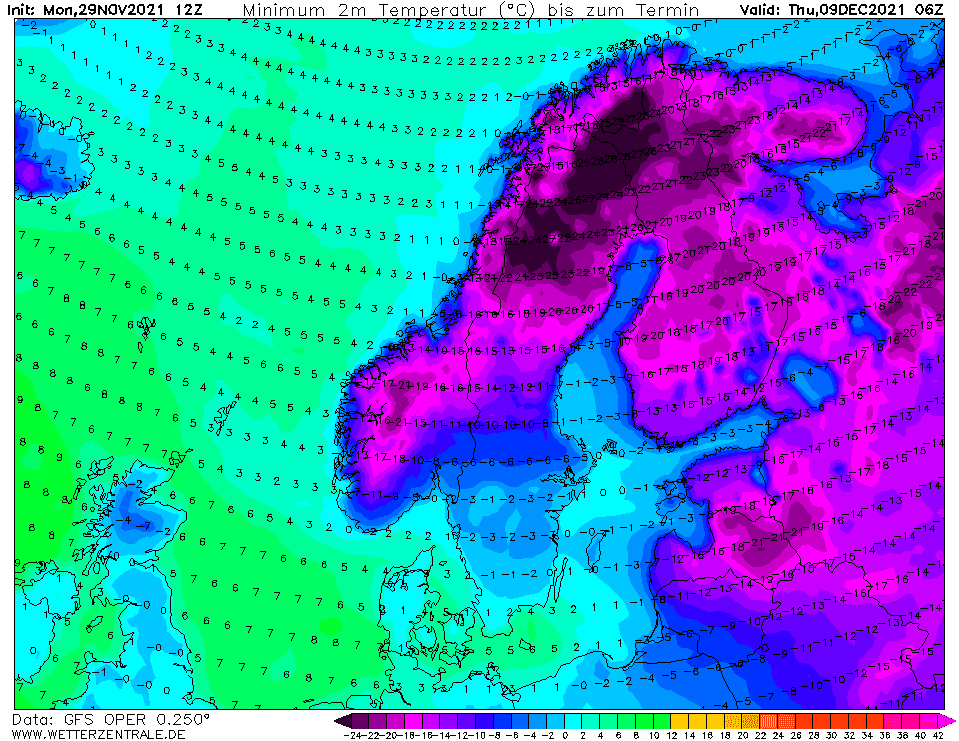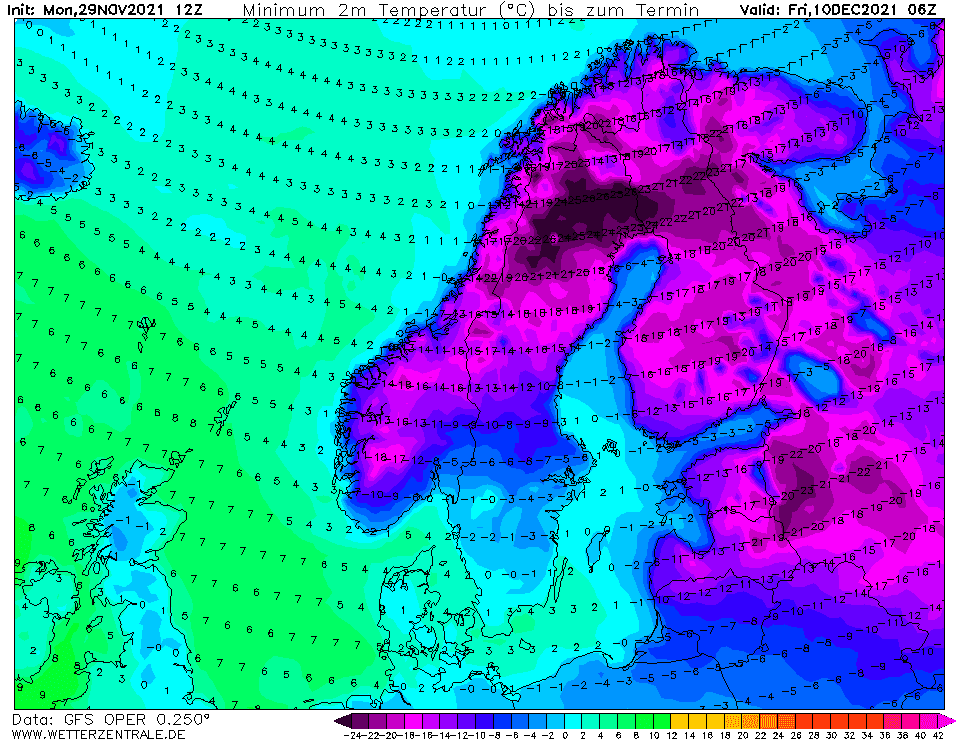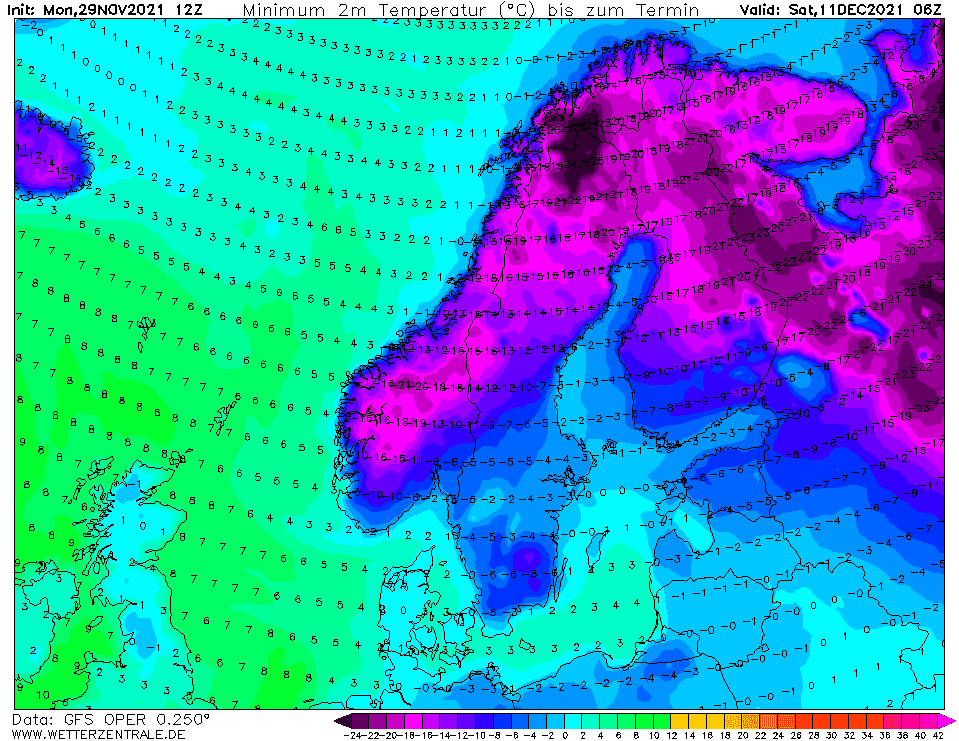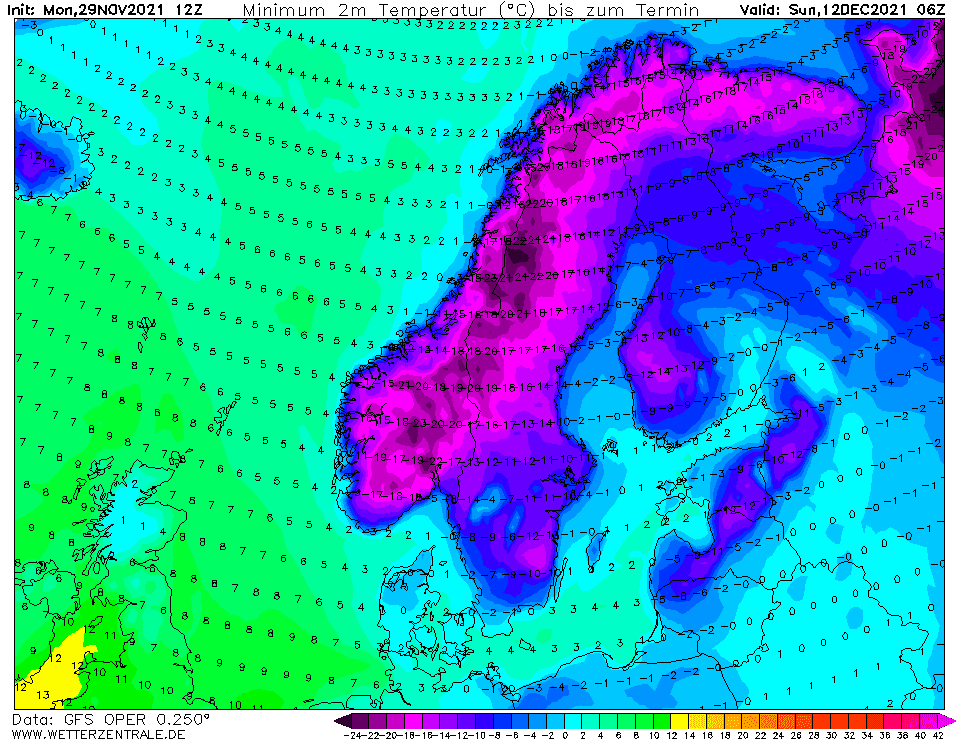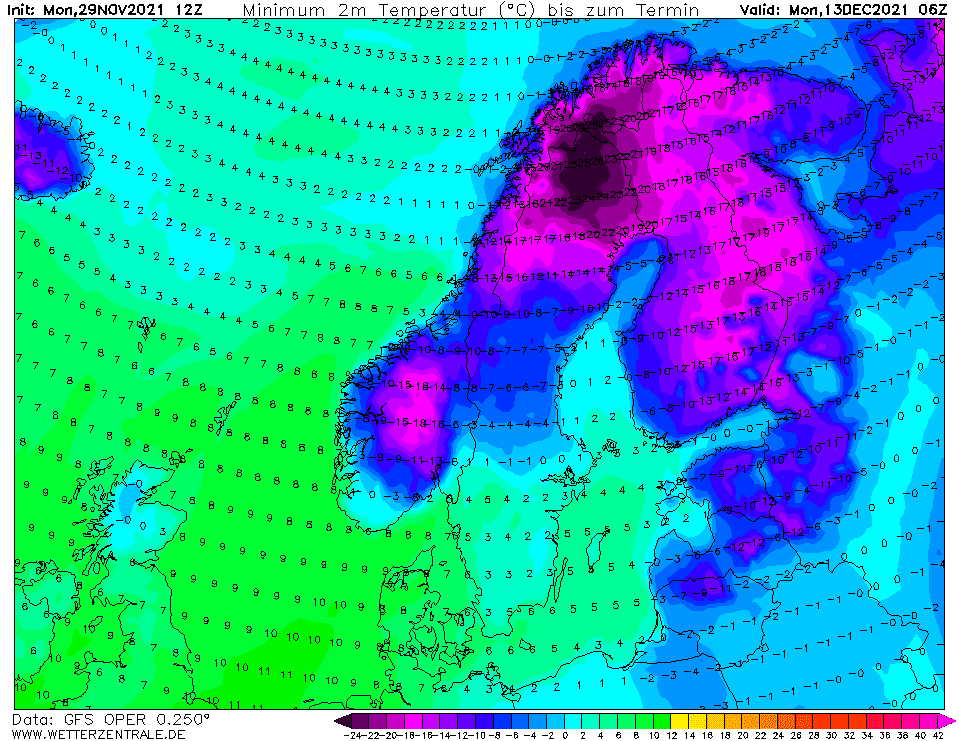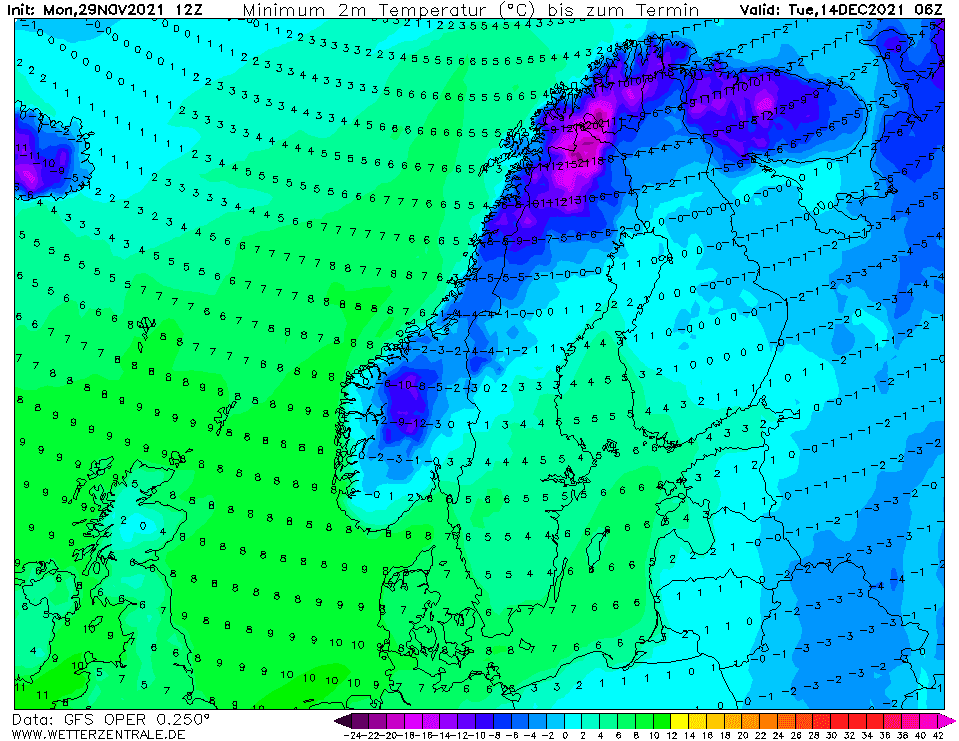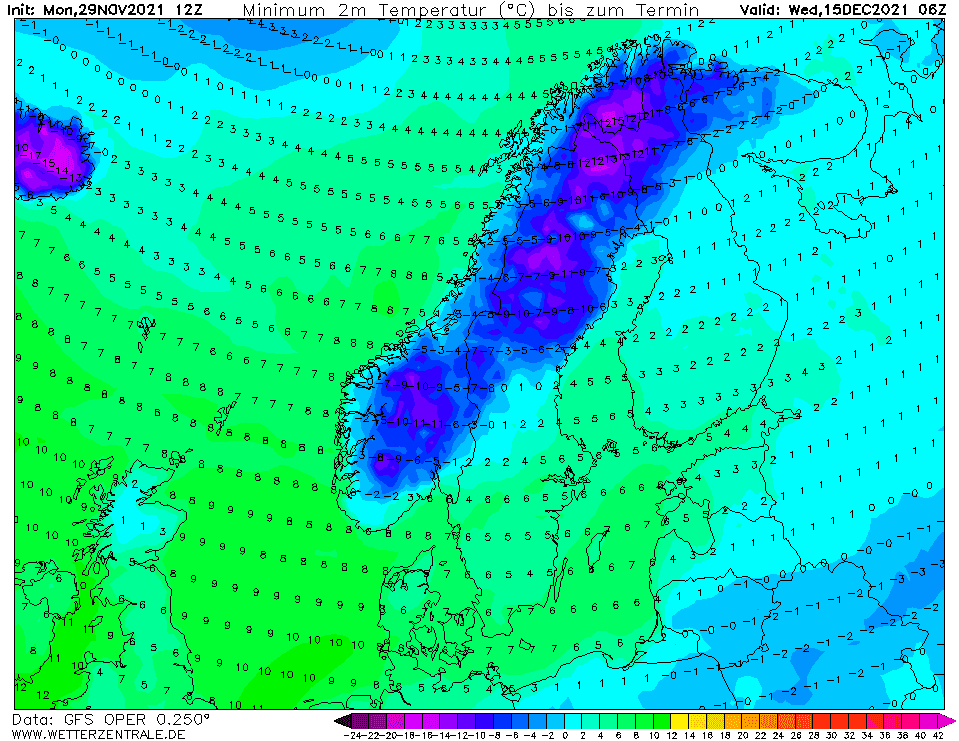 Source: wetterzentrale.de