Differences between Mediterranean and Scandinavia 57°C: Turkey +38,2°C, France +30,0°C, Norway -18,7°C, Romania -5,5°C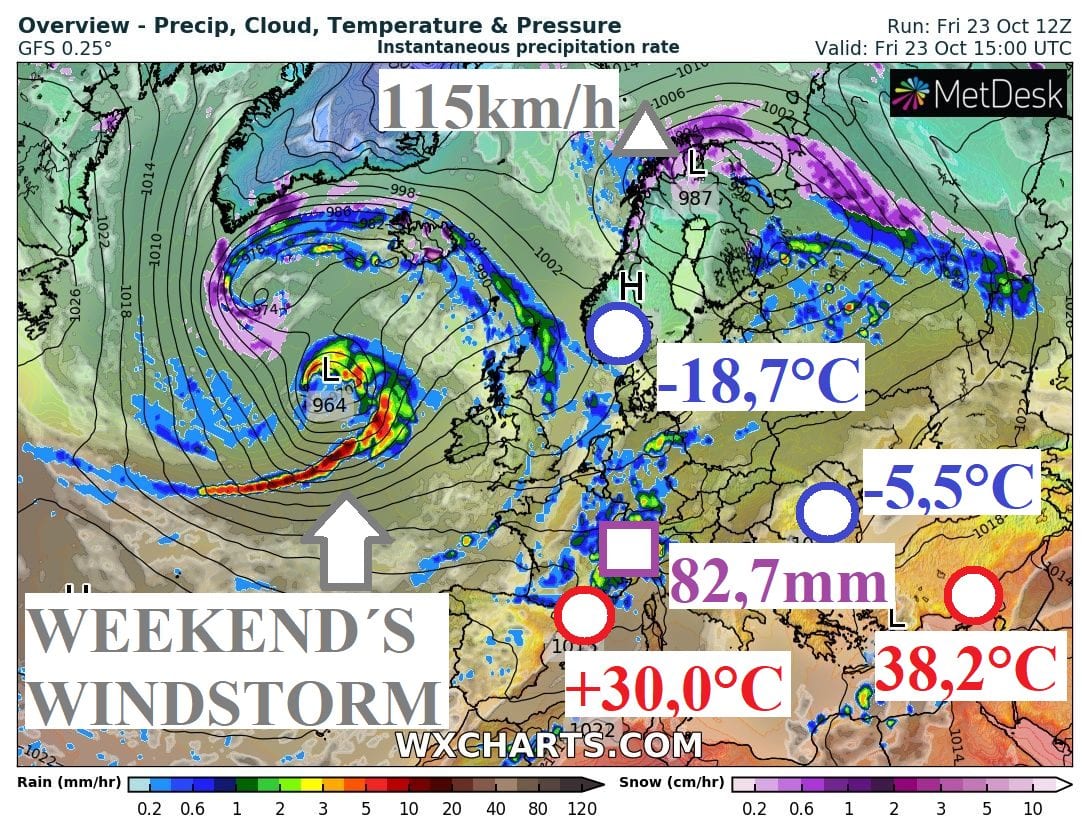 Indian summer, day 5 (Friday, 23. October) has brought extreme temperature differences between southern and northern Europe, or Mediterranean and Scandinavia, respectively.
On the front side of remnants of storm Barbara and next expected (weekend´s) windstorm over British Islands and NW/W Europe has continued advection of tropical air over parts of Mediterranean and very warm air to Central, Eastern Europe and Balkan.
On the back side of remnants of Barbara, extreme cold Arctic air has shifted above Scandinavia and colder and very dry air still persists in eastern parts of continent, too.
In Alpine region, Barbara has brought heavy rains mainly in Switzerland and low pressure above northern Scandinavia has brought next snowfall and severe winds to Lapland.
The hottest place in northern coast of Mediterranean was Adana, Turkey, with record high maximum temperature, +38,2°C (November absolute record for the city is +34,3°C, October record from early October days, +41,5°C, therefore record temperature on 23.10. is very probably).
In Cap Bear, southern France, has been measured tropical +30,0°C on Friday. Greece has reported +29,1°C (Argos) and parts of Balkan has reported summer temperatures 25-30°C (Gevgelija, North Macedonia, +28,5°C, Kurdjali, Bulgaria, +26,8°C, Tirana, Albania, +25,0°C, Tulcea, Romania, +25,0°C). Warm were northern parts of Balkan too (Kragujevac, Serbia, +24,7°C, Sarajevo, Bosnia and Herzegovina, +24,1°C, Plevlja, Montenegro, +23,1°C, Hvar, Croatia, +23,0°C, Tiraspol, Moldova, +22,6°C).
Italy has reported only +25,2°C (Deciomannu), Malta +22,6°C (Gudja) and Spain +27,6°C (Capdepera).
In Central and Eastern Europe, +22,4°C has been measured in Kerch, Ukraine, +22,0°C in Szeged, Hungary and +20,5°C in České Budějovice, Czechia.
Extremely cold air has shifted to southern Norway – European Oymyakon, Folldal-Fredheim has reported -18,7°C, Vilhelmina in Sweden -17,8°C, Ranua Arfield in Finland -9,2°C.
From continental parts, Miercurea Ciuc in Romania has reported -5,5°C, Sjenica, Serbia, -3,7°C, Berovo, Northerh Macedonia, -2,0°C, Livno, Bosnia and Herzegovina, -1,4°C, Florina, Greece, -0,7°C, Plevlja, Montenegro, -0,1°C.
In Switzerland, La Dole, has dropped 82,7 mm, in Annecy-Meithet, France, 53 mm and in Bielsa, Spain, 30,4 mm of rain.
Hasvik-Sluskfjellet in northern Norway has reported wind gusts up to 115 km/h.
At the weekend, next windstorm hits NW Europe and above continent and large part of Mediterranean will continue Indian summer. On Tuesday, Hurricane Epsilon arrives to Europe, with extreme wind gusts and rainfall.
Infographics: wxcharts.com, ogimet.com: