Hurricane Epsilon hits British Isles in full power!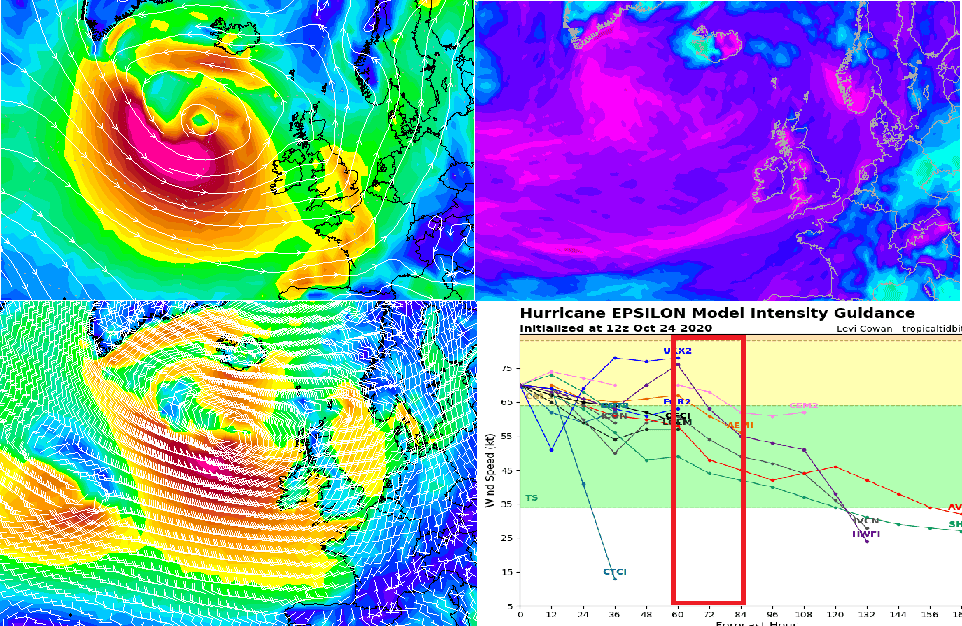 Forecasts associated with Hurricane Epsilon in Europe are very bad 48 hours before its arrival above European lands. The most bothered will be very probably British Isles, with even more extremely wind gusts, such is bringing weekend´s windstorm.
At the weekend, another windstorm hits in Northwestern Europe, mainly British Isles, with wind gusts up to 169 km/h (Cairngorm, UK).
The next highest wind gusts on Saturday, 24. October 2020: 133 km/h (Aonach Mor, UK) and 130 km/h (Great Dun Fell, UK), with lower areas 117 km/h (Capel Curig, UK), 112 km/h (Estaca de Bares, Spain), 111 km/h (Glen Ogle, UK), 105 km/h (Belmullet, Ireland), 102 km/h (South Uist Range, UK) or 100 km/h (Tiree, UK).
But on Tuesday and Wednesday, situation should be even more critical in the UK, Ireland and parts of Northwestern and Western Europe (Iceland, Norway, France, Benelux, Denmark, northern Germany, Sweden…) – ex-hurricane Epsilon with power of tropical storm, or, still hurricane Category 1, hits European coasts, with possible wind gusts in British mountains up to 130 – 180, maybe 200 km/h and possible wind gusts in lower areas between 110 – 140, rarely up to 160 km/h.
Forecast models have changed expected track of the system to more southward – hurricane Epsilon will be above northern parts of Atlantic collide with another deep cyclonic system and this duo of powerful 2 centers of low pressure makes one robust deep-cyclonic system, before entering above land of British Isles.
Center of a Tropical Storm / Hurricane Epsilon will be shifting above Scotland farther to east, with severe winds and storms on cold front, which arrives in front of the system.
Transition of tropical storm / Category 1 hurricane above British Isles should be associated with severe damages and significant threat of life, property or ecosystems on Tuesday and Wednesday, 27.-28. October 2020.
Floods from rain or coastal threats should appear according to current outputs of GFS in Wales, northern England, western Scotland and across coast or Ireland except of eastern Ireland.
Severe winds subsequently hits coastal areas of mentioned countries. Floods in other countries are possible mainly in southwestern Norway and eastern Iceland, but too are possible in coastal regions of France, Spain or Portugal (near current weekend´s windstorm and Hurricane Epsilon both).
Remnants of Hurricane Epsilon ends a 10-day period of Indian summer in Central, Eastern Europe and Balkan, too around Wednesday – Thursday, 28.-29. October 2020. After transition of deep cyclone over Europe, extremely cold Arctic air will flow again above European continent, with next powerful coldwave and moreover, next possible windstorms are in outlook for early November 2020 in NW Europe.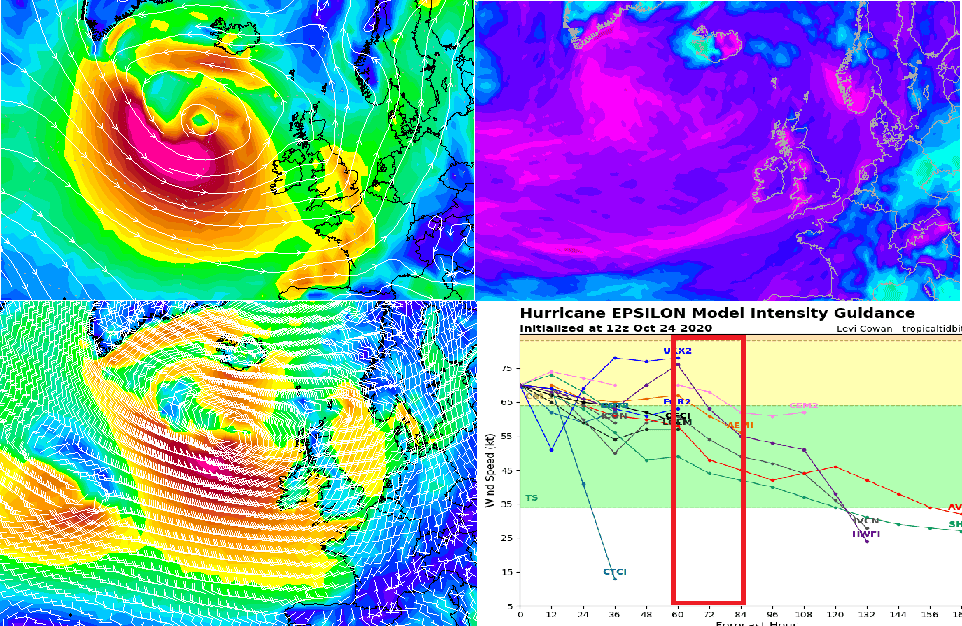 Infographics: wxcharts.com, tropicaltidbits.com, wetterzentrale.de
Weekend´s windstorm: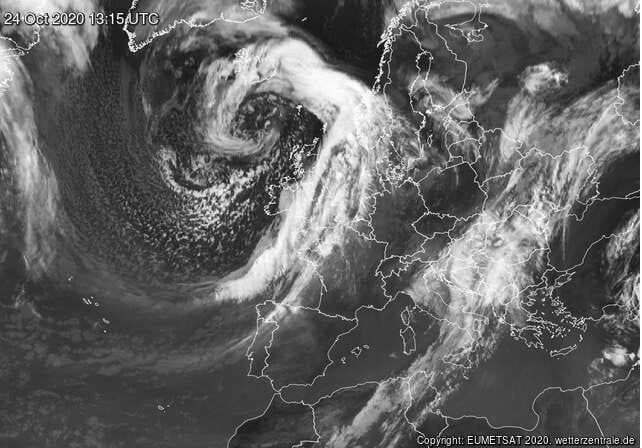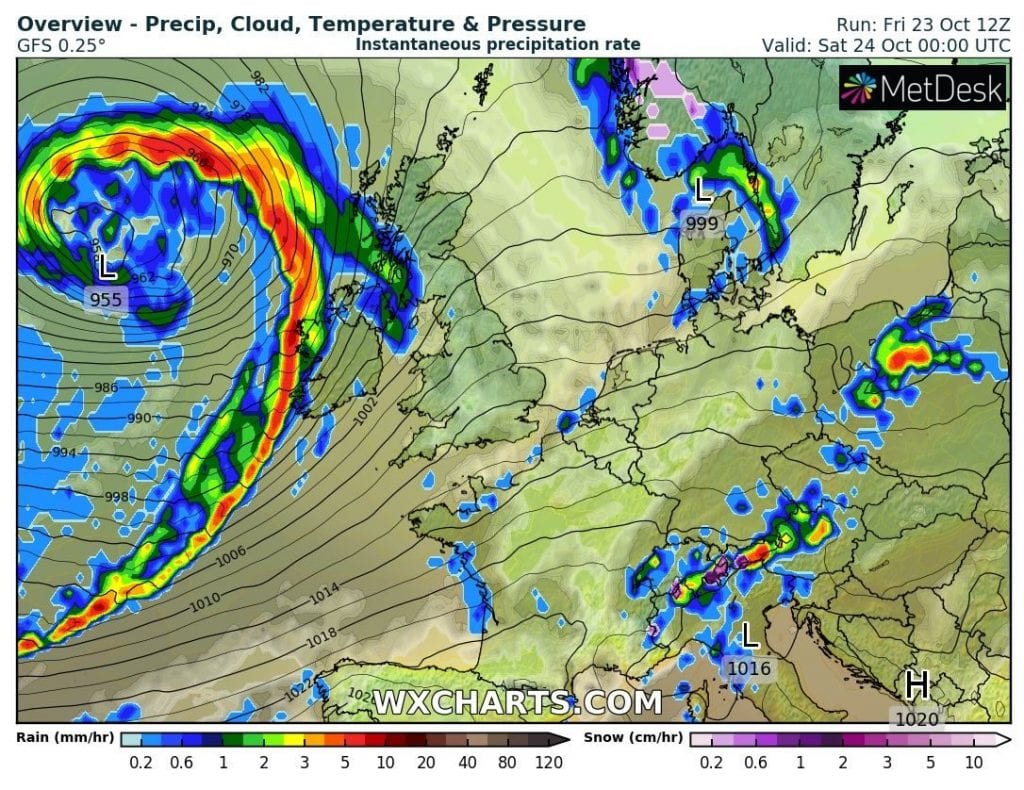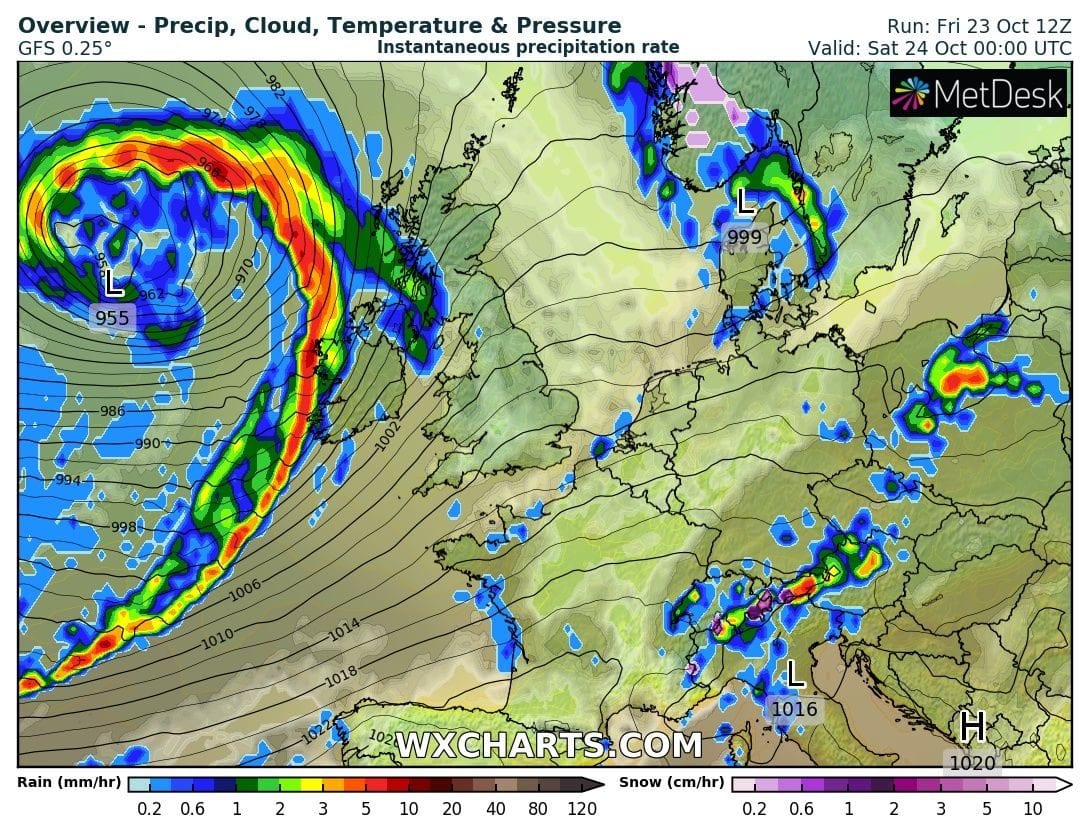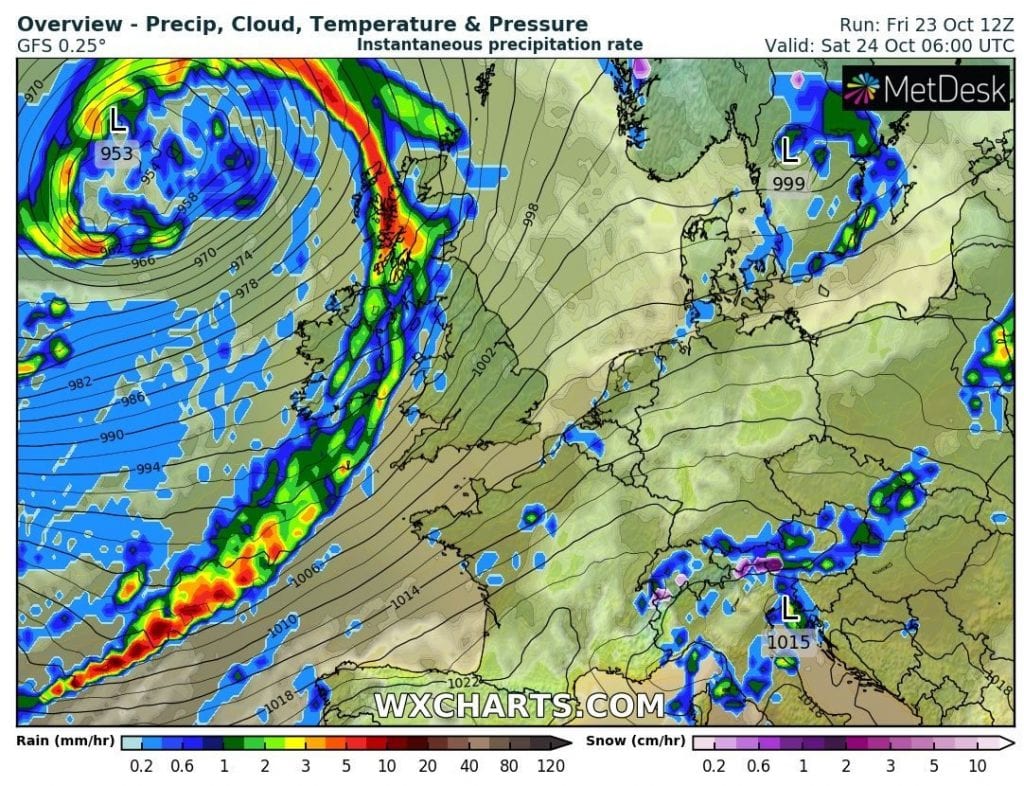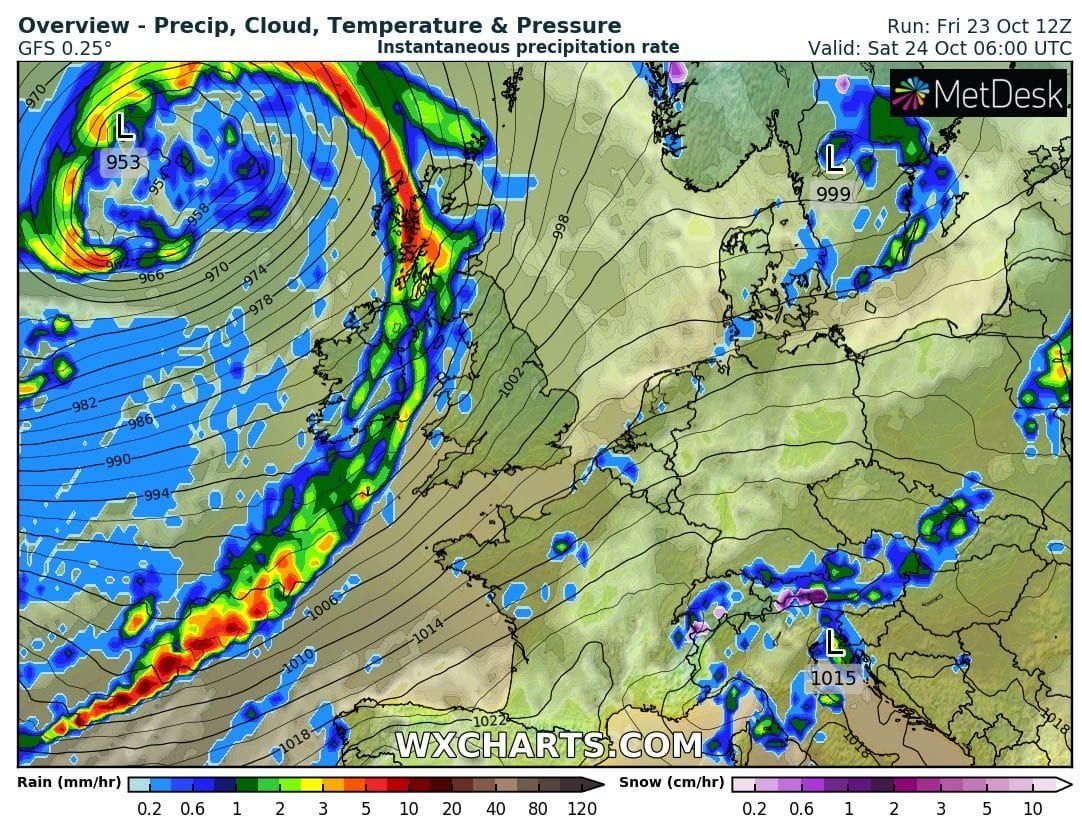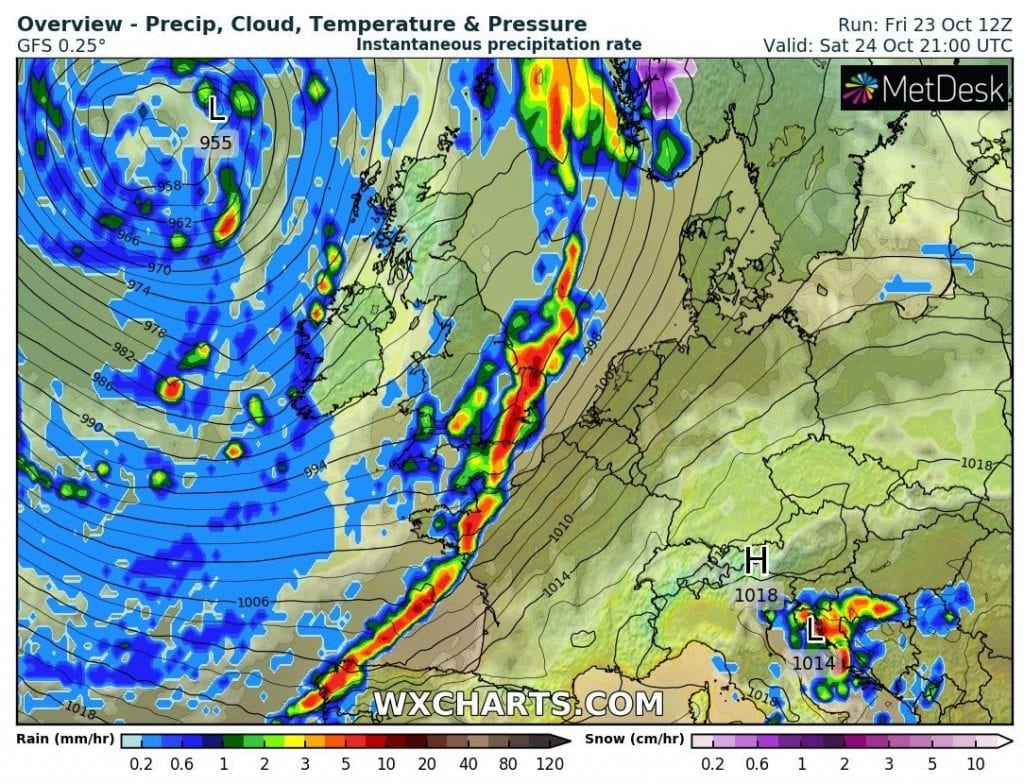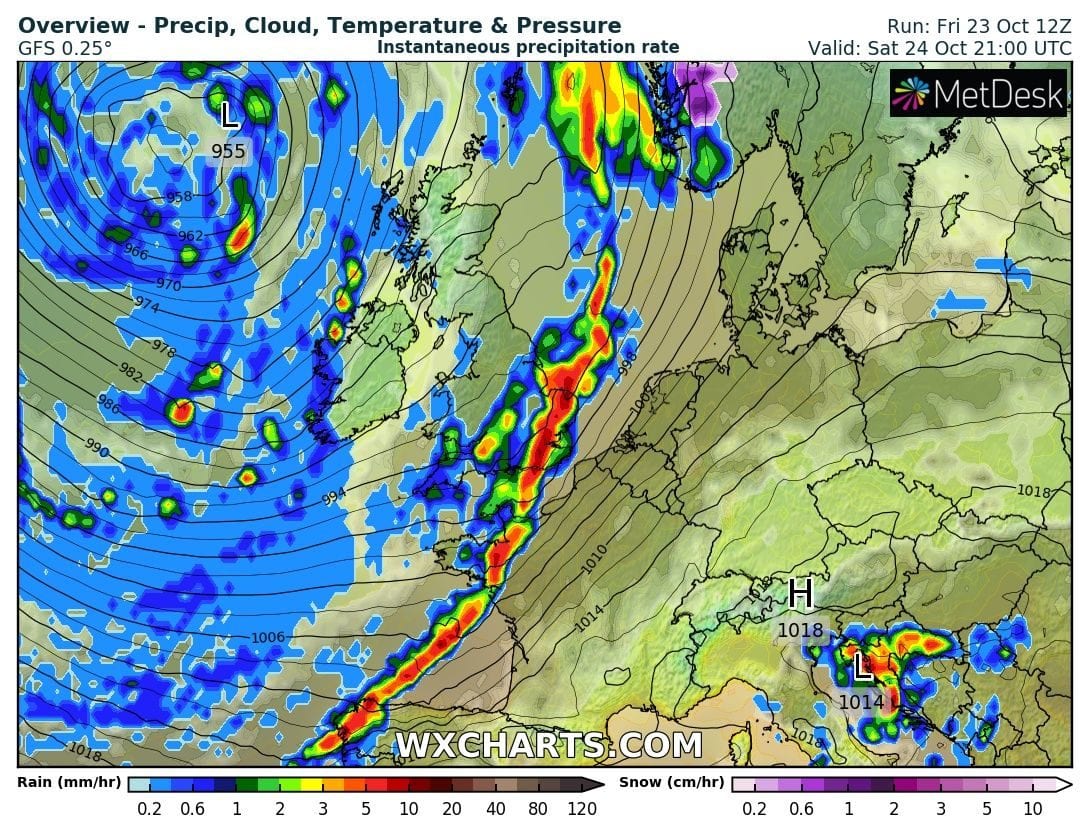 Hurricane / Tropical storm Epsilon: