Early winter already in the USA! From blizzard (ID, MT) through historic frosts (NV, CA) to ice storm (NE, IA)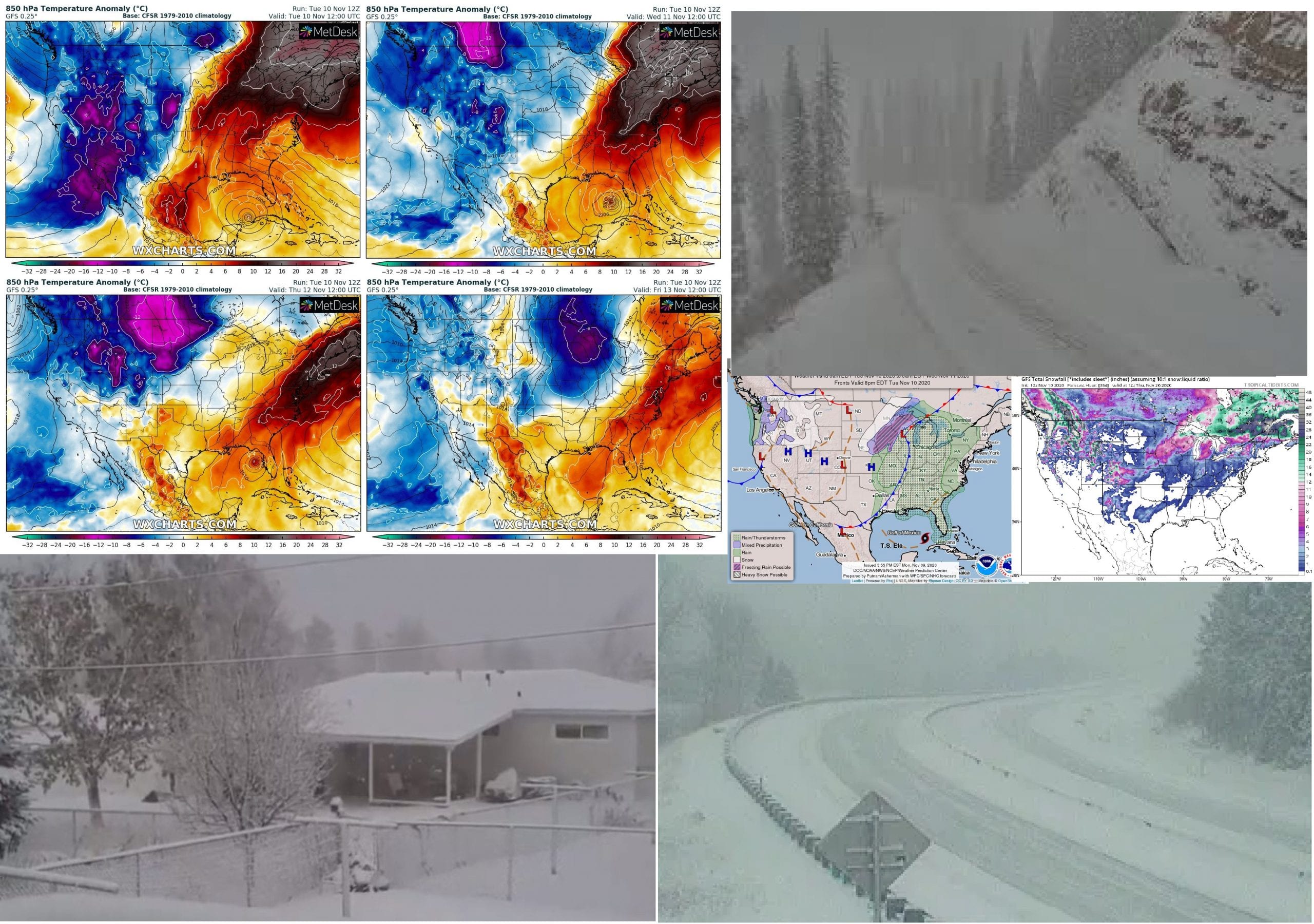 From Montana to California and from California to Iowa! Next early winter blizzard hit USA (and Canada – next article) and parts of North American continent reports record snowfall (Canadian Praries, western half of the USA), historic frosts (Nevada) or expects next dangerous freezing rain (Iowa, Nebraska).
In the USA, blizzard hit mainly Idaho and Montana, but under the snow have ended big parts of Washington, Oregon, Nevada, Utah, California, Wyoming or Colorado, so far.
Very cold conditions will bother western half of the USA minimally until the end of the week, with next cold blasts not only on the West during the second November 2020 half.
Accroding to Accuweather, many states in the USA reports record November snowfall, too – e.g. Twin Bridges, California, 18 inches / 46 cm, Wolf Creek, Colorado, 17 inches / 43 cm, Highwood, Montana and Smith Valley, Nevada 16 inches / 41 cm or Moran Junction, Wyoming, 12 inches / 30 cm.
According to electroverse.net, Las Vegas (Nevada) has reported the lowest minimum temperature on 8. November in history – only 54°F / 12,2°C (all after record high 86°C on 7. November!) and Reno (Nevada) has reported record snowfall of 4.5 inches / 11 cm. Server informs about record snowfall in Montana and Colorado, too.
According to watchers.news, ice storm hits on Tuesday, 10. November parts of Iowa and Nebraska – after extreme ice storm in Oklahoma, Kansas and Texas /https://mkweather.com/2020/10/29/historic-coldwave-in-the-usa-the-lowest-october-temperature-ever-292c-20-2f-oklahoma-with-dangerous-ice-storm// it is the second dangerous ice storm in central USA this autumn.
According to tropicaltidbits.com, snowfall will appear in many parts of the USA until 26. November – next coldwaves brings snowing to Midwest, Great Lakes region, Northeast and smaller parts of South, too.
Wxcharts tool forecast for next 16-days is very dynamic, with next coldwaves (W-E direction of flow) between 14.-19. November 2020 and between 20.-26. November 2020 – coldwaves will be divided by short warmer periods.
NOAA on Tuesday expects the most severe conditions in Northwest and northern Midwest / southern Northern Plains with snow / ice storms, but during next days, regions with severe winter weather will be changing, therefore, Mkweather recommend to watch current meteorological news, warnings and forecasts.
During the warmer period, many countries in Europe and states in the USA have reported decline of COVID cases, but winter conditions are again here in the USA and in Europe is expected big early coldwave, too, so dress warm and pay attention in the roads.
Infographics: wxcharts.com, tropicaltidbits.com, accuweather.com, watchers.news, NOAA and others: