At the end of August, extremely hot tropical air has flooded Southeastern and Eastern Europe plus Turkey and Middle East Mediterranean.
On Sunday, 30. August 2020, in Israel was measured extreme +46,5°C, in Cyprus +43,8°C and in Hungary +38,2°C /https://mkweather.com/2020/08/30/supertropical-heatwave-35-47c-95-116f-from-slovakia-up-to-israel-israel-465c-cyprus-438c-hungary-382c//.
On Monday, 31. August 2020, extremely hot air slowly shifted eastward and TOP reached temperatures has reported mainly Eastern Europe, Eastern Balkan and Turkey.
In Cyprus was measured +43,4°C (Lefkoniko) and in Turkey +43,0°C (Urfa).
+40°C was achieved in Balkan, too – in Greece (Serrai, +40,4°C). Very hot was in Albania (Gjirokastra, +39,4°C), North Macedonia (Gevgelija, +38,8°C), Montenegro (Podgorica, +37,6°C), Bulgaria (Sliven, +37,0°C), Serbia (Cuprija, +36,9°C), Romania (Riosori de Vede, +36,8°C), Bosnia and Herzegovina (Mostar, +35,9°C) and Moldova (Dubasari, +35,4°C).
Extremely hot was in Eastern Europe – Ukraine was reporting +36,7°C (Mohyliv-Podil's'Kyi) and Belarus +33,0°C (Vasilevici) – in many parts with the highest maximum temperatures of the year 2020.
Outlook for the region is very hot during the whole first half of September. Already on Tuesday, 1. September, expected temperatures in Greece are up to +42°C and on Thursday, 3. September, in Turkey up to +44°C. GFS model is waiting +40°C on Romania-Bulgarian borders too.
A week later, on Tuesday, 8. September 2020 could be in Turkey up to +45°C and till half of the month, heatwave from Balkan could return above southeast Central Europe, with temperatures in Hungary and Slovakia up to +35°C – but this is very preliminary, yet.
Sure is, that Eastern Mediterranean will be very suitable for late summer vacations, while Spain, France, Italy and Croatia will be bothered by storms and cold waves from the Atlantic.
In Spain, more than +40°C, in France more than +35°C, in Italy and Croatia more than +37°C and in Central Europe more than +30°C except of Slovakia and Hungary isn´t expected already during next 16 days.
Expected hot 1., 3 and 8. September in Eastern Mediterranean /wetterzentrale.de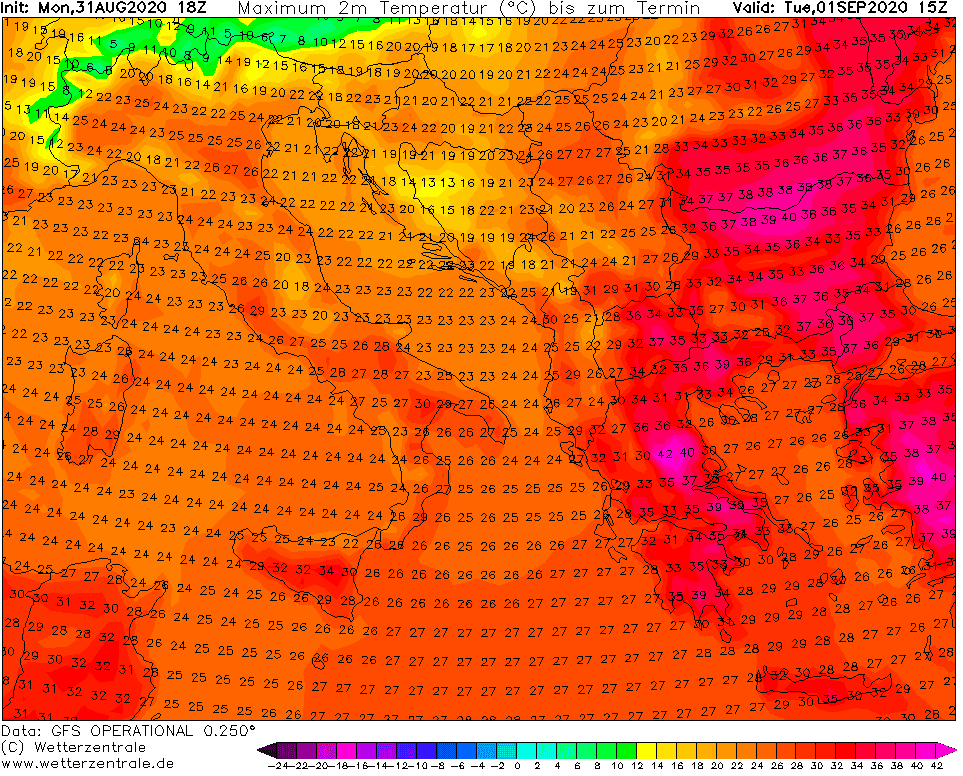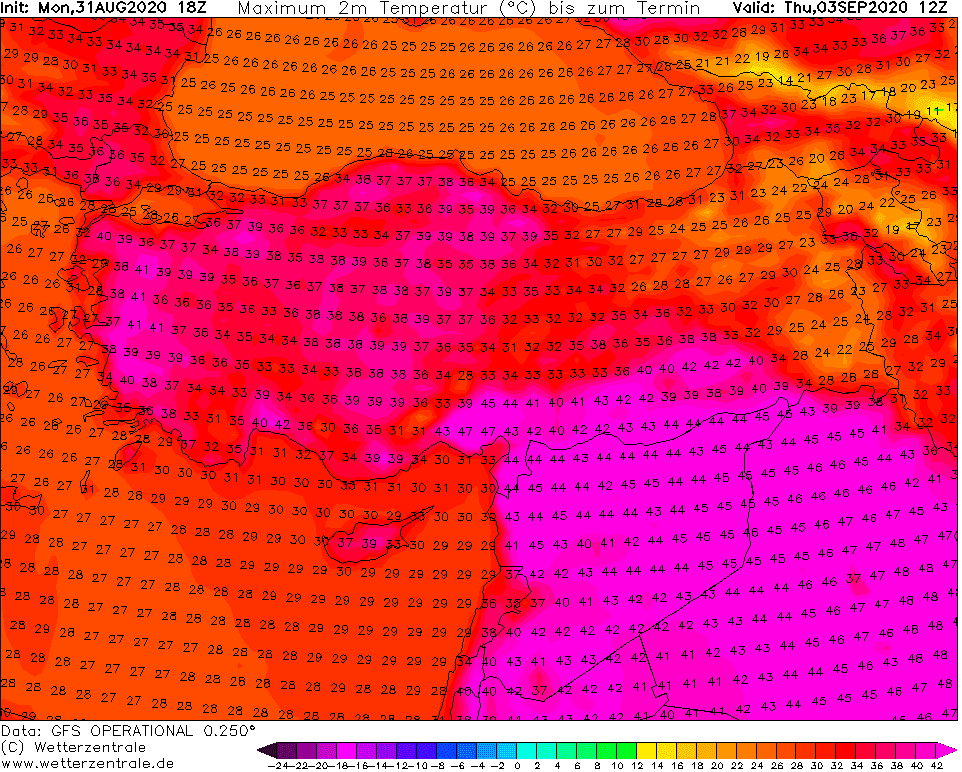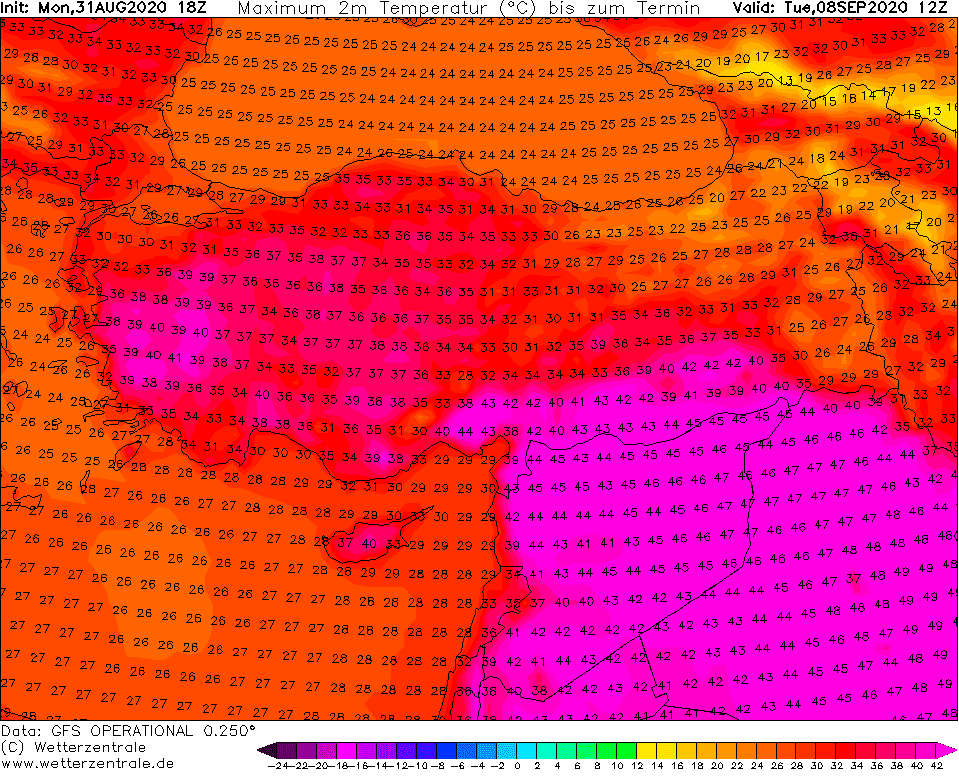 9-day outlook of 850 hPa temperature and 500 hPa goepotential above European sector /wetterzentrale.de: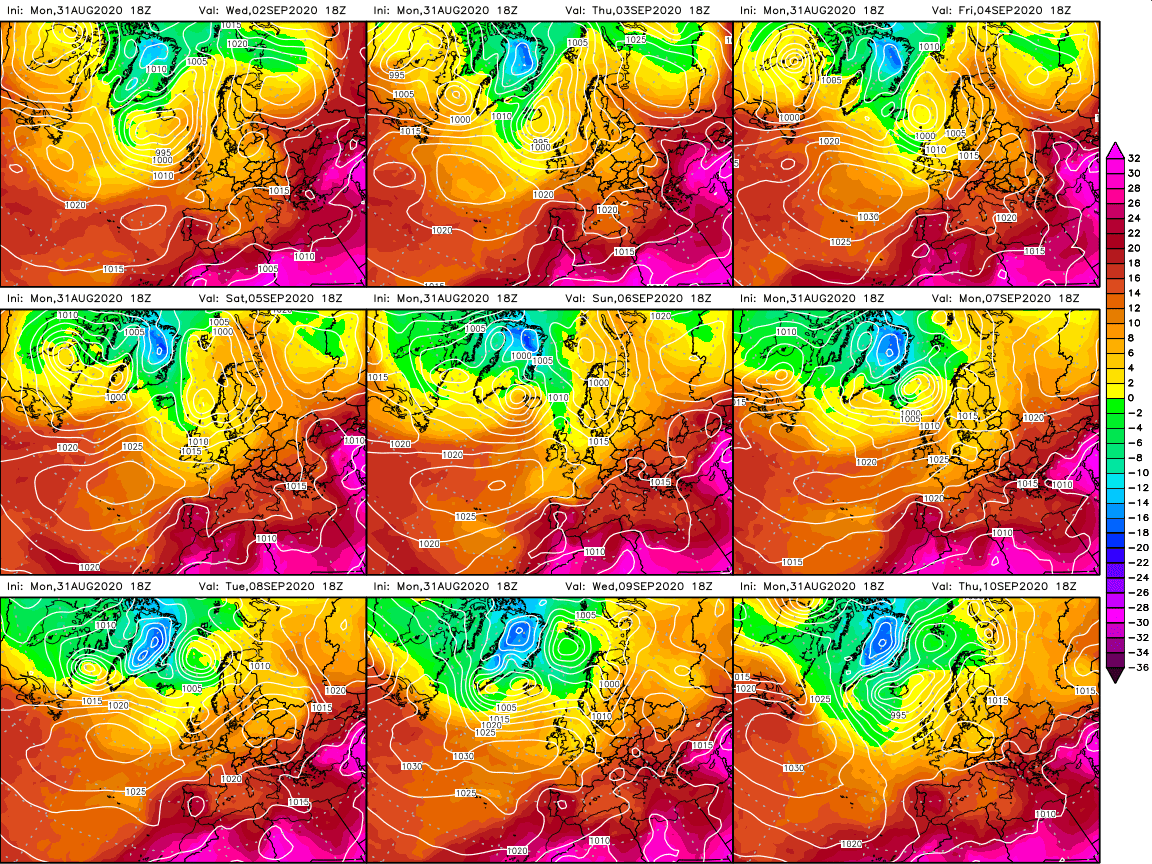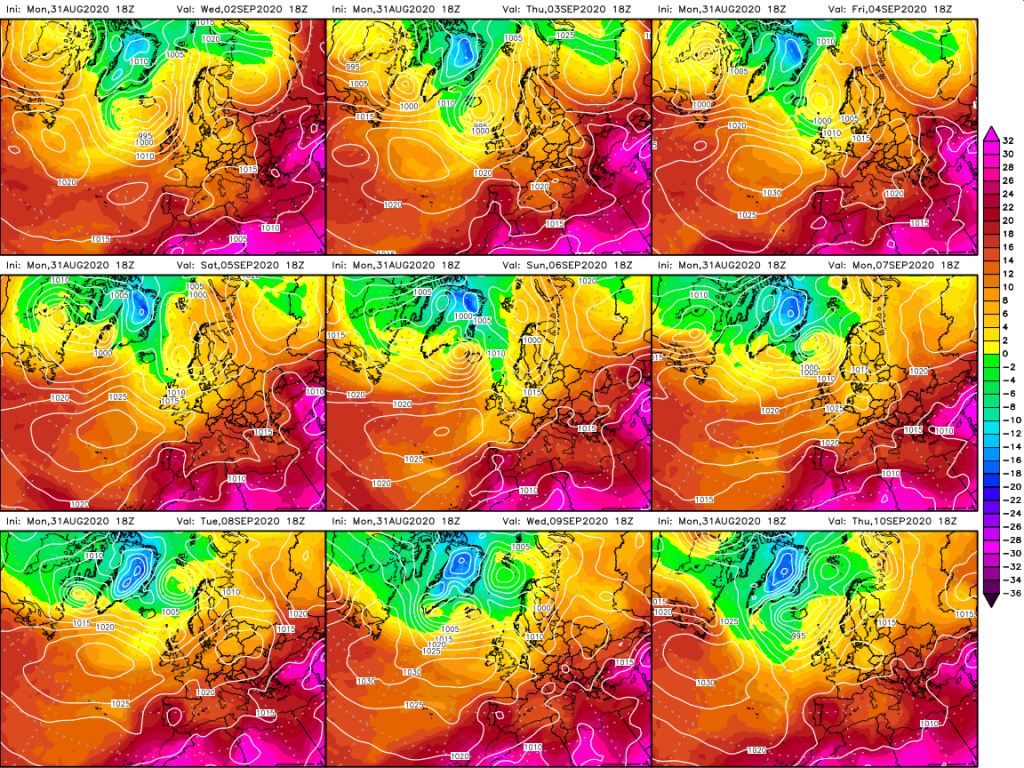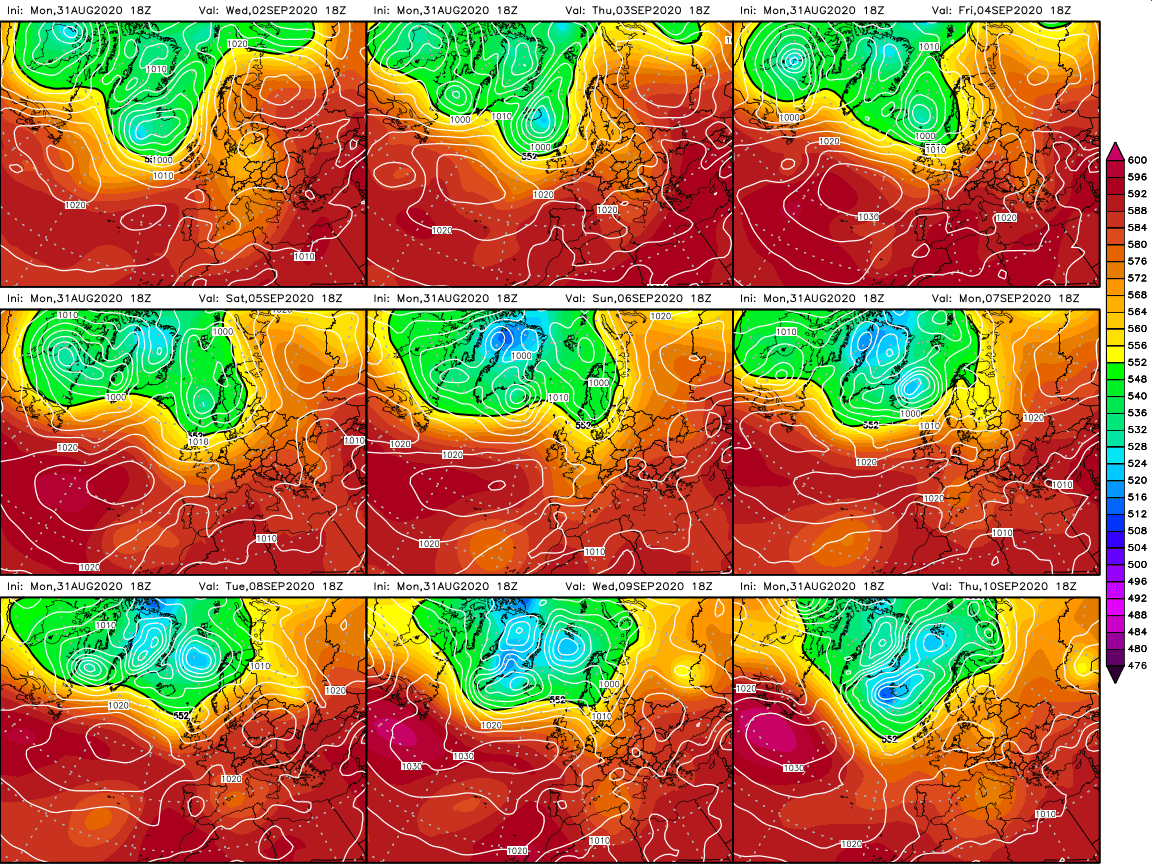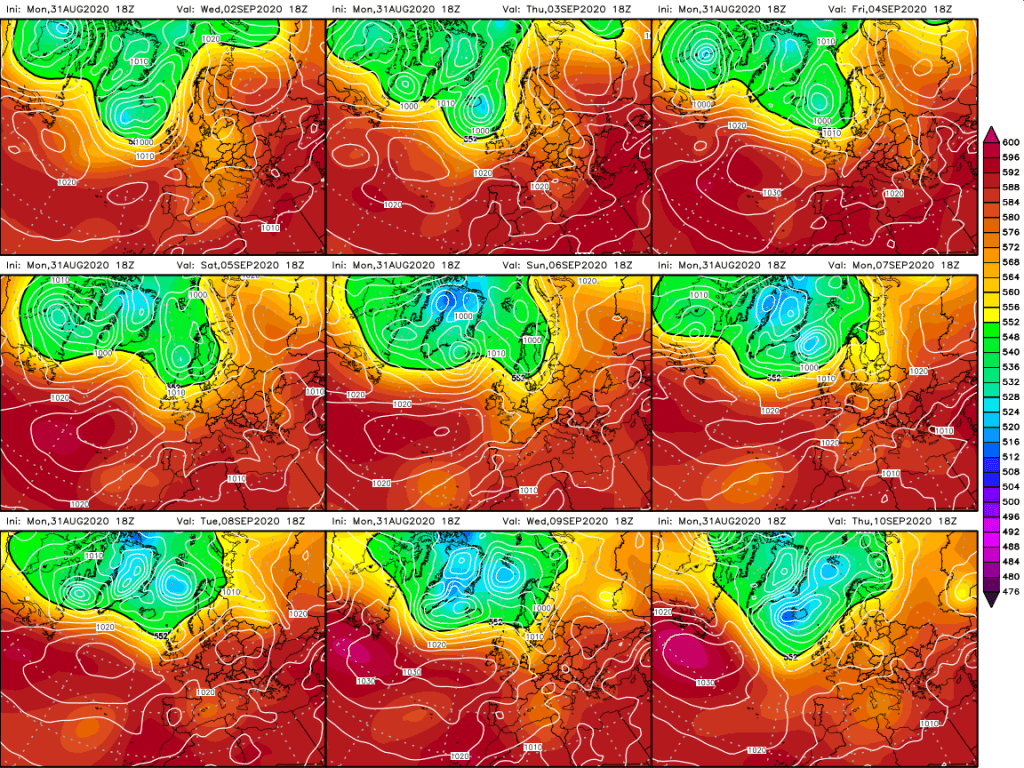 (Visited 51 times, 1 visits today)