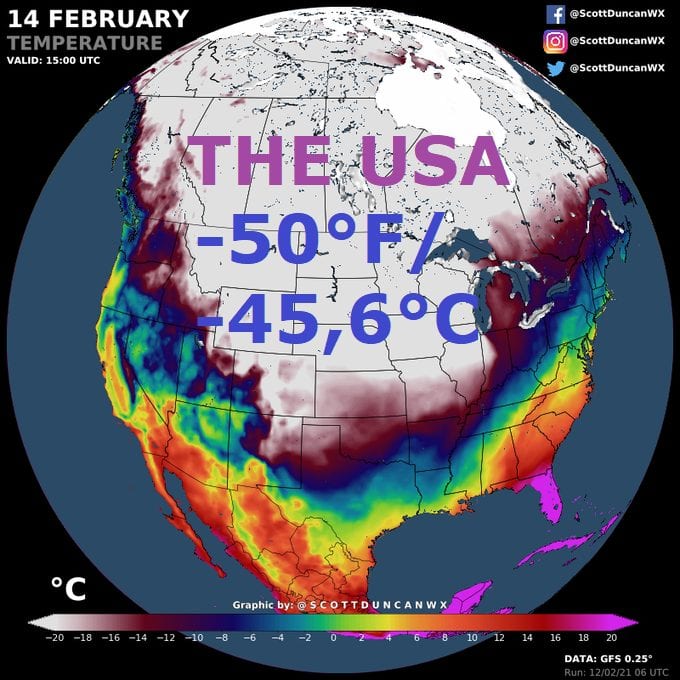 Promised -50°F / -45.6°C is here and in Ely, Minnesota meteorologists on Saturday, 13. February 2021 measured exactly this extreme value.
In International Falls, -42°C / -41,1°C was on Saturday measured.
It´s the same value, such as record value from southern Rocky Mountains from late December 2020 /https://mkweather.com/2021/01/01/super-cold-weather-in-the-usa-colorado-50f-456c//, Winter 2020/2021 therefore should have 2 records.
Moreover, in Midwest and Texas, possible all-time temperature records are regionally during Sunday and Monday, 14.-15. February 2021 possible.
Warnings before coast-to-coast snowstorm in the USA some meteorologists commented such as "not seen event" in the past.
Extremely cold weather still persist in Canada, too, with temperatures in the coldest places of the country around -58°F / -50°C /https://mkweather.com/2021/02/08/northern-canada-519c-southern-canada-489c-the-usa-400c-new-all-time-temperature-records//.
Energy prices are expected to spike during next days across North America, snowstorm should bring many traffic accidents and health problems /e.g. https://mkweather.com/2021/01/16/heart-attack-influenza-cancer-frostbites-hypothermia-covid-what-you-should-to-know-about-arctic-and-siberian-coldwaves//.
The next 2 mornings will be critical and Mkweather will be watching it.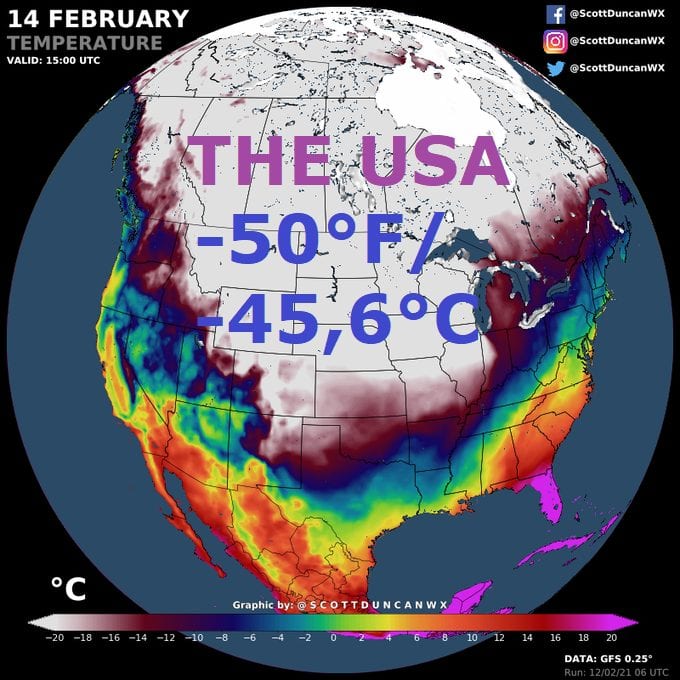 Read more: