Estimated possible national TOP minimum temperatures during an upcoming peak of Winter 2021/2022 in Europe between 17.-25. January 2022 (below 1000 MASL)
MK
January 9, 2022
2 min read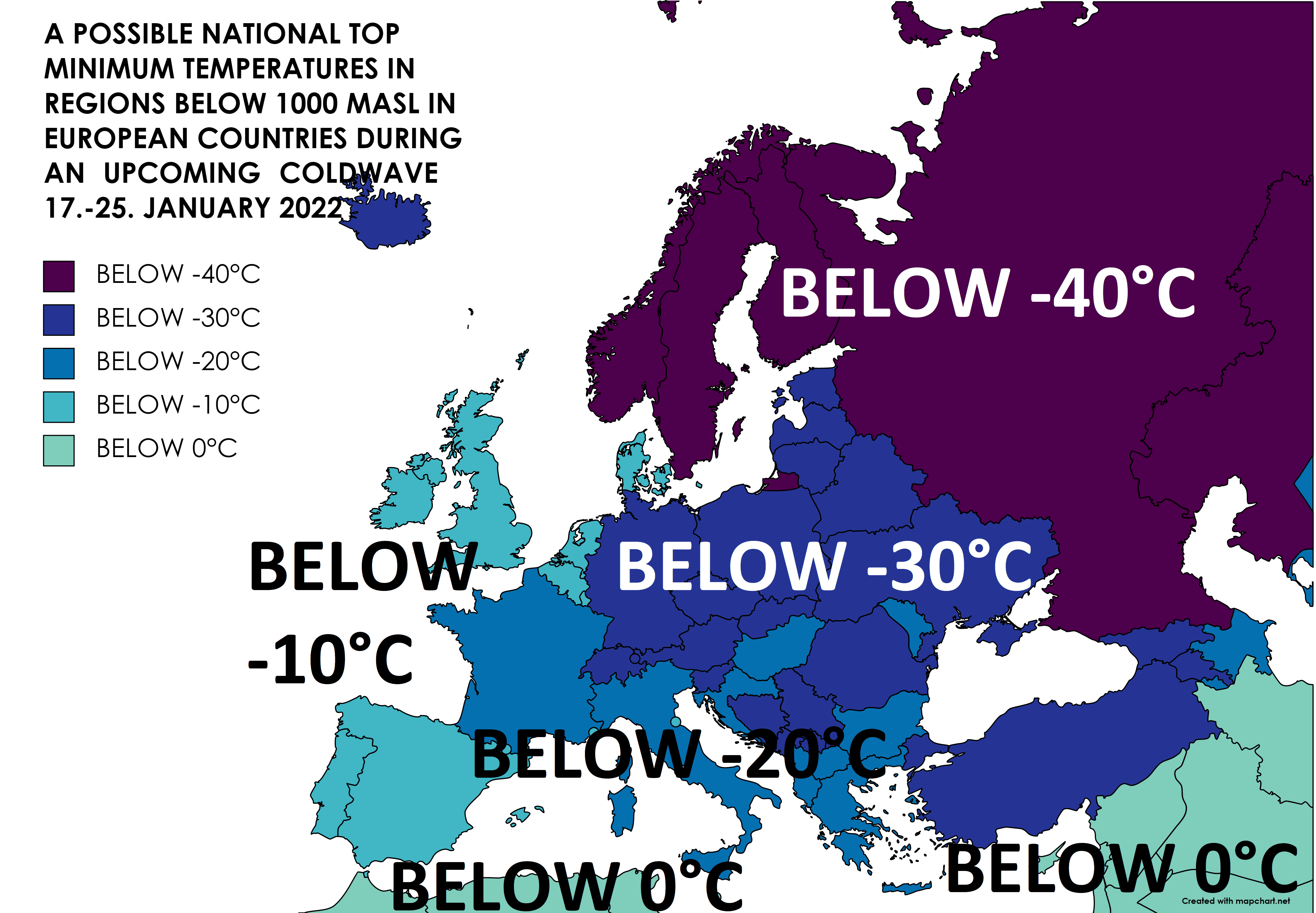 In the last articles, we were informed about an upcoming, very possible absolute peak of Winter 2021/2022, which is predicted to come to Europe between 17.-25. January 2022 /https://mkweather.com/europe-an-absolute-peak-of-winter-2021-2022-will-come-between-17-25-january-2022-scandinavia-45c-continental-europe-balkan-turkey-eastern-europe-30c-france-25c-british-isla/; https://mkweather.com/a-peak-of-winter-for-central-europe-it-looks-like-an-interval-25-30c//
In this article, we will be focused on the potential of reaching extremely low temperatures, mainly in mountainous basins and valleys with a deep snow cover, but only in lower elevations below 1000 MASL, such as national records of Winter 2021/2022 in populated areas (but in some countries, extreme frosts will occur in lowlands, too, e.g. Poland, Ukraine, Baltic countries, European Russia,…).
The coldest should be traditionally in northern and central Scandinavia, or European Russia, where temperatures of up to -45°C are possible.
Little warmer should be Central, Eastern Europe, and Baltic region, with a potential of the coldest localities slightly below -30°C (not in every country, we don´t know ahead, which country will be hit by anomalously dry air, blizzards, calm winds, and clear skies the most).
France and many parts of southern Europe should experience frosts below -20°C, maybe rarely -25°C in the coldest valleys, including Italy or Greece, where is forecast to come extremely cold Siberian air, above Greece in 850 hPa only -15°C, too. Snow should appear near coasts, regionally, near these conditions, in the warmest parts of Europe, too.
Only British Islands, Iberia, Benelux, or Denmark should stay somewhere between -10 and -20°C – but snow or at least snowflakes should appear mainly in the colder half of the regions.
North Africa and the northern Middle East should surprise – temperatures in valleys should drop very close to -10°C rarely, with snow tightly below 1000 MASL in many mountainous areas and unfavorable weather along the coasts and in lowlands (Mediterranean lows).
In the next article, we will look at blizzard potential in Europe in the upcoming period until 25. January 2022.
Mkweather will be carefully watching the next outputs of GFS and inform you about upcoming extremely cold times.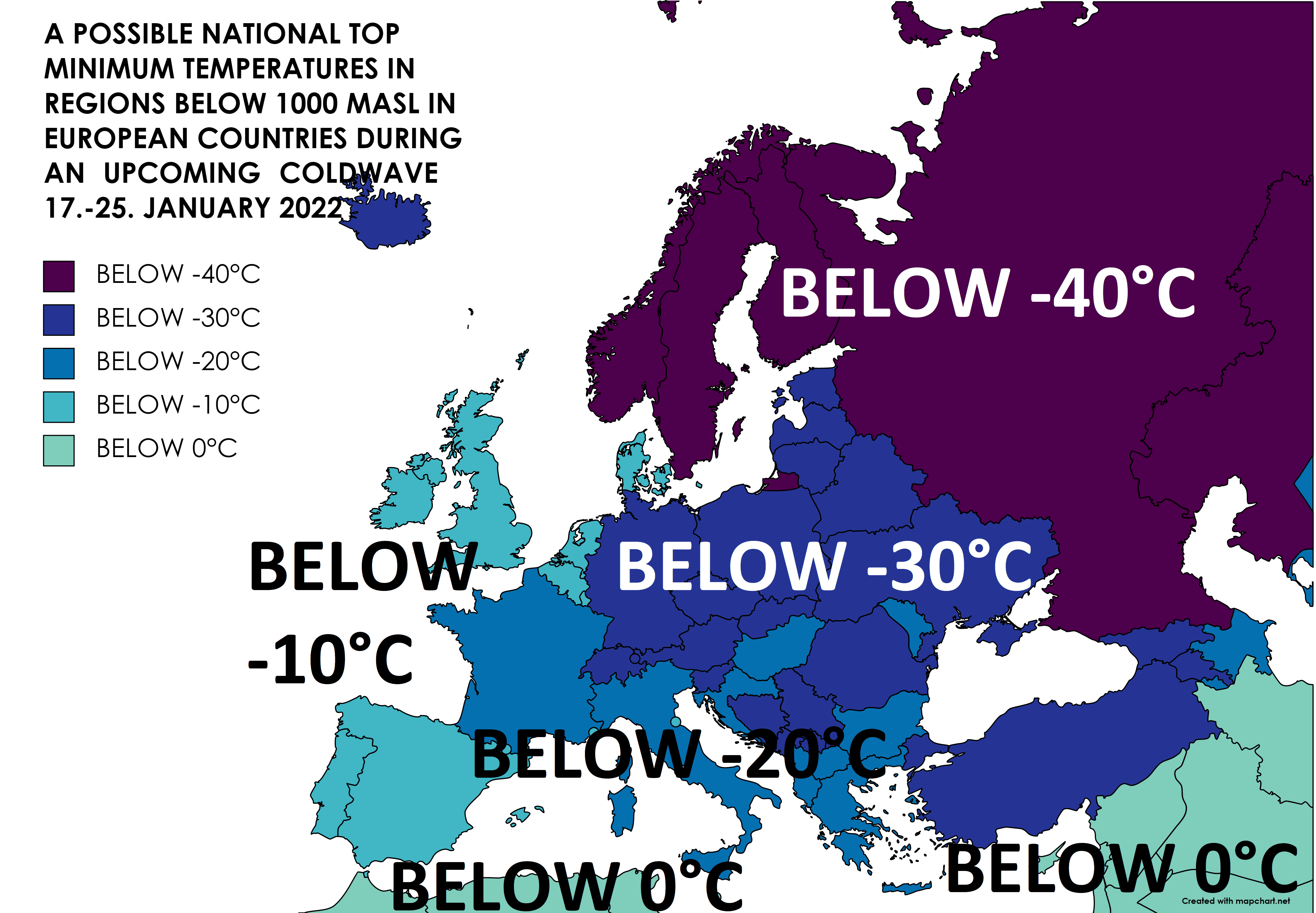 Estimated possible national TOP minimum temperatures during an upcoming peak of Winter 2021/2022 in Europe between 17.-25. January 2022 in lower situated regions including basins nad valleys below 1000 MASL /Mkweather estimate