Europe: An absolute peak of Winter 2021/2022 will come between 17.-25. January 2022! Scandinavia -45°C, continental Europe/Balkan/Turkey/Eastern Europe -30°C, France -25°C, British Islands/Iberia -15°C
MK
January 9, 2022
2 min read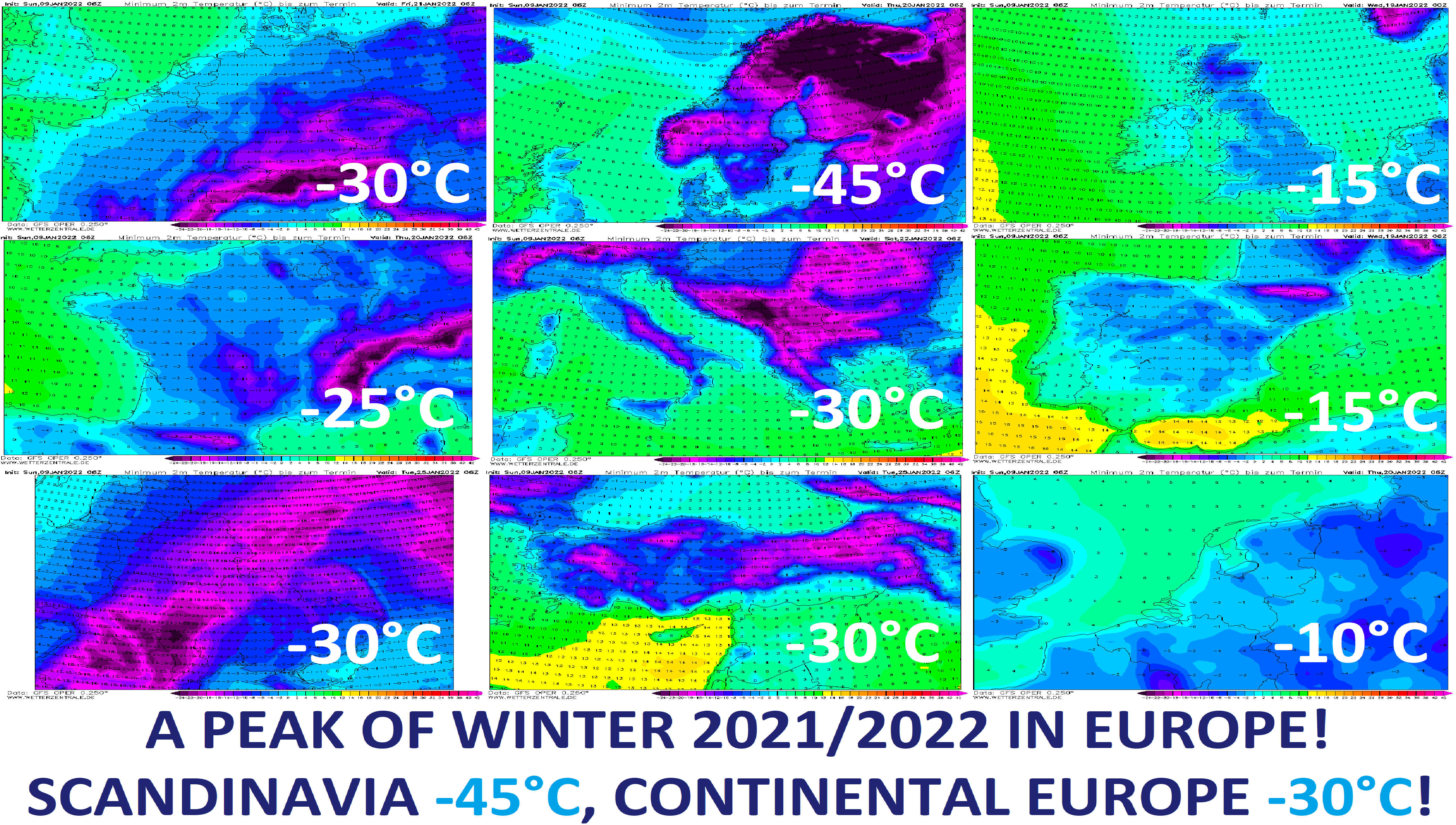 Before a snow forecast, estimates of national TOP minimum temperatures of the winter, and AER forecast, we will look at expected minimum temperatures in all regions of Europe forecast for a very possible peak of Winter 2021/2022.
This peak is forecasted to come already in 7 days, with air masses from 17. to 25. January 2022 with origin in Greenland, the Arctic, and finally Siberia.
The lowest temperatures of Winter 2021/2022 are on current GFS outputs predicted – from -45°C in Scandinavia, through -30°C in continental Europe, Balkan (basins and valleys below 1000 MASL), Turkey (basins 1500 MASL in eastern Turkey), -25°C in France (the Alps), -15°C in the UK, Spain, and southern Benelux and -10°C in the Netherlands.
A more detailed forecast of expected national minimum temperatures for European countries for regions below 1000 MASL will be available already in the next Mkweather article.
Many parts of the continent expect snowfall – from blizzards to only snowflakes. Snow forecast from the last runs of GFS will be updated in one of the next Mkweather articles – the last output is available below.
Temperatures in 850 hPa above many parts of Europe will reach the lowest values of the winter.
Cold air will be gradually shifting from NW above Central Europe and the Mediterranean and later above eastern parts of the continent, North Africa, and western Asia.
Most of the mid-latitudes will find themselves with all-day frosts (ice days), in the coldest regions, Arctic days with maximum temperatures below -10°C, in Scandinavia even below -30°C will occur.
Frosts should be life-threatening, thanks to their long duration and intensity, they should have a negative impact on a virological situation. Near blizzards, uprooted trees, travel delays, and power outages are possible.
It appears, that severe winter will stay in Europe minimally until the end of January 2022 /https://mkweather.com/ecmwf-6-week-forecast-for-europe-until-21-february-2022// and then should be from the west gradually replaced by early-spring NAO+ weather pattern /https://mkweather.com/spring-2022-will-come-in-february-nao-and-extremely-warm-early-spring-conditions-in-february-and-march-2022-are-predicted-cfs-ecmwf/; https://mkweather.com/spring-2022-forecast-for-europe-early-dry-late-stormy-very-warm//.
Stay safe and warm, because all is starting already around the following weekend (there is relatively little probability of changes in forecasts in comparison with previous disappointment from New Year) – Mkweather will watch it and brings news about measured temperature records in the wider European region, soon.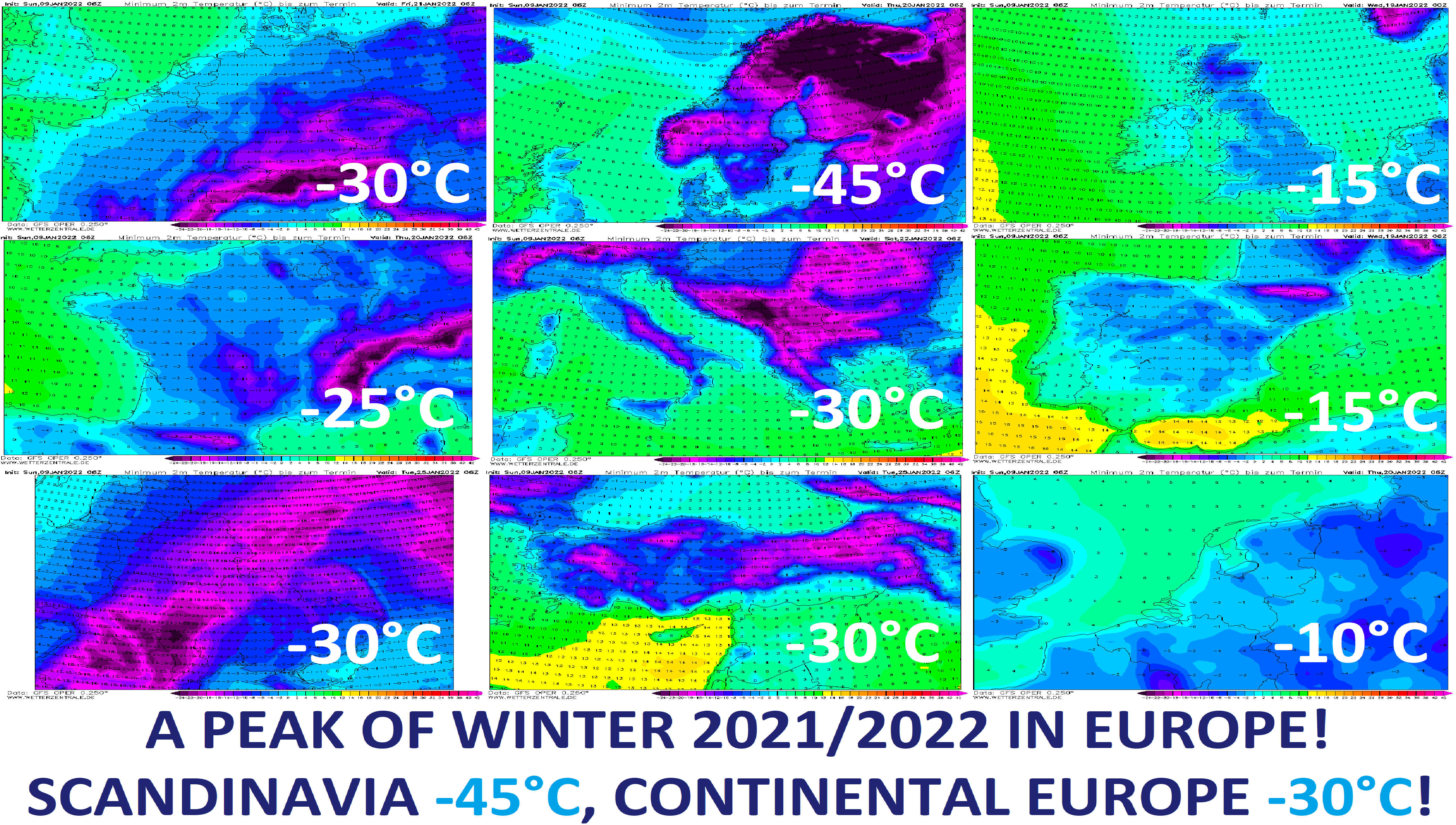 Illustration maps: Source – wetterzentrale.de
Source: wetterzentrale.de
Source: wxcharts.com
Source: tropicaltidbits.com