Europe: After tropical heatwaves from Scandinavia to Mediterranean extreme storms (344 mm/24 h)!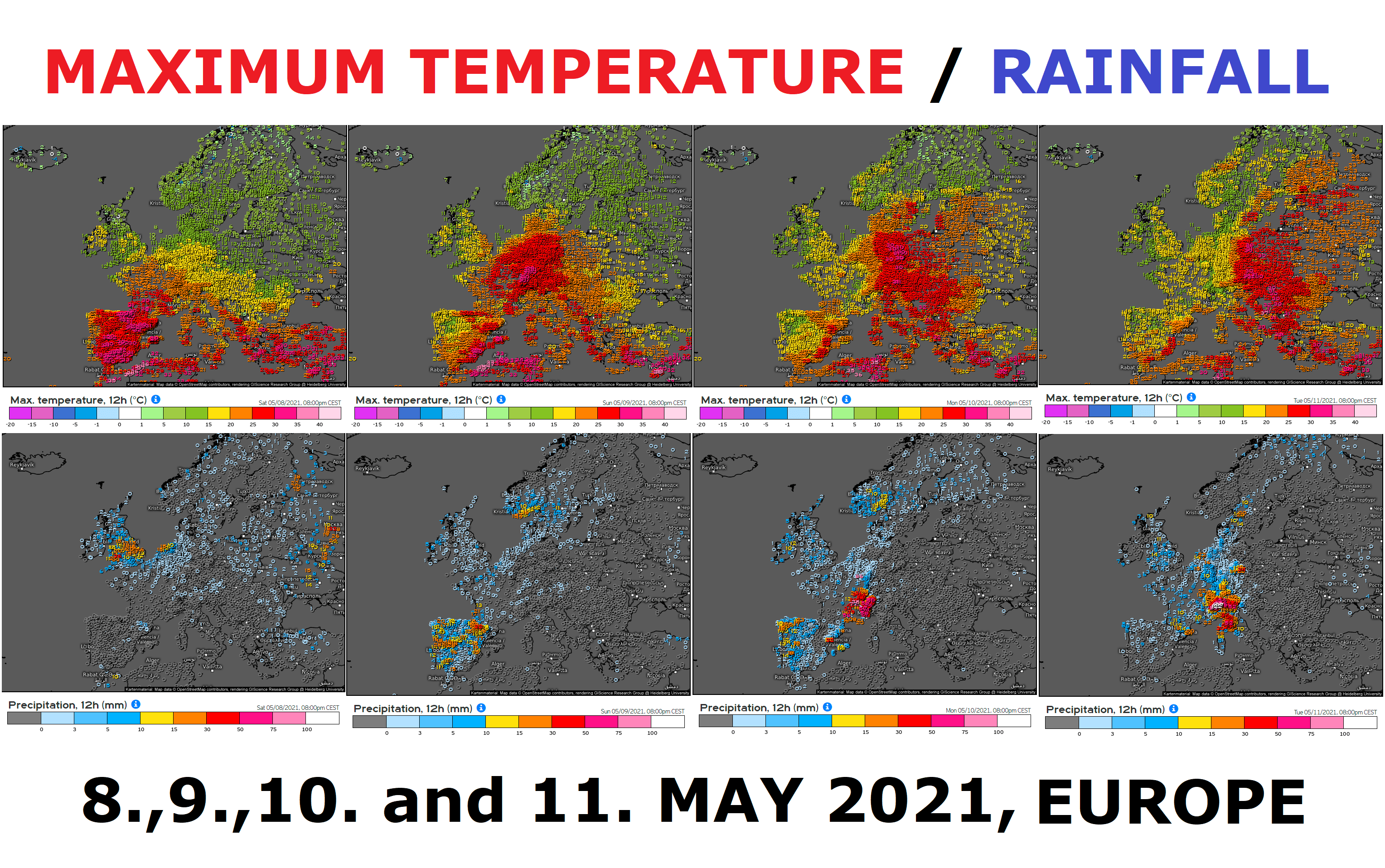 Italy up to +34°C, France and Balkan up to +33°C, Central Europe with +32°C, Eastern Europe, Baltic states and Scandinavia up to +28°C, but British Islands only up to +22°C.
Its summer (or tropical) reality of last days in Europe, which is from the west alternated by extreme storms (on 10. May, 344 mm precipitation amount in southeastern France measured).
The hottest was in last days the Spain and Sardinia, Italy (+33,6°C in San Sebastian / Perfugas: Source: https://twitter.com/extremetemps), the next highest maximum temperature is from France (Pointe de Socoa, +33,0°C), then from Zenica, Bosnia and Herzegovina, +32,2°C, St. Poelten, Austria, +31,4°C, Waghäusel-Kirrlach, Germany, +31,2°C, Podgorica, Montenegro, +31,2°C, Slubice, Poland, +30,5°C, Baja, Hungary, +30,5°C, Plzeň, Czechia, +30,2°C, Sombor, Serbia, +30,1°C, Gjirokastra, Albania, +30,0°C, Sisak, Croatia, +29,5°C, Dudince, Slovakia, +29,3°C, Skopje, North Macedonia, +28,9°C, Crnomelj, Slovenia, +28,8°C, Deva, Romania +28,5°C, Uzhorod, Ukraine, +28,5°C, Horn, Sweden, +27,8°C, Bravicea, Moldova, +27,8°C and Klapeida, Lithuania, +27,2°C. Interesting were temperatures from Liepaja, Latvia, +26,5°C, Tallin, Estonia, +26,4°C, Hyvinkaa Mutila, Finland, +25,4°C and Mantgala Hirvihaara, Norway, +25,0°C. In British Islands, only +22,0°C was measured at the weekend in Weybourne, the UK.
Interesting is tropical temperature from Potsdam, Germany, +30,7°C, only 3 days after May snowing.
After powerful heatwave, from the west is moving eastward very strong cold front, which is bringing mainly to France and Italy extreme rainfall up to 344 mm / 24 hours. Severe storms are gradually expected in Central Europe, Balkan and Eastern Europe, therefore will be careful if you plan outdoor activities.
Round of severe storms in Europe is forecasted minimally until 25. May 2021 – storms with heavy rain, hails, severe winds, damaging lighting and rarely waterspouts or tornadoes are highly probable in next 14 days.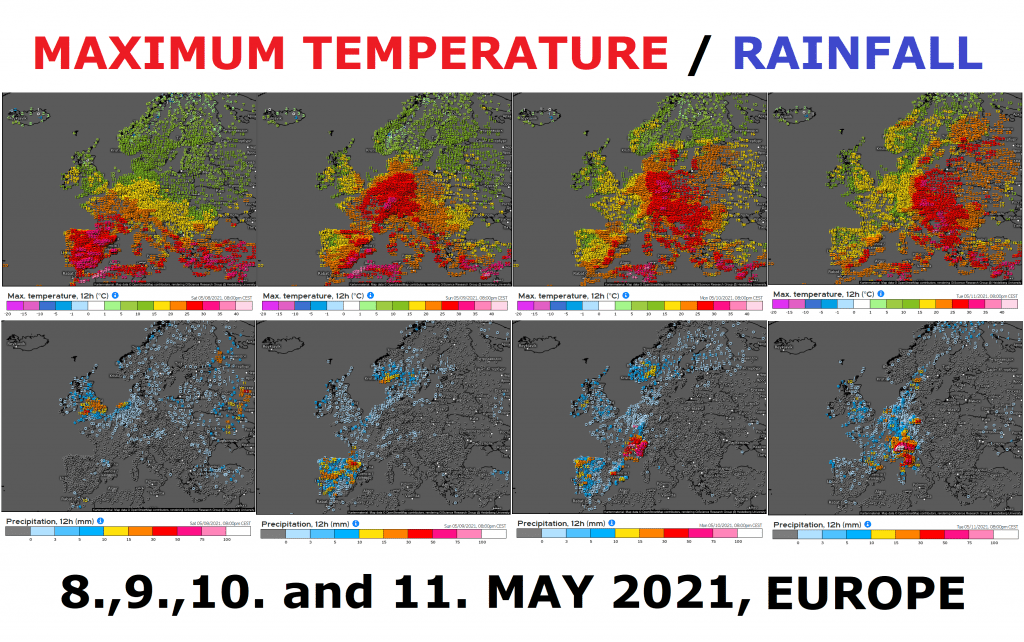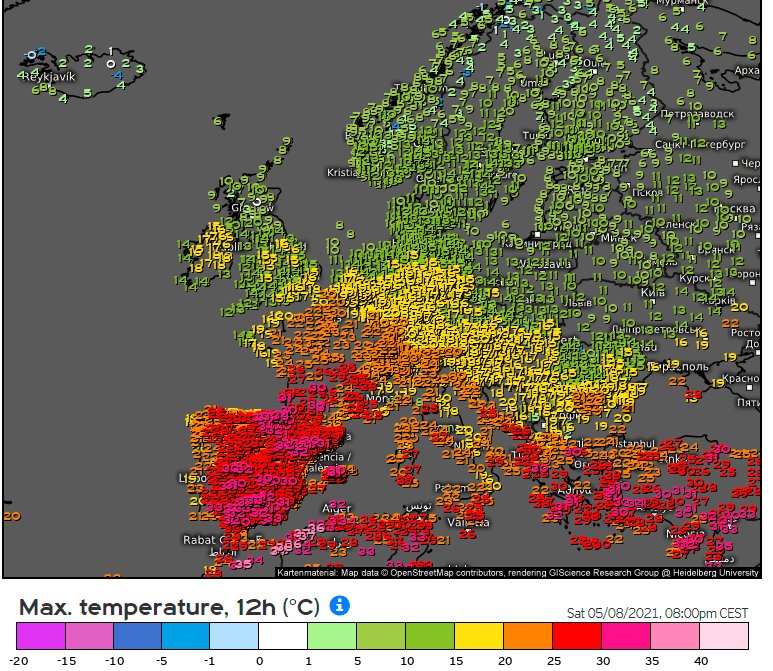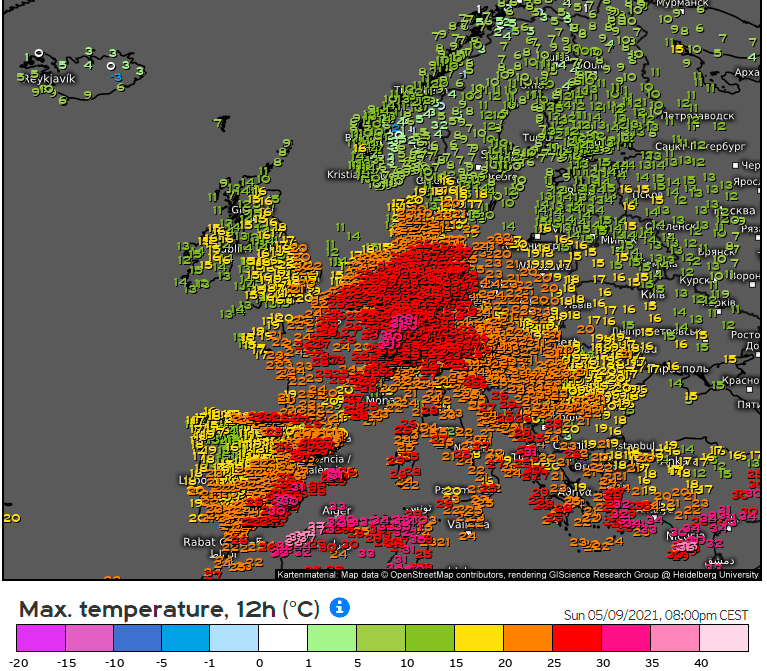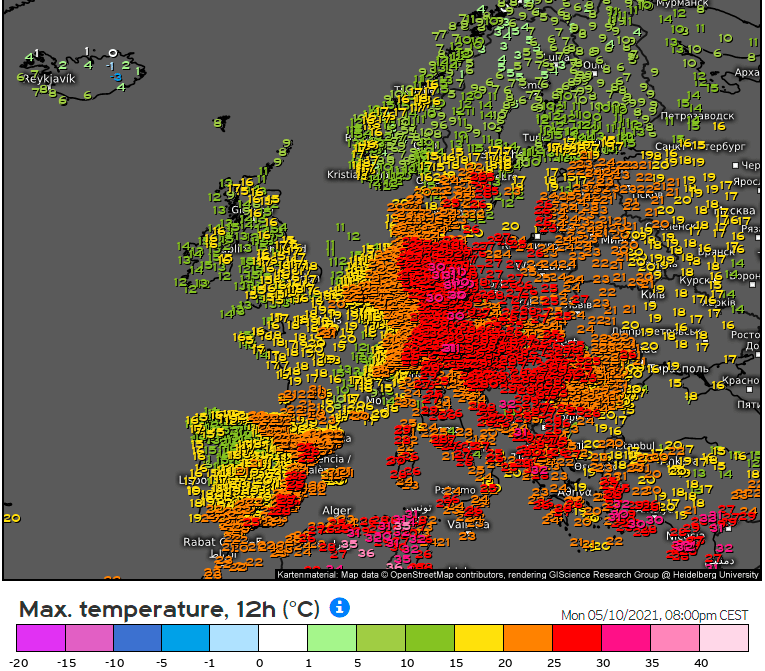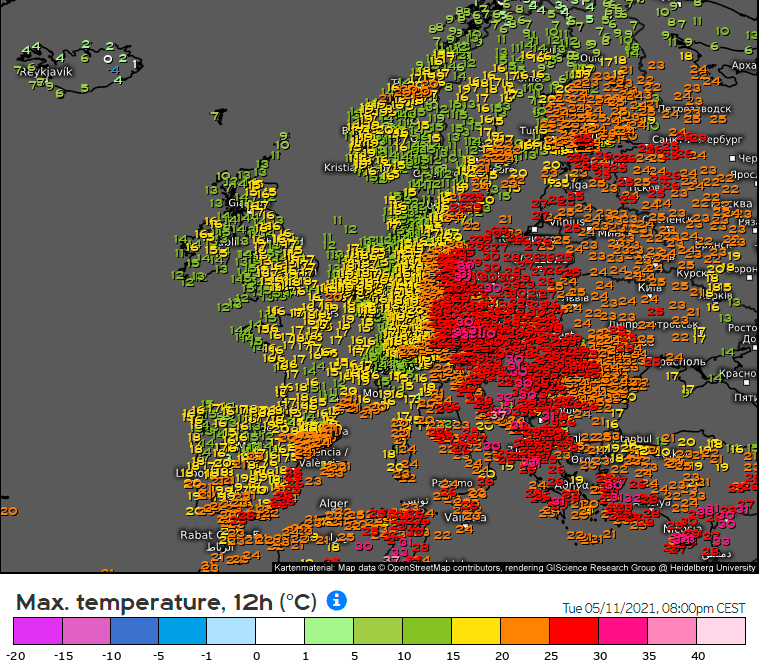 Maximum temperatures in Europe on 8., 9., 10. and 11. May 2021 /meteologix.com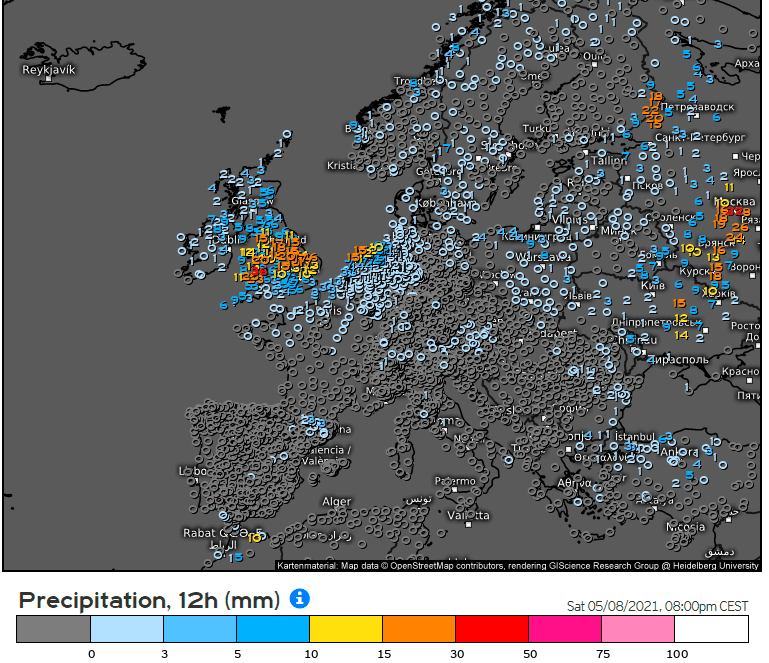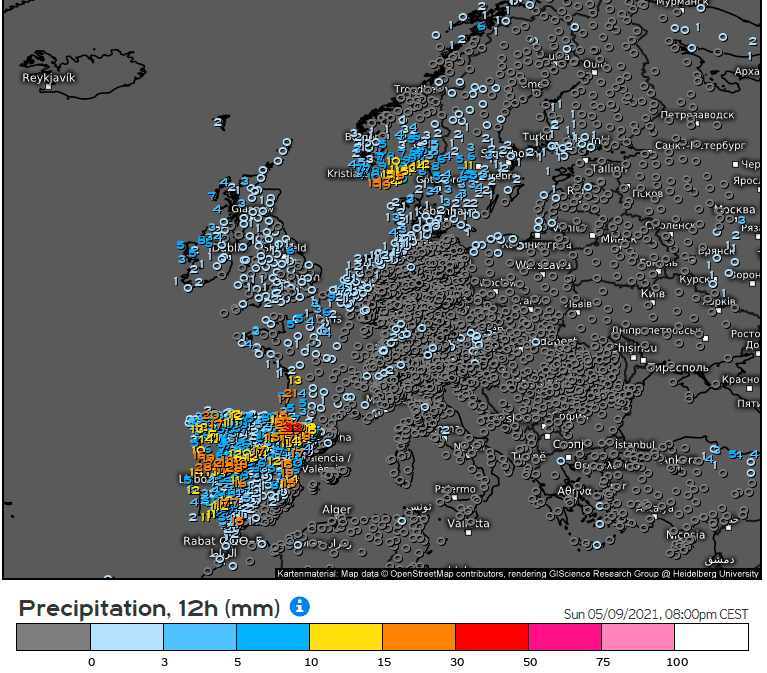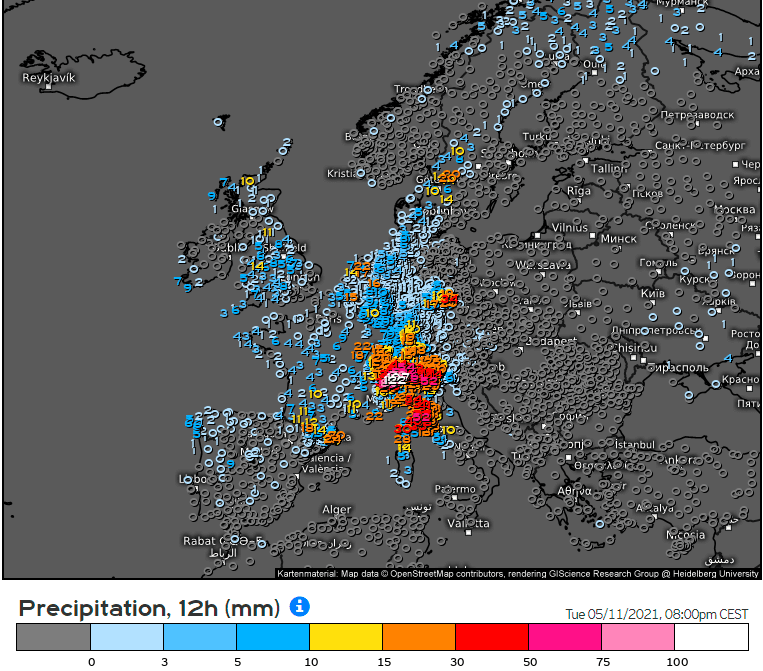 24-hour rainfall in Europe on 8., 9., 10. and 11. May 2021 /meteologix.com