American scenario in Europe is day after day more possible.
In order, firstly, last ground frosts risk in Europe will arrive on Thursday and Friday /https://mkweather.com/2020/09/08/tuesday-ground-frosts-in-europe-france-29c-belgium-30c-germany-31c-czechia-34c-poland-39c-slovakia-42c-spain-27c//, then powerful September heatwave hits Europe during first half of next week /https://mkweather.com/2020/09/07/paris-35c-95f-london-30c-86f-on-monday// and finally, extreme coldwave around 20. September could bring first snow flakes in parts of Europe.
Situation is even so interesting, that Arctic air from historic American coldwave will be shifting over Greenland and northern North Atlantic over Europe (see animation below) and remnants of Colorado´s and Wyoming´s air could influence weather in Europe and bring frosts and first snowing.
Although it won´t be any big blizzard, nevertheless it could bring air -8°C below temperature average to Poland, Slovakia and Ukraine borders according to current GFS on the back side of deep cyclone over Belarus, with possibility of first snowflakes in Eastern Central and East Europe and subsequent frosts up to -5°C.
Situation will be very interesting during all 5th pentade of September 2020, over western and West-Central Europe too, because after transition of remnants of 2 e-hurricanes Paulette and Rene (they are developing over Atlantic now) will arrive next cold Arctic air masses over British Isles, West and Central Europe, with next possible rarely snowing events in lower areas in Arctic air masses below 0°C in 850 hPa.
Animation: Extremely cold air from the US will shift over Greenland and N North Atlantic straight above Europe /wxcharts.com:
500 hPa Geopotential (pressure equivalent) anomaly over Europe on 20. September 2020:
T850 hPa and T2m anomaly on 20. September 2020 /wxcharts.com: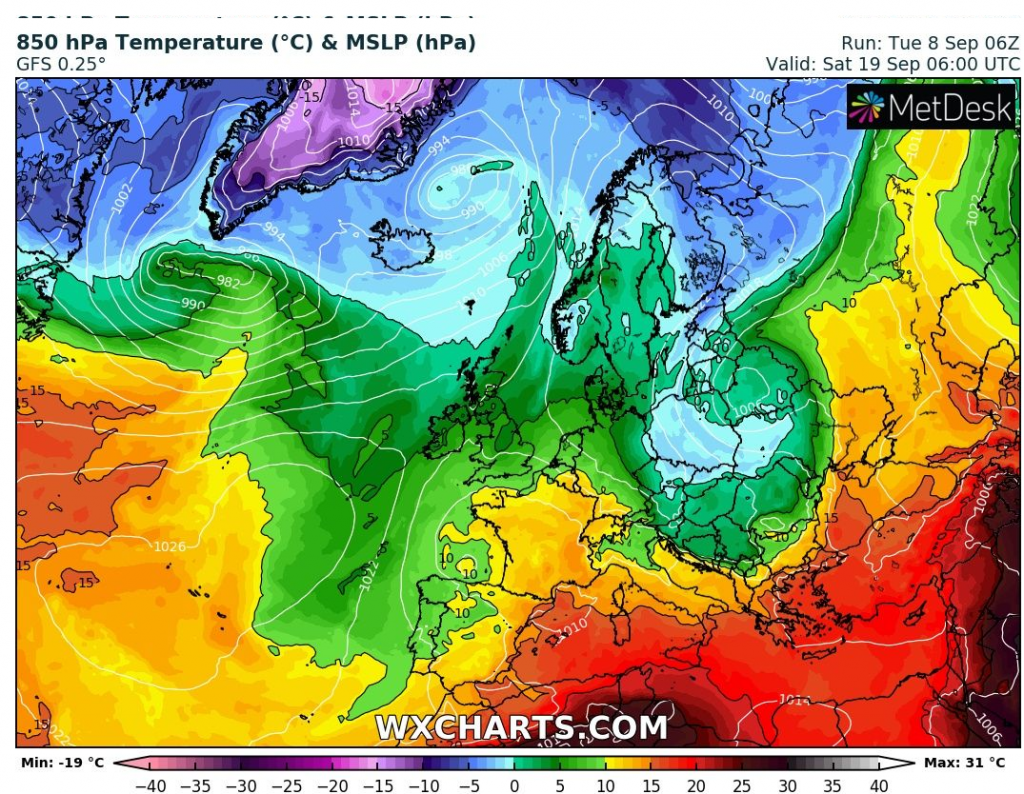 Remember - before extreme coldwave such in American scenario big heatwave in Europe in next week /wxcharts.com: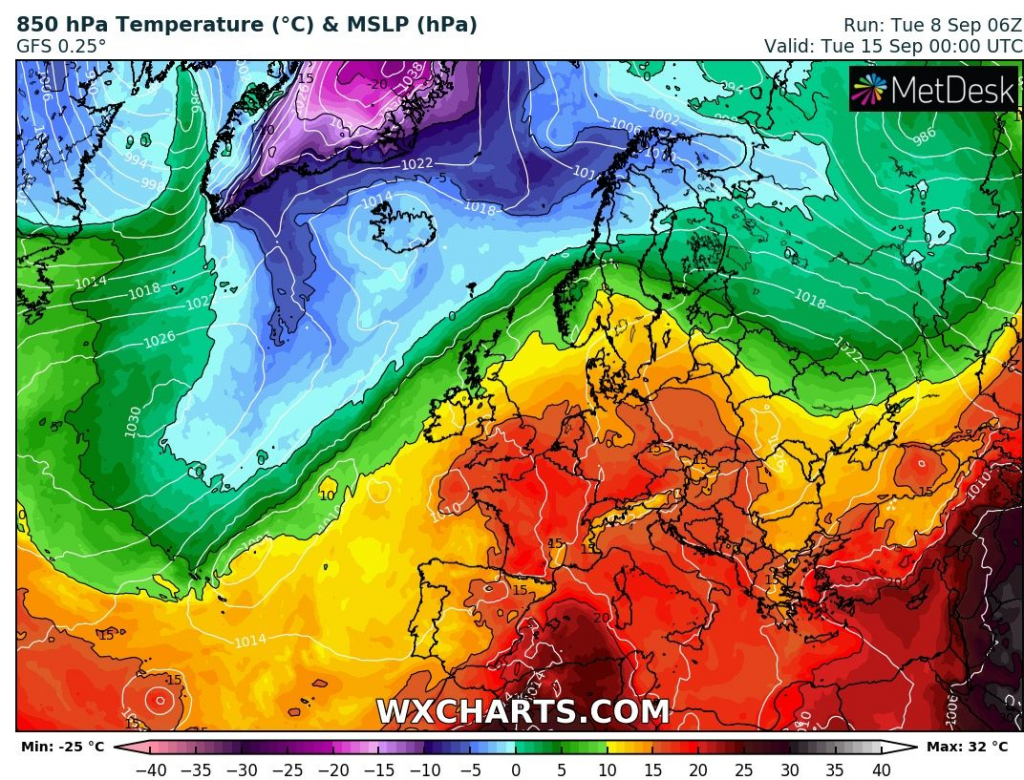 Comparison T850 hPa anomaly between 15. / 20.9. 2020 - heatwave and subseuent coldwave above Europe in next week: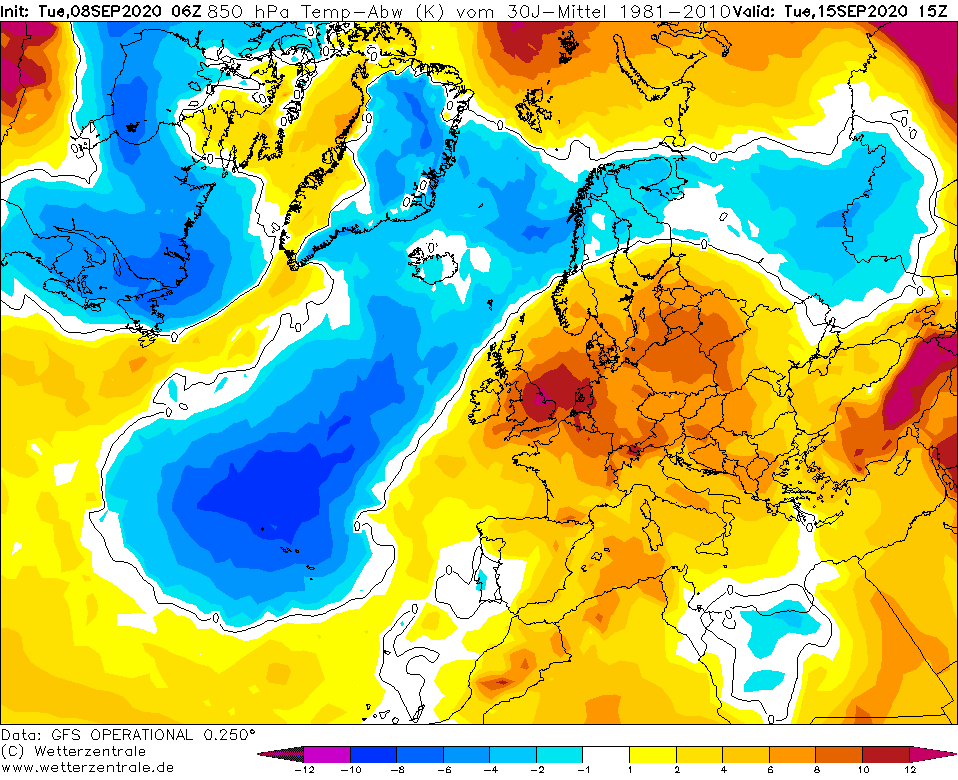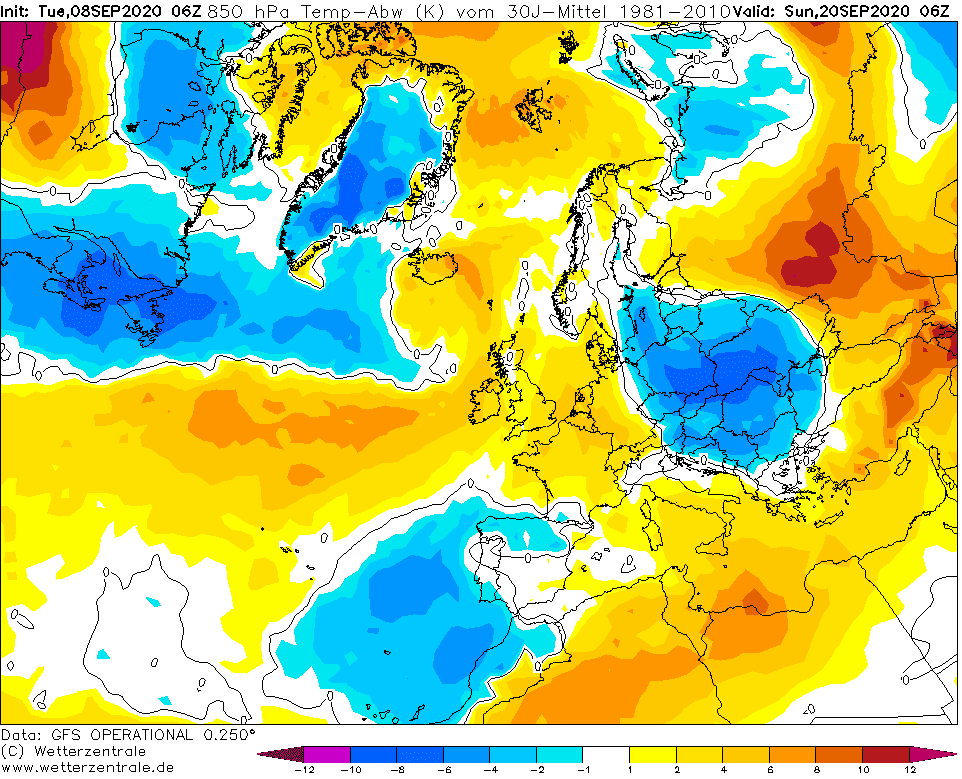 Possible minimum temperatures on the back side of deep cyclone over Belarus in Central Europe, 20. September 2020 - numerous ground frosts, valleys frosts and eastern region with snow flakes possibility /wetterzentrale.de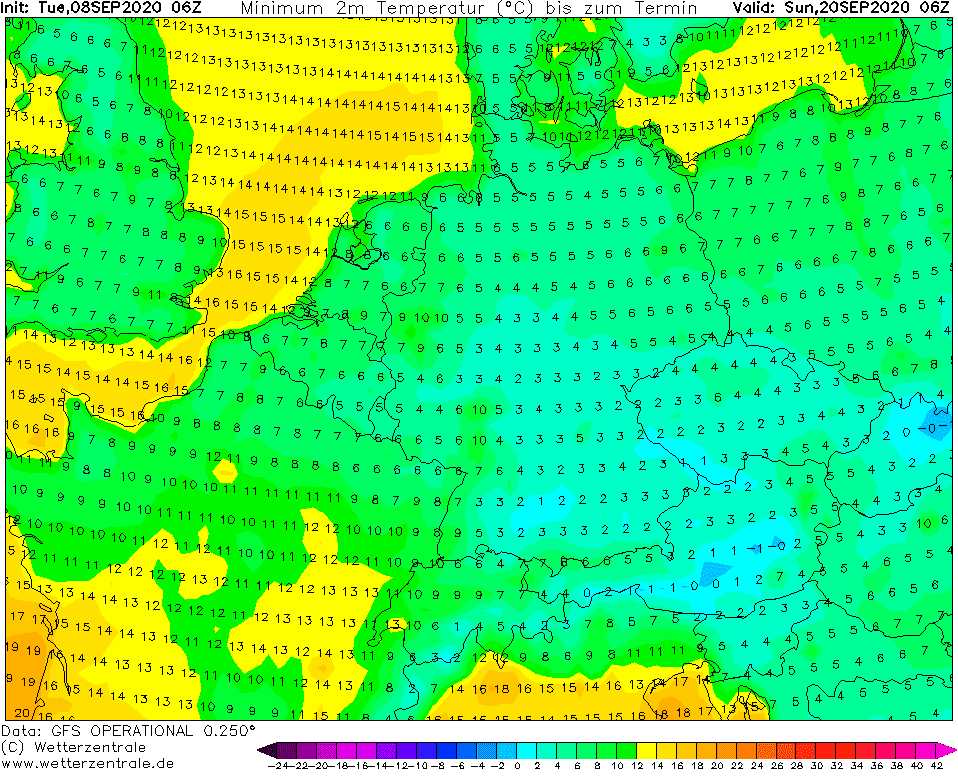 Read more:
(Visited 111 times, 1 visits today)