Meanwhile northern Adriatic has experienced with extreme snowfall and freezing rain from the last Mediterranean low /https://mkweather.com/2020/12/04/first-snow-in-croatia-slovenia-austria-and-czechia//, in Slovenia up to 50 cm of fresh snowfall, southern parts of Central Mediterranean last days have fighting with severe floods, including big cities.
The worst situation was in Split, Croatia and Salerno, Italy - thewatchers.news and Youtube channels Natural Disasters and NA Weather informed, that both cities ended after flood water, in Split from the strongest 24-hour rainfall event for least last 45 years (since 1975) / 118.8 mm (4.6 inches) of rain.
Extreme rainfall has been reported from Ikaria, Greece, too, on Friday, 157 mm (Argos 80 mm, Rhodes 70 mm).
In Vrsac, Serbia (lowlands), 130 km/h wind gusts have occurred shortly after a Mediterranean storm on the front side of polar vortex.
Currently, northern Italy, Adriatic and southern Switzerland and Austria are experiencing with unusual strong blizzard /https://mkweather.com/2020/12/04/polar-vortex-is-here-in-the-alps-4-meters-of-snow-expected// - until Monday, 7. December, up to 4 meters of snow are expected.
Currently, Lienz in Austria reports 124 mm of precipitation / 24 hours on Saturday, 5. December - this amount of precipitation is falling in the Alps in snowfall (more than 1,5, maybe 2 meters from fresh wet 124 mm). Trento, Italy reports 94 mm, Ratece, Slovenia, 80 mm and Pisa, Italy, 80 mm.
Moreover, next week, from Monday until Sunday, 7.-13. December, next 2 powerful Mediterranean systems are expected, which hit not only Italy and Croatia, but large region from Spain, Portugal, southern France, Italy, Adriatic, parts of Balkan, Greece, Turkey, Cyprus and Middle East gradually, with position above Central Mediterranean around Wednesday, 9. December and at the weekend, 12.-13. December 2020.
Until 22. December 2020, the most rainfall with possible flash floods falls in southern Italy, southern Croatia, Greece and southern and western Turkey according to forecast tools.
Mainly in Adriatic, wind gusts above 100 km/h are possible.
Infographics:
Forecast for Mediterranean - next pressure lows around Wednesday, 9. December and at the weekend, 12.-13. December and Total Accumulated 16-day Precipitation /wxcharts.com: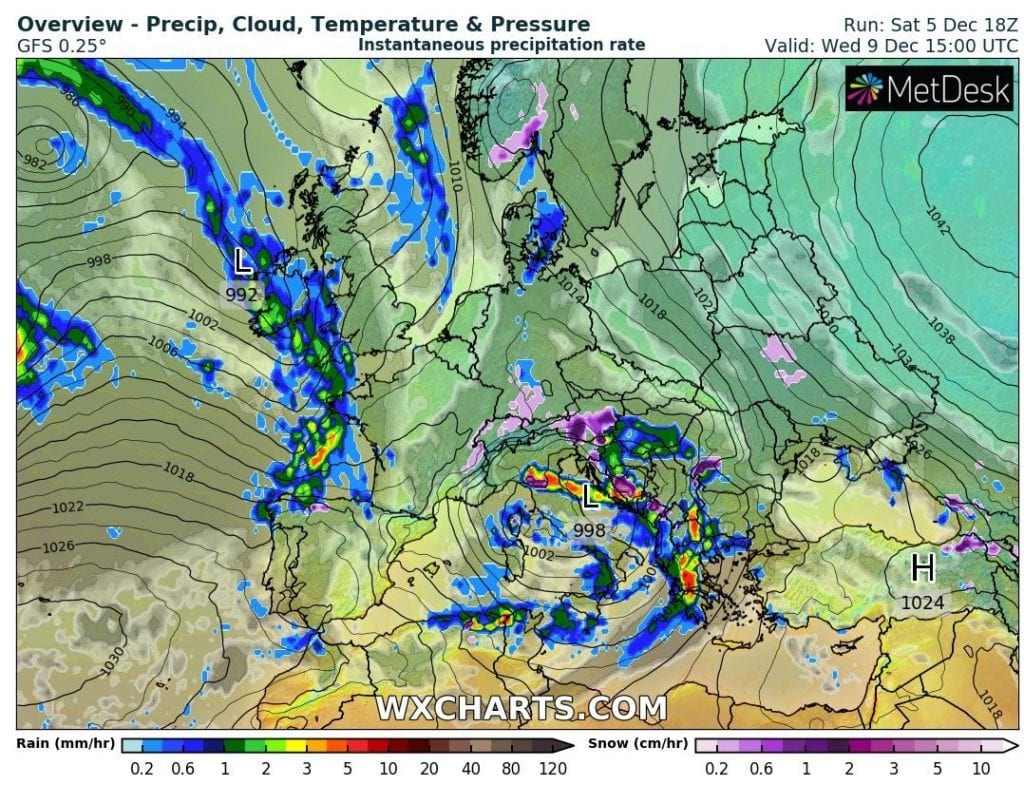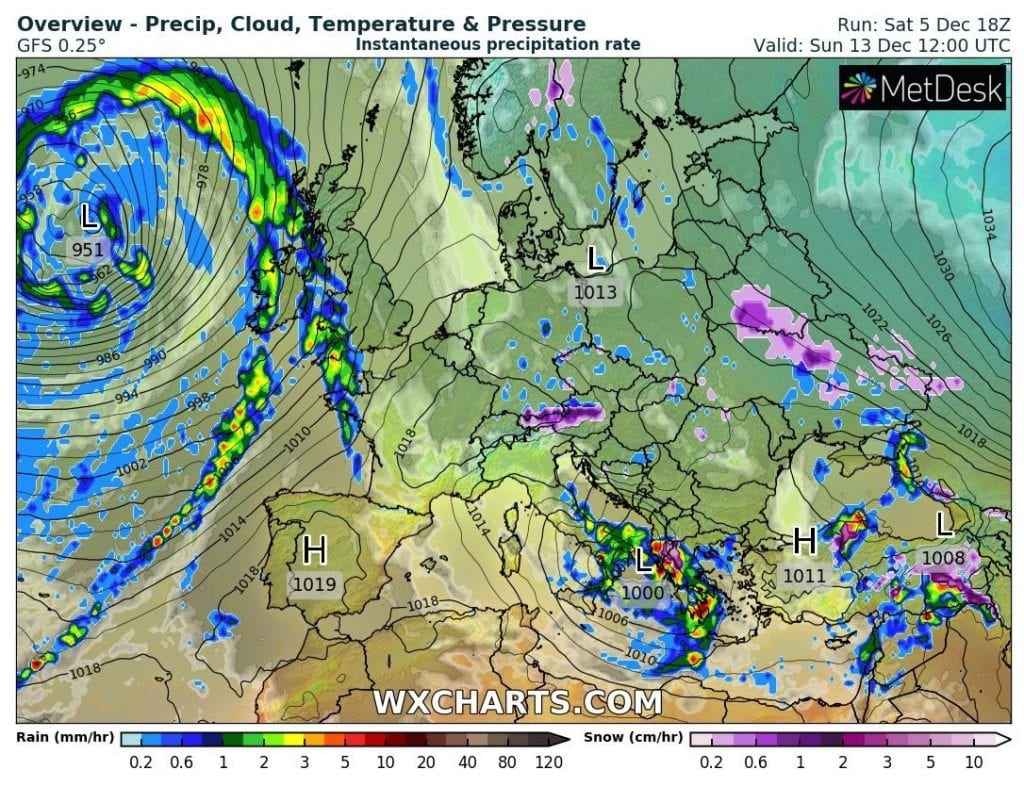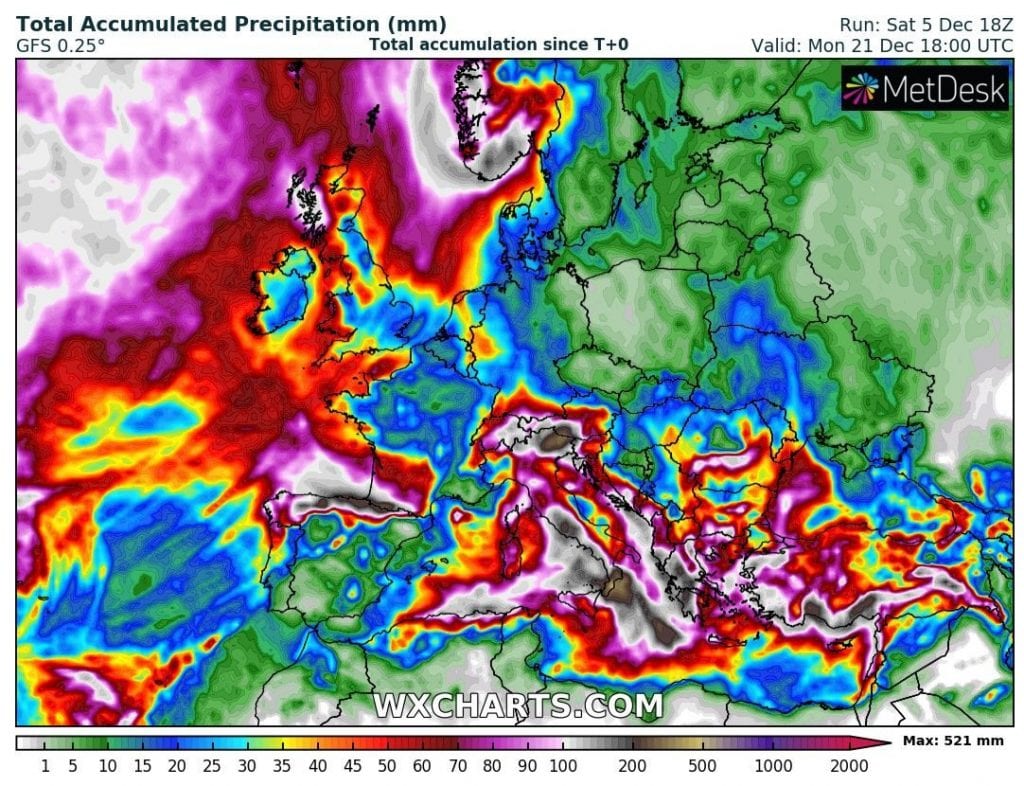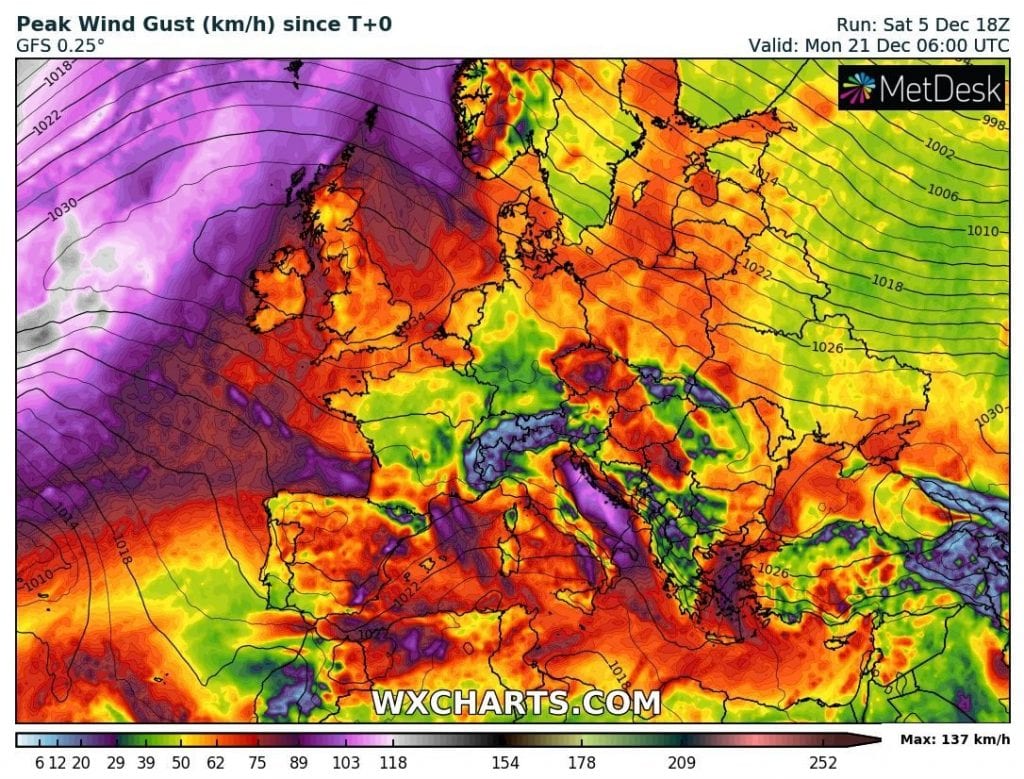 Read more: