Extreme frosts at the start of a week don´t hit only Italy /https://mkweather.com/2021/01/11/dolina-di-campoluzzo-italy-siberian-396celsius//, Switzerland, Austria and Czechia /https://mkweather.com/2021/01/11/switzerland-264celsius-czechia-26c-austria-234c-in-valleys-around-1000-masl-but-the-worst-only-will-come//, but freezing Siberian winter has arrived already from Spain /https://mkweather.com/2021/01/09/madrid-50cm-of-snow-aemet-confirmed-the-worst-snowfall-since-1971/; https://mkweather.com/2021/01/07/siberian-winter-in-the-spain-341c-new-national-temperature-record// into France and Germany, too!
According to French meteorologists, temperatures in the Western Alps dropped in Monday´s morning even deeper than in Central and Eastern Alps or Bohemian Massif, in lower situated basins and valleys around 800 - 1000 MASL.
While Italian Pole of Cold in 1700 MASL measured -39,6°C and it is not densely populated valley. In populated, low situated valleys in Czechia, Austria, Switzerland, Germany and France temperatures dropped last night into the interval -22,3 to -28,0°C.
The coldest was according to the newest information in Ch La Brevine (1042 MASL), France, only -28,0°C, St. Claude Taf (840 MASL) reported -26,2°C.
In Switzerland, temperatures dropped into -26,4°C, in Czechia to -26,0°C, in Austria to -24,2°C (as is mentioned in previous Mkweather article) and Oberstdorf in Germany (810 MASL) reported -22,3°C.
Many parts of France (and large parts of Germany and Benelux) moreover report a snow cover, including destinations such as Nice, Lourdes, Strasbourg (and too Amsterdam, the Netherlands).
Beast from the East in England is bringing a lot of snow on the second shore of La Manche too and next, even more powerful peaks of Siberian winter are next 2 weeks expected /https://mkweather.com/2021/01/11/second-peak-of-winter-2020-21-will-be-even-stronger//.
During next days will be very possible, that minimum temperatures drop below -30°C in many countries in Europe in latitudes around 800 - 1000 MASL, which we should mark as low situated, populated basins and valleys.
In lowlands, basins and valleys in Scandinavia and European Russia, temperatures should drop very close to -50°C during next weeks /https://mkweather.com/2021/01/08/aggressive-gfs-outputs-are-back-all-siberian-air-will-shift-above-europe-2021/; https://mkweather.com/2021/01/10/uncompromising-siberian-winter-from-france-to-ukraine-30-celsius-watch-in-continental-europe-already-at-the-weekend-extreme//.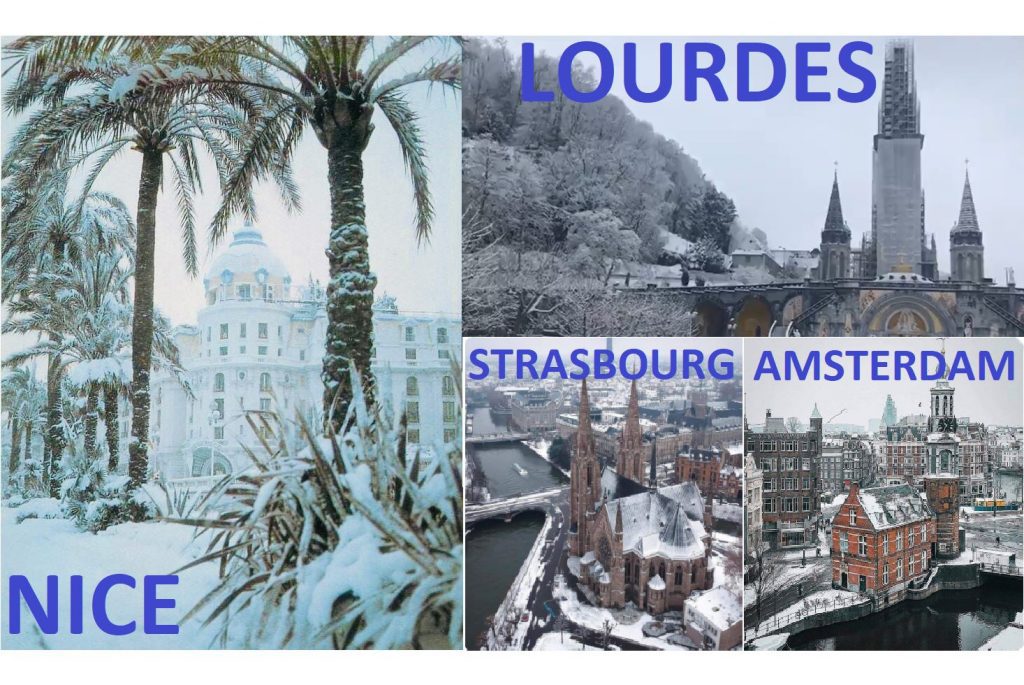 Read more:
(Visited 61 times, 1 visits today)