FROSTS UP TO -30°C AND CENTRAL EUROPE BURIED UNDER THE SNOW: FREEZING SCENARIOS OF MEGA-SIBERIAN COLD BLAST FOR EUROPE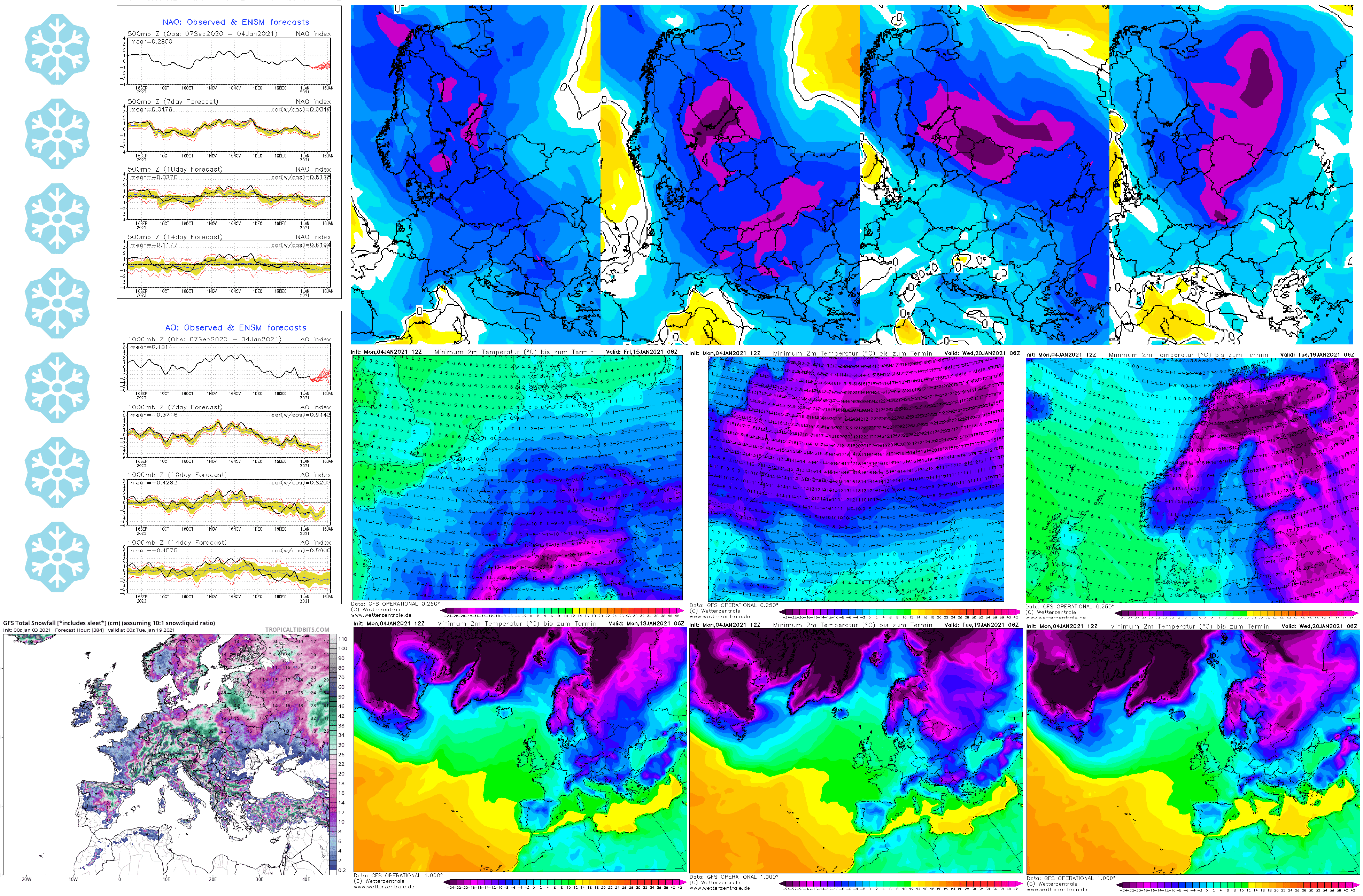 "In Eastern Europe and Scandinavia, anomalous coldwave should be even stronger, with minimum temperatures

up to -50°C!

"
GFS outputs remains extremely crazy, with one of the strongest coldwaves in parts of Europe after 2000.
As we mentioned last days, for extreme situation across Northern Hemisphere is responsible mega-atmospheric block over Eurasia, with historically strong Siberian high (1094,3 hPa) /https://mkweather.com/2021/01/01/10943-hpa-mongolia-with-the-highest-measured-air-pressure-on-earth-in-history// and similarly, historically low Aleutian low (921 hPa) /https://mkweather.com/2021/01/01/the-most-broken-circulation-on-earth-in-history-aleutian-low-921-hpa-equal-to-a-category-5-hurricane-deepest-within-all-time-records//, which have created extremely circulation pattern over all hemisphere, with record frosts in Siberia (Oymyakon, -57,5°C, the lowest temperature since 2002: https://mkweather.com/2020/12/28/oymyakon-lowest-temperature-since-2002-572c-in-monstrous-pressure-high-1076-hpa/) and East Asia (Japan, -32,6°C, Beijing, -26,0°C), for now (https://mkweather.com/2021/01/02/extreme-winter-already-in-japan-326c/; https://mkweather.com/2021/01/02/beijing-26c-the-lowest-december-temperature-since-1978/).
As we have described in series of articles last days, extreme winter, from the middle of Siberian high system, will be pushed into its edges – in Eurasia with direction from Siberia and Mongolia into Europe and in North America or East Asia, respectively, with direction from Siberia and Mongolia above the USA and Canada (air in high pressure system is flowing from the middle to all directions) /https://mkweather.com/2021/01/03/siberian-winter-in-europe-aggressive-gfs-outputs-expect-historic-frosts-some-regions-should-be-buried-under-the-snow/; https://mkweather.com/2021/01/01/peak-of-the-winter-in-europe-russia-and-scandinavia-50c-continental-europe-30c-and-british-islands-20c/; https://mkweather.com/2021/01/03/very-hard-times-for-usa-and-canada-air-from-abnormal-siberian-blast-shifts-above-north-america/; https://mkweather.com/2021/01/02/extreme-winter-should-be-longer-and-stronger-nao-until-the-end-of-january-2021-extreme//.
It´s 4. January 2021 and abnormal forecast outputs are still valid, with extreme Siberian coldwave in Europe during the second January 2021 decade.
Ita appears, that eastern Europe and Scandinavia can be sure, that Siberian winter is after a corner – GFS already several days in a row predict almost unsurvivable conditions for European Russia and parts of Scandinavia with expected peak up to -50°C!
Above Scandinavia is expected firstly deep cyclone in extremely cold air – this cyclone will cause heavy snowfall not only in Scandinavia, but too in Central Europe and then, winter should hit with even stronger power.
Some outputs of GFS are really aggressive – not just about possibly record extreme frosts, but too about a snow cover – according few outputs should fall in all central Europe 20 – 50, regionally up to 100 cm of snow before an Siberian blast, what would mean snow calamity and subsequent even stronger frosts not only in basins and valleys, which have snow cover almost sure, but too in lowlands.
Scenarios associated with snow are not fully clear yet, and we don´t know, if will be snowing more or less, but for

Carpathian parts of Central Europe – mainly Poland, Slovakia, Czechia and Romania, is still forecasted overcoming of threshold -30°C, in valleys with snow cover 50 – 100 cm regionally

.
Western Europe expect powerful cold blast sooner, than continental, Eastern, Central Europe and Scandinavia – and it is needed to be prepare for severe frosts and surprising snowing in regions, where snow isn´t an annual event. In

France and Balkan are still frosts below -20°C forecasted, in the UK, Spain and Italy – in lower situated basins and valleys with snow cover, -15°C should be overcame

.
Mkweather will be furthermore watch a situation and will bring a fresh news about anomalous peak of Winter 2020/2021 in Northern Hemisphere, with emphasis to Europe, every day.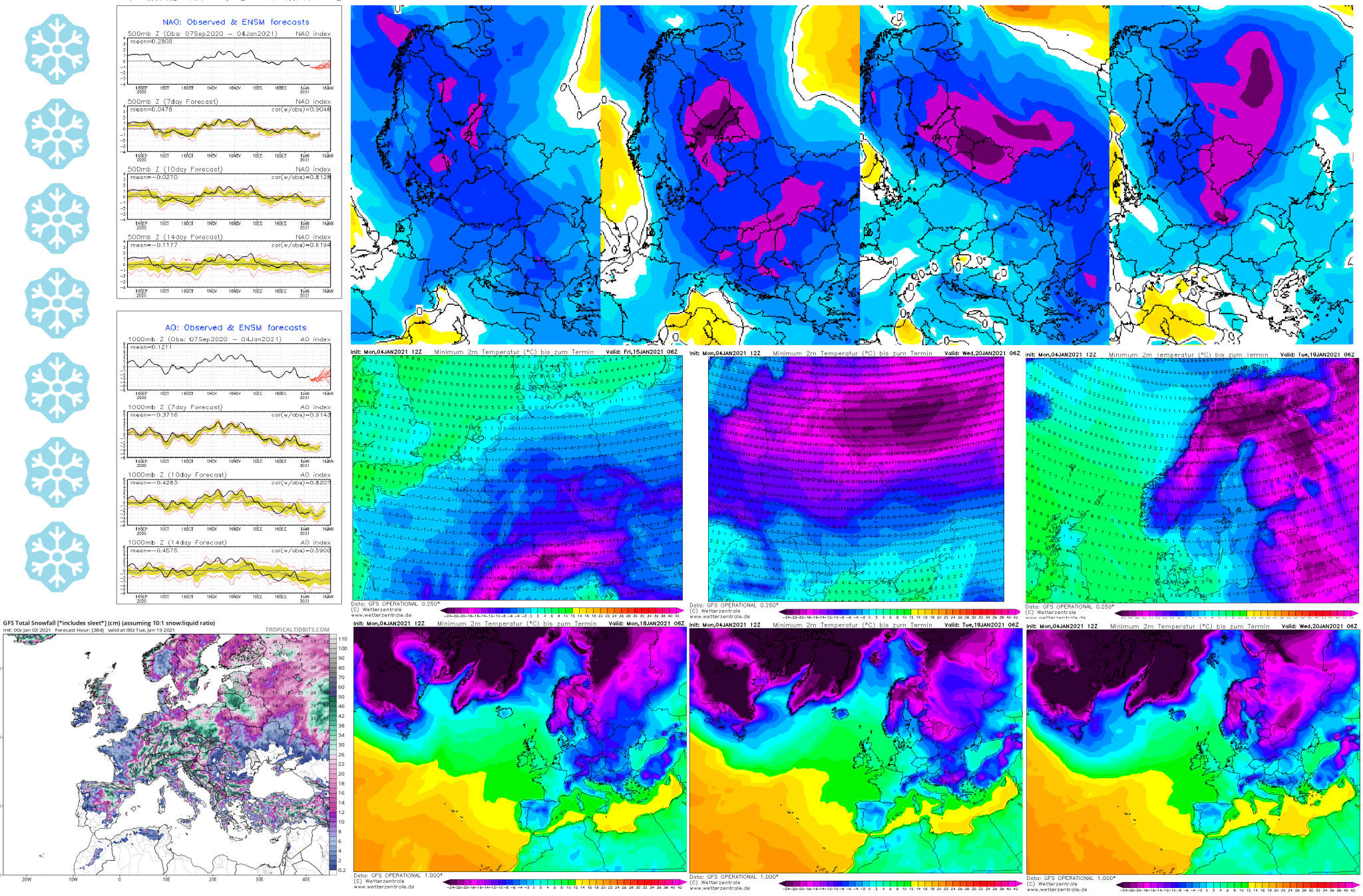 Temperature in 850 hPa anomaly in Europe /wetterzentrale.de (the coldest days of outlook)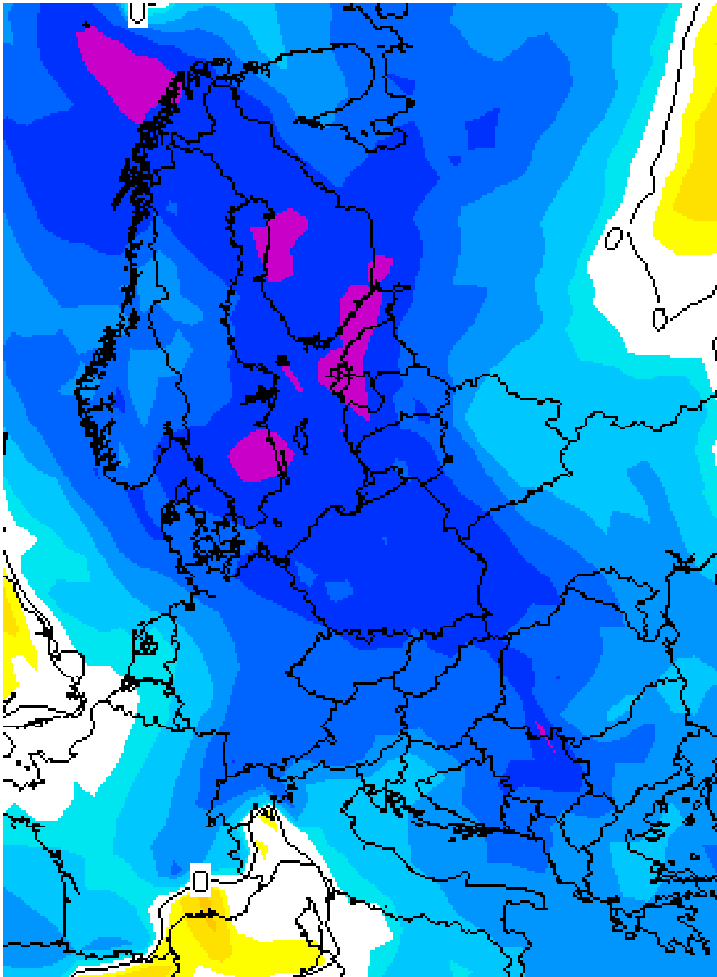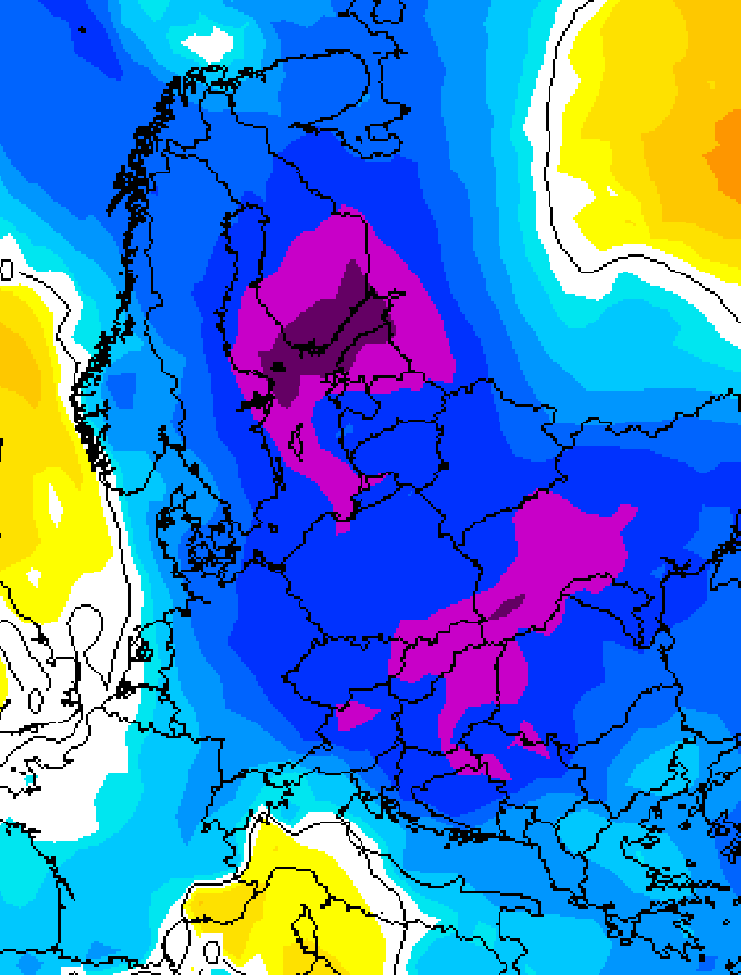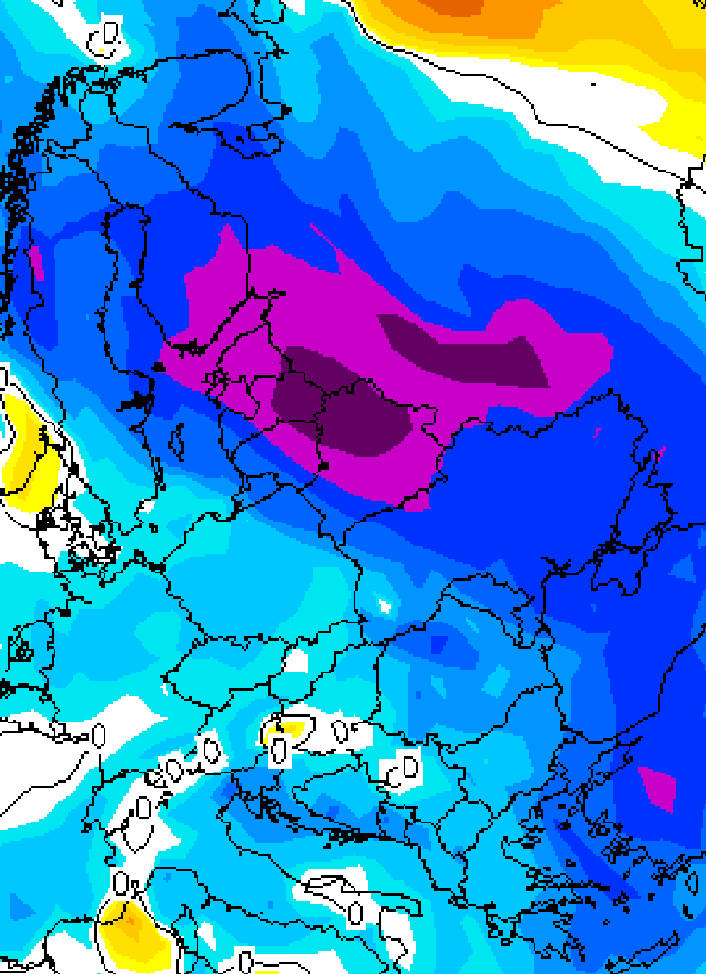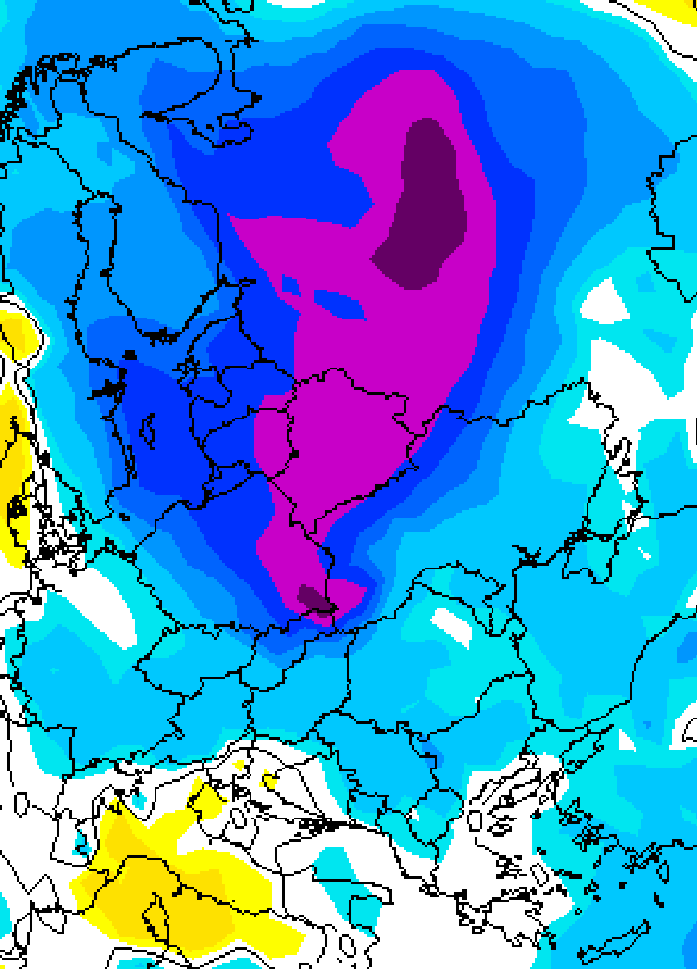 Extreme frosts in parts of Europe /wetterzentrale.de: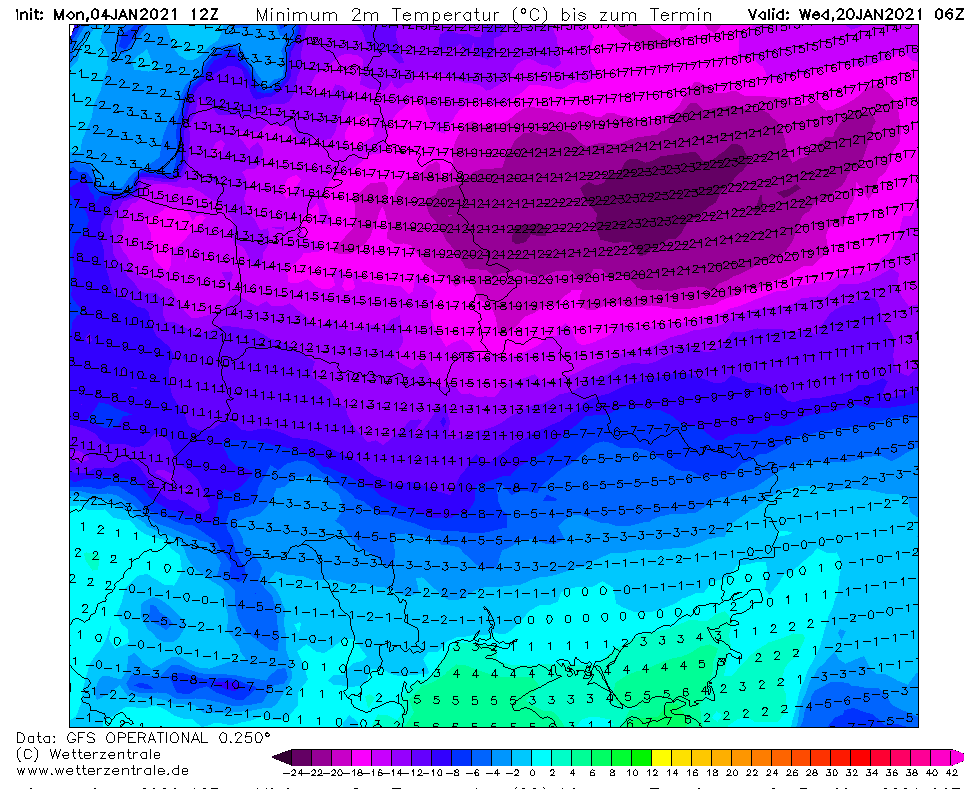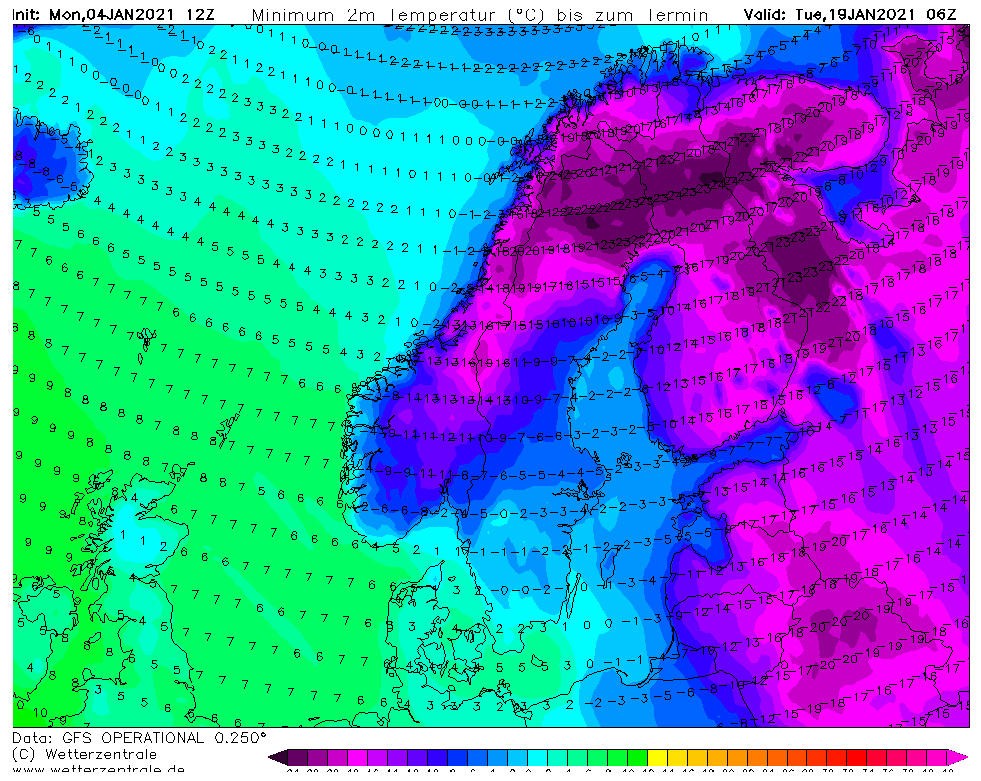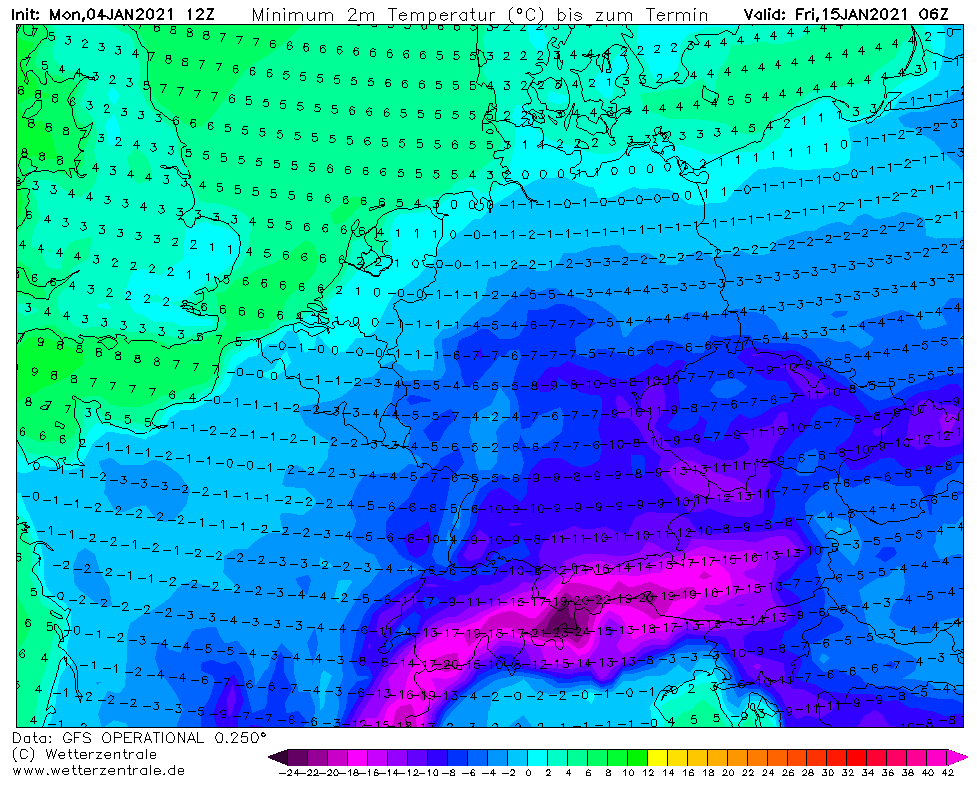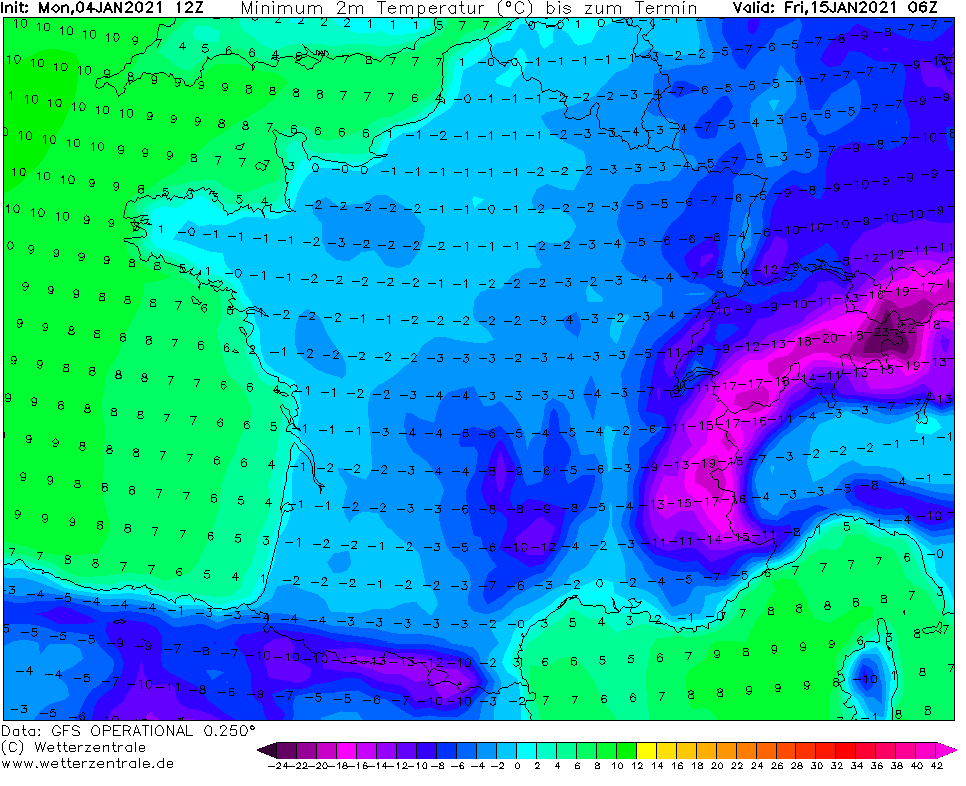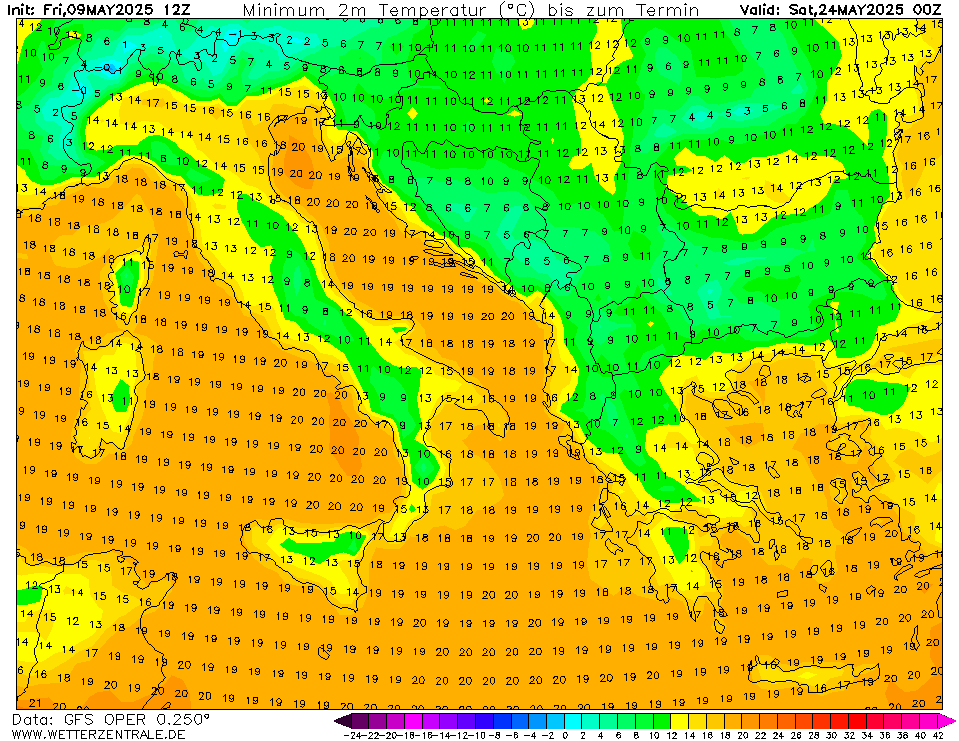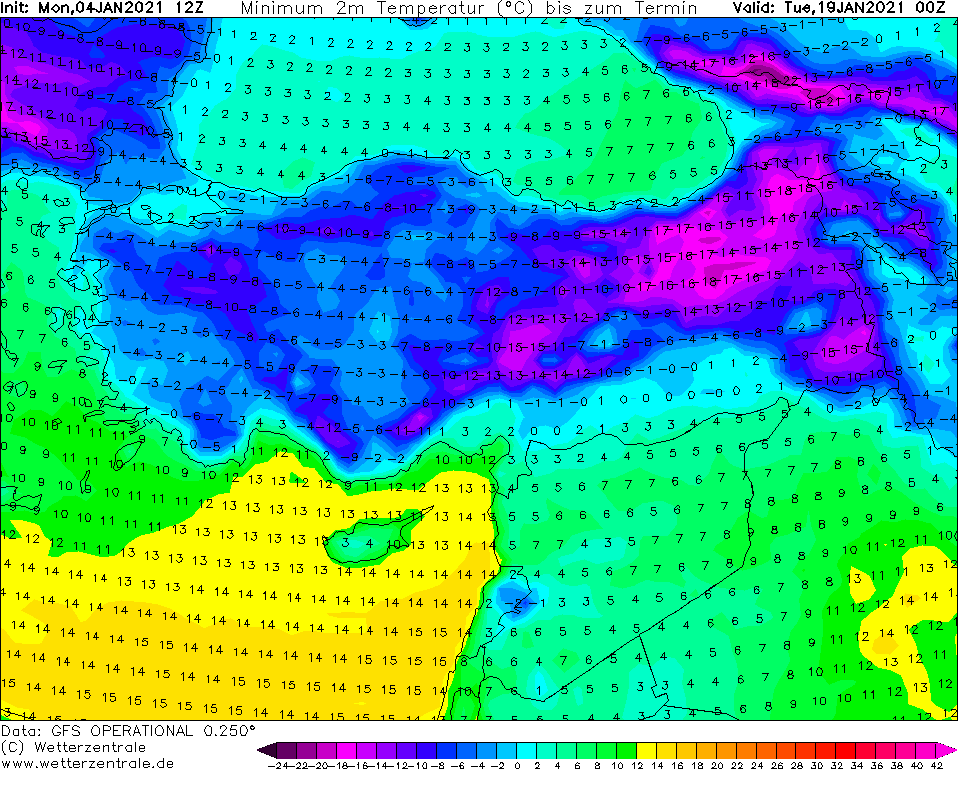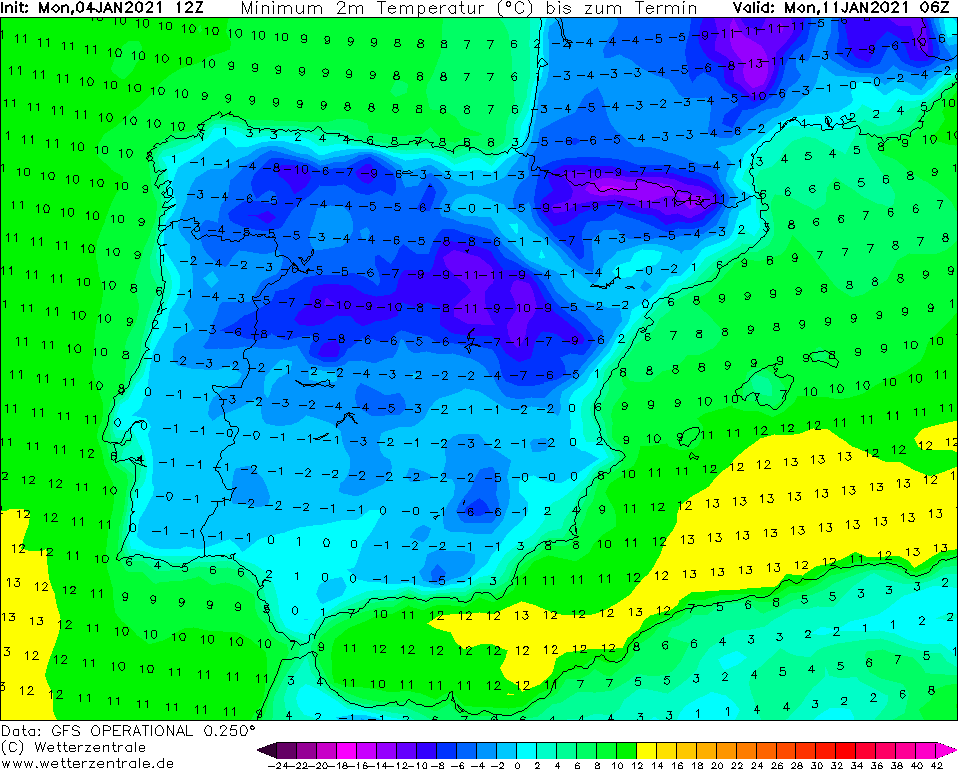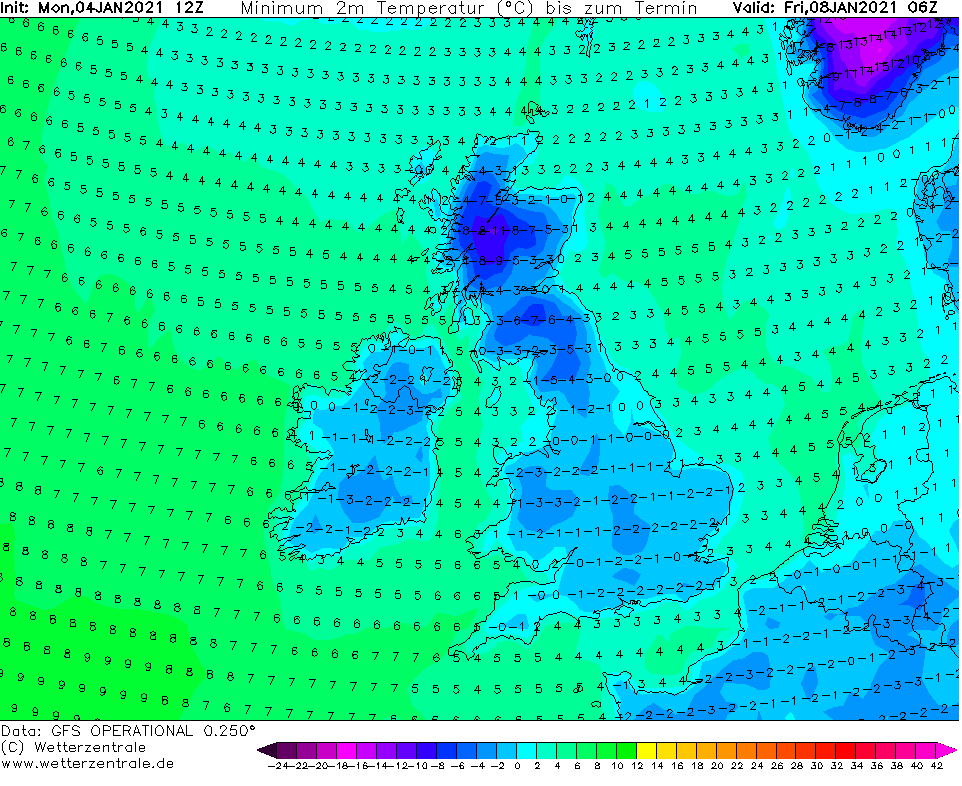 Minimum temperature during the coldest days /wetterzentrale.de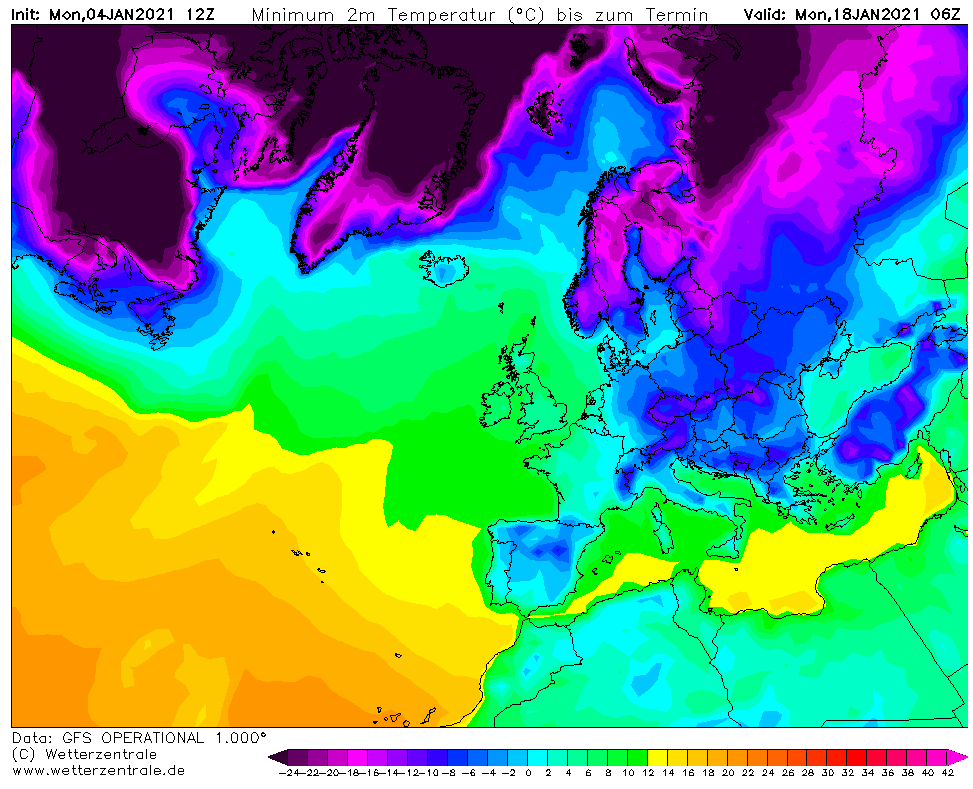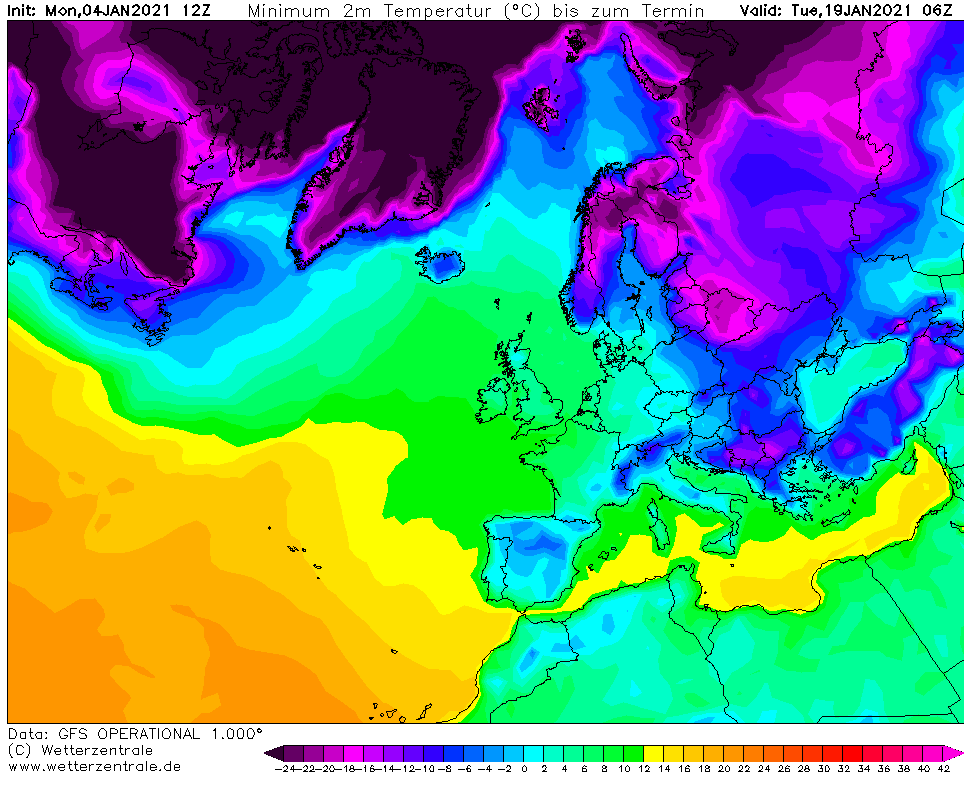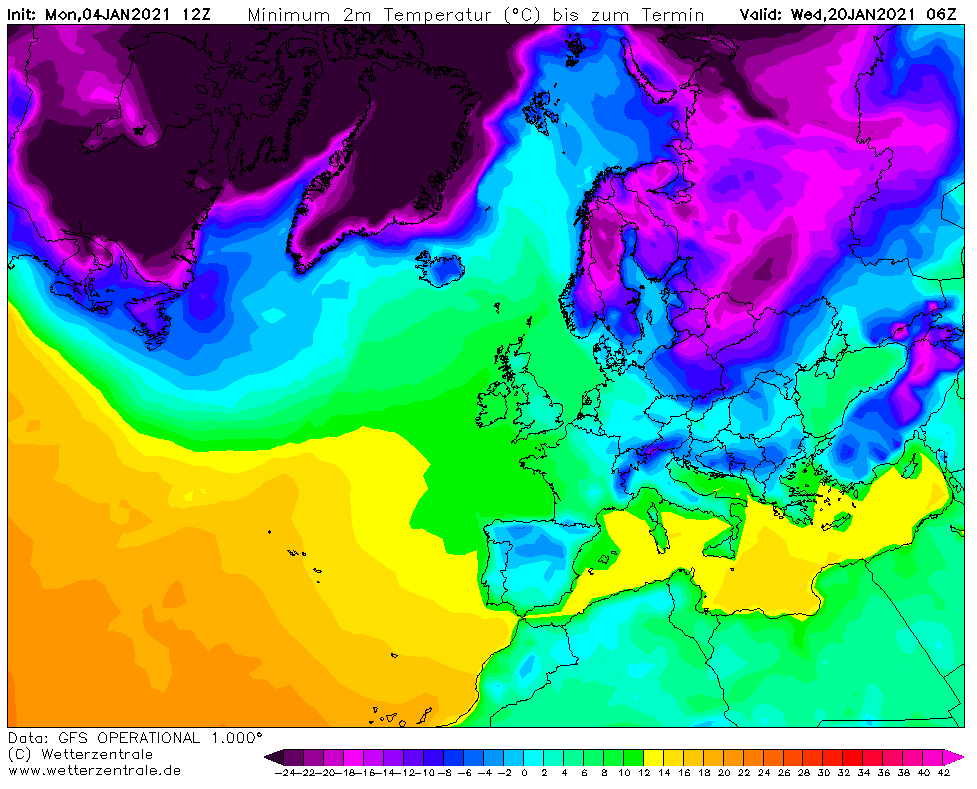 Expected AO and NAO indices /NOAA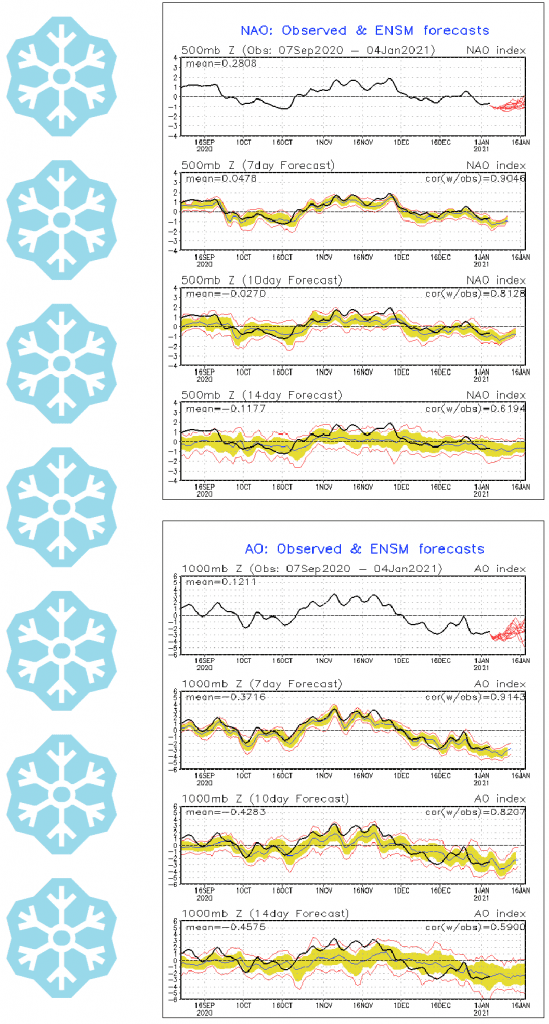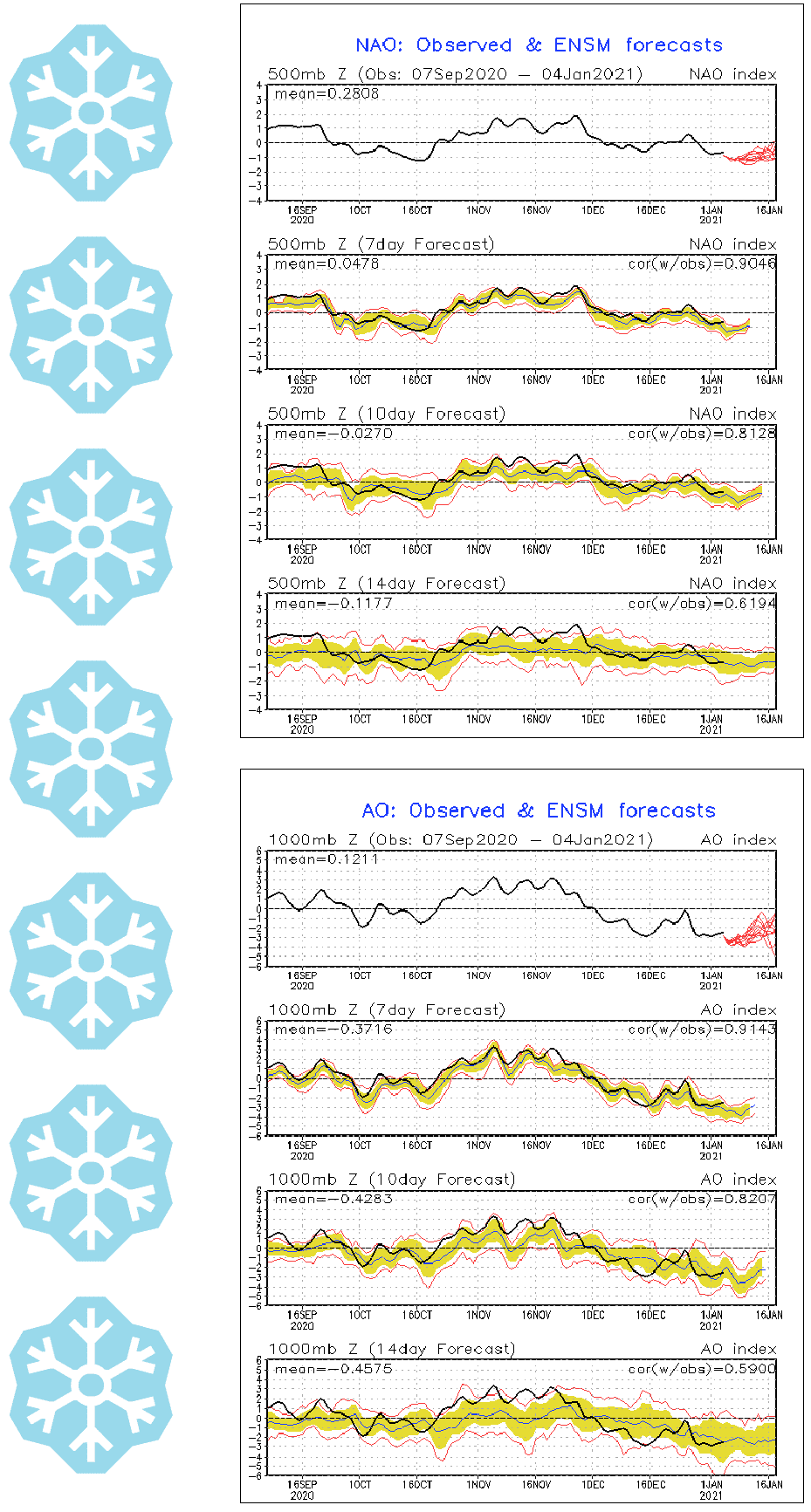 Forecasted snowfall /tropicaltidbits.com: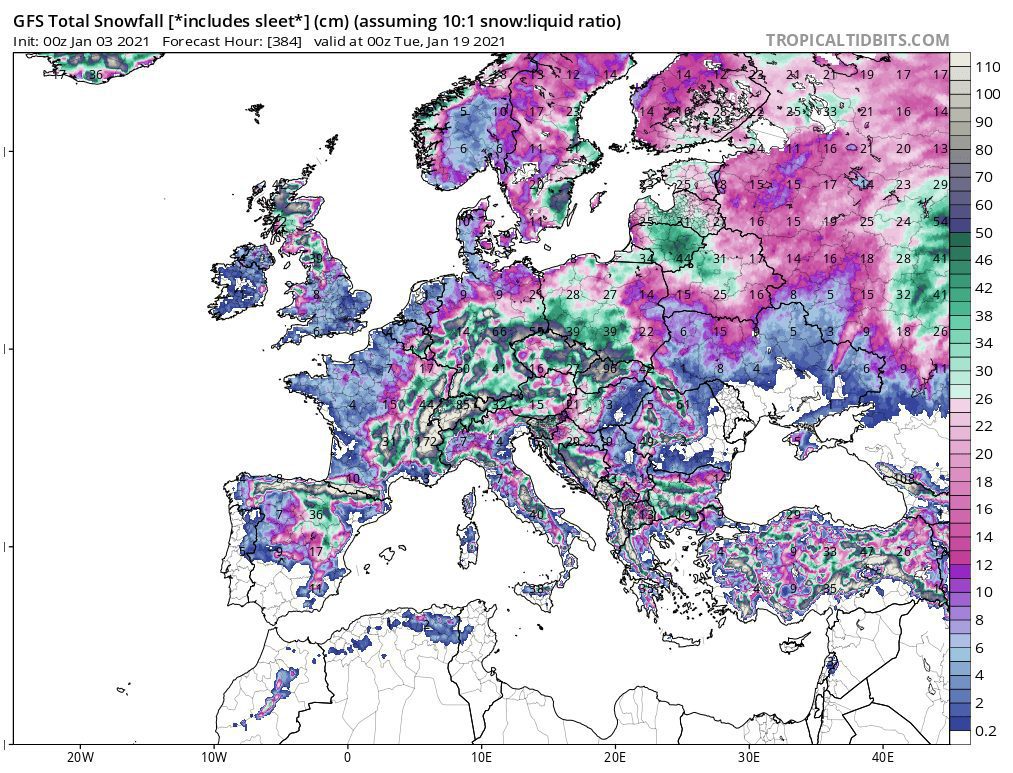 Read more: