Historic winter 2021 in Australia: Sydney the coldest day in 122 years, powerful winterstorm from Tasmania to Queensland!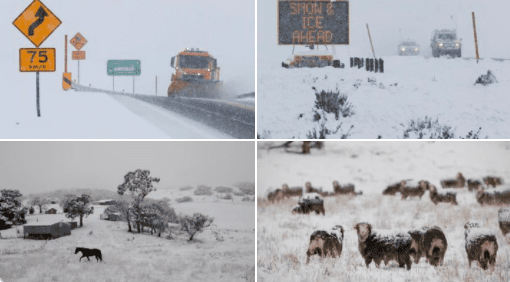 Australia hit one of the strongest Antarctic blob in more than a century!
While parts of New South Wales report widespread snowfall, in other parts of SE Australia from Tasmania to Queensland, severe winds or heavy rains are reported, with regional damages after powerful winterstorm.
In Sydney, the lowest maximum temperature since 1899 was measured, only around +10°C, while more southward, frosts and heavy snowfall caused many problems.
Penrith reported maximum temperature only +8,3°C and Orange (863 MASL) +1,2°C.
According to regional news, snow see areas which haven´t seen it since 2016.
From Victoria, severe winds and floods are reported and Queensland has experienced with the coldest temperatures in years, too.
In the mountains, 60 cm of fresh snow has fallen and snowing continues.
Outlook for the next 10 days for Australian cities is only around 5°C warmer than current extreme cooldown, with typical winter weather, with rain and cloudiness.
Cold and rainy conditions in Australia since Summer 2020/2021 are a result of La nina pattern. During La nina, heatwaves, drought and wildfires are milder, while cyclones, rains, winterstorms activity are above average.
It´s really surprising, that all-time record for the coldest day in Sydney was measured at the end of the first June decade, previous records occurred during July.
It should be a signal, that peak of Winter 2021 can be in Australia, Southern America and South Africa anomalously or historically cold.