In Odisha and Gujarat, India (Mumbai and Calcutta regions), 4 million affected by floods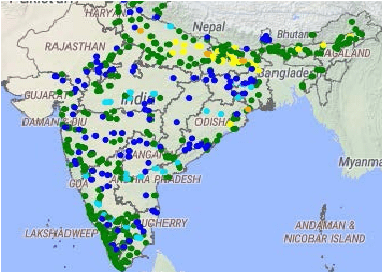 India and other countries in Southern Asia are still experiencing powerful monsoon rains.
The worst situation is in Odisha and Gujarat region (near the most populated metropolitan areas of Mumbai and Calcutta).
In Odisha, 2,3 million people are according to current news directly affected by floods, while in Gujarat the next 1,6 million, together almost 4 million people.
The next flood regions are situated across all of India from the south into the north, problems are reported from Nepal, Bangladesh, southern Bhutan, northern Pakistan, or Sri Lanka too.
The Bhubaneswar before a few days received 195 mm of rainfall in 24 hours breaking a 63-years old record of daily rainfall.
On 19. September 2021, 5 Stations (2 in UP, 2 in Bihar, 1 in Odisha) are flowing in Severe Flood Situation, while 26 stations (13 in Bihar, 7 in UP, 3 in Assam, and 1 each in Jharkhand, Odisha & West Bengal) are flowing in Above Normal Flood Situation according to Prasar Bharati News Services.
Until 5. October 2021, the next heavy monsoon rains are forecasted for parts of southernmost India, central India, northeastern India, Nepal, southern Bhutan, Sri Lanka, northern Pakistan, Bangladesh, Myanmar or Thailand.
On Twitter, many materials associated with floods in India appeared in the last days – some Tweets are below the text content of the article.
Monsoon season is forecasted, such as during every year, during Autumn 2021, weaken, and shift into more southern regions.
A Cyclone season in the next half-year is forecasted to be thanks to La Nina with MJO and IOD configuration above average, therefore some significant tropical threats should appear mainly in Sri Lanka or southern India.
Northern and Central parts will be soon affected by the dry and possibly regionally colder than average winter monsoon.