Indian summer in Europe: How many degrees will be in your region?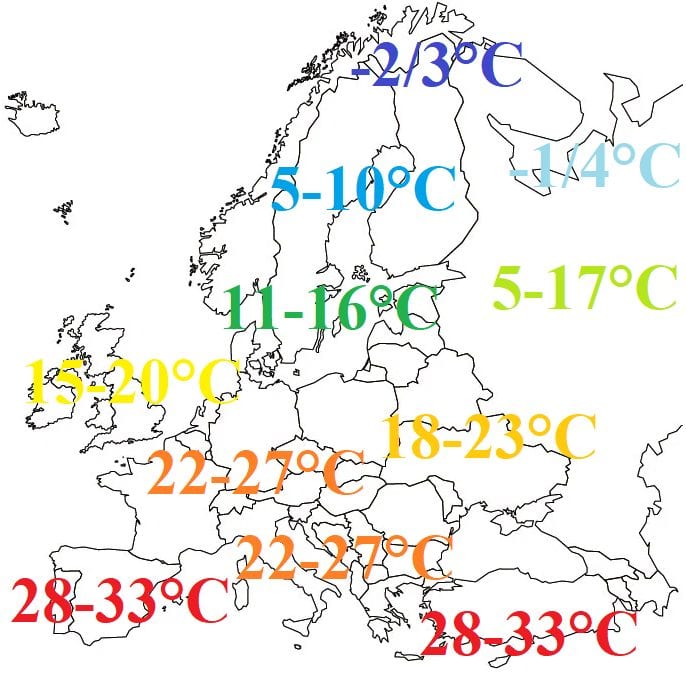 GFS is drawing very warm and very dry air over Europe during next workweek, in eastern parts of Europe until Wednesday, 28. October (10-day sunny period). Only in Spain, France and the UK weather goes wrong quickly. How many degrees we can expect in regions of Europe during the warmest day during Indian summer?
Update of previous forecast /https://mkweather.com/2020/10/16/france-25c-germany-22c-next-week-but-with-fresh-mornings// should appear as follow:
Possible tropical days, with temperatures up to +33°C in southern Spain and southern Turkey, during the heatwave / warm spell – in Spain on Monday and Tuesday, 19.-20. October 2020, in southern Turkey with tropical days (over +30°C) until Monday, 26. October 2020.
Temperatures up to +27°C in southwestern France near foehn winds, and possible last rarely summer day (+25°C) in countries of Central Europe. In Balkan and Italy only up to +27°C. The warmest day in SW France on Wednesday, in Germany on Wednesday and Thursday 21.-22. October.
In East Central Europe possible almost 10-day period with Indian summer – mainly Slovakia, Hungary, eastern Poland, with temperatures over +20°C, in lowlands in Slovakia, Austria, Czechia and Hungary the warmest at the weekend and early next week until Wednesday (24.-28. October), maybe very rarely up to +25°C.
In Balkan similarly than in East-Central Europe, but with Mediterranean system with rain, wind and storms at the weekend 24.-25. October.
In Eastern Europe, possible maximum temperatures up to +25°C in Crimea and Caucasian Russia, but not more than +20°C in Bielorussia and +18°C in Baltic States. Warm mainly from Thursday and Sunday 22.-25. October.
In southern Scandinavia maximum temperatures up to +17°C, in central Scandinavia only up to +12°C and in northern Scandinavia and northern Russia despite of warm spell in Europe all-day frosts (ice days) below 0°C.
In Spain, France and the UK (UK with maximum +20°C) however, the sunny weather will be quickly changed to rainy and windy pattern, with possible ex-hurricane Epsilon /https://mkweather.com/2020/10/18/ex-hurricane-epsilon-hits-british-isles-very-possible-scenario//early next week (and before it 2 weaker possible windstorms).
If you are happy from warm and sunny autumn weather, you should enjoy it already during the next days / period. Mkweather will bring fresh news about measured temperatures during the next week.
Read more: