Italy scared a giant tornado, Napoli with 100 km/h storm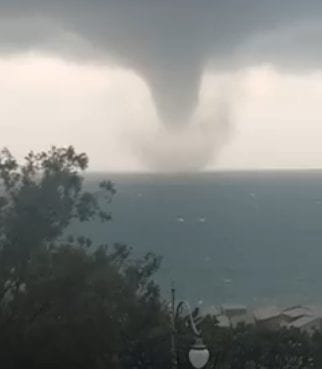 From Sunday to Monday, Italy hits powerful Mediterranean storm system, which we will address in on of the next articles, soon.
Italy during the second half of September 2020 hit 3 severe storm events – medicane Lanos, remnants of tropical storm Alpha and current Mediterranean storm /https://mkweather.com/2020/09/26/next-medicane-hits-italy-and-adriatic-after-lanos-and-flooding-remnants-of-alpha-next-48-hours//.
However, storm activity was on the high levels between these events, too and on Friday, storm with more than 100 km/h winds hit Napoli.
In Salerno near Napoli, a giant tornado scared inhabitants just during the shift of cold front above the region. Yes, cold front, associated with a current extreme coldwave in Europe (in front of this coldwave on Friday).
Before the cold front, +34,7°C was measured in Catania, southern Italy on Friday, after cold blast, meteorologist measured -15,2°C in Italian Alps (Pian Rosa) on Saturday.
From Sunday to Monday, strong Mediterranean system is bringing heavy rainfall and severe winds not only to Italy, but too in Croatia, Slovenia, Bosnia and Herzegovina and Albania.
Infographics:
Damages in Napoli after severe storm:
Read more: