After rounds of flooding rainfall devastated parts of Japan during the July and the start of August 2020, a change in the weather pattern has brought hot and dry conditions to the country.
The front, called the mei-yu front, was responsible for the heavy rains in July, and typically brings the rainy season to eastern China and Japan during the summer months. But for August, the front has shifted north, allowing for an area of high pressure to settle over southern Japan instead according Accuweather.
"SW to W winds in this pattern will continue to help usher in higher temperatures across much of the country into the middle of the week. Winds blowing from the mountains into the valleys aided in in the building heat."
The hottest temperature during this heat wave, so far was in city of Hamamatsu, Shizuoka Prefecture on Sunday, August 16, with a high of 41.1°C (105.6°F) on Monday, according to the Japan Times. As such, the Japan Meteorological Agency issued both heatstroke and high-temperature warnings Sunday.
The record highest temperature for the country was set in July of 2018 during the third week of brutal heat wave. The thermometer reached the same 41.1°C (106°F) in Kumagaya, located to the northwest of Tokyo, reported The Washington Post. Current measured temperature is therefore with temperature from 2018 a new national record value.
Temperatures from the Kyushu region to Kanto region are expected to remain about 3-9 degrees C (5-15 degrees F) above normal temperatures for the middle of August. Normal high temperatures for this time of year in Fukuoka and Tokyo 32 C (89 F) and 31 C (87 F), respectively.
Beaches in Japan are thanks to COVID-19 closed. Just 60 percent of the nations 1,156 beaches were opened up to the pubic this year.
Documentation of heatwave in Japan from Accuweather:
Mkweather warnings for World, Monday, 17. August 2020: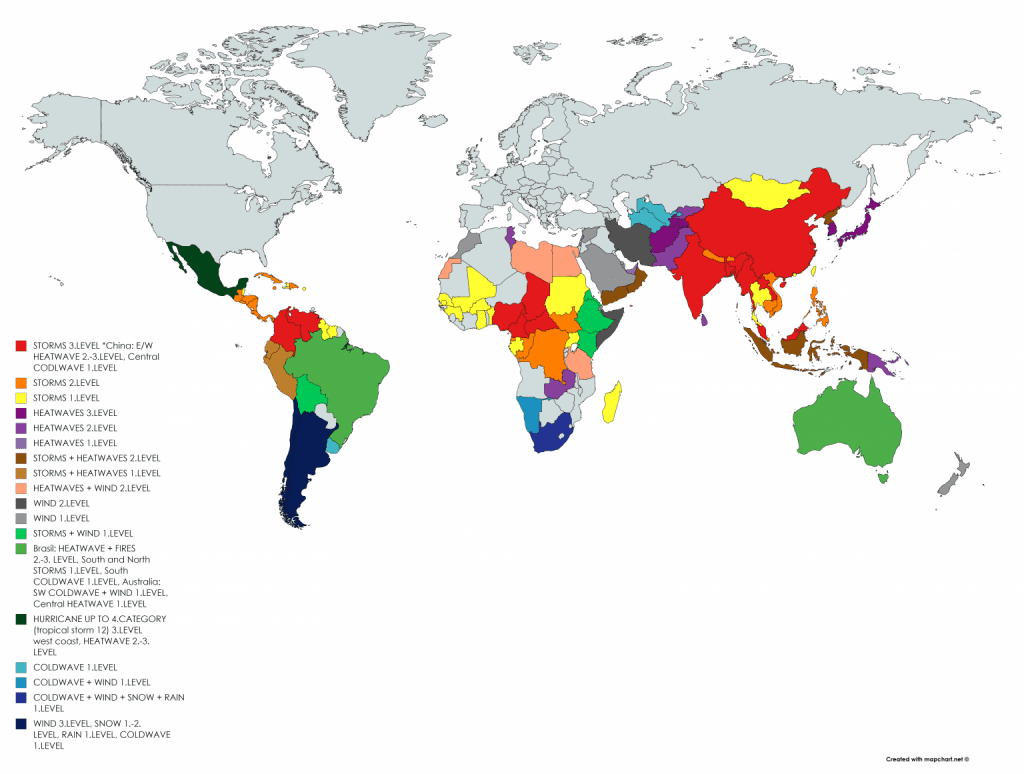 Source:
https://www.accuweather.com/en/weather-forecasts/beaches-closed-as-heat-wave-grips-japan/795811
Read more:
(Visited 38 times, 1 visits today)