The coldest 17. January since the Second World War!
This is a result of extreme frosts in Baltic states from Sunday, 7. January 2021, when 81-year records were overcame.
The coldest was in Jelgava, central Latvia, -31,0°C! Bauska reported -28,2°C and Riga unbelievable -27,0°C!
Wave of extremely cold weather hit Belarus (-28,7°C in Slutsk), /https://mkweather.com/2021/01/17/belarus-287c-lithuania-275c-estonia-251celsius-next-night-will-be-deadly//, Lithuania (-27,5°C in Šeduvoje) and Estonia (-25,1°C in Korela).
Moreover, 30-degree frosts are forecasted after extremely cold night with -27°C in Poland and Carpathian countries /https://mkweather.com/2021/01/17/strong-signals-from-icon-eu-at-least-in-one-station-could-reach-29-30celsius-at-2m-agl-this-night-in-poland-2021-winter/; https://mkweather.com/2021/01/17/poland-the-coldest-night-since-2012-is-here-after-27c-on-sunday-below-30c-on-monday-expected-extreme//.
Next extremely cold night in the region is already beginning - a pressure high with Siberian origin has shifted above Baltic area, Poland, Carpathians and Balkan from Sunday to Monday, 17.-18. January 2021.
Extreme frosts like this should be linked with incidence or mortality of many diseases /https://mkweather.com/2021/01/16/heart-attack-influenza-cancer-frostbites-hypothermia-covid-what-you-should-to-know-about-arctic-and-siberian-coldwaves//, therefore stay safe, warm and watch extreme coldwave furthermore with Mkweather!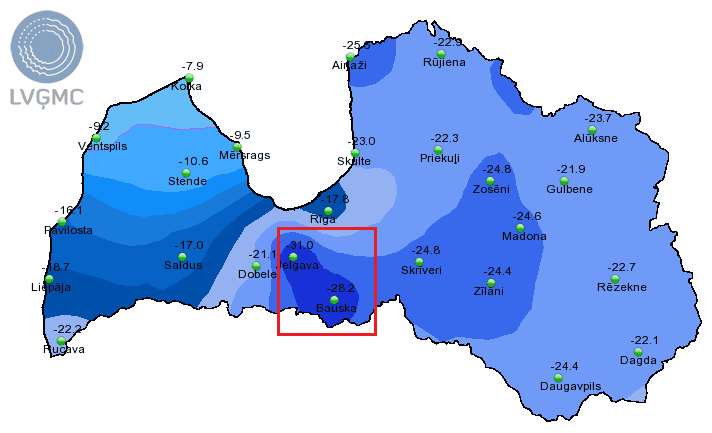 Read more:
(Visited 26 times, 1 visits today)