Mkweather last period has warned before together 5 Mediterranean storms /2 STORMS; 3 STORMS/, which were / are expected between 20. November and 15. December 2020.
We /https://mkweather.com/2020/11/23/floods-in-desert-saudi-arabia-cold-and-rainy-forecast-for-middle-east// and other meteorological services /https://www.accuweather.com/en/weather-forecasts/rain-snow-return-to-middle-east/852701/ have warned before severe storms, rains, winds and floods in Middle East, with winter conditions, too.
In series of these articles we are bringing detailed overview of current effects of Mediterranean storms (Article 1 – Cyprus, Article 2 – Israel, Article 3 – Italy) and one forecast valid until Sunday, 29. November 2020 (Article 4 – Spain and Portugal forecast).
As an additional article we are bringing this report from recent floods in Baghdad, Iraq (Article 5 – Iraq).
Not 5, but 6 Mediterranean storm systems are (were) currently forecasted for the period 20. November – 10. December 2020.
This arrival of winter conditions is, such as traditionally, associated with negative (or neutral) NAO phase – Icelandic cyclones are in these circulation conditions shifted to their southern stormtracks above southern moderate and subtropical climate zones, with some effect even in deserts of a tropical climate zone.
More of expected Mediterranean storms, or its remnants, will shift above Middle East during next weeks, with next possible severe storms with hails, floods or even rarely tornadoes on the coast.
Severe storms are still forecasted mainly for western Iran, Iraq, parts of Saudi Arabia, northern Syria and coasts of Lebanon, Syria and Israel.
These winter shots should bring next severe floods, with which has experienced Baghdad, Iraqi capital, at the weekend.
Next videos catch situation in Baghdad at the weekend, 21.-22. November 2020 – only on Saturday dropped in the city 80 mm of rain and data from Sunday are not available.
While at the beginning of November 2020, maximum temperatures in Baghdad was reaching up to +33°C, after winter, although November storm, cooled down into +18,8°C on Sunday, 22. November and on Wednesday, 25. November, minimum temperature has reached only +5,5°C.
Rainy and windy winter in Middle East is in full swing and next weeks will bring next interesting, but too dangerous meteorological situations and threats in the region.
Mkweather will watch Mediterranean storms and Middle East weather and bring fresh forecasts and news from regions during incoming weeks.
Infographics: ogimet.com, wxcharts.com, Youtube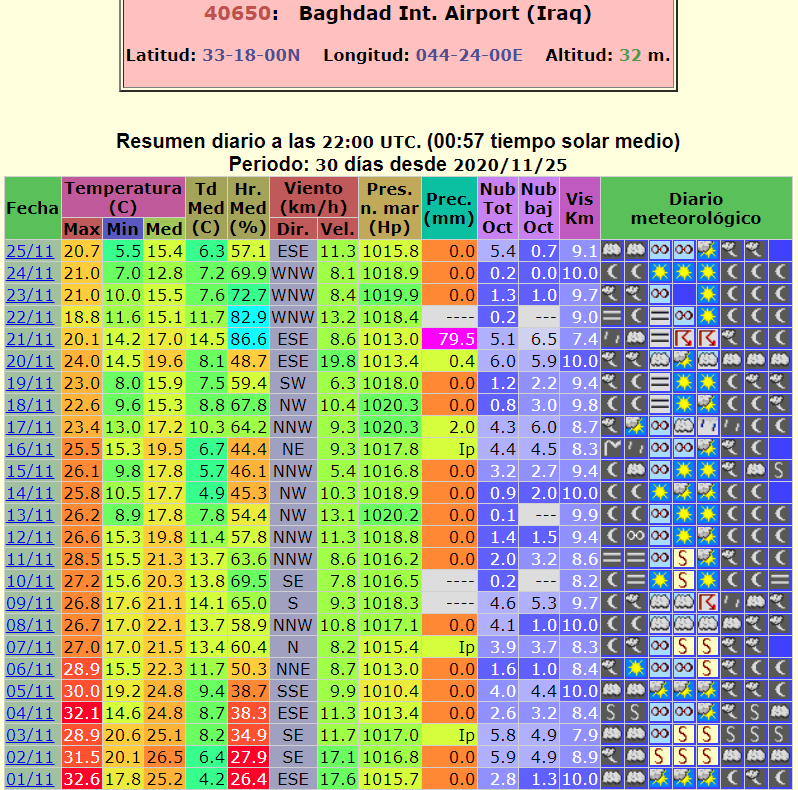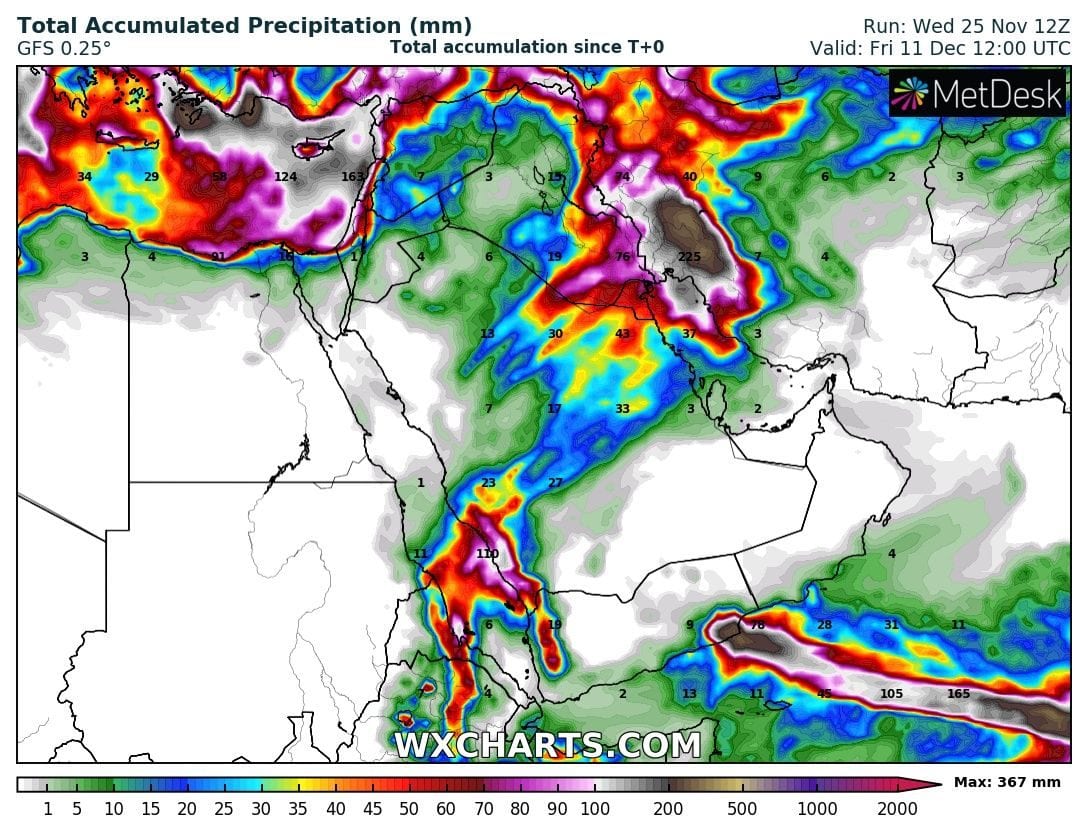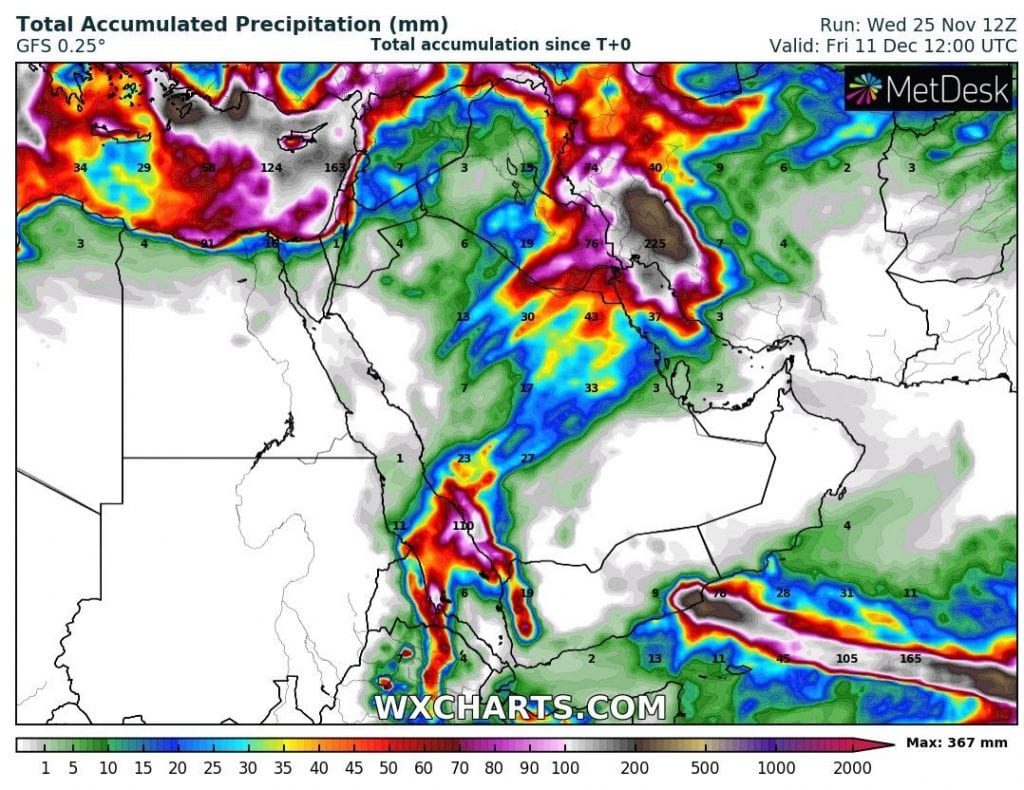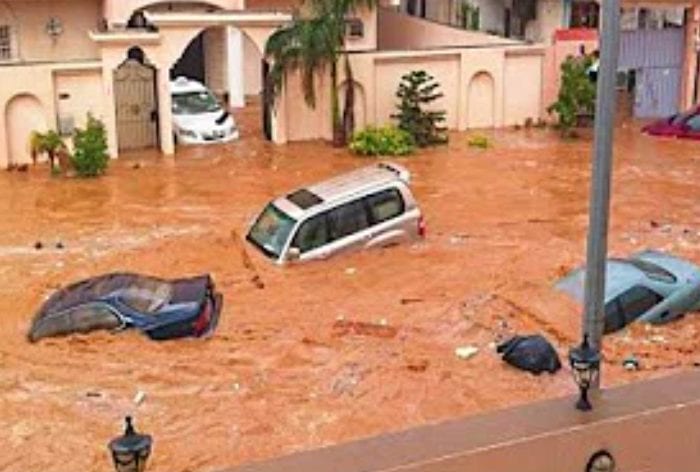 Read more:
(Visited 28 times, 1 visits today)