Mexico and Southwest with monsoon and floods, Northwest and SW Canada the next heat dome, Lytton +41,4°C, California with wildfires after storms
Everything reversely!
While western Canada and the northeastern USA are suffering the next extreme summer heatwave, southwestern USA and Mexico, such as parts of California hit summer monsoon, which is bringing floods.
In Lytton, western Canada, the maximum temperature reached again extremely high values, up to +41,4°C, while in California heatwave is combined with storms with lighting, which are initiating the next dangerous wildfires. 
More eastward – in Nevada, Arizona, Utah, Colorado, or New Mexico, a wave of serious floods appeared in the last days.
Severe floods due to persisting monsoon are reported from parts of Mexico, too, the worst from Sonora. 
Heat dome above wider Vancouver region is forecasted to persist until 4. August 2021, but then, between 9.-16. August, the next long-term heat dome is forecasted for the same region, with the next possible surprising temperatures. 
Severe storms are forecasted along the southeastern coast in the next 16 days, too. 
The Canadian Furnace Creek, Lytton which recorded almost 50C 1 month ago, returns above 40C (41.4C) on 30 July. Despite a slight temperature drop, the heat will persist into mid next week. https://t.co/lGx6C8H7Cx

— Extreme Temperatures Around The World (@extremetemps) July 30, 2021
Temperature anomalies 01.08.2021

Intense #heatwave in Canada, USA , parts of #Siberia
Also Turkey , Greece (wildfires)
More data and photos soon , sadly #climate event also HAPPENING in #antarctica#ClimateCrisis #ClimateChange pic.twitter.com/YizL6ZknEp

— Christopher Cartwright (@chriscartw83) August 1, 2021
NORTH AMERICA:
Although not as hot as it has been, but much of western Canada and the western USA are enduring another heat wave – warnings are out. pic.twitter.com/qg6mkC2bcW

— BBC Weather (@bbcweather) July 31, 2021
Another #HEATWAVE🔥 set to blast Western #Canada

Not as extreme as record-shattering heat marking latter days of June, it will still be an ordeal for a part of the country struggling with #wildfire & smoke. | @weathernetworkhttps://t.co/P8M2c2c40k

— Dawn Rose Turner (@DawnRoseTurner) July 31, 2021
With the long weekend now here, much of Western #Canada is gearing up for yet another summer heat wave, though it won't meet the extreme levels seen in late-June #BCwx #ABwx #SKwx – https://t.co/HXQrps0vdo

— The Weather Network (@weathernetwork) July 31, 2021
again #heatwave #canada @judah47 pic.twitter.com/IbedIqm5kh

— PV-Forecast (@PvForecast) July 30, 2021
Life-threatening flash floods in Nogales, Mexico. Strong currents wash away vehicles.#Nogales #Sonora #FlashFloods #Floods #Flood #ViralVideo #Flooding #ViralVideos #Mexico #Climate #ClimateEmergency #Weather #FloodVideos pic.twitter.com/JloZup0rys

— Disaster update Today (@UpdateDisaster) July 31, 2021
https://twitter.com/zaheersahil/status/1421130034455236609?s=20
🇲🇽 #Mexico – Flash Floods Cause Damage and Casualties in Sonora https://t.co/iqBQ610vSq via @Flood_List #Sonora #Nogales

📷Municipality of Nogales pic.twitter.com/m7G95eGAvl

— FloodList (@Flood_List) July 29, 2021
A woman died in yesterday's flash flood along 5 de Febrero in Nogales, Sonora, @barron_cesar reports. Such a shame —there must be a way to at least partially fix the worst flooding streets, like 5 de Febrero and Tecnológico. https://t.co/J7RmTGONSK

— Tim Steller (@senyorreporter) July 29, 2021
#ClimateExtremes across the globe! Horror Flashflood scenes from Nogales, Mexico. Vehicles, life at sea!#Mexico #Viral #extremeweather #Nogales #Sonora #FlashFloods #Floods #Flood #ViralVideo #Flooding #ViralVideos #Climate #ClimateEmergency #Weather #FloodVideos #cloudburst pic.twitter.com/ZNfTK3fdBG

— pragiya (@ucatchpragiya) July 28, 2021
Heavy rains cause severe flooding in Nogales Sonora, Mexicohttps://t.co/gZyV65T4Os#Mexico #Nogales #Sonora #Floods #nogaleslluvia #disaster #Flashflood #Extremefloods #mexiconews #MexicoFloods pic.twitter.com/oKq9S6H1OU

— Unbelievable Events (@UnbelievableEv1) July 28, 2021
Yesterday, two wildfires started in Wildwood, California, after storms carrying a lot of lightning, but little rain, descended on the area https://t.co/YJGE964hP8

— AccuWeather (@accuweather) August 1, 2021
Two wildfires started in Wildwood, California, yesterday after storms carrying a lot of lightning, but little rain, descended on the area: https://t.co/Odh3b129d2

— AccuWeather (@accuweather) July 31, 2021
Frequent, low-intensity fires known as prescribed burns are 1 of the best ways to stop wildfires. So why isn't #California lighting more of them? Check out the full clip here: https://t.co/tp1aMGPILR via @nytimes

— Defenders of Wildlife (@Defenders) July 31, 2021
These strangers rushed to save a drowning father and son after they got trapped in a dangerous flash flood in Arizona pic.twitter.com/rXkJCeyDmI

— NowThis (@nowthisnews) August 1, 2021
Chocolate Falls! 🍫 || What a sight! Monsoon flood waters in #Arizona mixes in with the dirt making Grand Falls look like chocolate milk! 🐄 #AZwx #monsoonseason #flashflooding
Video Credit: @stanley.spears pic.twitter.com/iNbM7GHVxL

— WeatherNation (@WeatherNation) August 1, 2021
https://twitter.com/BlackWarFlags/status/1421675510631784451?s=20
A father and son were swept away by rushing water after monsoon rain caused the Sycamore Creek to flood in Arizona on Sunday. Bystanders managed to rescue everyone and get them to safety: https://t.co/jfUYpFdPTu pic.twitter.com/TFIUffxjpd

— AccuWeather (@accuweather) July 31, 2021
Southwest monsoon brings drought relief for Arizona but also dangerous flooding

Monsoon rains in the Southwest have caused deadly floods in parts of Arizona and New Mexico.https://t.co/dShAlYKxaO

— Xena (@Xena16012016) July 28, 2021
More flash floods hit southern #Utah #Flooding #NewsBreak https://t.co/lEZxpYbK4v

— Guardian_Elite (@Guardian_Elite) August 1, 2021
Utah Better Business Bureau warns of flood-related scams | #phishing | #scams https://t.co/TsxeT4xJcP

— Gregory D. Evans (@GregoryDEvans) August 1, 2021
Wow 😳

Take a look at the flood waters in Enterprise, Utah from earlier tonight. #utwx | @fox13 | @brekbolt pic.twitter.com/vz8IloOehn

— 𝐁𝐫𝐢𝐚𝐧 𝐒𝐜𝐡𝐧𝐞𝐞 (@brian_schnee) August 1, 2021
Utah Better Business Bureau offers tips for dealing with flood damage, scams https://t.co/DzTJny55nR

— NewWorldTimes (@NewWorldTimes2) July 31, 2021
Check out this drone footage of the significant flash flood down Birch Creek and the Escalante River in the Grand Staircase of Utah. Flash flood and debris flow threat increases even further today across the Southwest US https://t.co/JP5yiogBwS pic.twitter.com/xCgoDN8cdf

— Reed Timmer (@ReedTimmerAccu) July 30, 2021
https://twitter.com/HiroEclas/status/1420299569229963265?s=20
Flash flood watches were issued for portions of Utah, Colorado, New Mexico, Idaho, Montana, Nevada, Oregon and Washington state.https://t.co/k6e0dJmkkP

— Stars and Stripes (@starsandstripes) August 1, 2021
💦 FLASH FLOOD: Elko County, Nevada near Southfork Reservoir.

"It was initially reported a vehicle was washed off the roadway and a person was climbing out of the vehicle's sunroof."

📸 @ElkoCounty S.O. pic.twitter.com/vyqNr1aCrz

— 𝐁𝐫𝐢𝐚𝐧 𝐒𝐜𝐡𝐧𝐞𝐞 (@brian_schnee) August 1, 2021
FLOODING IN NYE COUNTY: Did you see the flooding in Pahrump? A photo from Nye County Sheriff's Office shows how the rainfall has flooded the roadways. Thunderstorm and flash flood watches are still active around Nevada. pic.twitter.com/ZnvzpKU8oQ

— KTVN 2 News (@KTVN) August 1, 2021
Roadways Submerged After Flash Flooding Hits Nevada Town https://t.co/WMtaAzPZYJ did you see that town with a flood?

— Lisa Anne Chudy (@AnneChudy) July 28, 2021
Microburst flood yesterday in my little town 80 mile per hour winds ripped the sign off of Walmart
Video from inside T-Mobile store..
Water lapping on the glass#Pahrump #floods #flood #weather #nevada pic.twitter.com/T7gmv7UxhA

— Paul USA Patriot 🇺🇸🤗 (@Paul_USAPatriot) July 27, 2021
Nevada!!!! Authorities are asking people to stay off the roads as rain continues to flood the roads.🚨🚨🚨🚨 pic.twitter.com/IddWmWsffg

— JamieLynn_TrumpGrl💋 (@2jamielynn) July 26, 2021
Flood watches in US West as mudslides close Colorado roads https://t.co/7MjKAny9IH (via SFGate) #news #Trending #trendingnews

— UBNM (@ubnm) August 1, 2021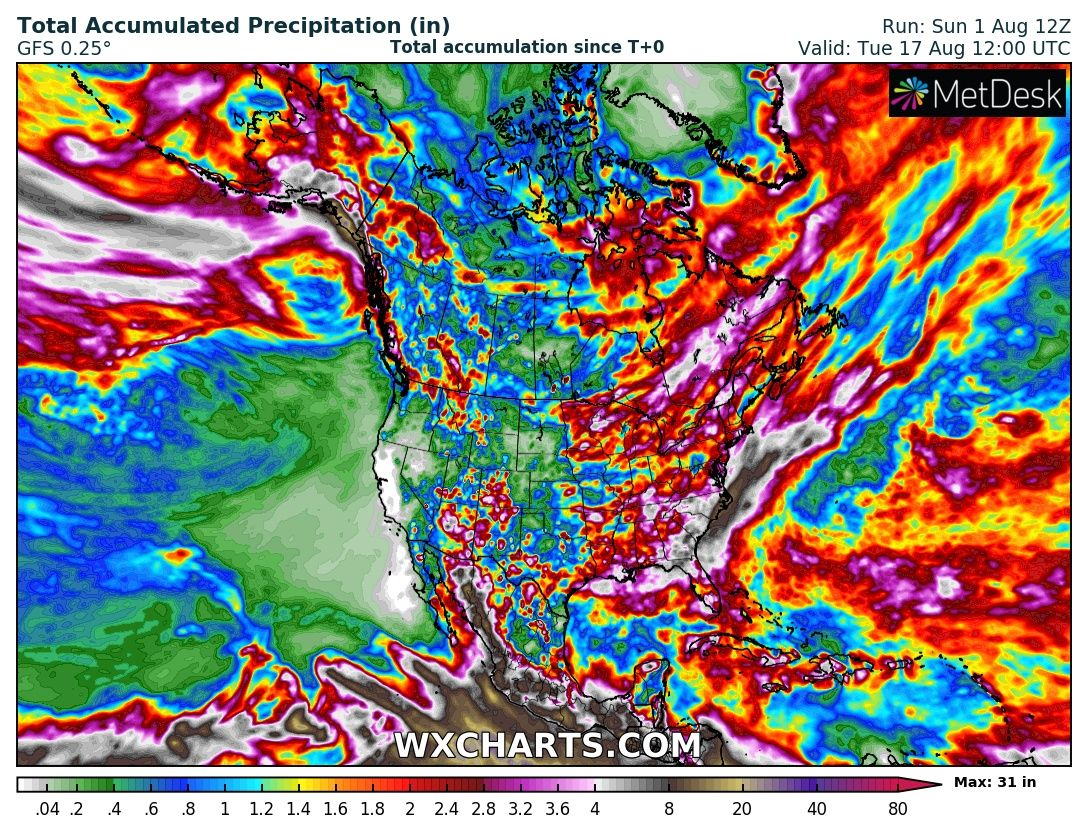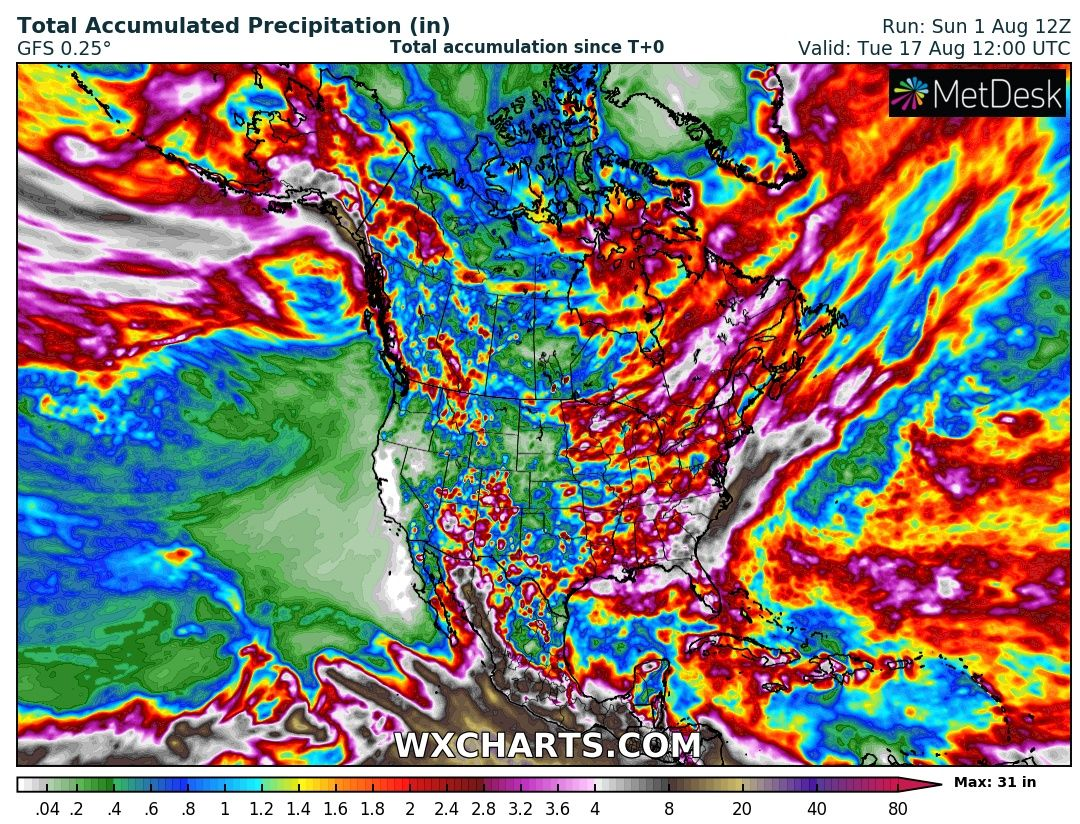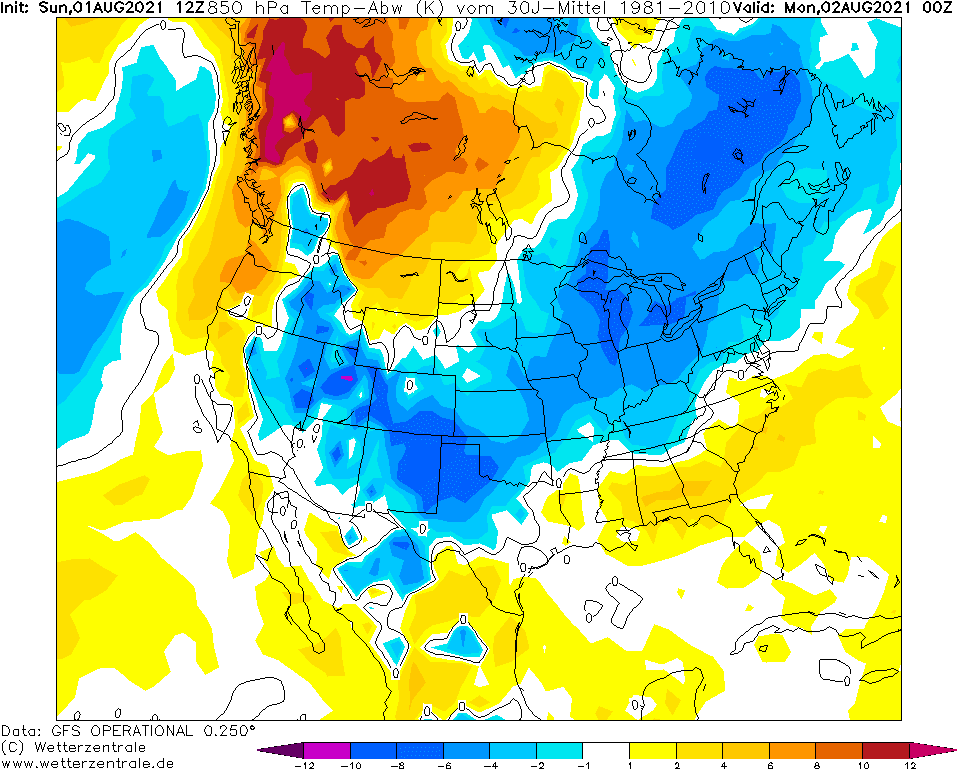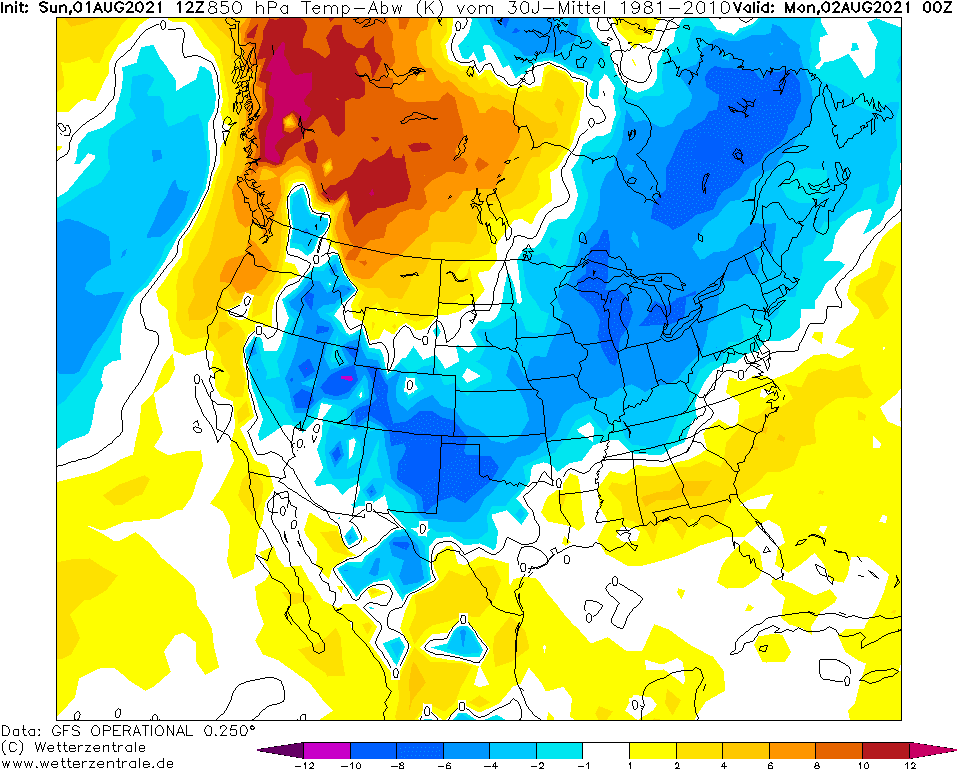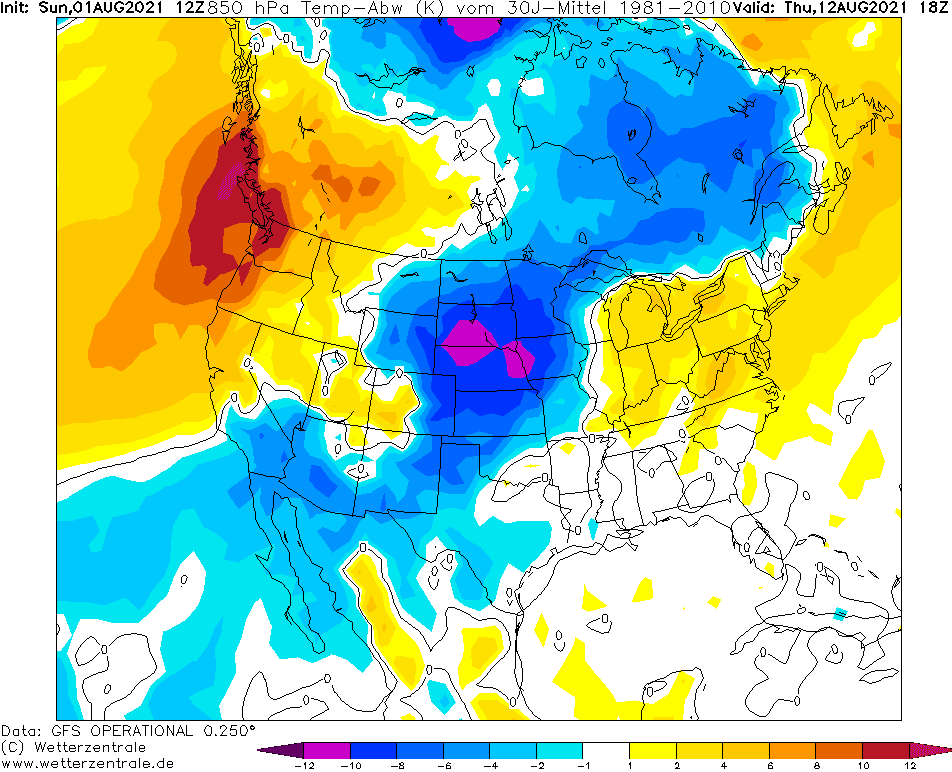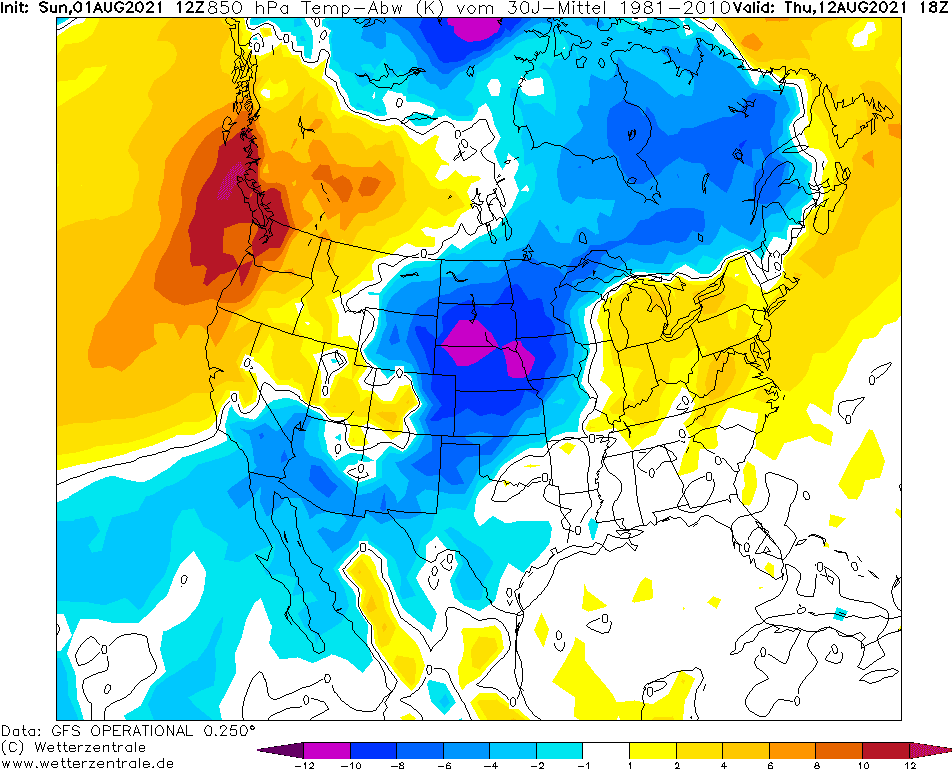 Sources: wxcharts.com, wetterzentrale.de
(Visited 1 times, 1 visits today)