Southward from Japan appeared in the last days the next tropical threats – some of them hit already the Philippines, with the next prolonged floods.
One of the tropical systems is shifting directly above Japan, with the next some impact in Tokyo region, including Olympic region from Sunday to Monday, 1.-2. August 2021. 
Heavy rains and storms shouldn´t be extremely strong, but they could affect some events, similarly, such as Typhoon Nepartak in the last week /https://mkweather.com/north-korea-392c-the-coldest-city-in-japan-362c-olympic-games-in-extremely-hot-atmosphere-2021/; https://mkweather.com/typhoon-in-fa-hit-china-shanghai-63-dead-typhoon-nepartak-affects-olympic-games-before-their-arrival-extreme-heatwave-across-east-asia-russia-japan-taiwan-philippines//. 
Meanwhile, in northern parts of Japan continues an excessive heatwave – in Hokkaido island, +38,4°C was measured on Saturday, 31. July 2021. It is only the second time in all-time history when temperature above +38°C was in Hokkaido measured. 
In Asahikawa, +37,6°C – a new absolute temperature record, was measured. 
Olympic areal will be however little colder until the end of the Olympic Games, with maximum temperatures only +25/+30°C, ut still high humidity and real feel, after heatwaves at the end of July 2021. 
According to the 16-day forecast, the next monsoon rains are forecasted mainly in southern and northeastern China, Japan, North Korea, and Taiwan, where the next regional floods will be possible. 
A weak low (95W) has formed E of the Ryukyu Islands & can become better organized as it moves ENE over the next few days. System likely stays weak but regardless looks to bring rain to #Tokyo Sunday & Monday, local time, which can cause delays for outdoor events at the #Olympics. pic.twitter.com/Q93mamYADF

— Jason Nicholls (@jnmet) July 29, 2021
As Olympic officials try to handle the ongoing struggle with the heat in Tokyo, they will have to turn their attention to another potential trouble: a brewing tropical system: https://t.co/Q8jtYBIhi0 pic.twitter.com/8elZy4vMF2

— Breaking Weather by AccuWeather (@breakingweather) July 30, 2021
Yet another tropical system is making its way toward Japan, and AccuWeather meteorologists are warning that more storms could disrupt the Games: https://t.co/oWDDPfZRoE pic.twitter.com/1bmOkYMM8i

— Breaking Weather by AccuWeather (@breakingweather) July 31, 2021
Watching a few weak lows over the West Pacific basin. Most should remain weak but can bring a couple rounds of scattered rains to S #Japan this week. Low near #Taiwan has the potential to reach depression or storm intensity later this week. pic.twitter.com/PoADDjAmP2

— Jason Nicholls (@jnmet) August 1, 2021
As "promised" Today it was another historic day in Hokkaido. Temperatures reached as high as 38.4C at Etanbetsu. This is the 2nd time in history 38C is reached in Hokkaido. New record again at Asahikawa with 37.6C. Many stations have beaten their all time records several times. pic.twitter.com/F3TwuPetTc

— Extreme Temperatures Around The World (@extremetemps) July 31, 2021
Locals hold Olympics-style swimming race on road flooded by typhoon In-fa in the Philippines https://t.co/7mRUon7Ole At least one side effect of global warming induced floods is fun to watch.

— Terrence 'Wappiepedia' Weynschenk (@Terrebelius) July 31, 2021
https://twitter.com/erinshii_/status/1421797800598142978?s=20
Philippines floods: thousands flee Manila after days of torrential rain https://t.co/OpL5jRI5QJ

— Blue River (@BlueRiv88891964) July 31, 2021
A group of gamers in the Philippines recently made international news headlines for continuing to play their favorite video game despite being waist-deep in floods from a typhoon.https://t.co/IaktavR6Vv pic.twitter.com/PYrO6aaDMd

— faceofmalawi (@faceofmalawi1) July 30, 2021
https://twitter.com/watchingeye/status/1421093920151248907?s=20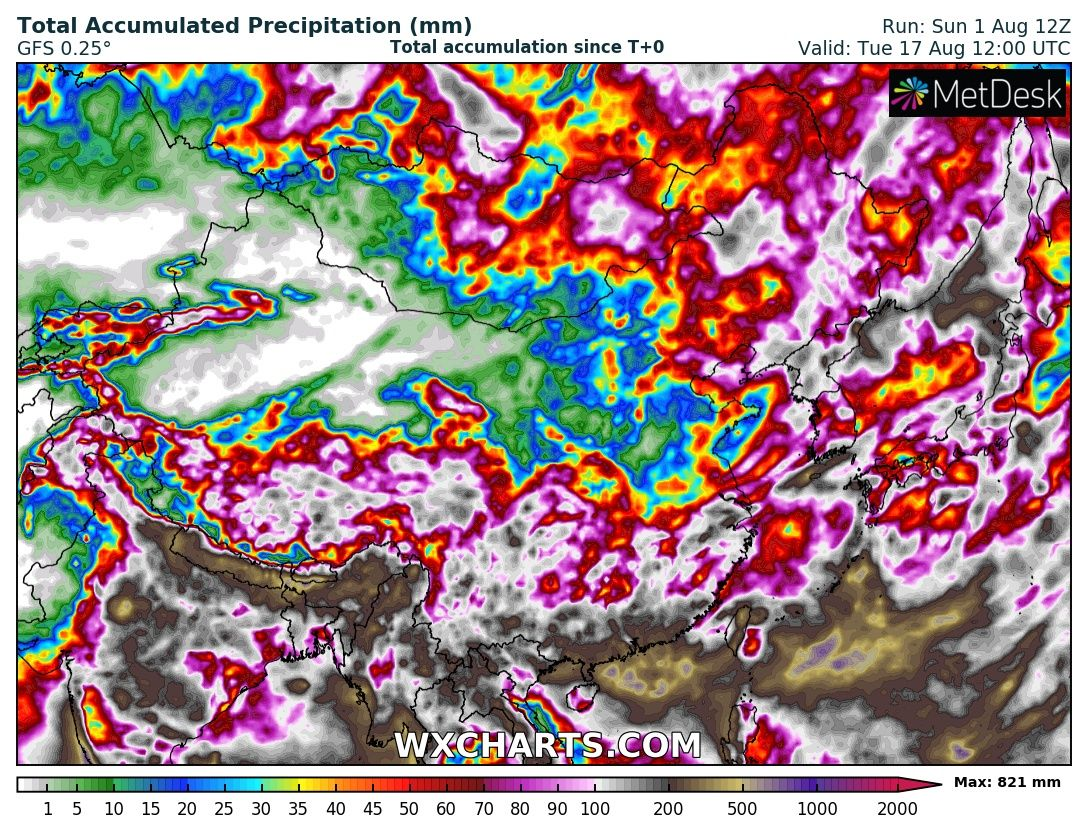 Source: wxcharts.com
(Visited 6 times, 1 visits today)