Last week, from Friday to Saturday we have published on Mkweather First forecast for Christmas 2020 for Europe /https://mkweather.com/2020/11/19/first-forecast-for-christmas-2020-in-europe-higher-chance-of-cold-and-snowy-weather//.
Then, we have updated Winter 2020/2021 Final Outlook for Europe, USA, Canada and partially World, too /https://mkweather.com/2020/11/24/winter-forecast-2020-2021-final-outlook//.
Now, after a week since the first outlook for Christmas Day we should update forecast for Christmas, how was promised, every Friday – Saturday in the week. Forecast for Christmas 2020 for the USA and Canada will be published on Mkweather around 6.-8. December 2020.
Current outputs for White Christmas 2020 in Europe are really dramatic!
As we have forecasted before, large part of polar vortex thanks to AO- and NAO- phase will arrive to Europe with peak around the second December decade 2020, with really winter conditions across parts of the continent.
In previous Christmas forecast it has appeared, that large part of Europe should have white Christmas, but there were some indications, that Western Europe will be experiencing with warming up already before Christmas Day 2020.
According to the newest outputs, arrival of this warm sector to Western Europe is forecasted already around 18.-20. December (see Table, Maps and Graphs below), and Western Europe (the UK, France, Spain, Italy) therefore probably expects warm, not white Christmas, for now.
Warm air should arrive to Roma, Italy around 22. December, but western part of Central Europe is problematic – before a Christmas is although expected warming up, but around Christmas day is detectable on the graphs next, short coldwave, therefore, White Christmas in western part of Central Europe should be or not.
If we will shift more northward or eastward, polar vortex with extremely cold air masses should stay in these regions from Scandinavia to Balkan (+Eastern Europe and Turkey) minimally until Christmas and maximally until New Year, in parts of Eastern Europe and Turkey with extremely cold and snowy conditions maybe in first 2021 days, yet.
In western Europe therefore already shortly before Christmas, in Central Europe around Christmas or between Christmas and New Year and in Russia or Turkey in first days of 2021 is expected arrival long-term warmer period, what should have positive impact to COVID-19 spreading (COVID-19 has the best conditions to spread in dry and cold persisting weather), therefore, it should be here probably some possibility for opening economy, schools or restaurants.
If SSW (Sudden Stratospheric Warming) until the end of January 2020 will come, during the second half of Winter 2020/2021 we should alive the strongest frosts of the winter and the worst COVID-19 increase of incidence ever, therefore stay safe and watch long-term forecasts with Mkweather.
Infographics: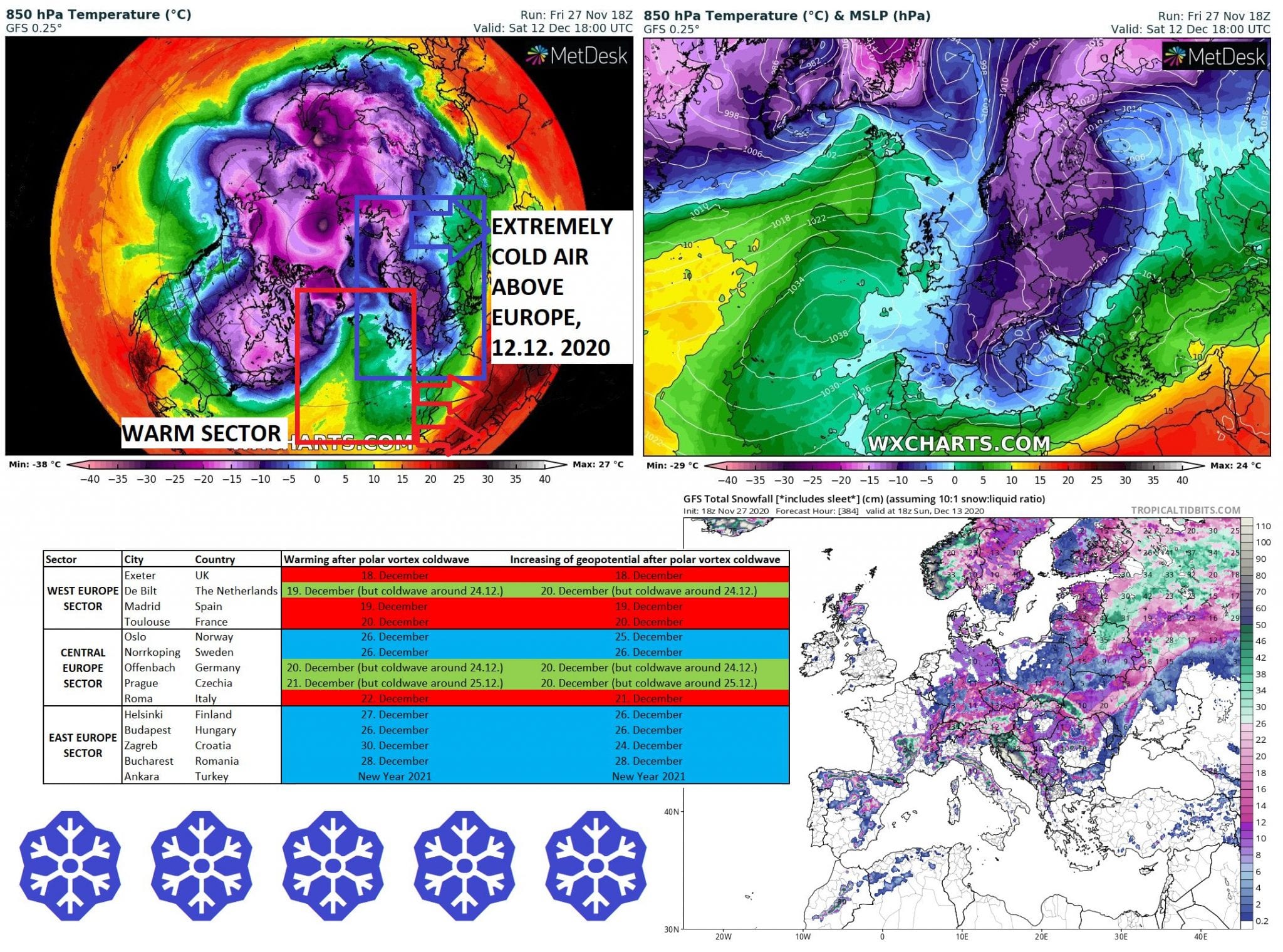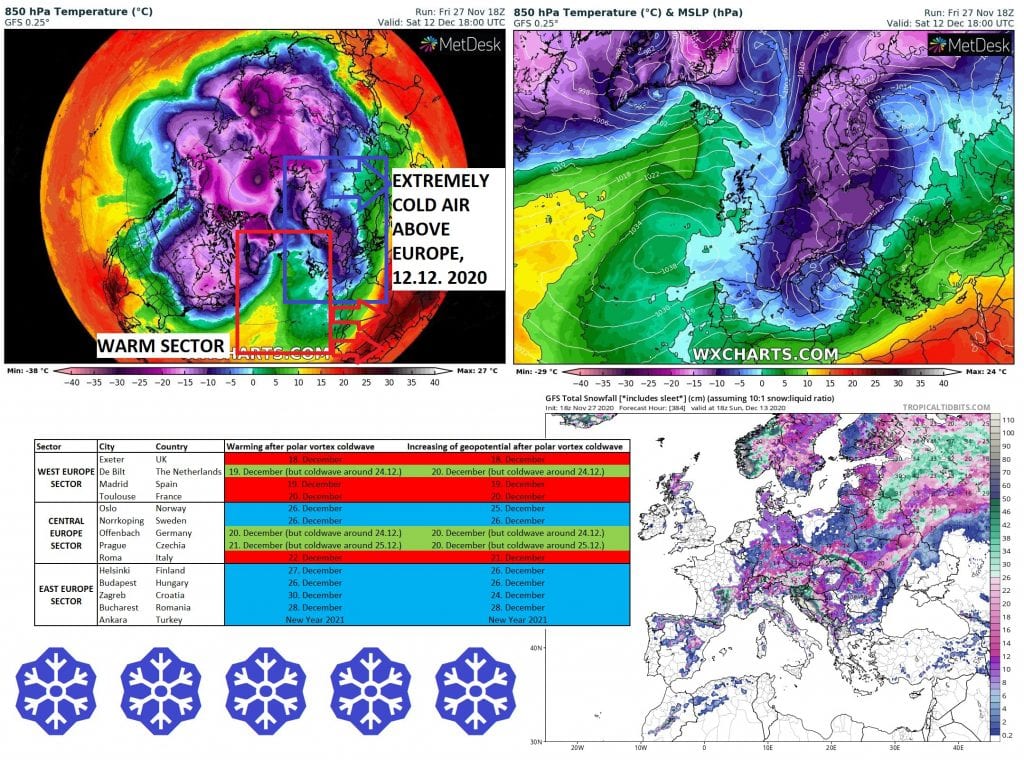 WHITE CHRISTMAS IN EUROPE – PROBABLITY TABLE

SNOW COVER FORECAST UNTIL 13. DECEMBER 2020 /tropicaltidbits.com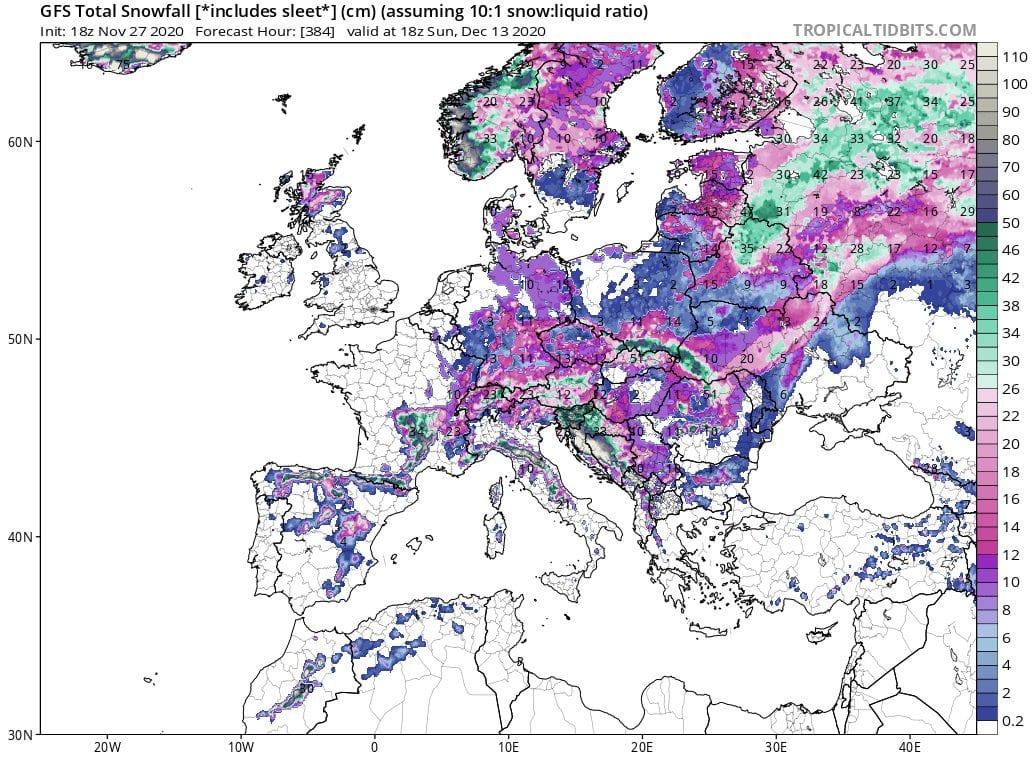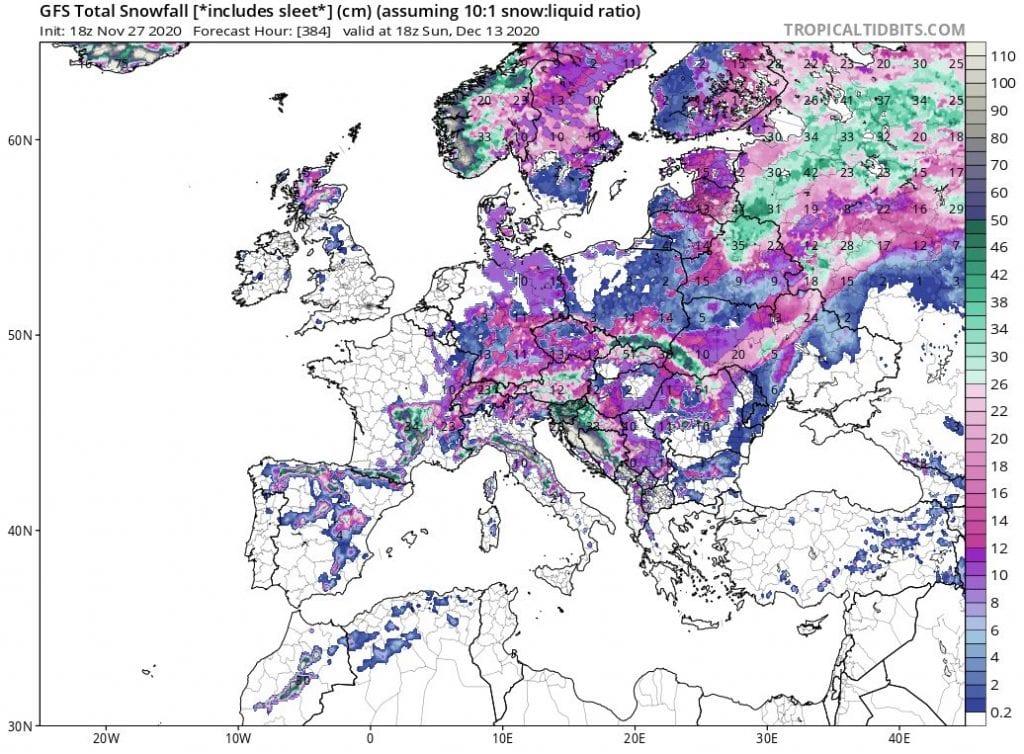 EXPECTED EXTREME ARCTIC BLAST IN EUROPE ON 12. DECEMBER AND INCOMING WARM SECTOR FROM THE WEST /wxcharts.com: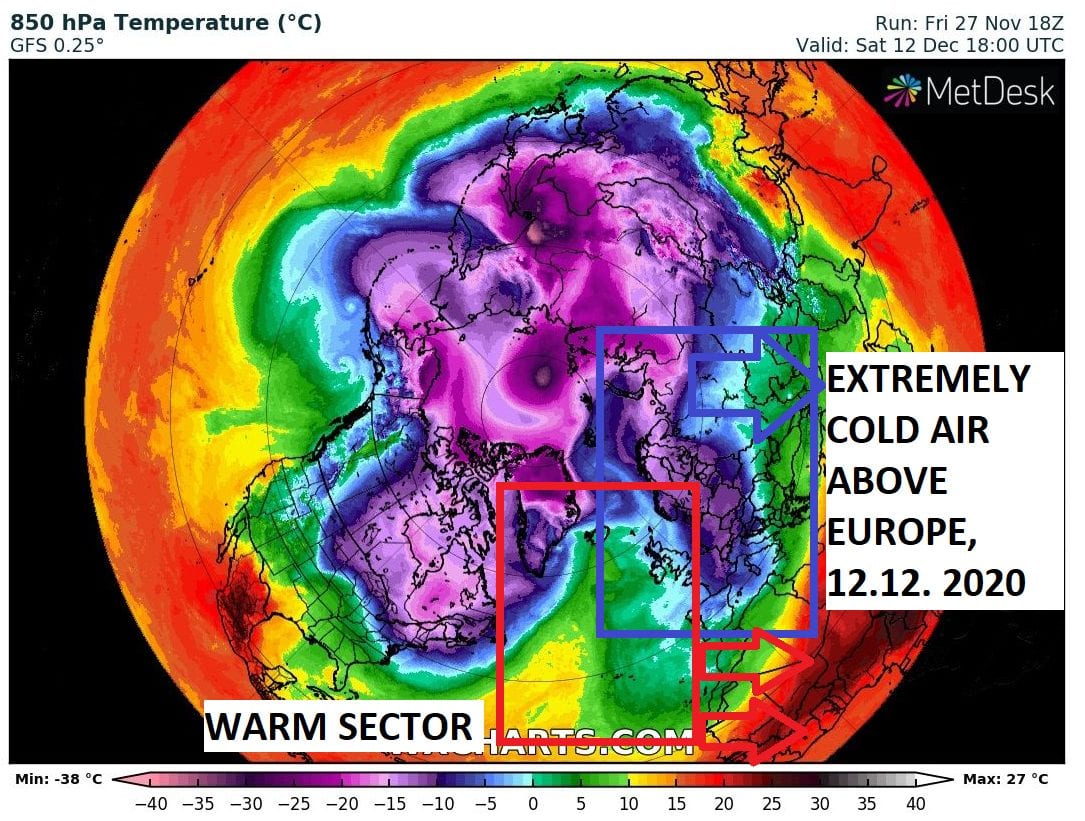 DETAIL: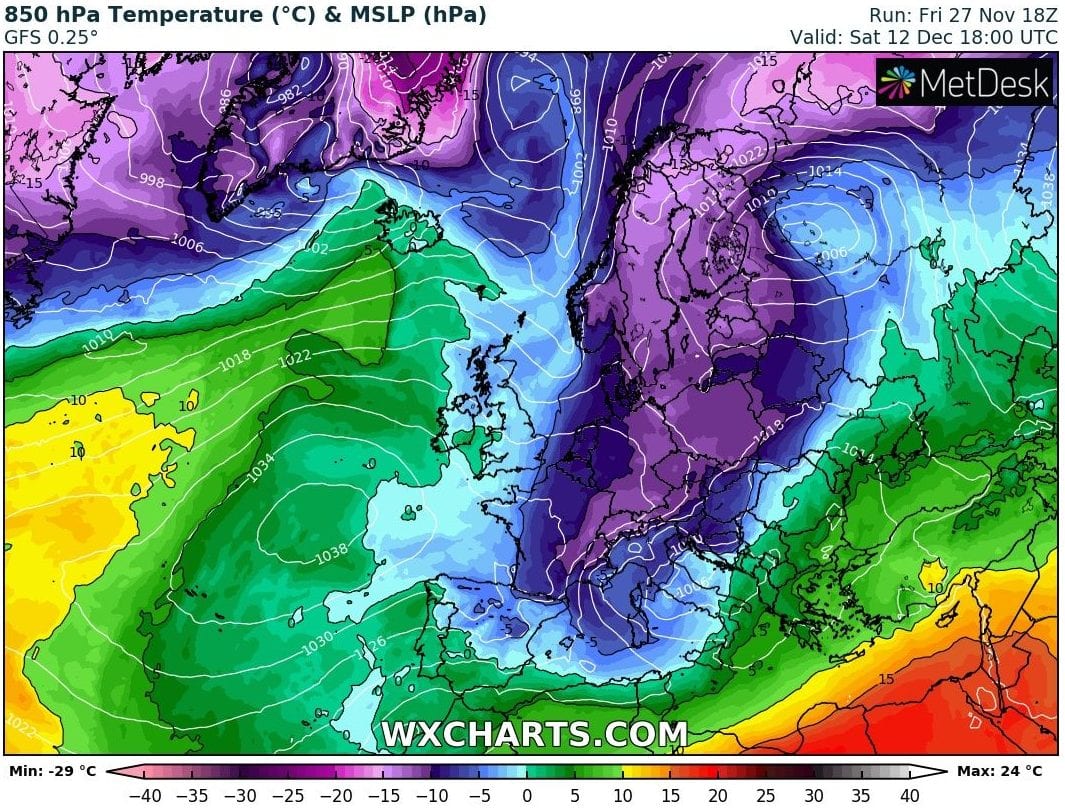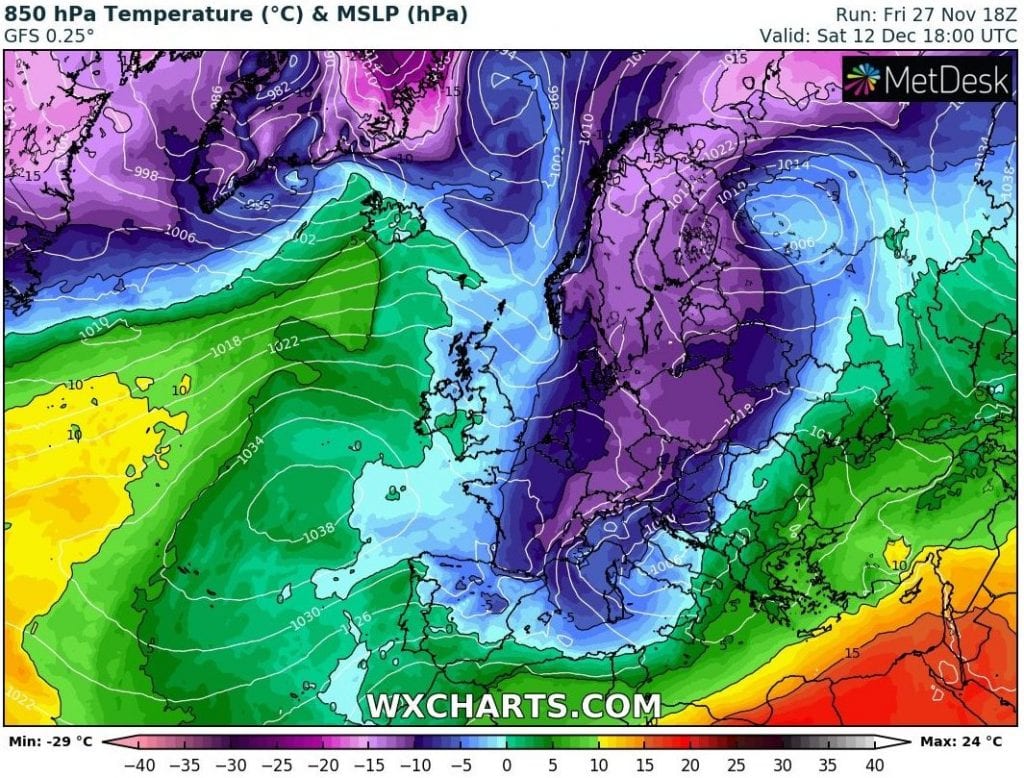 32-DAY FORECASTS FROM ECMWF:
A) WEST EUROPE SECTOR
B) CENTRAL EUROPE SECTOR
C) EAST EUROPE SECTOR
(Visited 175 times, 1 visits today)