National TOPs / Nights below -20°C (purple), -15°C (dark blue), and -10°C (light blue) in frost basins, valleys (or lowlands) below 1000 MASL in Europe until 21. December 2021
MK
December 5, 2021
2 min read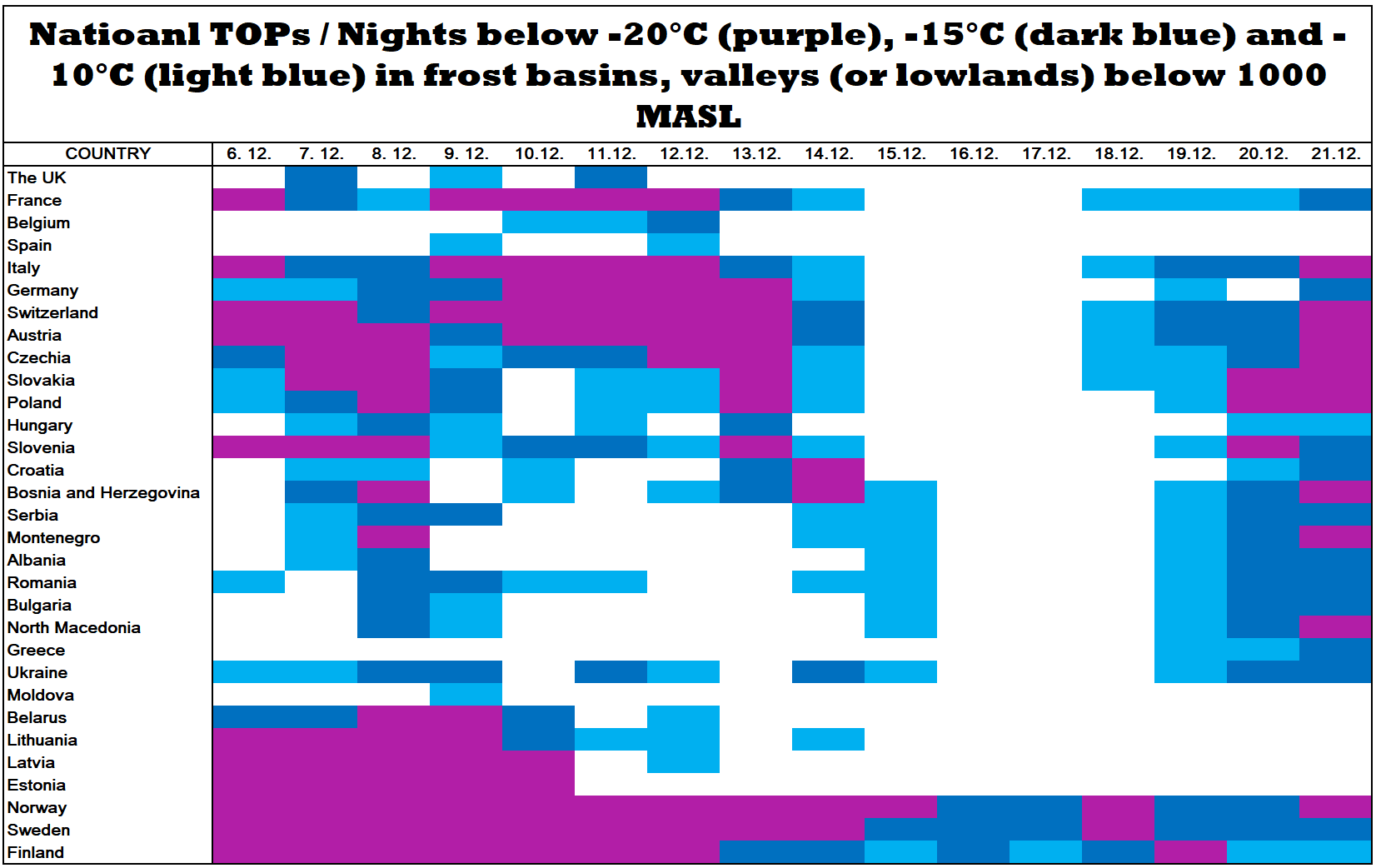 On the following output we will look at the potential of extremely low temperatures in European countries until 21. December 2021.
Outputs are based on data from GFS, run from 12Z, 5. December 2021 and they are showing a potential of national TOP minimum temperatures in areas below 1000 MASL during the next 16 days in basins and valleys below 1000 MASL, or in lowlands (for countries without mountains).
It appears, that the next round of frosts, with potential below -20°C in continental parts of Europe and Balkan will persist until 13.-14. December 2021.
Then, the warmer period between 13.-19. December 2021 is forecasted.
Extreme frosts, then, should return shortly before a Christmas, around 20. December 2021 and according to our previous similar outputs, the next extremely cold period in the wider European region should persist during Christmas 2021 and New Year 2022 /https://mkweather.com/winter-in-europe-will-return-around-christmas-and-new-year-2022-especially-in-the-central-and-eastern-sector-long-term-forecast-until-10-january-2022/; https://mkweather.com/white-christmas-2021-a-big-snow-forecast-for-europe-until-10-january-2022/; https://mkweather.com/winter-holidays-2021-2022-in-europe-cold-christmas-and-new-year-in-these-parts-of-europe-ecmwf-forecast//.
Chances for -20/-25°C temperatures will have mainly mountainous parts of continental Europe and Balkan – valleys and basins in the Alps, Carpathians, Czechian Massif, Dinaric Mountains,…but to lowlands in Baltic countries and Belarus.
Scandinavia will stay permanently cold, although, a weakening of frosts is forecasted in the middle of an outlook.
Severe frosts below -15°C should appear even in Scotland in a few mornings and Spain should report at least -10°C for in a short time in valleys. Greece should receive severe frosts mainly before Christmas, in Italy, it will be mainly the Alpine region with severe frosts in valleys.
Mkweather will furthermore monitor the situation and bring fresh news about temperature records and updates of forecasts.