Next tropical threat in Vietnam, Cambodia, Laos, Thailand, Myanmar and India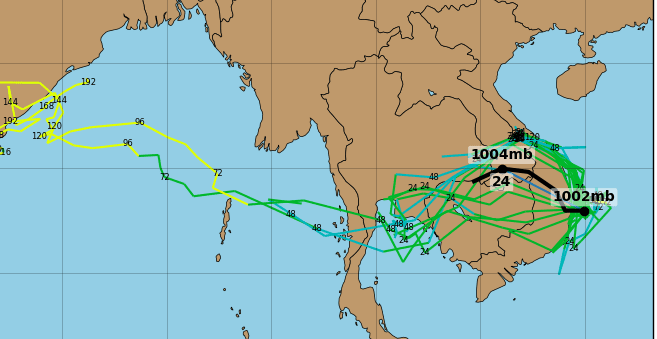 Next 48 hours will be moving above Southeastern Asia a tropical depression, maybe with a status of tropical storm, which brings to countries in region extreme high rainfall, until Sunday, up to 542 mm (21.3 inches).
System will be moving above southern and central Vietnam, Cambodia, southern Laos, Thailand and southern Myanmar further above Bengal bay and until 120 hours, remnants of this system, with next rains comes to eastern India, according current forecasts.
Winds of the system won´t be very strong, but extreme rainfall could cause severe flooding in large areas.
In September 2020, region hit typhoon Noul, with wide impact on the weather in Southeastern and Southern Asia for more than 2 weeks (its remnants brings heavy monsoon to India, Bangladesh and Nepal, too) /https://mkweather.com/2020/09/16/typhoon-noul-hits-vietnam-laos-cambodia-thailand-myanmar-india-and-bangladesh-next-120-hours/; https://mkweather.com/2020/09/18/typhoon-noul-after-vietnam-253-mm-10-inches-already-in-thailand-291-mm-11-5-inches-and-myanmar-after-404c-heatwave-rainfall-hit-bangladesh-and-india-soon/; https://mkweather.com/2020/09/22/remnants-of-typhoon-noul-hit-india-and-bangladesh-next-500-mm-of-rain-expected/; https://mkweather.com/2020/09/30/bangladesh-433-mm-12-hours-so-strongly-hasnt-rain-since-1960-nepal-126-dead-after-floods-and-landslides-in-india-and-pakistan-600-000-in-flood-risk/; https://mkweather.com/2020/09/28/meghalaya-waterfall-in-cherrapunji-india-after-extreme-rainfall-india-after-next-extreme-monsoon-rains-mumbai-4th-highest-24-hour-rainfall-ever//
Over Philippines, the next possible tropical storm is developing and country reports floods, which hit islands during early October 2020 and Japan is waiting next typhoon – Chan Hom in next days. Floods and possible tropical storm in Philippines and typhoon Chan Hom in Japan will be a topics of the next Mkweather articles.
Infographics: tropicaltidbits.com, wxcharts.com