North Korea hit brutal winter: -35,3°C! Pyongyang -21,0°C, only 1,8°C from all-time December record!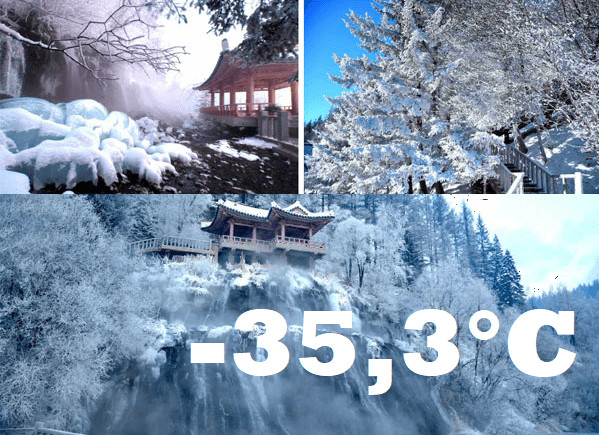 In the current series of Mkweather articles, we are focused on extreme winter in East Asia – China (-44,4°C and all-time records in Northeast, almost all country sank into frosts), North Korea (-35,3°C), and Japan (record 213 cm snowfall at 900 MASL only!) /https://mkweather.com/frosts-hit-almost-all-china-northeast-with-historic-444c-in-jiayin-the-strongest-frosts-in-the-region-in-all-time-history/; https://mkweather.com/christmas-in-north-korea-35c-japan-with-1-meter-of-snowfall/ + prepared article about the extreme blizzard in Japan/.
Now, we will look at North Korean, maybe almost unsurvivable winter conditions, which hit the country during the Christmas holidays.
In Samjiyon, North Korea, 1382 MASL, only -35,3°C was on 25. December 2021, which is 15°C below the long-term temperature average.
The maximum temperature during an aggressive Siberian cold blast reached only -26,8°C, 7°C lower than the average minimum temperature for December.
From other cities, Heysan reported -32,6°C or Changjin -32,0°C.
Pyongyang reported -21,0°C, only 1,8°C from the all-time December record! /https://en.wikipedia.org/wiki/Pyongyang/
"North Koreans heat their houses by burning wood or coal briquettes under flat stones installed under the floor." according to NK News on Twitter.
In neighboring South Korea, 842 MASL, -21,2°C was measured in Taegwallyong, with an Arctic day (maximum -11,5°C) on 25. December 2021.
While in the summer, the country is often hit by severe floods from typhoons, and with them, associated famines or lack of harvest, in winter should be threatening just severe Siberian blasts, associated with many cases of hypothermia and other related health problems.
Relatively calm and stable should be spring and autumn, when summer or winter monsoons aren´t mostly so strong, yet.
Winter forecasts for Asia and Northern Hemisphere you will find here: https://mkweather.com/winter-2021-2022-forecast-for-asia-early-extreme-arctic-and-siberian-blasts-and-blizzards-late-dry-and-warm-conditions/; https://mkweather.com/winter-2021-2022-forecast-for-northern-hemisphere/.