November heatwave in the USA: New York next two summer days with +25,0°C / 77°F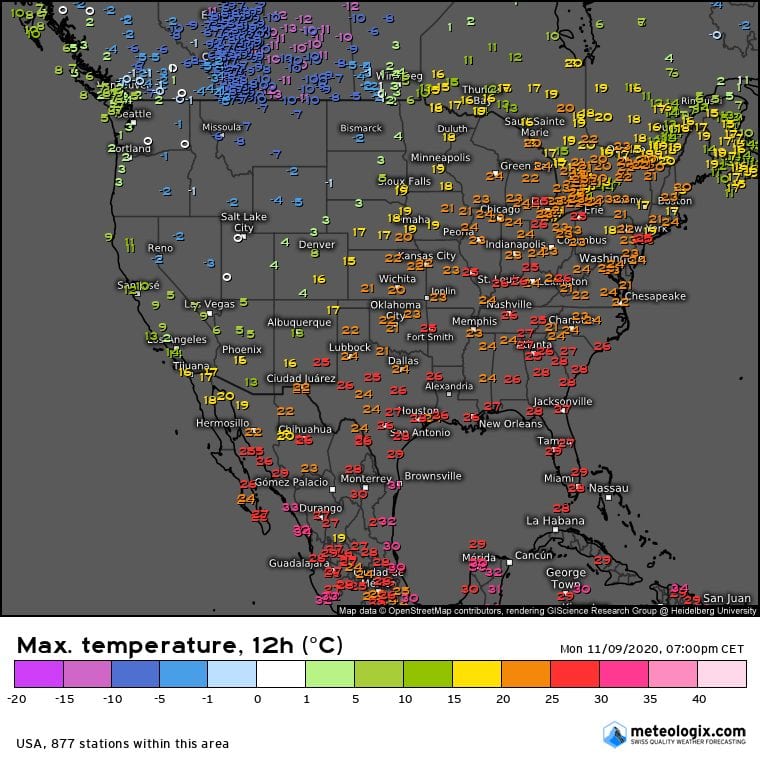 After tropical Saturday, 7. November, in Nebraska (North Platte +30,6°C / 87.1°F /https://mkweather.com/2020/11/07/tropical-indian-summer-in-november-north-platte-in-nebraska-306c-87-1f// and almost summer day in New York /https://mkweather.com/2020/11/08/new-york-summer-in-november-76f-244c// are coming extremely hot November days to Northeast, with real summer temperatures up to +25,0°C / 77°F in New York City on Sunday and Monday 8.-9. November 2020.
Extremely warm, +24,8°C / 76.6°F has been measured on Monday in Borden, Ontario, Canada and summer +25,0°C / 77°F has reported e.g. Erie in Pensylvania, too.
Lot of metropolitan cities in the USA and Canada has reported really warm November day with temperature maximum 68 – 77°F / 20 – 25°C on Monday.
In the USA, Atlantic City, Buffalo, Baltimore, Chicago, Detroit and Indianapolis has reported +23,9°C / 75°F, Pittsburgh +23,3°C / 73.9°F, Philadelphia and Washington D.C. +22,8°C / 73°F, Sioux Falls 21,1°C / 70°F and Minneapolis +20,6°C / 69.1°F.
In Canada, London and Ottawa has reported +21,5°C / 70,7°F, Toronto +20,1°C / 68.8°C or Montreal +19,7°C / 67.5°F.
In many places has been overcame long-term temperature records for this season, regionally by more than 3°C.
Extremely warm weather in the region stays until Thursday, 13. November 2020, then will come cold air linked with severe cold blast in western, central and northern USA.
Infographics: meteologix.com, coolwx.com
Read more: