Olympic Games are ending with extreme heatwaves (Tottori, +39,2°C, Osaka +38,9°C, Teppu +38,7°C, Asahikawa +37,9°C) and the next 3 tropical systems (Lupit, Nida, and Marinae) are coming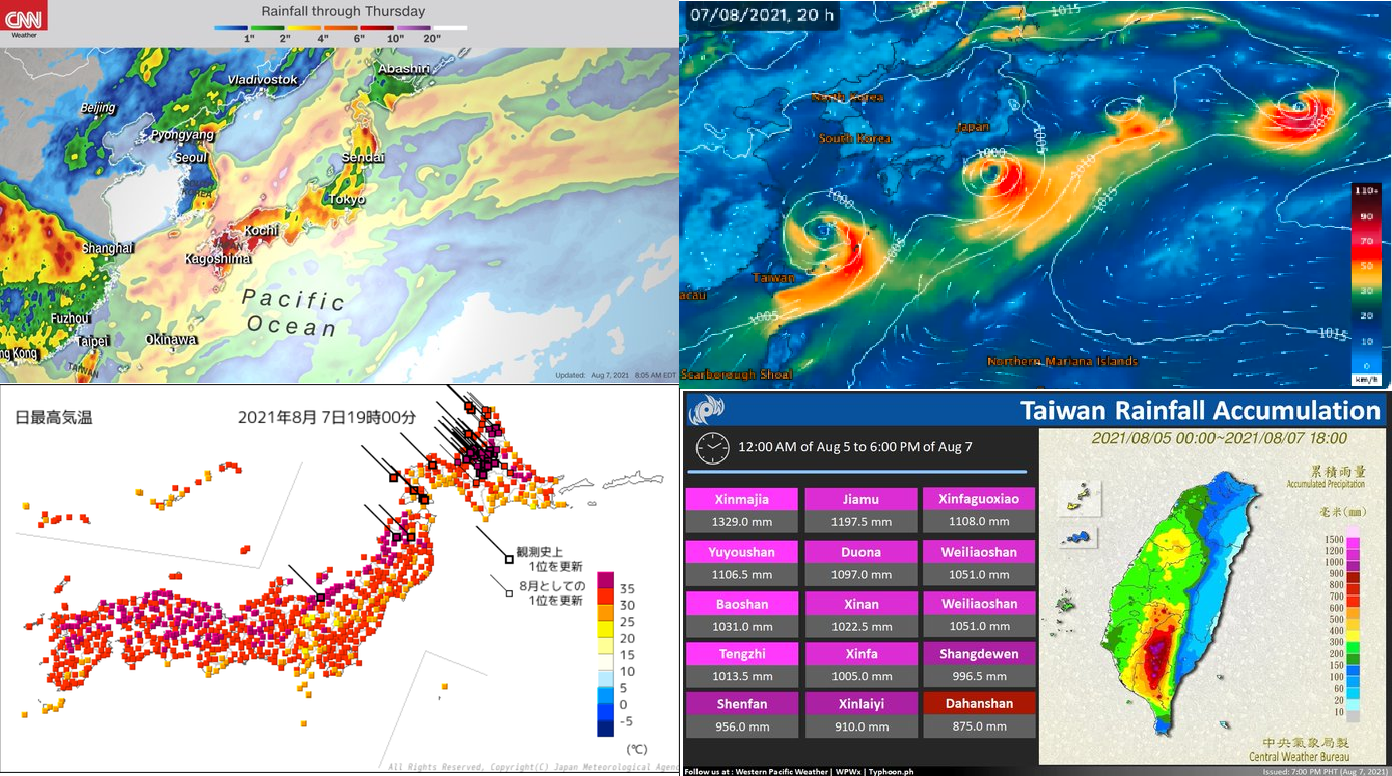 The end of the Olympic Games in Japan is associated with extremely hot and humid conditions and preparations for the next tropical system.
Only in the last few days, the next temperature records in Japanese cities were broken.
Tottori in southern Honshu reported supertropical +39,2°C (a new all-time record), while in Osaka, +38,9°C (0,2°C below all-time record from 1994) was measured.
Extremely hot was in the northernmost parts of Japan – across Hokkaido. Teppu recorded +38,7°C – one of the highest temperatures measured on the island ever, while Asahikawa broke all-time record the 5th time in a row in the last weeks (+37,9°C).
Moreover, humidity is increasing and tropical system Lupit from Taiwan and southwest is coming – it´s very probable that system hits almost all Japan, including Olympic areal around the final ceremonies.
Lupit will be shifting above Japan from Saturday, 7. August to Wednesday, 11. August 2021, with regional heavy rainfall – in Taiwan it brought locally up to 1329 mm from 5. to 7. August 2021! Floods are already reported from North Korea, too. Flash floods, landslides or mudslides are possible.
Above the western Pacific, the next 2 tropical systems without, or only with minor impact to human activities are observed – tropical systems Nida and Marinae.
Marinae is shifting southward from Japan and should marginally hit the Tokyo region around Sunday, 8. August 2021, while Nida is shifting southeastward from Japan above open Pacific ocean waters.
It appears, that the end of the Olympic Games will be very hot and humid, yet.