Extremely hot weather persist all summer season in the warmest, desert parts of the USA and hot and dry weather is projected during the rest of autumn 2020 and in the winter 2020/2021 /https://mkweather.com/2020/10/16/noaa-winter-2020-2021-outlook-for-the-usa//.
In Phoenix, Arizona, maximum temperatures in 2020 has reached more than 100°F (38°C) in 143 days and in 50 days it was hotter than 110°F (43°C).
During the summer 2020, the hottest all-time temperatures ever has been measured in Death Valley (a new global temperature record of modern era: +54,4°C / 130°F /https://mkweather.com/2020/08/17/right-now-death-valley-with-the-hottest-ever-recorded-temperature-on-the-planet-or-minimally-since-1931-130f-54-4c//) and in Los Angeles (+49,4°C / 121°F /https://mkweather.com/2020/09/07/it-has-never-been-so-hot-so-late-or-ever-los-angeles-county-with-new-all-time-record-121f-494c-phoenix-50-days-over-110f-in-2020//).
Moreover, historic wildfires bothers Western USA /https://mkweather.com/?s=fires; https://mkweather.com/2020/09/28/never-ending-wildfires-in-the-west-of-the-usa-more-than-6-millions-acres-already-san-francisco-almost-100f-on-monday-creek-fire-the-largest-single-fire-in-history-and-severe-winds-in-northern//, mainly California, Oregon and Colorado.
It is possible, that some days over 100°F / 38°C should come, yet in October or November 2020. Current temperatures in Phoenix during last 3 days (Wednesday, Thursday and Friday, 14.-16. October 2020) has reached +37/+38°C (99-100°F) and before or after expected coldwaves untill the end of October 2020, a few hot days should occur.
Infographics: NOAA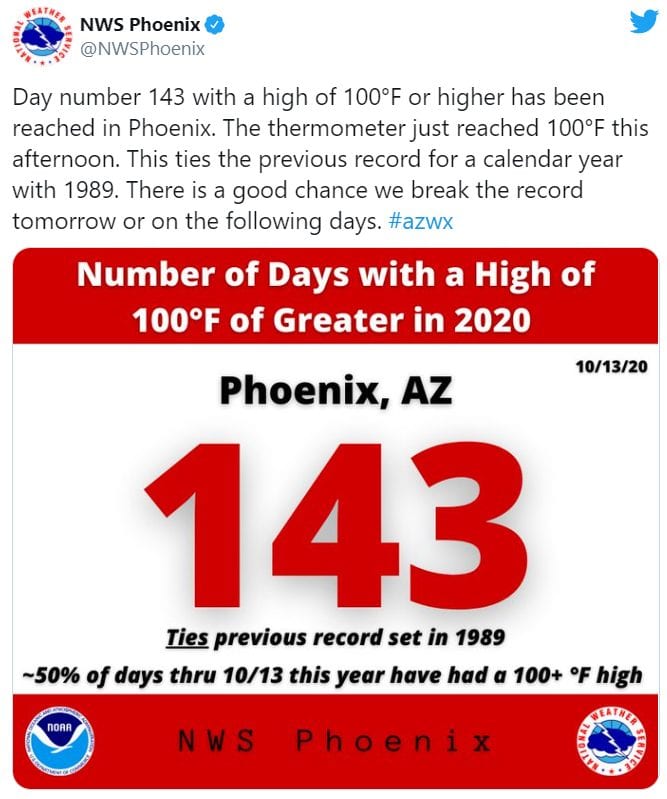 Read more:
(Visited 63 times, 1 visits today)