Portugal and Spain: Red alerts before depression with tropical features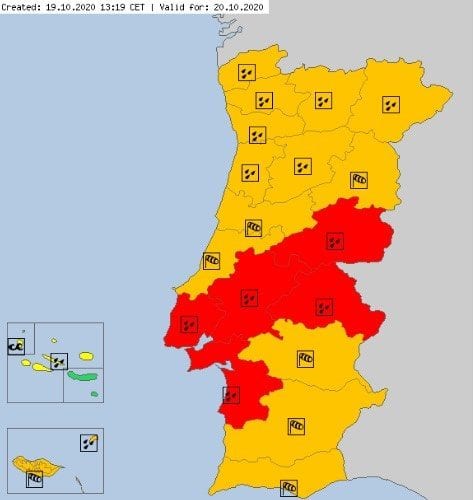 Another deep Atlantic cyclone is shifting westward and northwestward from Iberian Peninsula directly above the British Isles. It is storm with tropical features, on which front side, is starting to flow warm air above continental Europe, with regional Indian summer during the next period /https://mkweather.com/2020/10/18/indian-summer-in-europe-how-many-degrees-will-be-in-your-region//.
Storm with tropical features is bringing very bad weather in Portugal and Spain from Monday to Tuesday, 19.-20. October 2020. In Portugal, 3rd level warnings has been valid during the Monday and rain and winds will continue during next days, too.
In Lisboa, 108,5 mm of precipitation has fallen during Monday and next 150 mm, or rarely more than 200 mm is expected in central parts of Portugal until the end of current week. Storm is linked with wind gusts up to 110 km/h in the region.
In the UK and Ireland, system should bring rainfall around 50 mm, regionally 100 mm during next days, with severe wind gusts up to 120 km/h in southern Ireland. At the weekend however, bigger windy threat should come from Atlantic (next possible European windstorm?) and then, early next week, hurricane-force winds should come together with arrival of Hurricane Epsilon (forecast hasn´t been changed on Monday and Hurricane Epsilon already this time next week should hit British Isles).
In Spain and Portugal, after transition of storm with tropical features will be very cold, only around 0°C in northern Spain and not more than 10°C in southern Portugal, on Saturday morning. Northeastern Portugal should report first ground frosts of a season with minimum temperatures in basins and valleys around +3°C.
Sources: Jurnal de Vreme, wxcharts.com, meteoalarm.eu: