Red warnings before frosts and snow for India! Gulmarg -10,4°C (3,6°C above all-time December record), Western Disturbances on the way!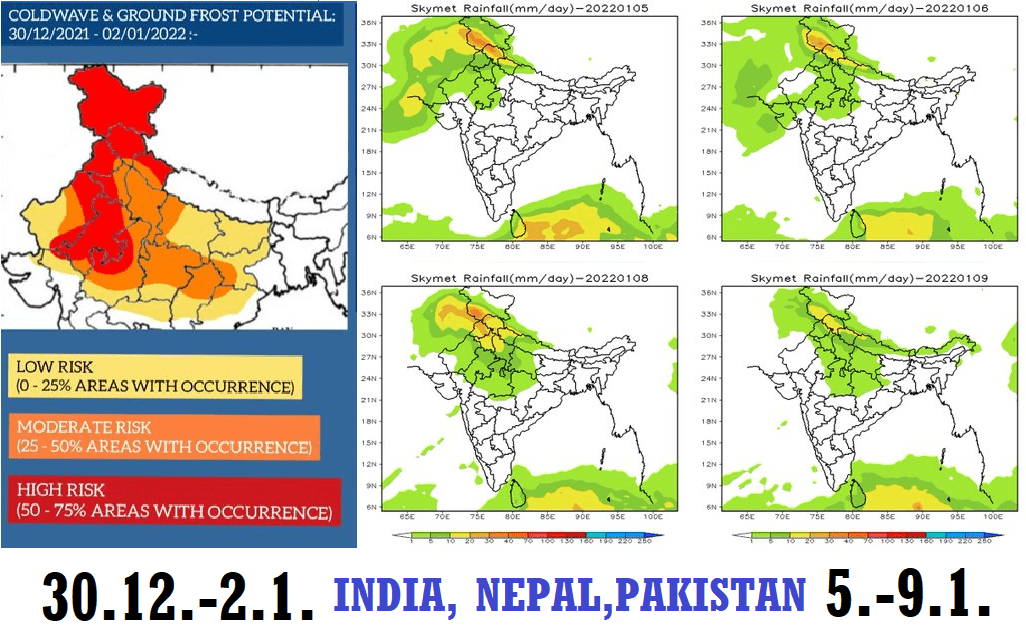 Another report from India, Nepal, Pakistan, and Afghanistan, where severe winter has come around the Christmas 2021 /https://mkweather.com/india-with-red-warnings-before-extreme-frosts-dras-203c-in-dras-11c-in-churu-290-masl-regionally-the-lowest-temperatures-since-1997/; https://mkweather.com/thousands-prayed-for-the-end-of-a-drought-in-afghanistan-before-more-than-half-of-the-country-was-covered-by-snow-50000-vehicles-entered-murree-pakistan-after-a-snowfall-against-4000-capacity-of-p// and extremely cold weather continues.
Between 30. December 2021 – 2. January 2022, the next Western Disturbance has brought snowfall and subsequent severe frosts in the region.
Between 5.-9. January 2022, the next severe coldwave, associated with the next Western Disturbance (ex-Mediterranean low) is forecast.
The temperature in Gulmarg, 2652 MASL, dropped on 29. December 2021 to -10,4°C, which is only 3,6°C above the all-time December record.
In New Delhi, +3,4°C was on 30. December 2021 measured (3,4°C above all-time December record).
Snowing above 2000 MASL is again expected, with problems in populated regions in the Himalayas and the next south-Asian mountains.
Hit by severe storms and snow should be mainly NW India, W Nepal and central and N Pakistan, such as parts of Afghanistan and borders with China.
Many rural regions expect dangerous ground frosts, which should have an impact on sensitive plants or poorer parts of society.
Especially powerful blizzards should hit in the second pentad of January 2022 Kashmir, were precipitation anomalies on maps are the highest.
After heavy snowfall in populated mountain basins, as Dras, temperatures should again drop below -20,0°C (above 3000 MASL).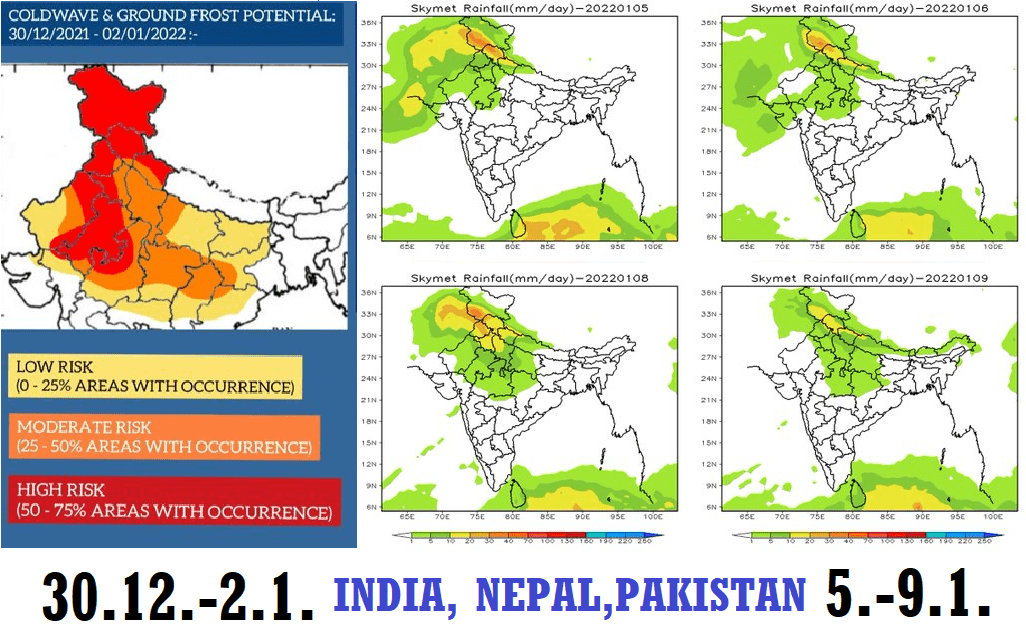 Sources: Live weather of India on Twitter, Binod India on Twitter