Russia, -44,6°C, Germany, +21,1°C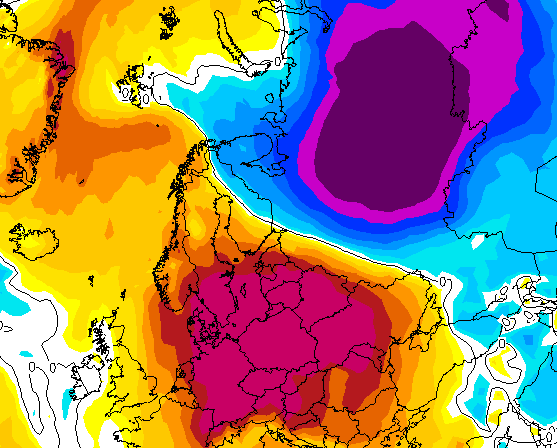 Large temperature contrast between Germany and European Russia!
While Kanevka, near Murmansk was on Monday, 22. February 2021 even colder, with temperature minimum -44,6°C /https://mkweather.com/2021/02/21/kanevka-near-murmansk-442c//, Hamburg in Germany reports spring +21,1°C – the first winter +20°C+ temperature in history!
Both anomalies are bringing pressure heights, but in Russia it is a Siberian high, while in continental Europe Azores high.
Cold winter is reported still from Finland or Turkey (but Finland is around 12°C warmer than previoud week: https://mkweather.com/2021/02/20/finland-397c-siberian-shots-until-10-march-expected/ and Agri, Turkey reports -24,4°C).
Very warm weather on Monday reports not only Germany, but too e.g. Bosnia and Herzegovina (Zenica, +22,3°C) or Austria (Dornbirn, +21,0°C – a new monthly record high). In Vaduz, Lichtenstein, all-time February record (+21,9°C) was overcame already on Sunday, 21. February 2021.
In Benelux, +20°C hasn´t been reached and all-time February temperature records stay the same (Belgium +17,5°C, the Netherlands +17,1°C).
Extremely warm weather is expected to continue in Central Europe minimally until Thursday, 25. Feburary 2021, then extremely warm air wil shift above Balkan and Eastern Mediterranean /https://mkweather.com/2021/02/21/france-25c-central-europe-20c-next-days-extremely-warm-then-only-after-15-march//.
Cold weather is expected to return into Europe during the first half of March 2021 /forecasts will be updated soon/.