Sally as a hurricane Category 2 hit Gulf Coast, it brings historical floods up to 22 inches (560 mm), 105 mph (170 km/h) winds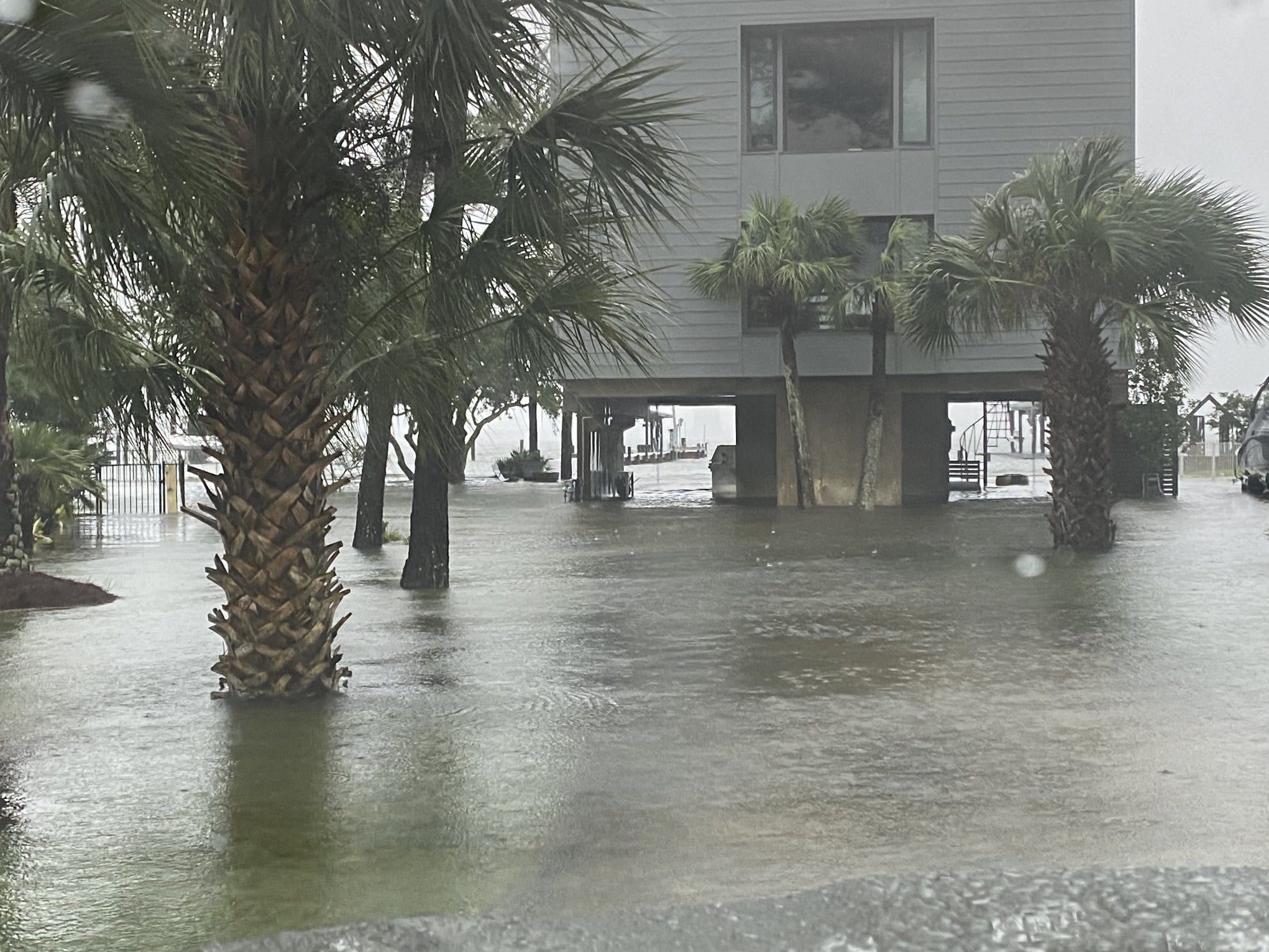 The worst impacts of Hurricane Sally, Category 2 are reported from NW Florida and Alabama / Mississippi coast. The strongest effects of hurricane has only tightly avoided to SE Louisiana.
The strongest rainfall with severe flooding is for last 48 hours reported from Apalachicola, Florida, 184 mm (7.3 inches).
Wind gusts in Mobile, Alabama has reached 104 km/h (65 mph), but over land out of International Exchange Meteorological Database it could be up to strenght of hurricane Category 2.
According to NOAA, for some parts of Florida, Alabama and Mississippi is Sally (only Cat 2!) historic, with record amounts of rainfall and severe floods mainly.
According to wxcharts.com, it could fall up to 22 inches (560 mm) in these parts of Southeastern US in total till Thursday. Wind gusts could reach up to 165 km/h (103 mph) on early Wednesday on the coast.
According to measured data (NOAA), 50 miles from Mobile, Alabama, sustained winds has reached 122 km/h (76 mph) and wind gusts 155 km/h (96 mph).
According to Doppler radar, Sally has strenghtened to 160 km/h (100 mph) on early Wednesday.
FORECAST POSITIONS AND MAX WINDS
 
INIT  16/0630Z 29.9N  87.8W   90 KT 105 MPH
 12H  16/1200Z 30.3N  87.5W   95 KT 110 MPH
 24H  17/0000Z 31.2N  86.8W   40 KT  45 MPH...INLAND
 36H  17/1200Z 32.0N  85.7W   30 KT  35 MPH...INLAND
 48H  18/0000Z 32.9N  83.9W   25 KT  30 MPH...INLAND
 60H  18/1200Z 33.6N  81.5W   20 KT  25 MPH...INLAND
 72H  19/0000Z 34.0N  79.0W   20 KT  25 MPH...POST-TROP/REMNT LOW
 96H  20/0000Z...DISSIPATED
Except of hurricane Paulette /https://mkweather.com/2020/09/13/hurricane-paulette-hits-bermuda-and-then-intensifies-to-category-3//, next 3 tropical threats are moving above North Atlantic, but any of them probably won´t hit US territory until 1. October 2020.
Hurricane Sally – infographics: tropicaltidbits.com, NOAA, wxcharts.com,