Snow in Syria: Refugees in a big crisis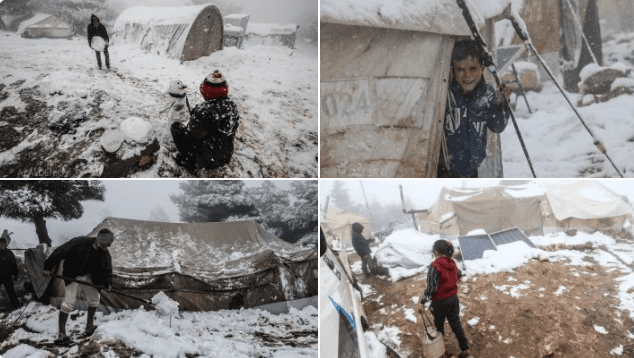 Siberian winter hit in full power in the most vulnerable places, including Syrian refugee camps, mainly in the north of country and too in Lebanon, where simultaneously with last Turkish coldwave was snowing.
Although, many children were from the snow surprise happy, conditions like this, with severe frosts and snow should be for people without a heating deadly.
Before this crisis in Syria warned already in late autumn and early winter 2020 – 2021 humanitarian workers, who pointed out to possible dangerous winter blasts in the region.
Winterstorm, with creating of snow cover was reported e.g. from camp near town al-Dana, in Syrian northwestern province Idlib.
Cold weather is reported from Lebanon camps and even, from Yemen, far on the south.
Children with their parents and grandparents are surviving here in horrible conditions, such we should to see on photos – in tents, without basic needs, moreover in severe frosts.
Although, second winter peak in February probably won´t hit region in full power, winter is long and in case of return of NAO- driven circulation, next heard times should come later in Feburary or in early Spring 2021.
More Mkweather about last winter blast in Middle East:
Turkey: https://mkweather.com/2021/01/24/peak-of-winter-in-turkey-agri-345celsius/
Saudi Arabia: https://mkweather.com/2021/01/15/extreme-winter-hit-southern-saudi-arabia-20celsius-and-snow-the-coldest-times-since-1971/
United Arab Emirates: https://mkweather.com/2021/01/10/united-arab-emirates-with-all-time-temperature-record-abu-dhabi-20celsius/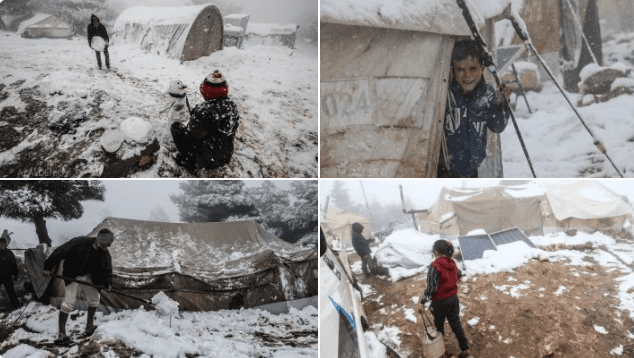 Read more: