Snow near the Equator: Ecuador with rare snowfall in Antisana National Park!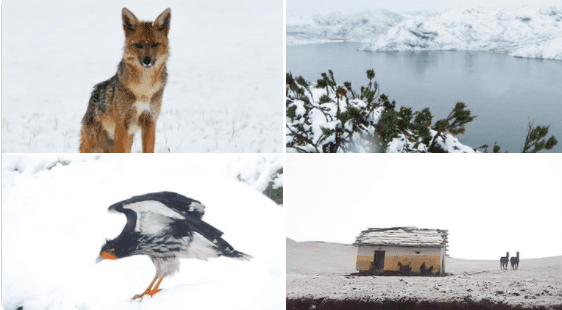 While low situated lowlands and coastal areas in Ecuador reported in the last days tropical weather, with maximum temperatures above +30°C and minimum temperatures above +20°C, mountainous parts of the country in the Andes hit coldwave from the south and equatorial country reported very rare snowfall event!
Snow cover created at elevations below 3000 MASL, mainly in Antisana National Park. Tourists captured beautiful photos of the wildlife in the zone which we used as a title image /Tweet below/.
Even, some roads reported problems with untraditional snow cover, and unprepared drivers were tucked in a snow calamity.
Roads in Pifo-Papallacta a Guaranda-Ambato were closed on 6. September 2021 according to /https://www.primicias.ec/noticias/lo-ultimo/vias-sierra-inhabilitadas-caida-nieve// thanks to previous car accidents.
Ecuador such a land of eternal spring sometimes experiences snowy conditions in higher elevated populated areas, in the case, when remnants of cold Antarctic air from southern parts of South America will shift anomalously northward, about Peru, Ecuador, Amazon, and sometimes even Colombia or Venezuela. In the Andes are these Antarctic blasts accompanied by snowing in higher elevated regions.
Maximum temperatures are reaching in the regions around 3000 MASL all year around +15/+20°C, while minimum temperatures are reaching +10/+5°C.
Spring 2021 forecast for South America you will find here: https://mkweather.com/spring-2021-forecast-for-south-america-floods-and-drought-in-many-regions/.