Southern France up to 200 mm of rain during weekend´s episode, Marseille 96 mm / 24 hours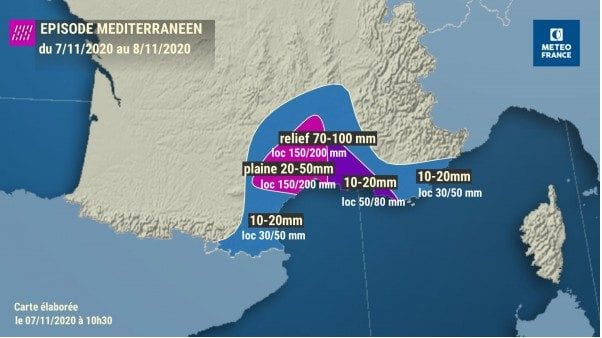 Remnants of flooding cyclone, which has brought severe floods in Spain during work-week /https://mkweather.com/2020/11/06/extreme-floods-in-spain-372-mm-24-hours// have shifted above British Islands and France, where they regionally make problems at the weekend.
The worst situation is in southern France, where has fallen from Saturday to Sunday 7.-8. November 2020 rarely up to 200 mm of rain.
Heavy rains hit metropolis area of Marseille, too, in Marseille has fallen 96 mm of rain and region has reported local flash floods.
In region Bouches-du-Rhône has been valid orange warnings before heavy rain on Sunday, 8. November and situation is slowly calming down.
In Hérault and Gard Méteo France locally expected 150 – 200 mm of rain during the weekend.
Despite of rains and humidity, Marseille has reported relatively high temperatures last 3 days. On Friday, maximum temperature has reached +20,7°C, on Saturday +21,7°C and on Sunday +20,8°C. The most of precipitation dropped at the night from Saturday to Sunday, with summer-like minimum temperature +13,4°C.
Until 24. November, relatively dry weather will be persisting over France, with accumulated precipitation amounts only around 10, in the north and south regionally 30 mm of rain.
Infographics: Méteo France, weatheronline.co.uk, wetterzentrale.de: