The first December tornado outbreak in Minnesota in all-time history! /7 tornadoes/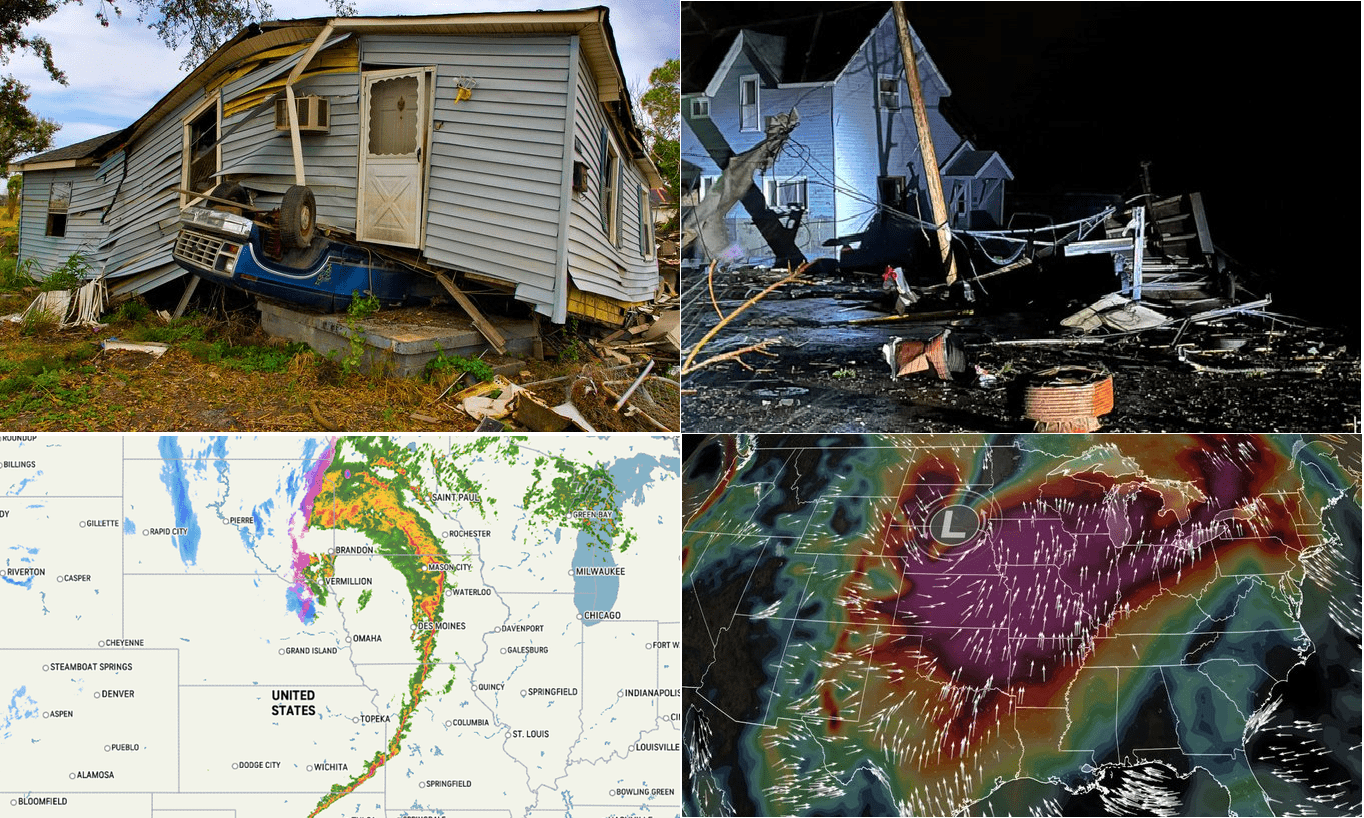 Only in the last weather news in Mkweather we were informed about anomalously warm weather in Central USA, which is bringing unseasonable heatwaves, severe storms, and tornado outbreaks /https://mkweather.com/breaking-ef4-tornado-in-kentucky-killed-50-people-it-was-historic-winter-supercell/; https://mkweather.com/record-heatwaves-the-strongest-storms-since-2004-and-the-next-tornado-outbreak-december-in-the-usa/; https://mkweather.com/winter-tropical-heatwave-hits-the-usa-unseasonably-hot-from-the-south-to-the-north/.
The next winter heatwave in Midwest is forecasted just at Christmas 2021 /https://mkweather.com/summer-christmas-for-south-central-usa//, and we are currently after the second winter heatwave, which was peaking in the USA between 14.-17. December 2021.
This heatwave was in the last days gradually in the eastern half of the USA replaced by severe storms – with the second tornado outbreak and the strongest gusting storms in the USA since 2004.
The first heatwave brought a deadly tornado in Kentucky, which before a week killed almost 100 people.
The second round however brought not only the strongest gusting storms in the USA in 17 years but record tornadoes in anomalously northern latitudes, too.
Together 7 tornadoes were reported from Minnesota (a state near the Canadian border and western Great Lakes), counting damages and beating tornado records for the region.
Tornadoes namely have never appeared in Minnesota so lately – in the month of December and it's the first tornado outbreak in American state ever!
"'Unfortunately, we were a part of history: Minnesota's first December tornado confirmed in Winona County," wrote postbulletin.com.
Tornadoes in December are extremely rare even in Iowa, the state southward from Minnesota, too.
A storm system bringing this outbreak reminded a typical summer storm system – before and arrival of a cold front, Texas reported 92°F / +33,3°C, Oklahoma 83°F / +28,3°C, Kansas 80°F / +26,7°C, Arkansas and Missouri 79°F / +26,1°C, Iowa 78°F / +25,6°C, Illinois 75°F / +23,9°C or Wisconsin 72°F / +22,2°C.
The next winter heatwave for Central USA is forecasted already at Christmas 2021, but the next storm round should be weaker because a low-pressure system ending the heatwave will be shifted very northward.
However, powerful storms are for now forecasted around 30. December 2021, when the arrival of colder weather across the USA is possible (map below).