Summer Christmas for South-Central USA!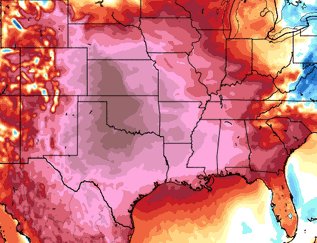 Parts of Central and Eastern USA and Southeastern Canada experience in December 2021 anomalously warm weather, which is bringing unseasonable heatwaves, severe storms, and tornado outbreaks /https://mkweather.com/breaking-ef4-tornado-in-kentucky-killed-50-people-it-was-historic-winter-supercell/; https://mkweather.com/record-heatwaves-the-strongest-storms-since-2004-and-the-next-tornado-outbreak-december-in-the-usa/; https://mkweather.com/winter-tropical-heatwave-hits-the-usa-unseasonably-hot-from-the-south-to-the-north/.
A tornado in Kentucky killed before a week almost 100 people and only 6 days after, the next severe storm round, with the next tornado outbreak and the strongest gusting storms in the USA since 2004 appeared (links above).
Both incidents were associated with anomalously warm weather across central parts of the continent and there are indications, that Christmas 2021 will be in the region extremely warm, again (with a possible storm round after a Christmas heatwave?).
Temperature anomalies above parts of Texas, Oklahoma, and Kansas should reach around the Christmas extreme 36°F / +20°C above long-term temperature averages and hit will be almost all South, Southeast, Midwest and partially Northern Plains and later Northeast, with many temperature records.
In South-Central USA, including parts of Midwest, summer days (above 77°F / +25°C) are possible, in Texas and Florida, above 86°F / +30°C should be measured.
Currently, the second big winter heatwave is shifting from East Coast above the Atlantic Ocean, leaving behind many daily temperature records from Texas to Florida and Northeast.
E.g. in Washington, 67°F / +19,4°C and in New York, 63°F / +17,2°C was on Friday, 17. December measured.
Christmas in Central and partly Eastern parts of the USA will be really very warm, such as have promised forecasts since November 2021 and it appears, that this trend will continue until almost the end of January 2022.
Western USA experiences better winter conditions, with many snowfall records in the mountains.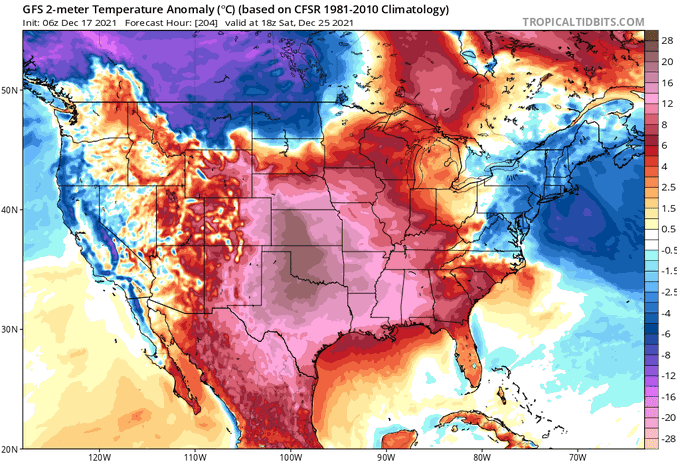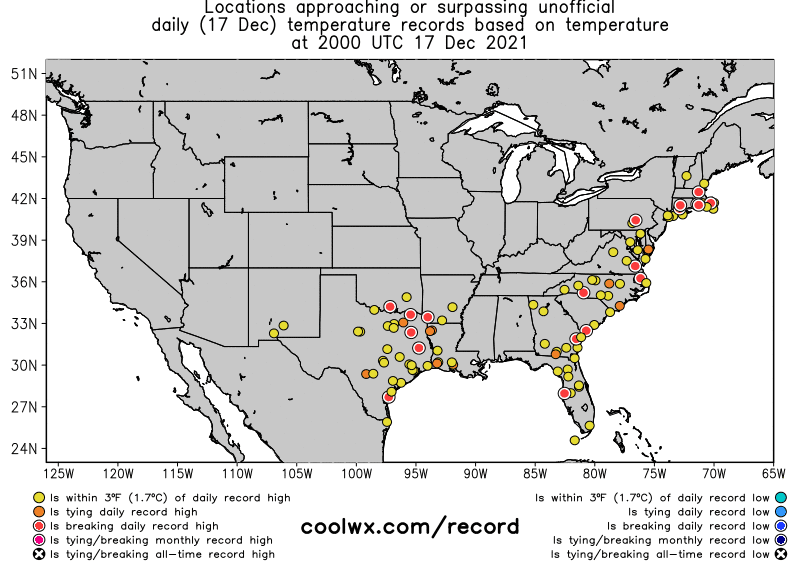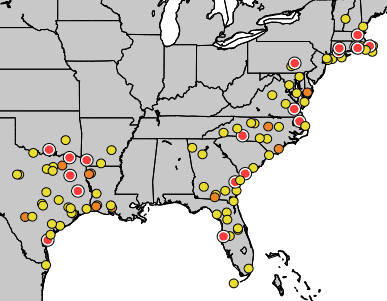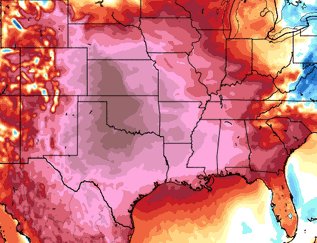 Illustration picture: Extreme Temperatures Around The World Twitter