The strongest hurricane of the strongest hurricane season 2020? (Category 5 not excluded): Hurricane Delta hits USA on Friday and at the weekend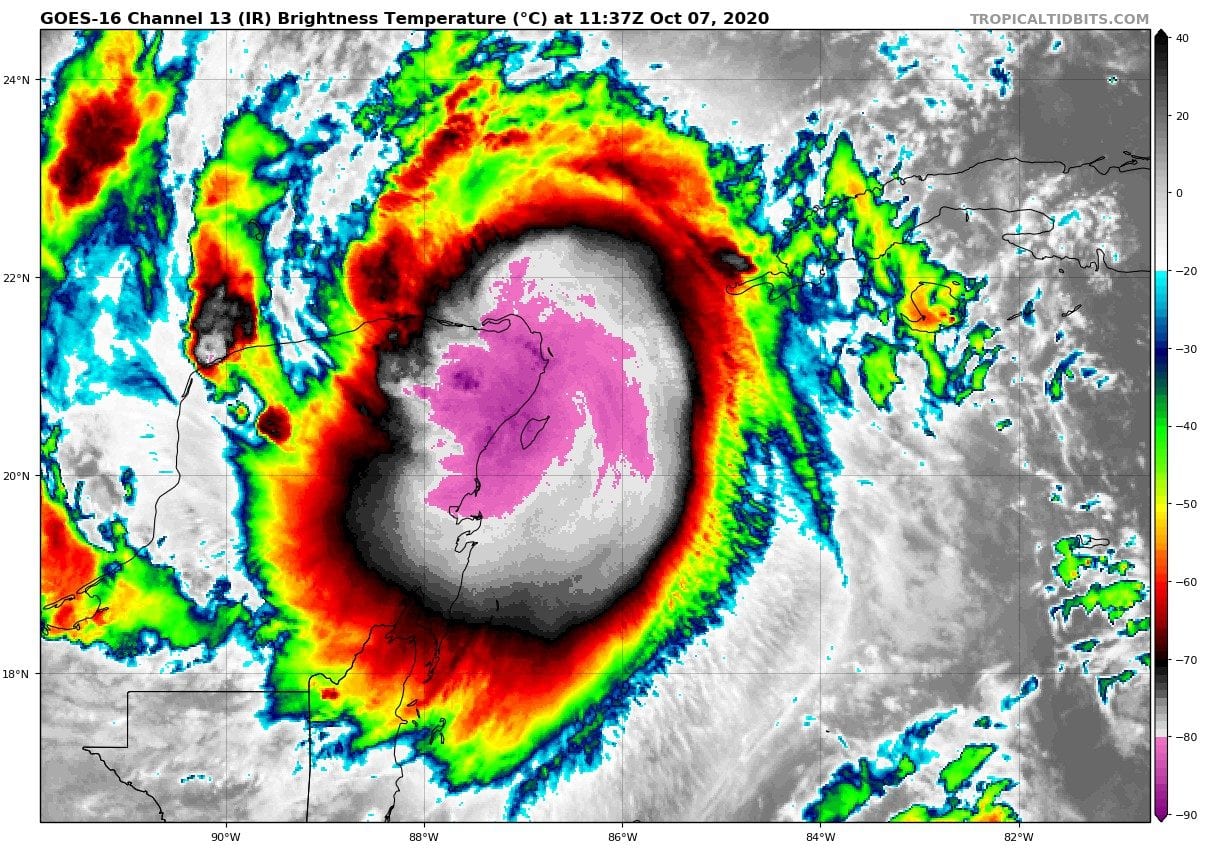 After Laura and Teddy it will be already the third Category 4 hurricane of the 2020 season. Teddy hit mainly Bermuda and its remnants made damages in Nova Scotia and Newfoundland. Laura is, for now, the strongest hurricane, which hit the USA during extreme strong hurricane season 2020, but it could change very soon.
Delta is extremely strong already on Wednesday, when hit Yucatan, as the strongest hurricane in Mexican peninsula for last 15 years. After reaching a land, it has weakened a little, but above warm waters of Gulf Coast, it strengthens again to Category 4 hurricane and hits southern USA in full power!
"In Yucatan have only been six hurricanes that passed within 50 miles of Cancun in the past 100 years. Two of them have been major hurricanes, Gilbert in 1988 (a Category 5 storm) and Wilma in 2005 (A Category 4 hurricane). They were both legendary storms and are actually the top two most intense storms on record by lowest pressure in the Atlantic's history" according to CNN.
Delta according to current forecasts arrives to Gulf Coast already from Friday to Saturday, with extremely strong life-threating winds and historic rainfall. Deadly hurricane should be the strongest hurricane of the strongest hurricane season ever, 2020.
The worst conditions are expected in Louisiana – directly on the track of Delta, then in Mississippi, Alabama and eastern edge of Texas. Ex-hurricane winds and mainly rains later hits Arkansas, Tennessee, Kentucky and very partly Missouri.
On the coast, 140 mph (225 km/h) winds and 15 inches (around 400 mm) rainfall are forecasted, with a possibility, that hurricane strengthens to a Category 5 and its impacts will be not only extreme, but catastrophic (Category 5 isn´t excluded e.g. according Accuweather).
If you are living in mentioned areas, don´t forget prepare to the possible biggest hurricane threat of the year, and watch current forecasts, warnings and weather news, because many hurricanes and tropical storms of this season, were finally even stronger, than forecasts predicted.
Infographics: tropicaltidbits.com, NOAA, wxcharts.com, wikipedia.com: