The warmest Christmas in history! The USA hit tropical heatwaves, farms, and ranches in Texas, Oklahoma, Kansas, are in fire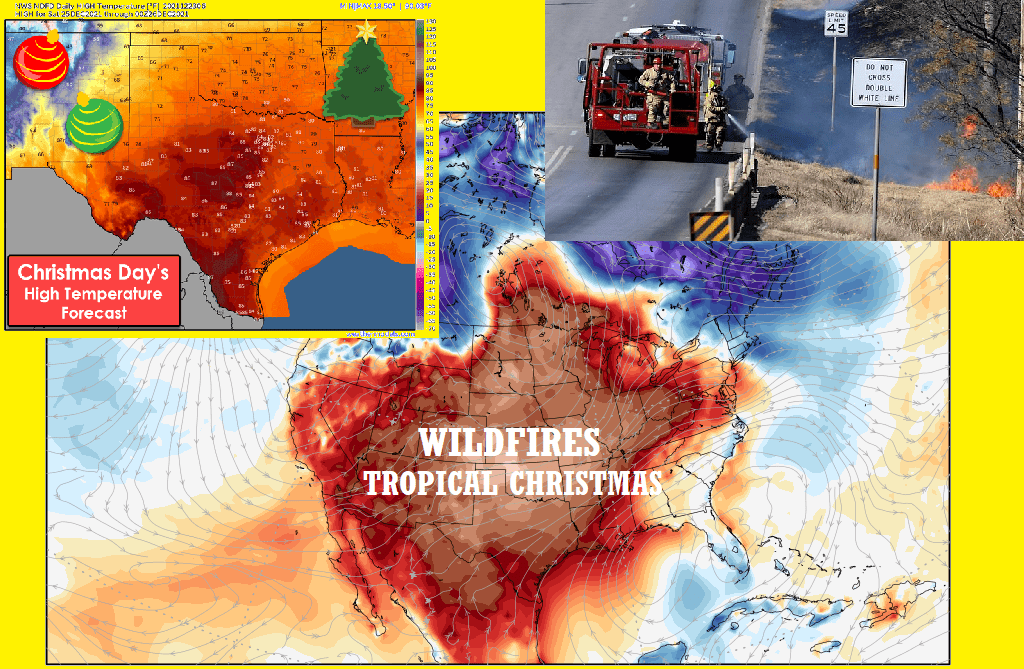 After a series of articles from the world and Europe, we will finally return above the USA (or North America) and in the series of the next Mkweather articles, we will look at Christmas weather in the region.
During the last 3 similar December heatwaves, anomalous temperatures up of to +35°C / 95°F hit Texas, and summer days were reported from the southern half of the Midwest, too (above +25°C / 77°F).
Christmas heatwave is bringing the next tropical times for Texas (above +30°C / 86°F) and summer days for southern Midwest (above +25°C / 77°F) and powerful heatwave hit almost all territory of the USA, excluding of Northwest, from where Arctic air and snowfall are reported (the first white Christmas since 2008 in many metropolitan cities – one of the next Mkweather articles).
Christmas in Houston, Dallas and Oklahoma City was forecast to be the hottest ever.
Summer and tropical weather at Christmas are bringing into the warmest parts of the USA extensive wildfires – in Texas, Oklahoma, Kansas, many farms and ranches were hit by the fire and the next is in a big danger.
The worst wildfire outbreak is reported from Western Texas, where with wildfires firefighters are fighting minimally last week, since the 3rd December heatwave.
T850 hPa above southern Texas is reaching anomalous +25°C.
Severe storm round is forecast to hit in the next hours and days mainly Great Lakes region, Northeast and SE Canada, therefore, tornado outbreaks are less probable, such as near previous extreme storm rounds /https://mkweather.com/breaking-ef4-tornado-in-kentucky-killed-50-people-it-was-historic-winter-supercell/; https://mkweather.com/record-heatwaves-the-strongest-storms-since-2004-and-the-next-tornado-outbreak-december-in-the-usa//. However, near the last storm round, the first tornado in history appeared in Minnesota, too /https://mkweather.com/the-first-december-tornado-outbreak-in-minnesota-in-all-time-history-7-tornadoes-caused-damages//.
According to current forecasts, the next heatwave is forecasted after Christmas, with a possibility of severe storm round with a tornado outbreak in the Midwest and Southeast in the last 4 December 2021 days (28.-31. December 2021) – will be updated already in the next Mkweather article.
If you live in the USA, especially in Midwest and Southeast, we recommend you to watch current forecasts, weather news, warnings, and advisories – the next possible tornado outbreak or very strong storms should come already in 4 days.