Very high September temperatures are reported from Eastern Europe, Balkan, Turkey and Mediterranean Middle East coast still.
Temperature in 850 hPa over +30°C floods parts of Turkey, over +25°C southern Balkan and over +20°C Ukraine with untypical high autumn temperatures, according to wxcharts.com, 12°C above temperature long-term average.
In Turkey, +43,9°C was on Tuesday measured (Urfa), but hot was in Balkan too - Romania 37,2°C (Riosori de Vede) and Bulgaria +37,0°C (Kurdjali). In Greece was measured +38,0°C (Larissa) and in Cyprus +40,0°C (Lefkoniko).
Extremely hot is in Ukraine too, +36,2°C was measured in Kherson and +35,9°C in Zaporizhzhia on Tuesday.
Heatwave in Balkan is linked with those over Middle East - Iraq is reporting +48,2°C (Semawa).
Hot weather till the end of actual week interrupts T-storms, but overall, temperatures stay high in comparison with the rest of Europe.
European Russia is a land of 2 words these days - in south is very hot too, up to +37°C, but northeast (Ural area) is reporting coldwave with temperatures below 0°C in 850 hPa and frosts. Autumn is slowly coming not only from Atlantic and Arctic, but too from Siberia.
Temperature in 850 hPa and temperature anomaly above SE Europe and Turkey on Tuesday, 1. September 2020 and expected Accumulated precipitation till end of actual week /wxcharts.com:
The hottest places of Europe, Tuesday 1. September 2020 /ogimet.com: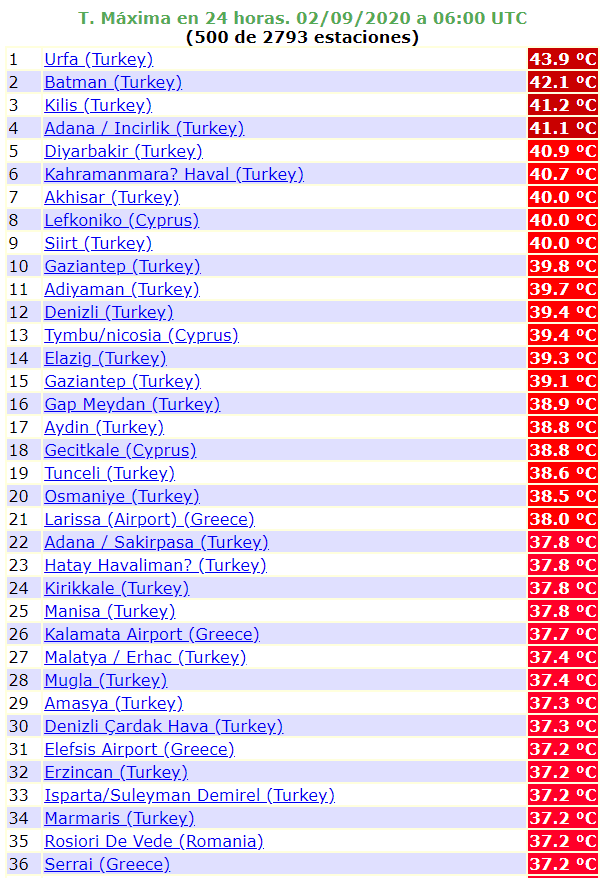 (Visited 63 times, 1 visits today)