Updated forecast for Winter 2020/21: Still NAO-/AO- in the first half of winter, NAO+/AO+ in the second half of winter, permanent La-niňa and surprisingly Easterly QBO possible
It´s already 2 months after Mkweather first forecast for Winter 2020/2021 /FIRST FORECAST FOR WINTER 2020/21/ and 1 month after Mkweaher forecast for Autumn 2020 /FORECAST FOR AUTUMN 2020/ and we are glad, that seasonal forecast models are showing very similar circulation patterns for the next half-year, than in July 2020. In summary, still cold weather patterns are expected for autumn and first half of winter in Europe (and warm in Canada and USA) and warm conditions could arrive during second half of winter season 2020/2021 in Europe (cold in Canada and N/NE USA). Differences are mainly in character of January 2021 and expected phase of QBO.
According to maps CFSv2 is clear, that during first half of winter season (autumn including) we will experience with often AO- and NAO- phases, with colder conditions in Europe and warmer conditions in Canada and northern and northeastern parts of USA and reversely, second half of winter season (spring including) we should experience with strong AO+ / NAO+ phase, with warm winter conditions in Europe and cold conditions in Canada and northern/northeastern USA. Southern parts of USA could be permanently in warm air, regardless of current long-term circulation patterns.
During all winter season, strong La-niňa phase is expected, with peak around January. La-niňa with AO/NAO will be drivers of upcoming winter, because QBO is aliving dramatic, chaotic changes, which are not included into CFSv2 predictions, and won´t be probably significantly linked with the character of winter. La-niňa is during late autumn and early winter linked with AO-, while in the second half of winter with AO+, usually. Difference should be between EP and CP-La niňa – EP La-niňa is very favorable for cold winter in Europe and Northern Hemisphere and cold SST (Sea Surface Temperature) during this phase is situated near South American coast, while CP La-niňa assumes the most coldest SST anomalies above Central-Western Pacific.
QBO is extremely chaotic in 2020 and during the summer, we have moved into strong westerly phase, there are still strong differences between equatorial and moderate climate zones in QBO, therefore, index is becoming not applicable for some time. Until the end of winter 2021/21 we should move into strong Easterly phase of QBO, before few months unexpectedly.
Our forecast is supported too by predicted 700 geopotential height monthly anomalies from CFSv2 (v700), with weaker meridional pressure gradient during first half of winter season and strongly-developed Icelandic low and Azores high (and other stationary pressure zones above Northern Hemisphere) during its second half.
In September 2020, we has experienced with the Arctic sea ice minimum 2nd lowest on record and Global Change is becoming an important driver for the next months, too. Arctic change is linked with recorded amounts of NH snow cover above Siberia and Canada during autumn, Global warming hole anomaly over Northern Atlantic, shifting stormtrack in the autumn to the southern regions and for this reason, in large areas in Europe is autumn only one season with global cooling. Situation became opposite during winter and in the spring, situation is diametrically opposite.
Interesting cicrulation patterns are forecasted to October 2020:
First half of October with weaker hurricane activity with dry MJO, second half with severe hurricane risk above Atlantic with wet MJO;
Strong AO-
Very dry conditions above Europe and USA, similarly as in year 2005 (note: yes, it´s an year with extremely hurricane season, second year after 1950 with Greek alphabet applied to hurricanes and too year with extremely strong Indian monsoon)
Surprise should bring a January 2021 – CFSv2 expects, similarly such as for November and December 2020, stromtrack situated in lower latitudes, with possible Mediterranean lows and still possbility of NAO-/AO- (maybe major SSW?), therefore, is chance, that winter 2020/21 will be overall despite of global warming trend relatively stronger, with many cold spells mainly in November, December and January. Spring then, could arrive very early.
Acknowledgements: Part of outputs below has provided Júlis Šubovič from page https://www.facebook.com/LRWFS.
Simplified graphs of expected circulation patterns during the Winter 2020/21: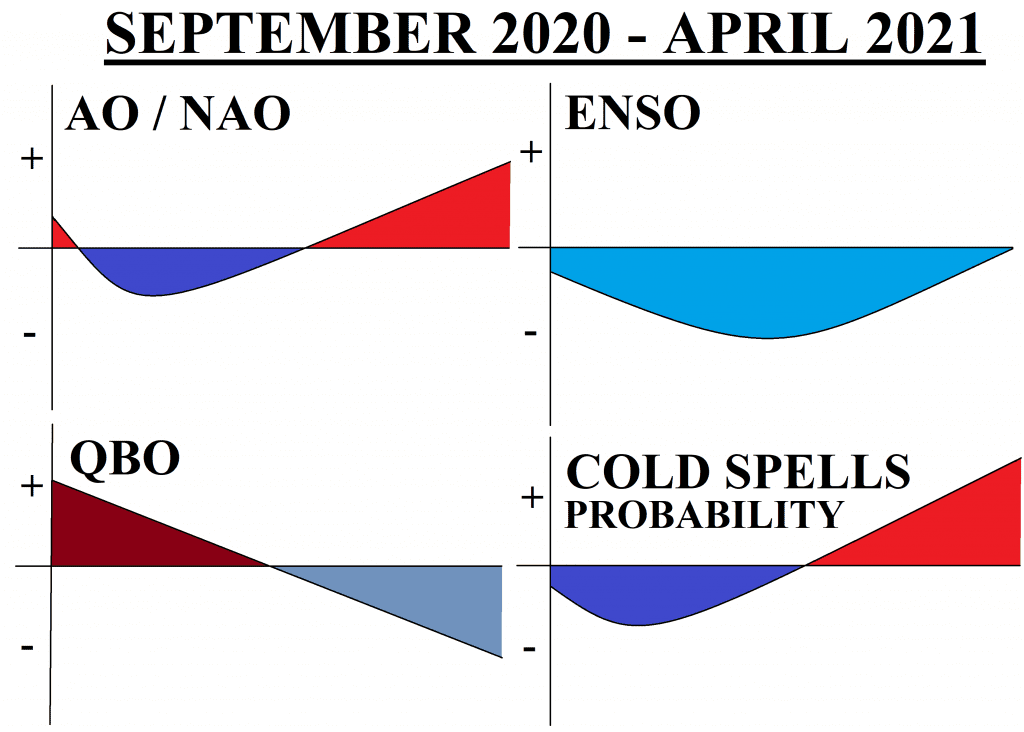 Correlation analysis of 9 climatological indices throughout the year (JAN-DEC) during the period 1979-2017 or 1950-2020 respectively: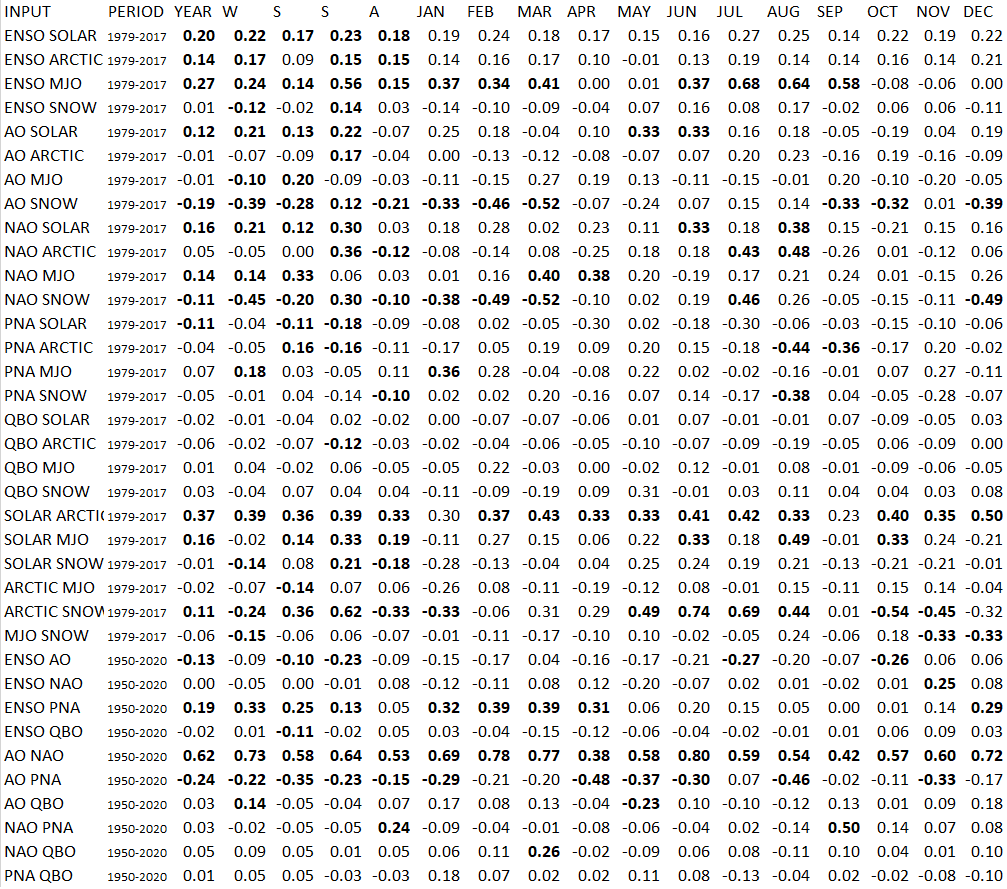 AO index forecast until 6. November 2020 /ECMWF:
ENSO forecast until June 2021 /NOAA: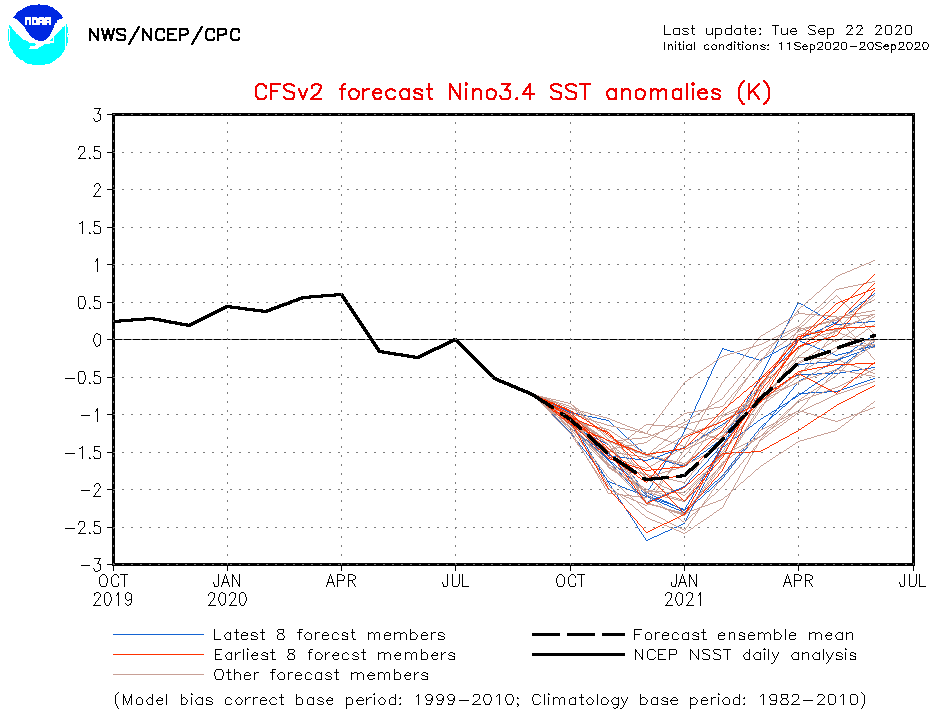 Differences between EP and CP La-niňa /Springer: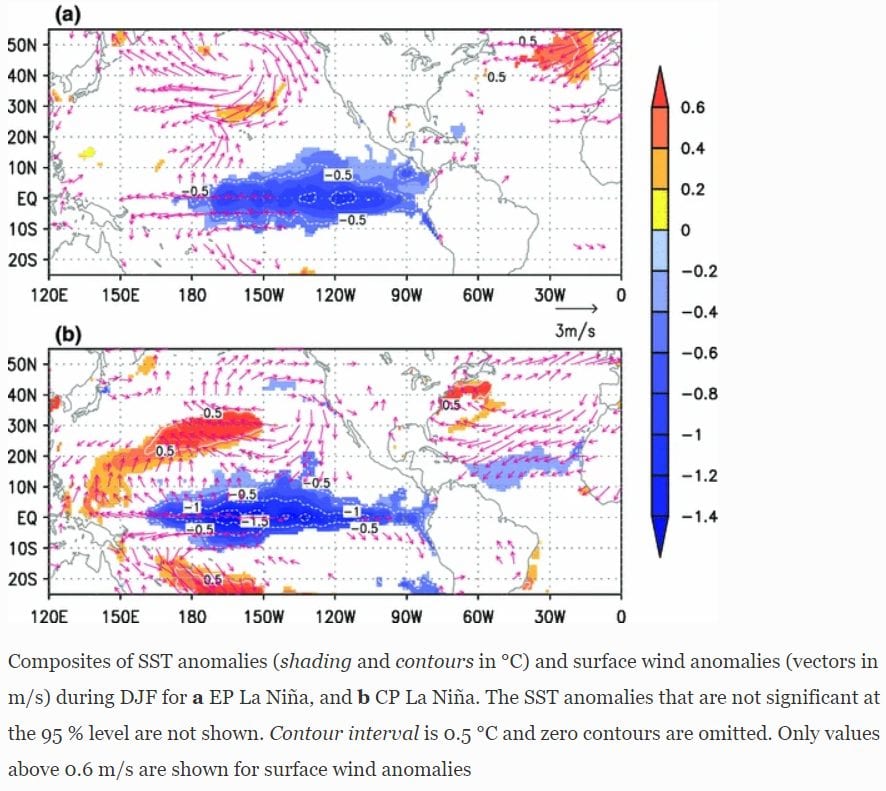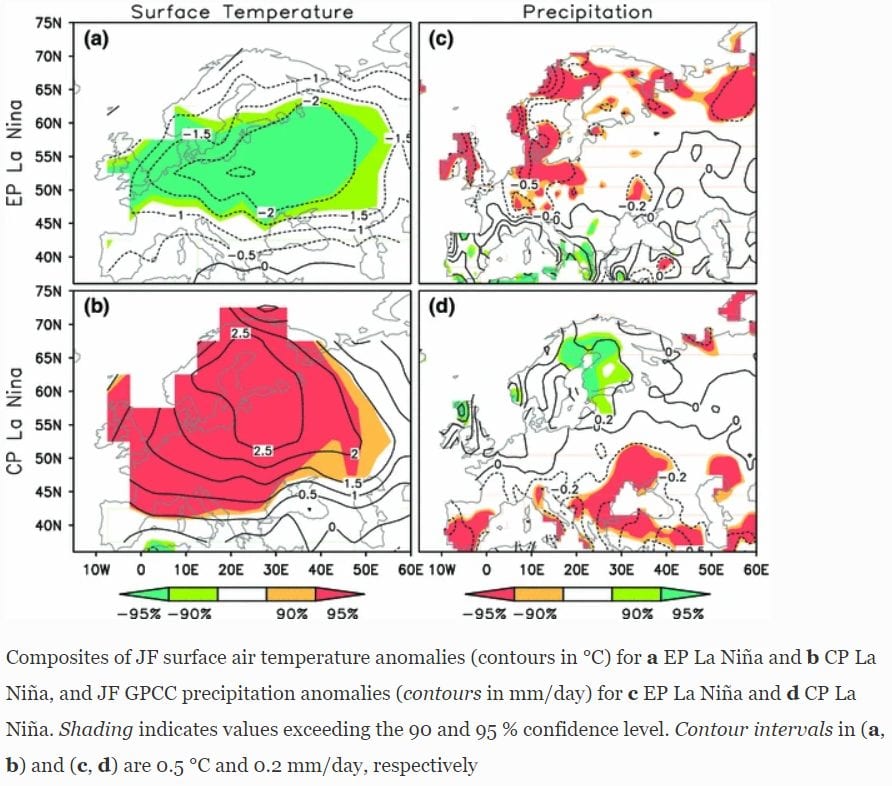 October 2005 geopotential anomalies composite (compare with maps below) /NOAA: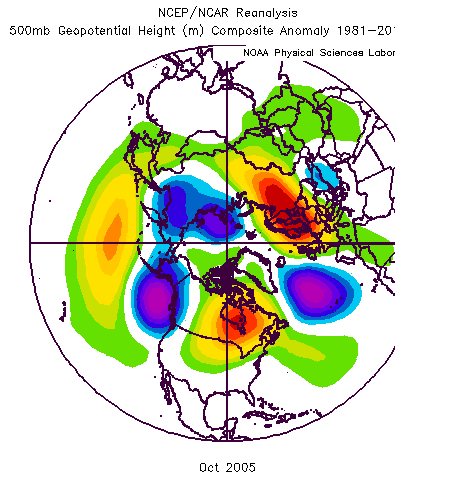 SST anomaly in Winter 2020/21 – notice Global warming hole SW from Iceland /netweather.tv:
Positive October NH Snow Cover anomalies in last years /NOAA: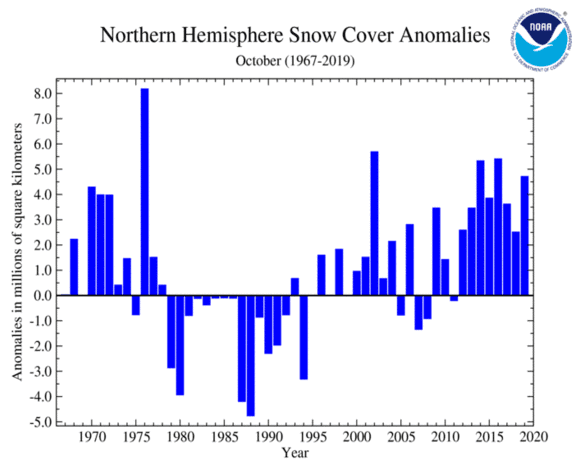 Expected shift in QBO from westerlies to easterlies during the winter season 2020/21 /GSFC: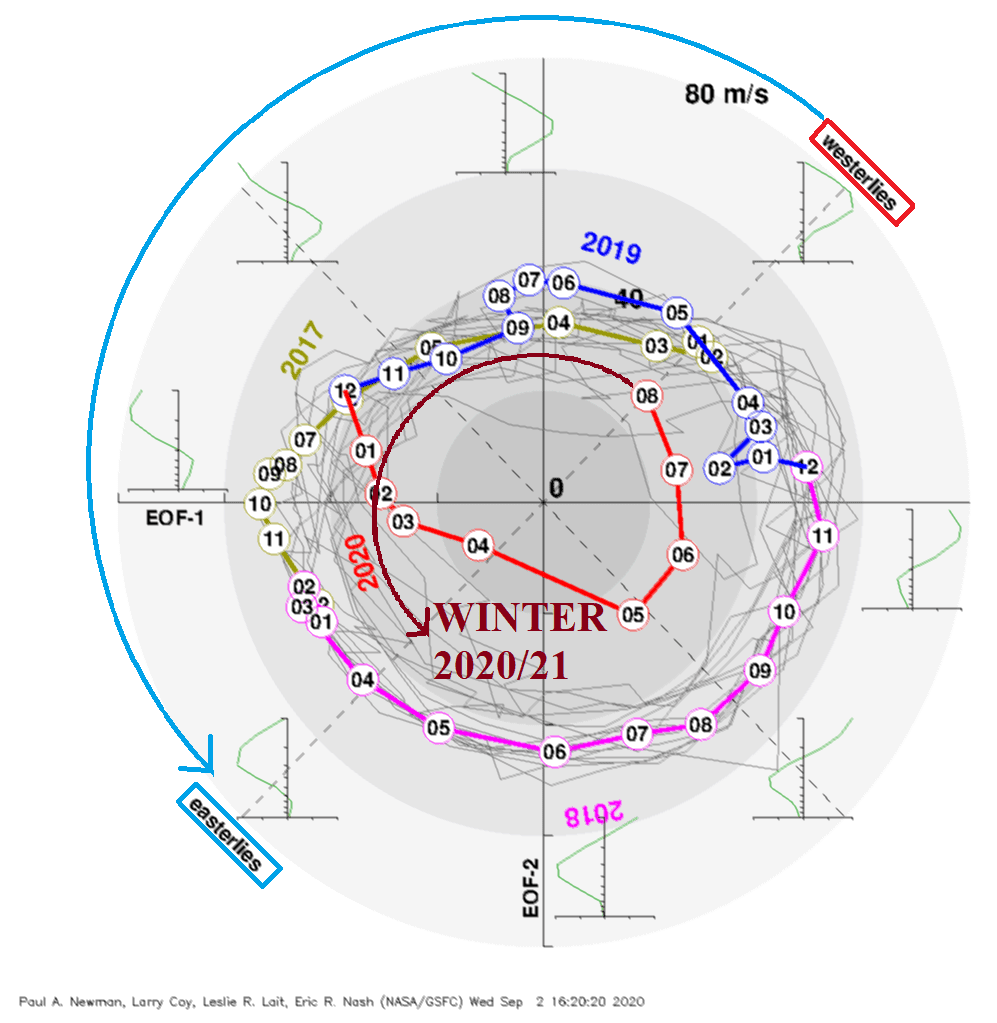 Expected phases of MJO (mainly above Atlantic – green = wet, yelow = dry) /NOAA: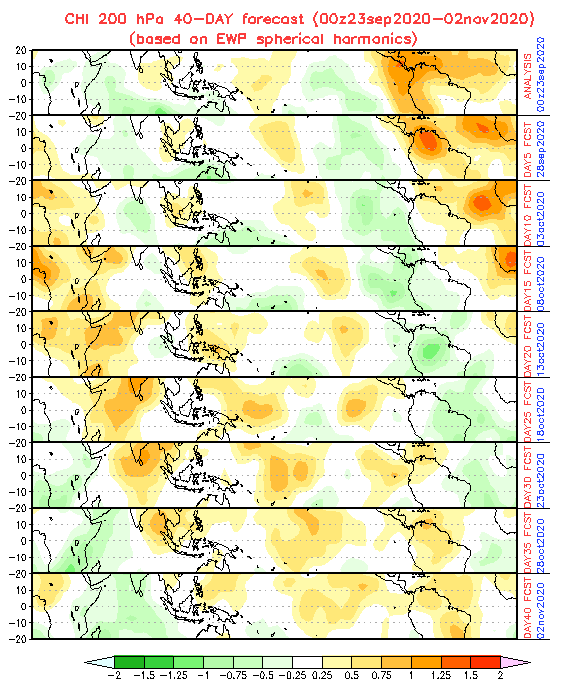 Current minimum of Solar cycle /NOAA: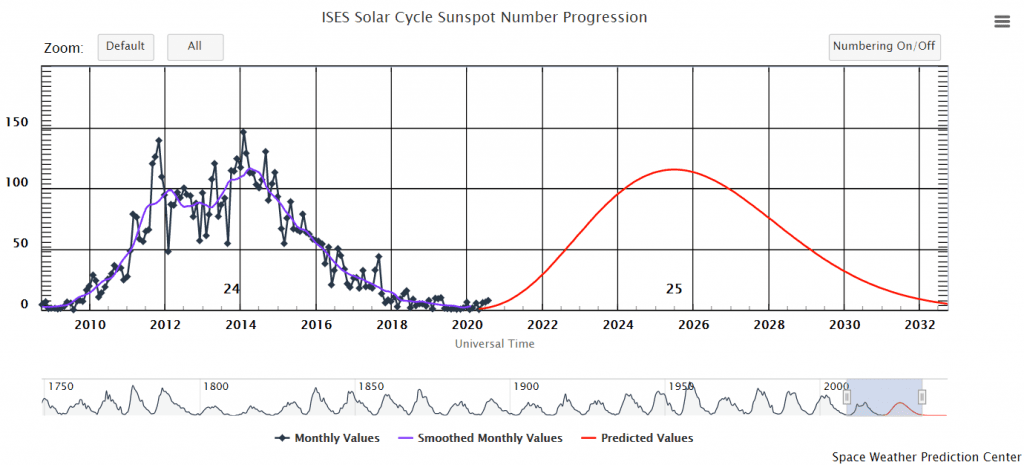 Projections CFSv2 for Autumn and Winter 2020/2021 – Geopotential, Temperature and Precipitation /CFSv2: