USA: 13.2 cm (5.2 inches) of snow in 952 MASL, winter conditions hits too South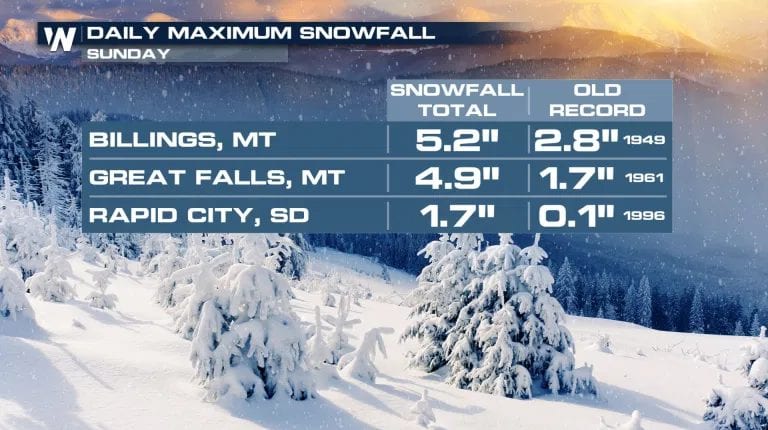 October 2020 coldwave is breaking all-time records. When we has wrote during last decade about winter conditions in parts of the USA, we have thought exactly these conditions.
In low situated parts of northern USA and Midwest has fallen during Sunday record amounts of snow – Billings in Montana, 956 MASL has reported extremely high 24-hour snowfall, 13.2 cm / 5.2 inches. Other record from Great Falls, Montana, 1015 MASL, which has broken on Sunday, is 12.4 cm / 4.9 inches.
In Rapid City, South Dakota capital, has fallen 4.3 cm of snow / 1.7 inches – too recorded for October.
On Monday, extreme snowfall hit a region of Cedar Rapids (247 MASL), Iowa and blizzard conditions soon expand even more southward, according to GFS into Kansas, Missouri, Arkansas, parts of Oklahoma and Texas, including lowlands and low situated areas.
The coldest weather to the southern areas according to forecast comes around Tuesday, 27. October, with temperature anomalies around -25°C from long-term average in Central US and eastern Midwest.
Early autumn coldwaves, to which we pointed in Mkweather Autumn and Winter forecasts are here and we haven´t other possibility, than live through them without bigger losses (e.g. on health or roads) /https://mkweather.com/2020/07/29/first-forecast-for-winter-2020-21-early-powerful-coldwaves-nov-dec-then-weakening-of-cold-pattern-and-warm-jan-feb-mar/; https://mkweather.com/2020/09/24/updated-forecast-for-winter-2020-21-still-nao-ao-in-first-half-of-winter-nao-ao-in-second-half-of-winter-permanent-la-nina-and-surprisingly-easterly-qbo-possible/; https://mkweather.com/2020/08/22/europe-autumn-2020-forecast-mkweather-accuweather-maps-and-analysis//
Infographics: Weather Nation, tropicaltidbits.com: