Ust-Shchuger, European Russia: -51,3°C!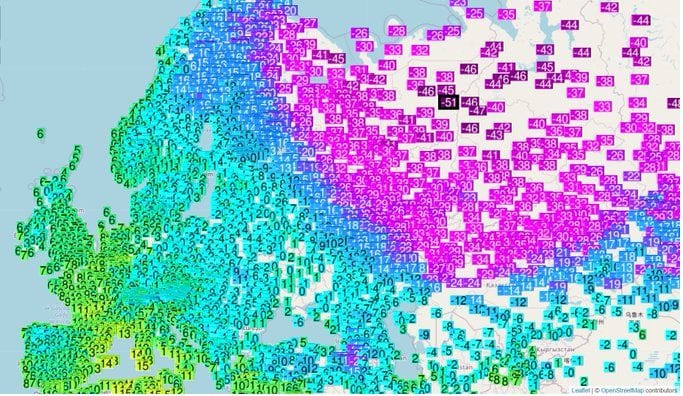 Extreme winter in Eastern Europe! -50°C after long-term warnings of possible 50-degree threat since January 2021 came true at the end of Winter 2020/2021 and after extreme Siberian blast in continental Europe, mass of anomalously cold air has shifted above Baltic region, Turkey and Russia.
While in Finland, -39,7°C /https://mkweather.com/2021/02/20/finland-397c-siberian-shots-until-10-march-expected// or in Estonia, -30,1°C /https://mkweather.com/2021/02/19/johvi-estonia-301c-extreme-winter-has-shifted-above-baltic-region-2021// was measured and minimum from continental Europe was -44,4°C from Alpine frost valley in Switzerland /https://mkweather.com/2021/02/14/freezing-valentine-in-europe-glattalp-switzelrand-444c//, northward from Moscow were Siberian frosts even stronger!
On Monday, 22. February 2021, in Ust-Shchuger, northeastward from Moscow, minimum temperature dropped to unbelivable -51,3°C!
In the same city, 31. December 1978, all-time European cold temperature record was measured, only -58,1°C. Therefore, we were only 6,8°C from all-time European record on Monday.
Severe frosts were reported on Sunday and Monday from Murmansk region, Kola Peninsula, too /https://mkweather.com/2021/02/21/kanevka-near-murmansk-442c/; https://mkweather.com/2021/02/22/russia-446c-germany-211c//.
While easternmost parts of Europe is still bothered by extreme winter, in continental Europe continues extremely warm weather thanks to Azores high – in Balkan, Alpine region and Germany on Tuesday has continued weather with maximum temperatures above +20°C, in Balkan locally up to +24°C /topic of the next article/.
Cold winter is still expected to return into Europe during the first half of March 2021, with possible all-day frosts in warmer regions, e.g. in states of Central Europe /https://mkweather.com/2021/02/22/maximum-temperatures-only-5-0c-on-7-march-in-poland-2021//.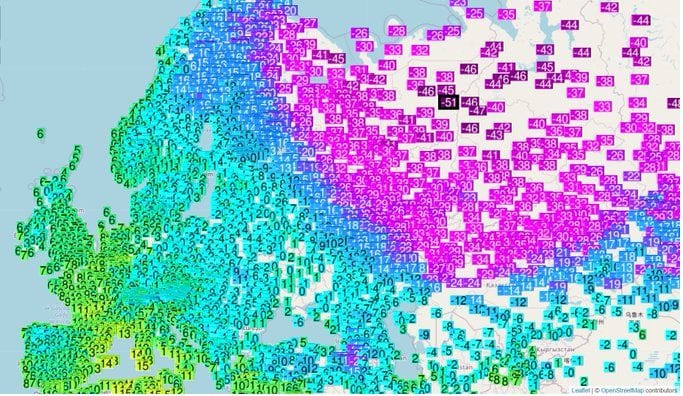 Read more: