Very hard times for the USA and Canada! Air from abnormal Siberian blast shifts above North America!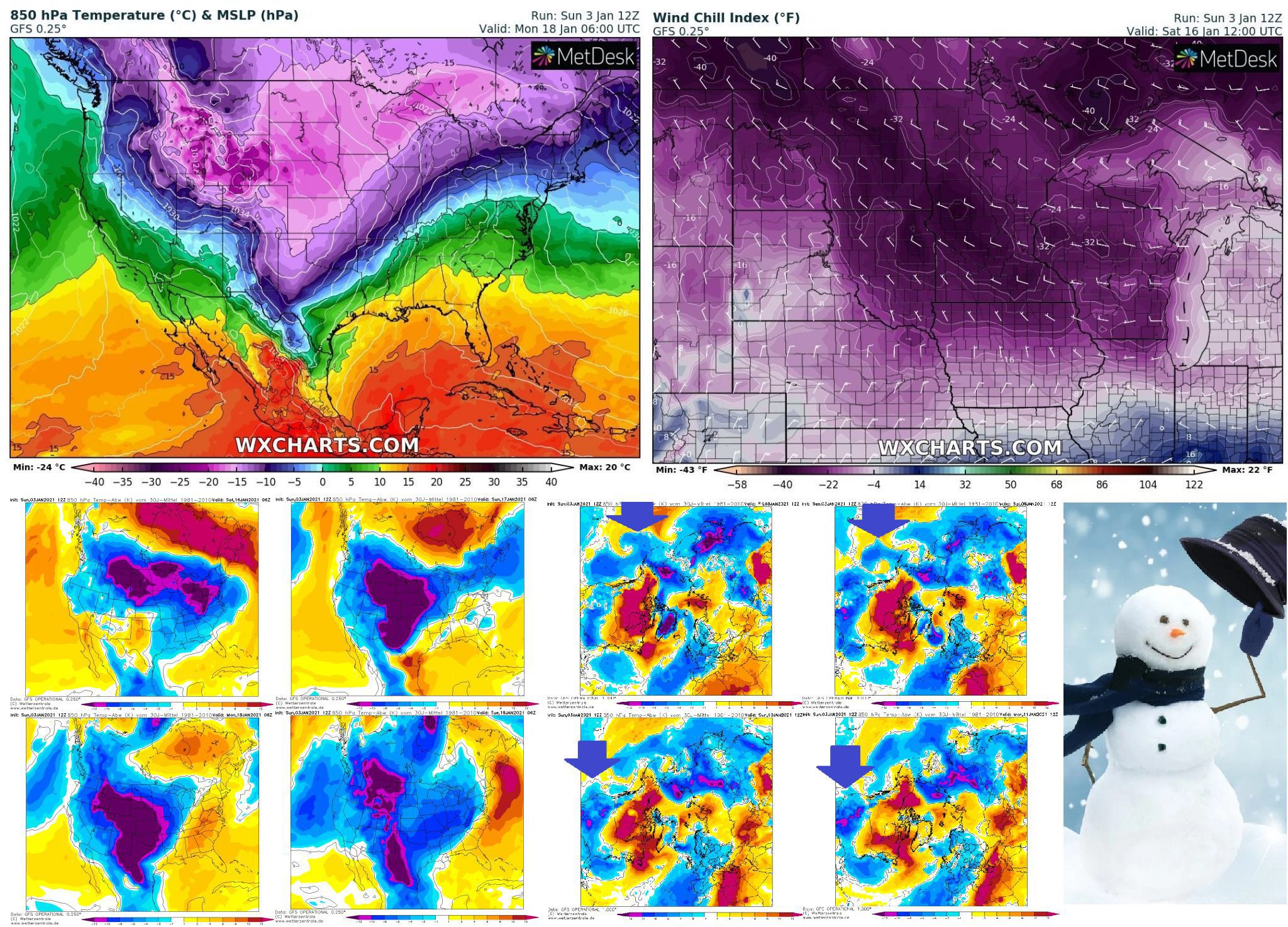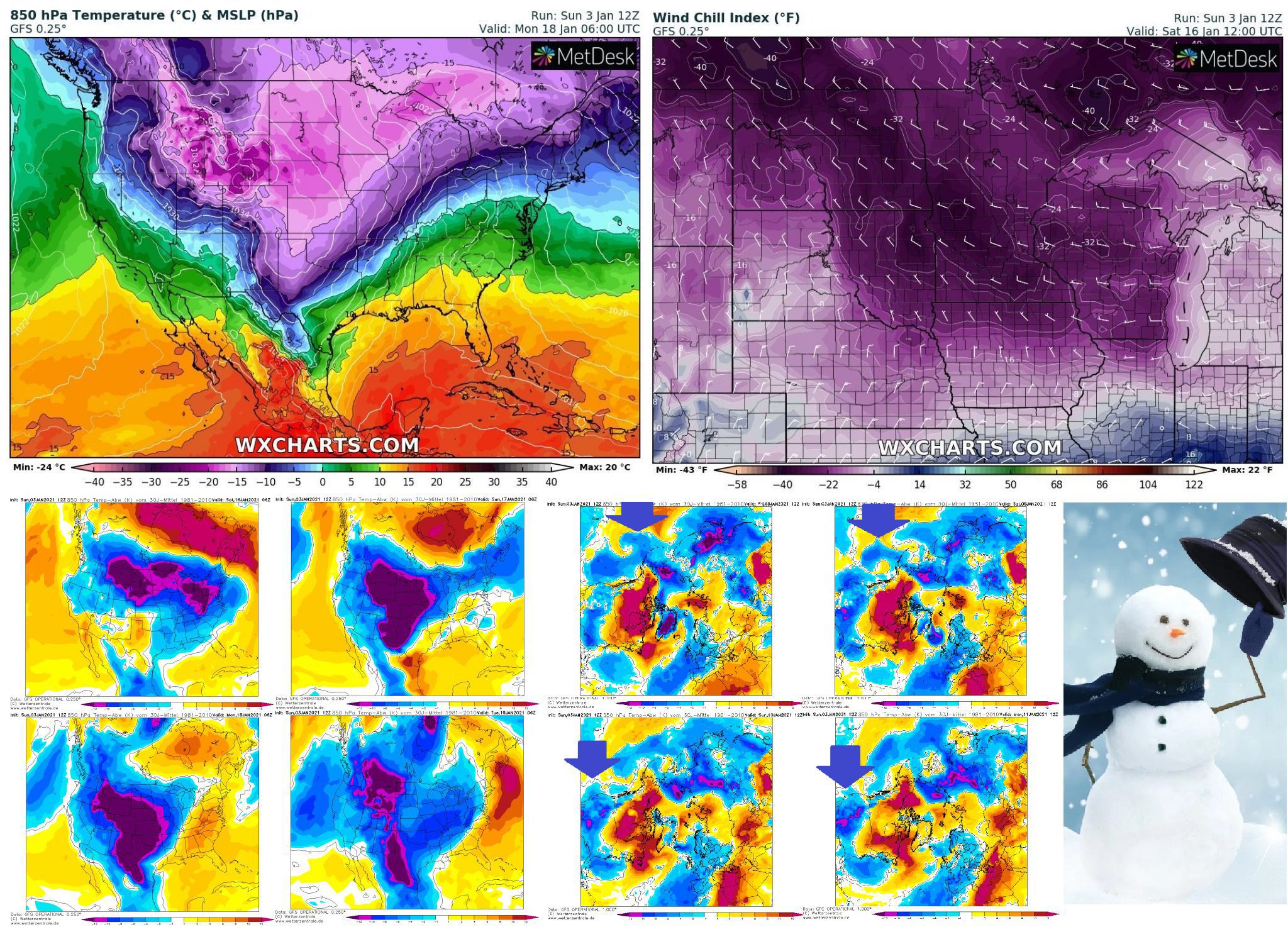 Meteorologists and climatologists around the world are watching with amazement current abnormal situation, which has produced extremely blocking circulation pattern over Eurasia during last days.
In Mongolia, the highest pressure in Earth history, 1094,3 hPa, was measured and at the same time, air pressure over North Pacific dropped historically low, to 921 hPa /https://mkweather.com/2021/01/01/10943-hpa-mongolia-with-the-highest-measured-air-pressure-on-earth-in-history/; https://mkweather.com/2021/01/01/the-most-broken-circulation-on-earth-in-history-aleutian-low-921-hpa-equal-to-a-category-5-hurricane-deepest-within-all-time-records//, with creating a mega-hemispherical atmospheric block, which will have during next weeks wide-spread effect to weather across all continents of Northern Hemisphere.
In last articles we have warned before possible extreme Siberian cold blasts in Europe during upcoming period /https://mkweather.com/2021/01/01/peak-of-the-winter-in-europe-russia-and-scandinavia-50c-continental-europe-30c-and-british-islands-20c/; https://mkweather.com/2021/01/02/extreme-winter-should-be-longer-and-stronger-nao-until-the-end-of-january-2021-extreme/; https://mkweather.com/2021/01/03/siberian-winter-in-europe-aggressive-gfs-outputs-expect-historic-frosts-some-regions-should-be-buried-under-the-snow// and summarized, where already extreme Siberian air has brought a new all-time (or in 3rd millennium) temperature records /https://mkweather.com/2020/12/28/oymyakon-lowest-temperature-since-2002-572c-in-monstrous-pressure-high-1076-hpa/; https://mkweather.com/2020/12/29/siberian-blocking-extreme-cold-air-in-norway-433c-finland-411c-only-week-after-all-time-december-scandinavian-record-18c/; https://mkweather.com/2021/01/02/beijing-26c-the-lowest-december-temperature-since-1978/; https://mkweather.com/2021/01/02/extreme-winter-already-in-japan-326c//.
Now we should look at anomalous forecast outputs of GFS for the USA and Canada, which expect, that extreme cold Siberian air will shift over Northern Pacific and Arctic above North America soon, hand in hand with the peak of Winter 2020/2021 not only in Europe, Asia and northern Africa, but too in North American continent.
It is possible, that freezing temperature record from Colorado from the end of the year 2020 (-50°F / -45,6°C) /https://mkweather.com/2021/01/01/super-cold-weather-in-the-usa-colorado-50f-456c// will be broken and in

Canada

, temperatures should temperatures drop deep below -50°C / cca -60°F,

maybe very rarely closer to -60°C / cca -75°F such to -50°C / -60°F.
Windchill in parts of the USA should be very close to -50°F / -45°C, too and in Canada, unsurvivable conditions should occur, mainly in not populated regions.
First big doses of extremely cold air will arrive above North America already after 8. January 2021, but the strongest coldwave is for now expected after peak of decline of AO and NAO indices, in the second January 2021 decade.
Last days we have seen, what should this extreme mass of cold air produce in parts of Eurasia, therefore it will be rational not underrate possible cold threat, because science found, that many diseases, including heart attack, respiratory diseases, influenza or now, COVID-19, are strongly associated with occurrence of cold air and in extremely cold air, risk of healthy problems is even more increased.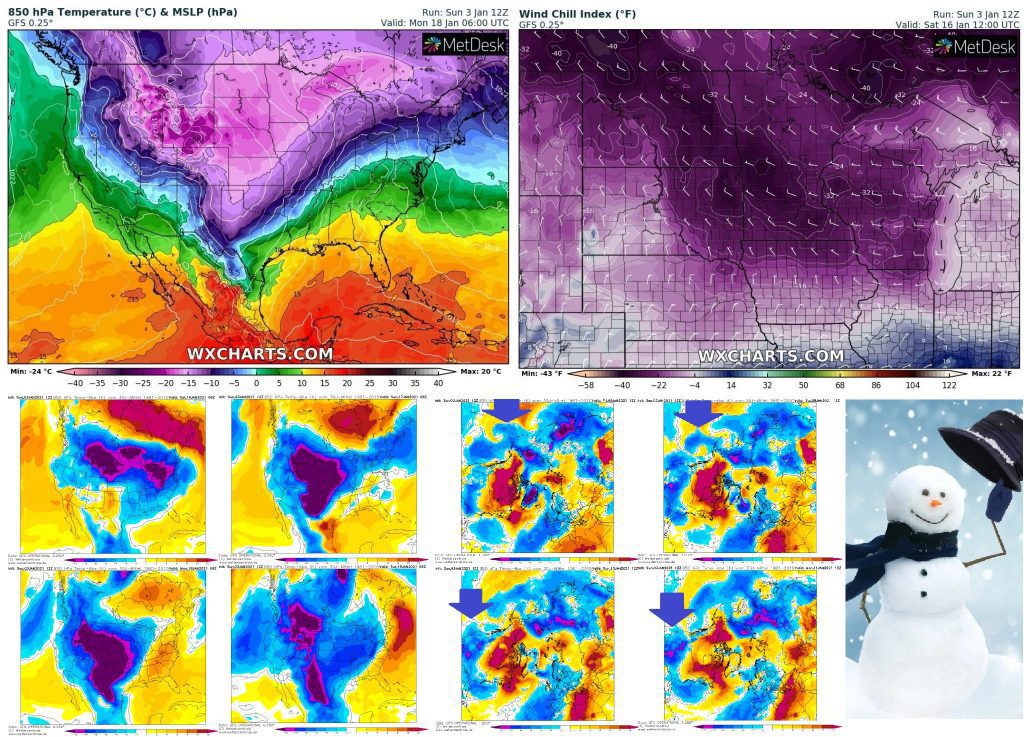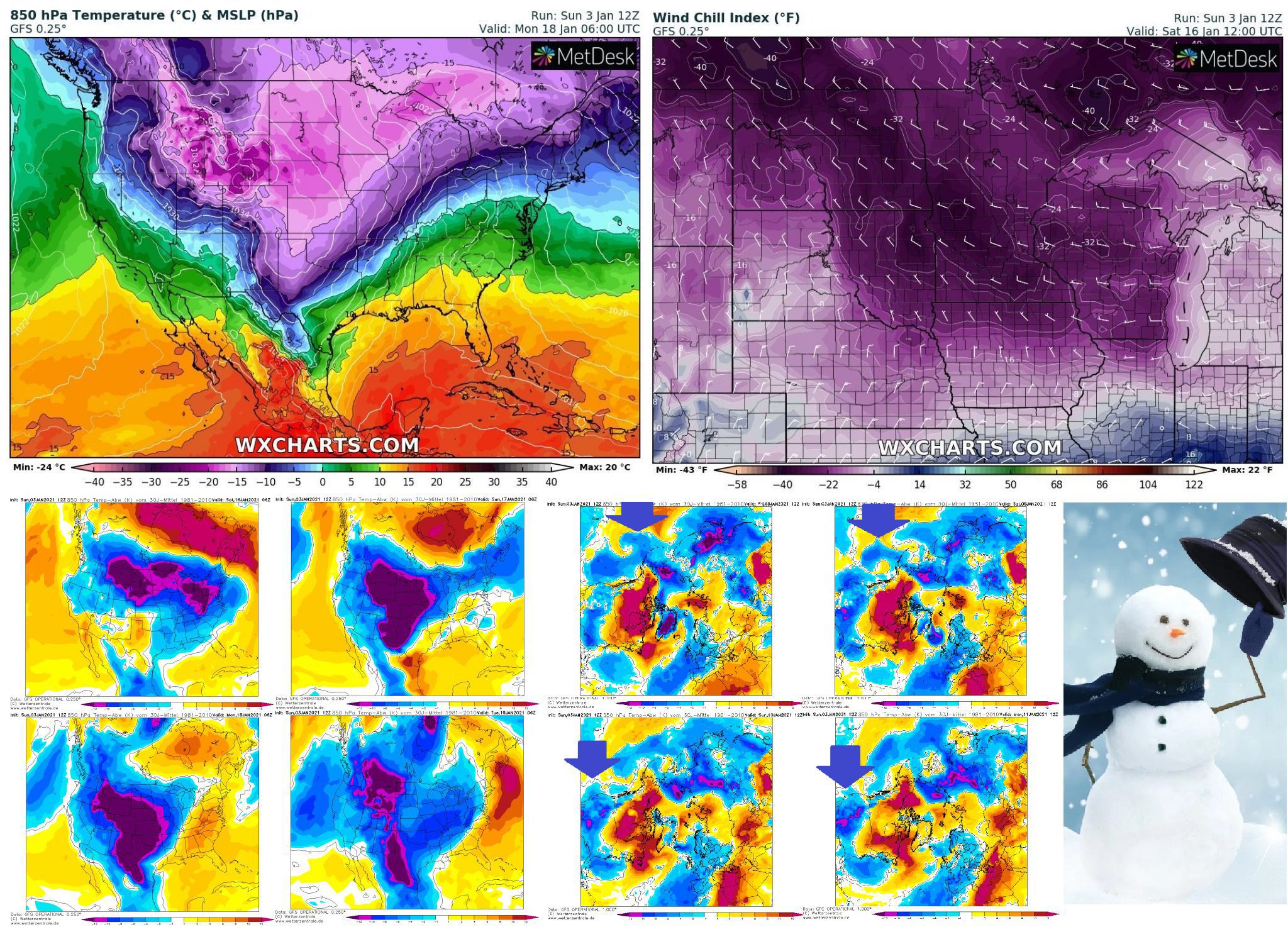 Infographics: NOAA, wxcharts.com, wetterzentrale.de, tropicaltidbits.com: