Summer 2021 is not extreme only in Europe, North America and North Africa, but too in parts of Asia, including East Asia.
Olympic Games 2020-21 were accompanied by extreme heatwaves and high humidity/moisture, which had a significant effect on performances of sportsmen and sportswomen /https://mkweather.com/olympic-games-are-ending-with-extreme-heatwaves-tottori-392c-osaka-389c-teppu-387c-asahikawa-379c-and-the-next-3-tropical-systems-lupit-nida-and-marinae-are-c//.
After late July´s 3 tropical systems, the next 3 systems have appeared in early August (Lupit, Nida and Marinae) and northward from these systems, extremely hot weather is peaking in parts of Japan.
In Tajimi, +40,6°C was measured on 8. August 2021, which is only 0,5°C below the all-time national record!
Extreme heatwaves are suffering people in Vietnam, too – in Bo To, Quang Ngai province, +41,2°C was on 9. August 2021 measured, what is only 0,6°C below all-time national record!
Meanwhile, in southern China, such as was forecasted in Mkweather article above, hit severe floods.
Sichuan, a province in continental southern China is underwater and 100 000 people have been evacuated before dangerous floods.
Such we should notice in the dramatic video below, a man is rescued from a stream of water, but his vehicle is swept into a flood wave.
In the next period, until 25. August 2021, the next heavy rains and storms are forecasted for southern China, Japan, Taiwan, but too large parts of Southeastern and Southern Asia. In SE Asia, only the coast of Vietnam will be drier, with the next possible heatwaves. In India, the southern parts and the Thar desert will be drier.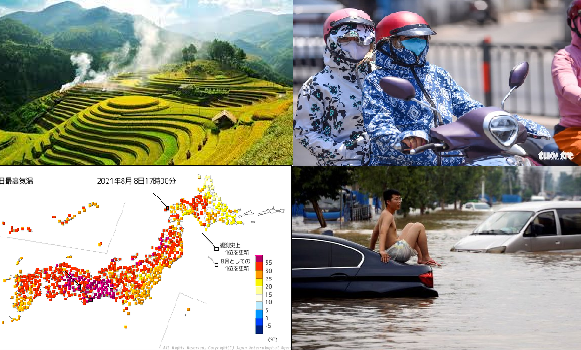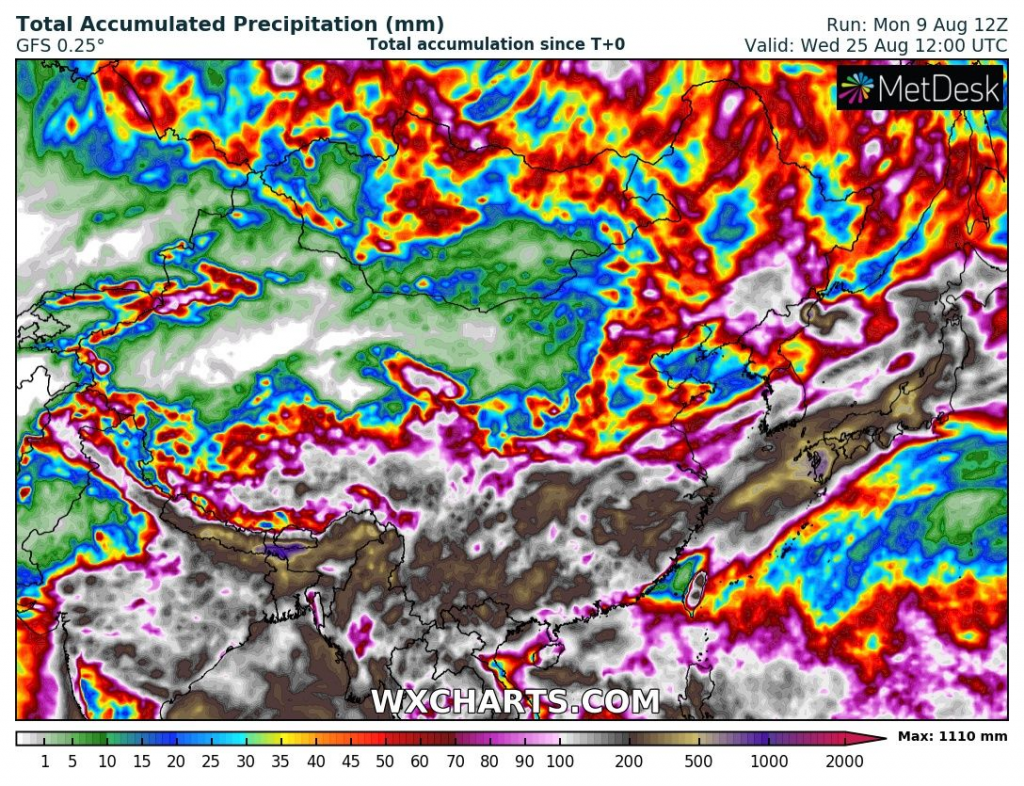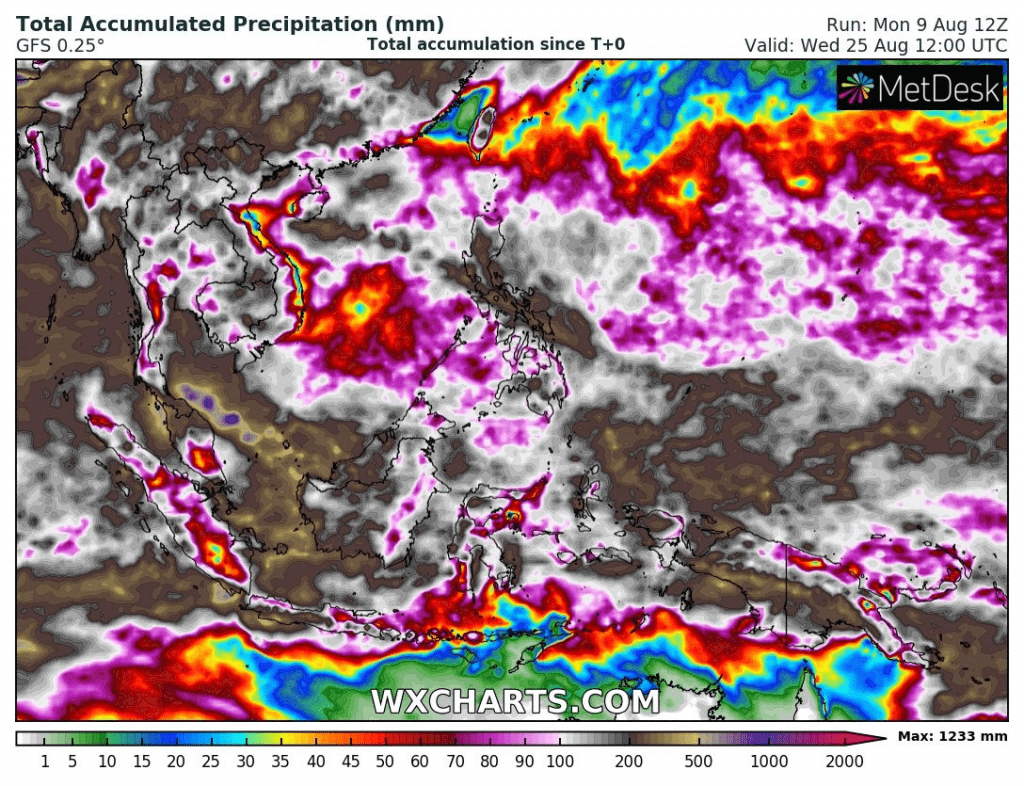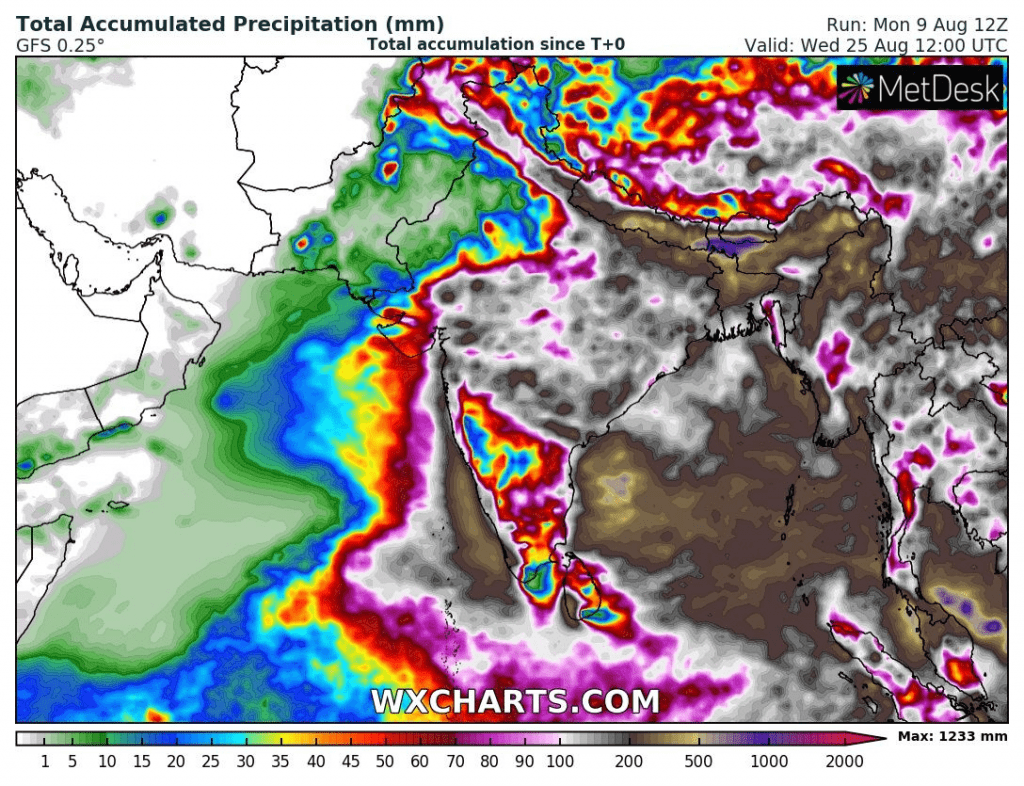 Source: wxcharts.com
(Visited 1 times, 1 visits today)